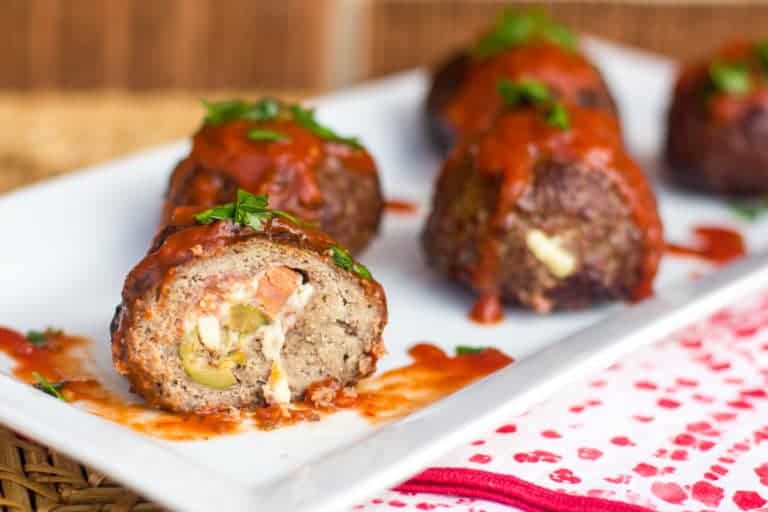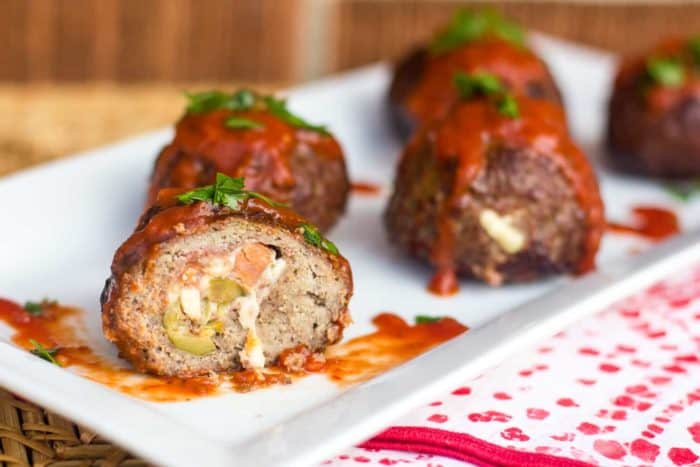 Over the years, I have discovered that one of my favourite things to smoke is a meatball. Ground meat lends itself very well to the smoker.
Sure a meatball is not as exciting to BBQ as pork butt, brisket or ribs. But, smoked meatballs are super tasty and do take a fraction of the time in the smoker compared to those big chunks of meat.
There has been many a Sunday afternoon, where I have thrown a batch of meatballs in the smoker. These are perfect for watching the big game, hanging with friends, or just anytime you want a smoked treat!
And these do seem like a treat. It's funny, almost any time I make smoked meatballs, they get gobbled up so fast, we find there is really never enough.
For this recipe, I decided to take the flavour of pizza and infuse it into the smoked meatball.
Wow – it was outstanding!!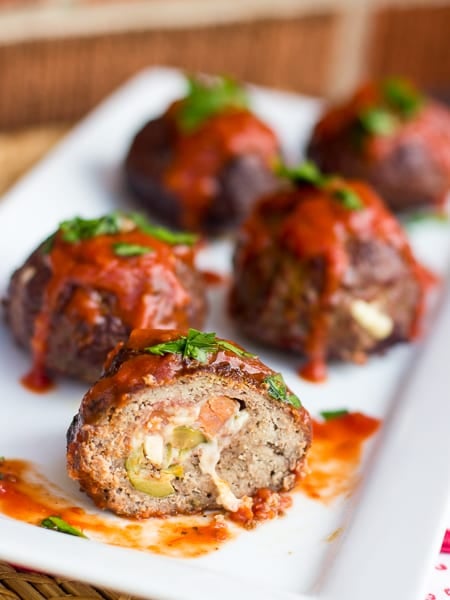 One of the most important aspects of a smoked meatball is the stuffing! People always love the surprise inside a stuffed meatball and discover that it is packed with so much goodness.
To give this meatball its pizza infusion, I made a stuffing of pepperoni, green olives and mozzarella cheese.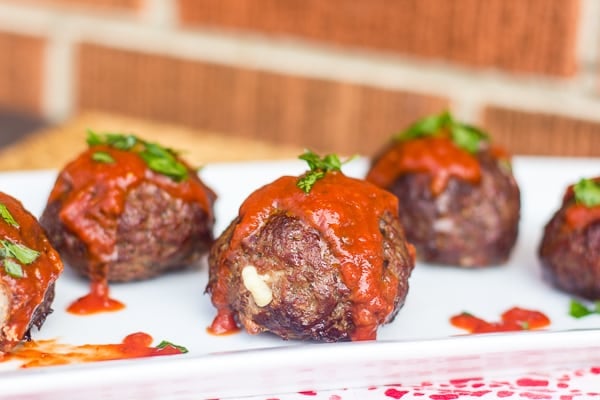 For the pepperoni, instead of using slices (which you could totally use), I bought a whole pepperoni link/stick. Then, I chopped it into small chunks for the stuffing.
To go with the pepperoni, I chopped up some cored green olives and grated a bunch of mozzarella cheese.
I mixed the pepperoni, green olives and mozzarella and used a handful of the mixture for stuffing in each meatball.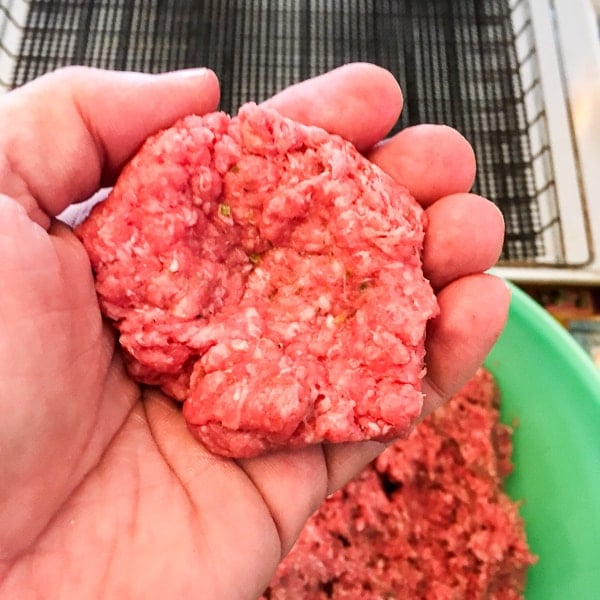 To make the meatball, grab a handful of the ground beef mixture. Roll it into a ball that is about 1 1/2 inches in size.
Then press with your thumb to make an indentation in the middle for the stuffing to go.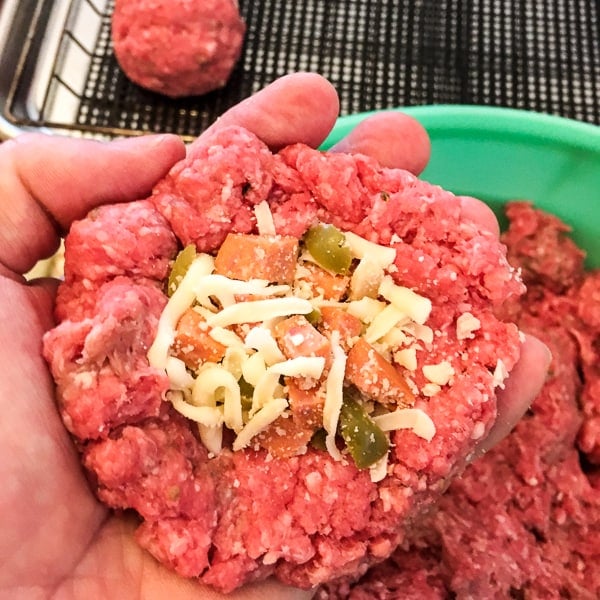 Grab a handful of the stuffing mixture and place it in the indentation part of the meat.
Fold the meat over the stuffing and form it into a ball.
Try to ensure there is no stuffing peeking out in any section of the meatball. If there is a crack in the meat, the stuffing (mostly the cheese) will ooze out.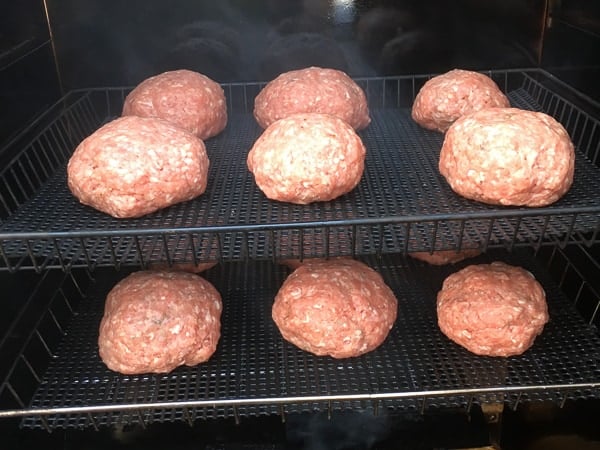 Place the meatballs on the smoker racks.
I run the smoker at a temperature of 275F. I find this to be the best temp for meatballs. It does not need the low and slow of 225F which is great for big chunks of meat.
Regarding wood, I have used many different types of wood including hickory, maple, apple, oak and they have all provided an excellent smoke flavour to the meatballs.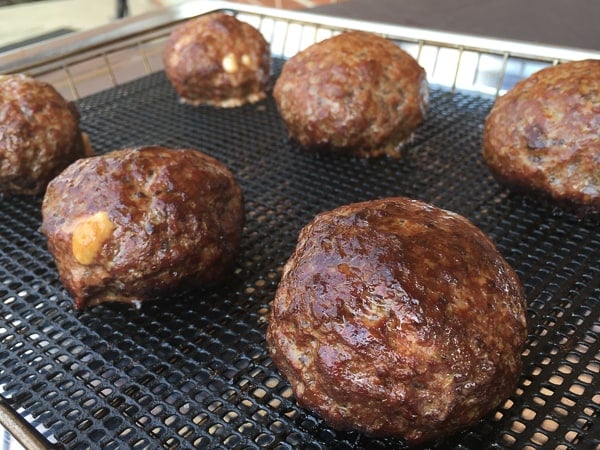 The meatballs are done when the internal temperature is 165F. The meatballs should be glistening and nice and brown. You might find that some of the meatballs are beginning to have some cheese ooze out the little cracks as seen in the picture above.
It should take around 2 1/2 hours to reach the temperature. You may find the time could vary because the size of the meatballs could be larger or smaller and every smoker is different.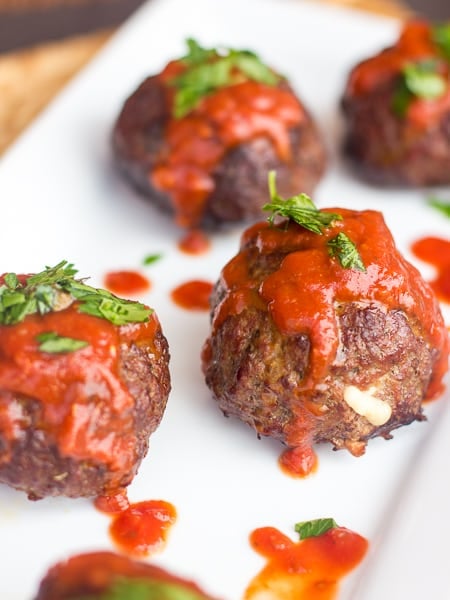 To serve, I drizzled some pizza sauce (or marinara sauce) on top of the meatballs. If desired, you could also garnish with some minced fresh parsley. It adds a nice bright green colour to the plating.
Also, have some extra pizza sauce on the side for dipping.
Be prepared, these will be gobbled up very quickly!!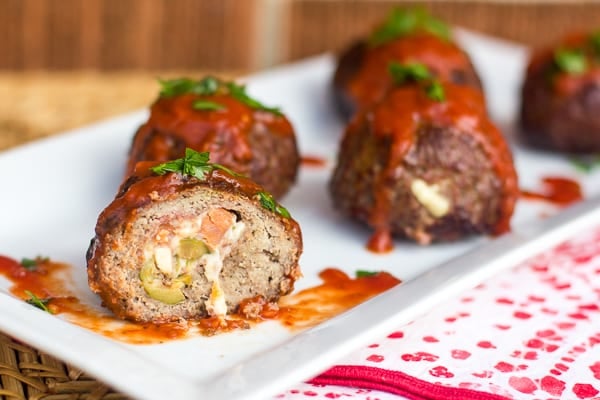 I have made so many different variations and here are a few other smoked meatball recipes I have posted.
Cheddar Jalapeno Smoked Pork Bites – Want a little bit of heat? These meatballs have lots of minced jalapeño pepper mixed with the meat and the stuffing is a big chunk of cheddar. Delicious!
Smoked Chicken Bomb – Ground chicken really lends itself well in this smoked meatball and the pepper jack stuffing and lots of BBQ sauce make this one quite addictive.
Cheesy BBQ Sausage Bites – I love this one because it uses just a handful of ingredients so it is quick to make. Plus it is wrapped in bacon!
As you can see, each of these recipes use different types of meat. Smoked meatballs can be used with beef, chicken, pork. Even lamb works great!
With the many types of ground meat and different stuffings, the variations of smoked meatballs are endless. Get creative and try your own kind.
Smoked Meatballs Pizza Style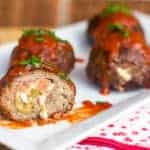 Print
Smoked pizza bomb meatballs with ground beef stuffed with pepperoni, green olives and mozzarella cheese. Marinara Sauce for dipping.
Servings: 12 meatballs
Ingredients
2 pounds ground beef
1 tsp oregano
1/2 tsp salt
1/2 tsp garlic powder
1/2 tsp onion powder
1 1/2 cup grated mozzarella cheese
3/4 cup pepperoni, diced into chunks
1/2 cup green olives, diced
1 cup pizza or marinara sauce
Instructions
Set the smoker to 275F using wood chips of choice.

In a small bowl, mix together the ground beef, oregano, salt, garlic powder, onion powder until thoroughly combined.

In a bowl, mix together the grated mozzarella, pepperoni and green olives.

Grab a small handful of the meat mixture and form a meatball that is about 1 1/2 inches in size. Make a small indentation in the middle, with your thumb. Put some of the cheese, pepperoni and olive mixture into the indentation and fold the meat around the cheese mixture so that it is covered. Using your two hands, roll the meat around so that it is fairly round. Place the meatball on the Bradley smoking rack. Do this with the remaining meat and cheese.

Place the smoking racks in the smoker. Smoke the meatballs until they reach an internal temperature of 165F, about 2 1/2 hours.

Drizzle some of the pizza sauce on top of the meatballs. If desired, garnish with a little minced fresh parsley on top.