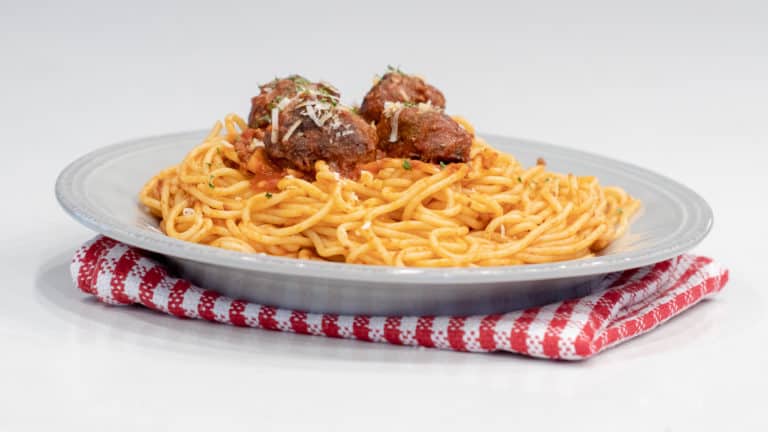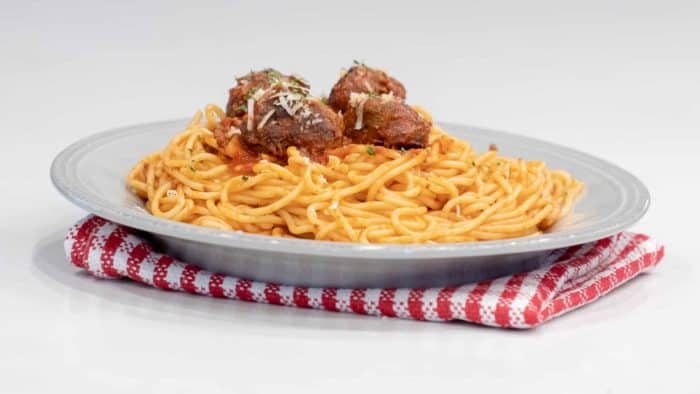 I think that spaghetti and meatballs was one of the first dishes I ever learned how to cook. I know that when I was younger, anytime I came home from school and saw that my mom was making this classic meal, I was always pumped. I find it interesting that my kids respond the very same way and they flip out whenever I cook spaghetti and meatballs.
Spaghetti and meatballs is such a classic dish. If you grew up loving your mom's spaghetti and meatballs, then this recipe will bring about feelings of nostalgia. If you have never had it before, but always wanted to learn, then you have some to the right place. This recipe will show you just how easy it is for how to make spaghetti and meatballs right at home.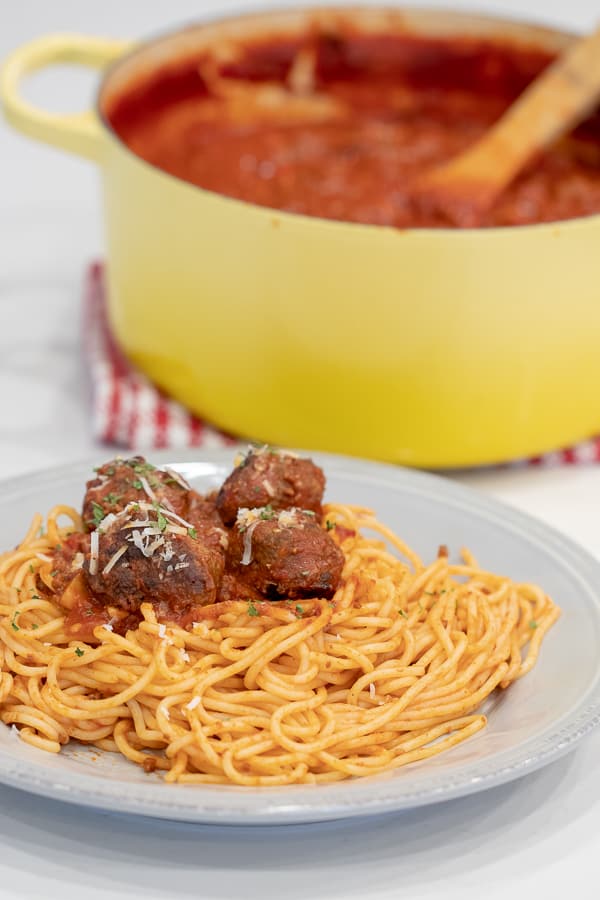 The sauce for these spaghetti and meatballs is a meatless sauce. It is breeze to make and perfectly complements the meatballs. I keep the onions and peppers as chunks in the sauce, but if you prefer more of a smooth sauce, you can blend them to make a smooth sauce. Instructions for that can be found here: Marinara Sauce.
If you desire to have a meat sauce with your spaghetti and meatballs, I have a recipe for a classic Italian meat sauce that can be found here: Classic Italian Meat Sauce.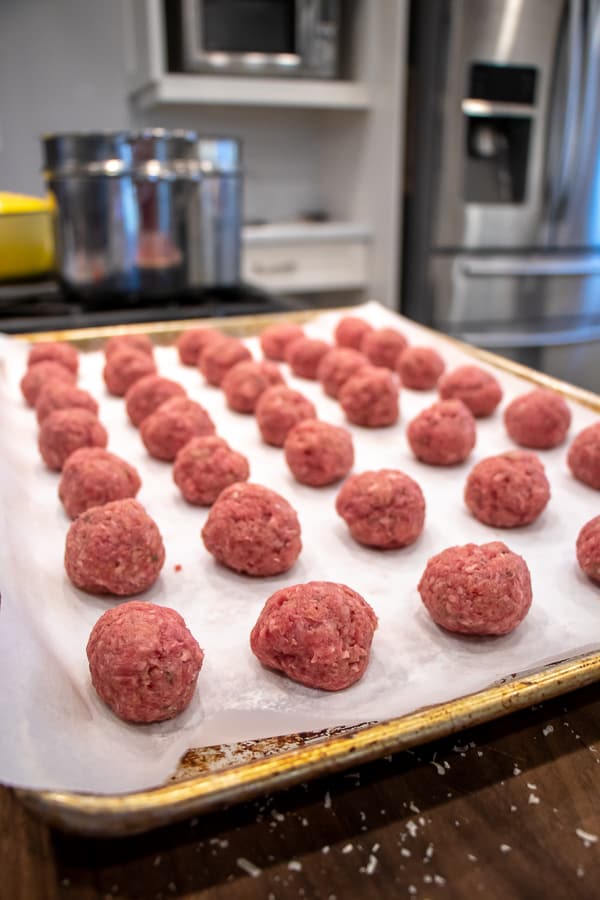 I prefer to bake the meatballs in the oven instead of frying them. Frying requires the meatballs be cooked in batches and also needs more hands on attention. Baking the meatballs is super simple as they can all be done at once and you can put them in the oven and leave them there until they are finished baking.
I actually have a post specifically about how to bake meatballs in the oven. You can check that out here: How to Bake Meatballs in the Oven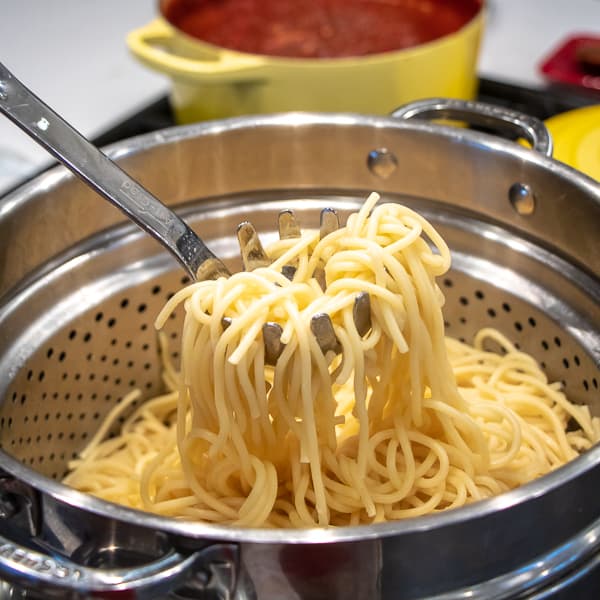 Once the spaghetti has been cooked according to the directions on the package, I like to toss them in a little bit of the sauce. This helps to keep the noodles from sticking together as one large clump of pasta.
To serve, place some of the noodles on a plate and put a few meatballs on top. Spoon some sauce on top and, if desired, sprinkle with grated parmesan cheese.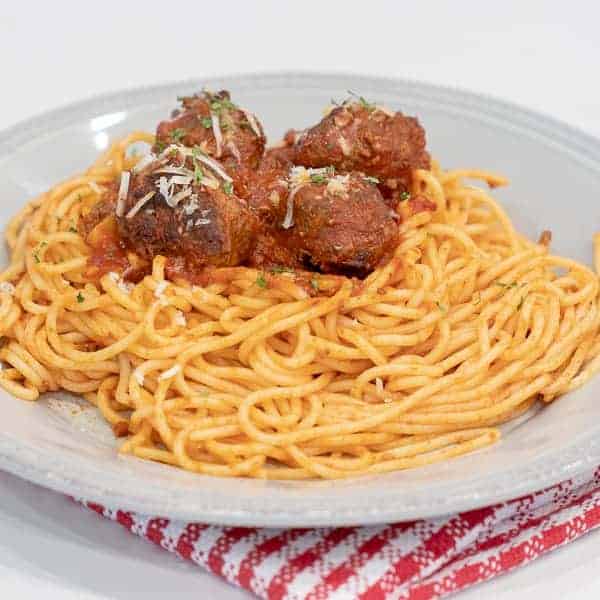 Spaghetti and Meatballs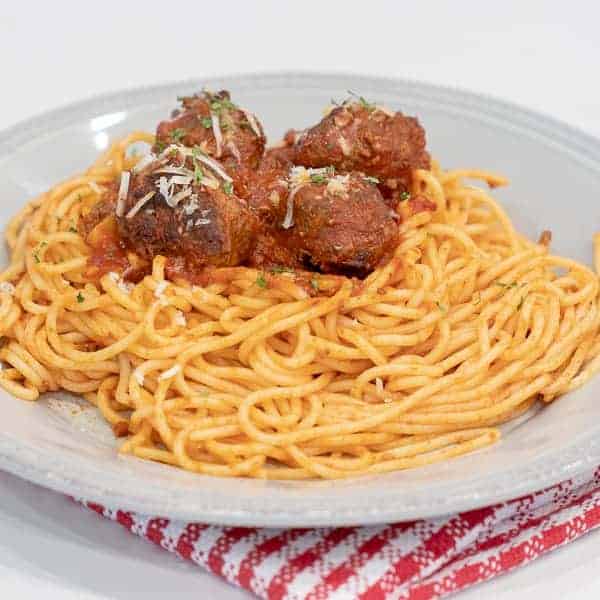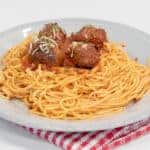 Print
Easy recipe for how to make classic spaghetti and meatballs. Oven baked meatballs with a bright marinara sauce.
Servings: 6 people
Ingredients
Sauce
3 tbsp olive oil
1 red pepper , cored and diced
1 medium onion , peeled and diced
3 cloves garlic , minced
6 cups crushed or strained tomatoes
1/2 cup red wine
1 tbsp sugar
1 tsp salt
1 tsp garlic powder
1 tsp oregano
1/2 tsp dried red chili pepper flakes
Meatballs
2 pounds lean ground beef
1/2 cup parmesan cheese
1/3 cup milk
2 medium eggs
3/4 cup bread crumbs
1 tsp salt
1/2 tsp black pepper
1/2 tsp garlic powder
Instructions
In a large saucepan or dutch oven, heat oil over medium heat. Add onion, pepper and garlic and saute for 5 minutes or until the onions are transparent. Stir in the remaining Sauce ingredients. Bring to a boil, and lower heat to a simmer. Let the sauce simmer for 45-60 minutes.

In a large bowl, mix all the ingredients together. Knead the mixture with your hands until thoroughly combined. Roll into 1 1/2 inch meatballs and place on a baking sheet lined with parchment paper. Bake in the oven at 400F until cooked through, about 20-24 minutes.

While the meatballs are in the oven and the sauce is simmering, cook the spaghetti pasta according to the directions on the package and drain.

Spoon some sauce in with the noodles so they do not stick and clump.

Spoon some noodles on a plate. Top with a few meatballs and a spoonful of more sauce. If desired, sprinkle with grated parmesan cheese.
Nutrition
Per serving:
Calories: 789kcalCarbohydrates: 92gProtein: 54gFat: 21gSaturated Fat: 7gCholesterol: 162mgSodium: 1467mgFiber: 9gSugar: 18g