Classic Italian Meat Sauce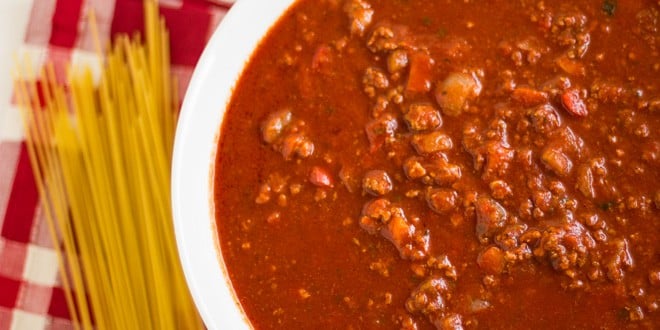 Spaghetti makes regular appearances at our house. The kids love noodles and any Italian dish is a big favorite for everyone. I like to make it because it is easy and quite economical.
This is not the first spaghetti sauce recipe I have shared. I have already posted a few different versions of spaghetti on the blog:
Spaghetti and Meatballs – Who doesn't love this classic dish.
Sunday Gravy – This is my favorite spaghetti recipe but it requires 4-6 hours of low and slow cooking. Ribs, sausage and meatballs makes Sunday Gravy a meat lovers dream come true!
Merguez Meatballs with Tomato Sauce – If you are looking for a fresh take on this classic dish try this one with North African aromatics.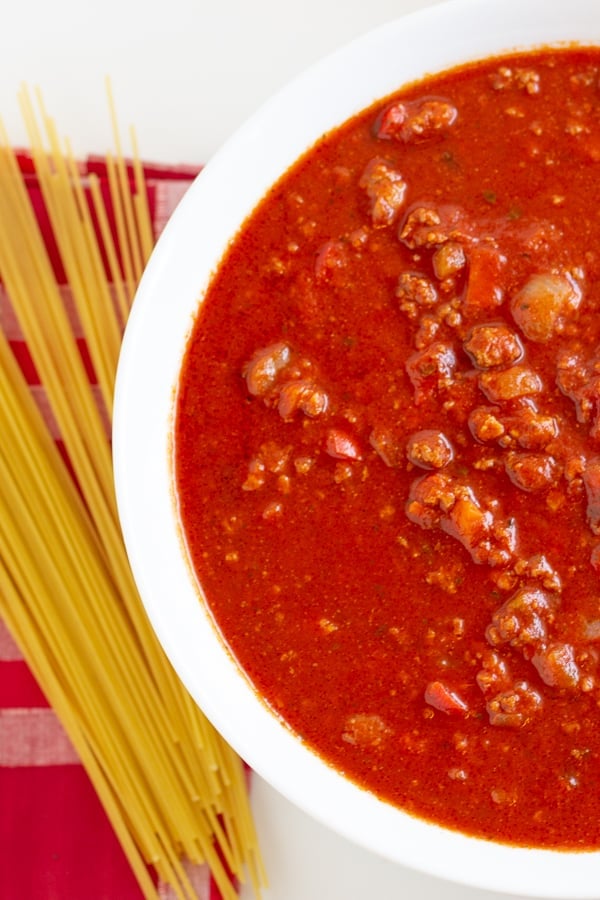 The recipe for today is my classic Italian meat sauce. I have used this recipe for years and probably make it 6 times a year, if not more. The dish uses basic ingredients but tastes amazing. The sauce is hearty and full of wonderful flavours.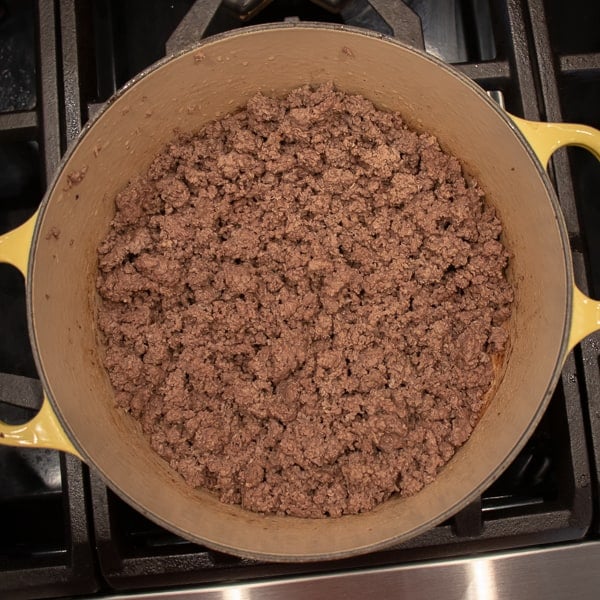 Heat the pot or dutch oven over medium heat and cook the ground beef until all browned. Make sure to use a wooden spoon to break the beef into small pieces. Drain the grease.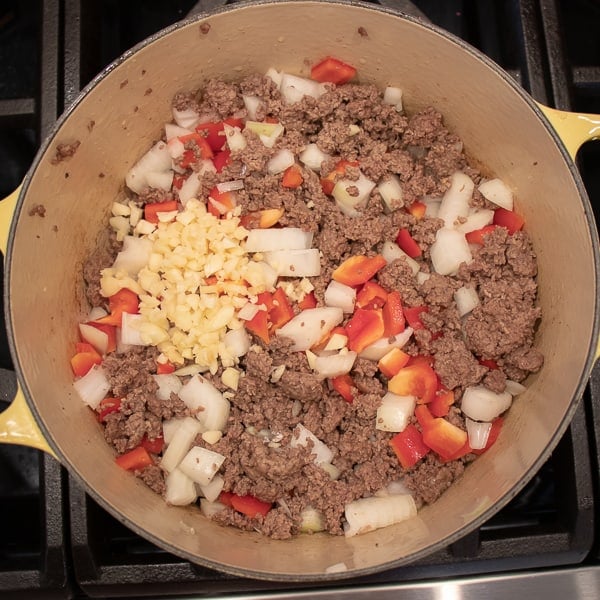 Stir in the onion, pepper and garlic. Cook for a few minutes or until the onions are transparent.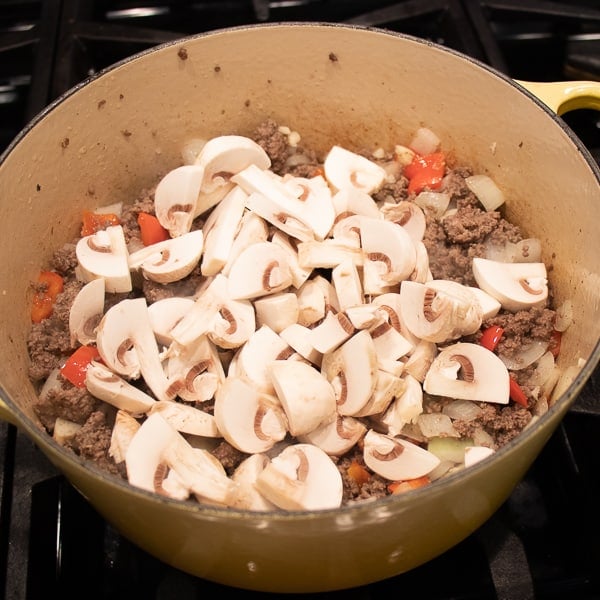 Add the mushrooms and wine and cook for a few more minutes, or until the mushrooms are tender.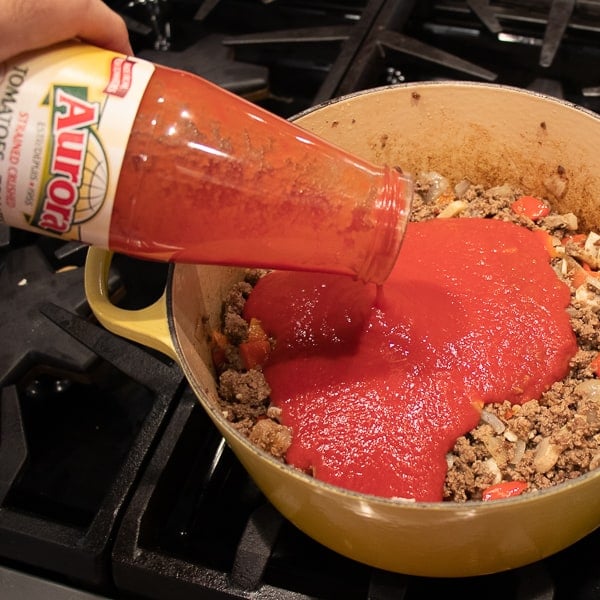 Stir in the strained or crushed tomatoes, tomato paste, sugar and spices.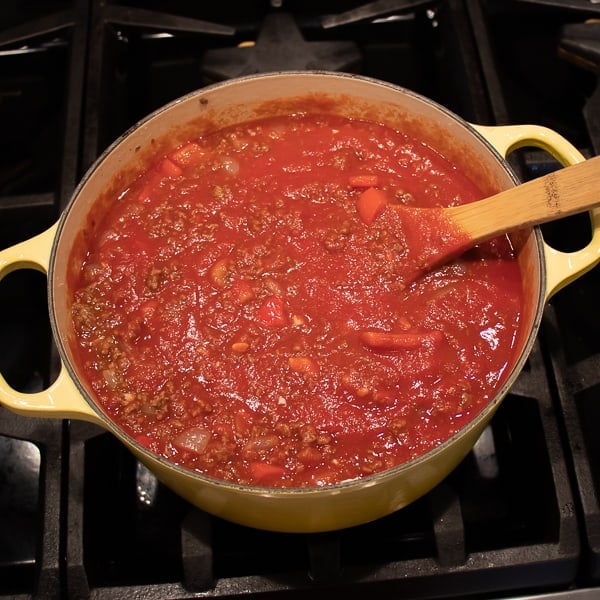 Turn the heat to low and let the sauce simmer for an hour or so, stirring often. Serve on cooked noodles.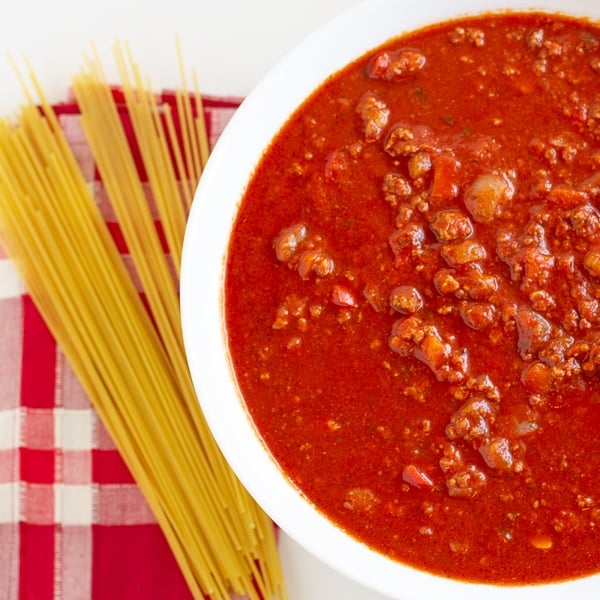 Classic Italian Meat Sauce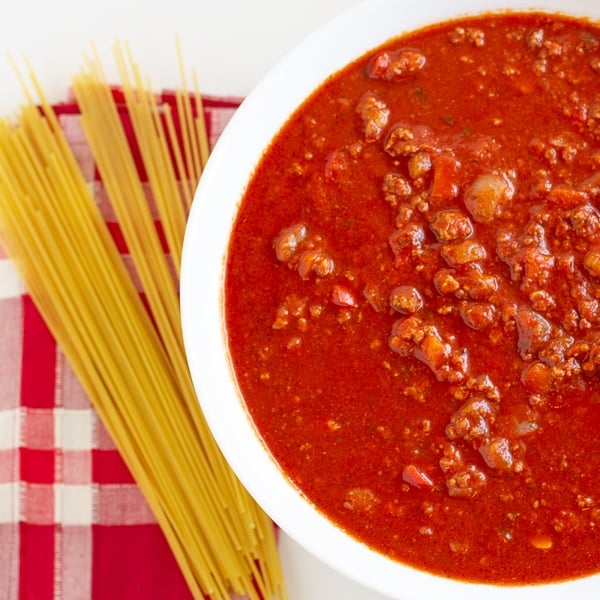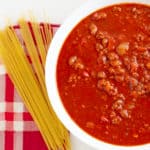 Print
This homemade recipe for spaghetti meat sauce is a traditional dish that is hearty and perfect for any kind of pasta. Penne, rigatoni, fusilli, spagettini.
Servings: 6 people
Ingredients
2 pounds lean ground beef
1 large onion diced
1 sweet pepper (red, orange or yellow), diced
2 cups fresh mushrooms sliced
3 garlic cloves minced
2 28 oz cans of crushed tomatoes (3 cans if you prefer a thinner sauce)
1 5.5 oz can of tomato paste (about 2/3 cup)
1/2 cup red wine
1 1/2 tbsp sugar
1 tsp salt
2 tbsp basil
1 tbsp oregano
1 tsp fennel seeds
Instructions
Brown the ground beef in a large saucepan on medium heat. Use a wooden spoon to break it into small chunks while it is cooking. Continue to do this until it is all cooked through and you no longer see any pink. Drain the grease.

Add the onion, pepper, mushrooms and garlic. Stir regularly and cook for about 5-7 minutes or until the onions and peppers are tender.

Stir in the remaining ingredients. Bring to a low boil and lower heat to a simmer.

Let the sauce simmer for 45-60 minutes. Stir the sauce regularly, scraping the bottom of the saucepan to ensure nothing is sticking or burning.

Serve on cooked pasta noodles.