Sweet and Sour Chicken Stir Fry
This sweet and sour chicken is sweet and tangy with lots of chunks of chicken, vegetables and pineapple. A great Chinese stir fry and perfect served with a side of rice.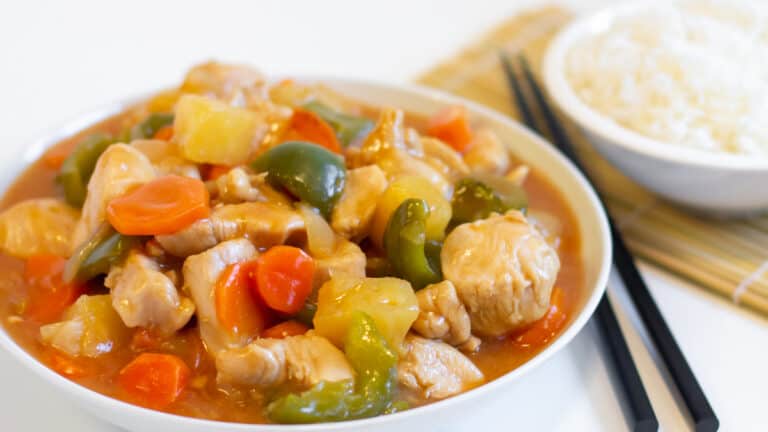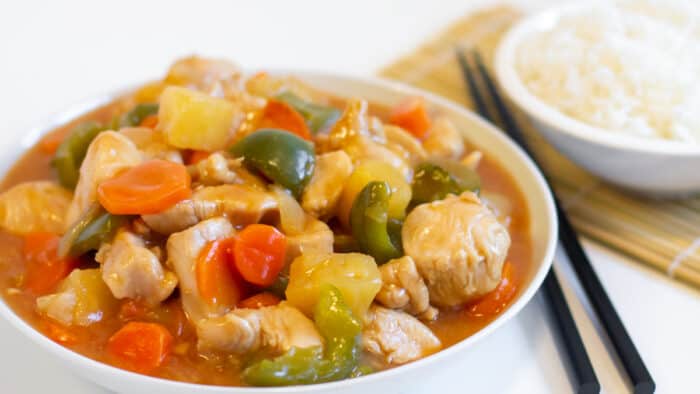 Who doesn't love Chinese take out? I know that North American restaurant style Chinese food is vastly different from authentic Chinese cuisine (which I also enjoy!), but I have a soft spot for good old restaurant style Chinese food. One of my favourite dishes is classic sweet and sour chicken stir fry. This recipe tastes just like take out and it is surprisingly easy to make!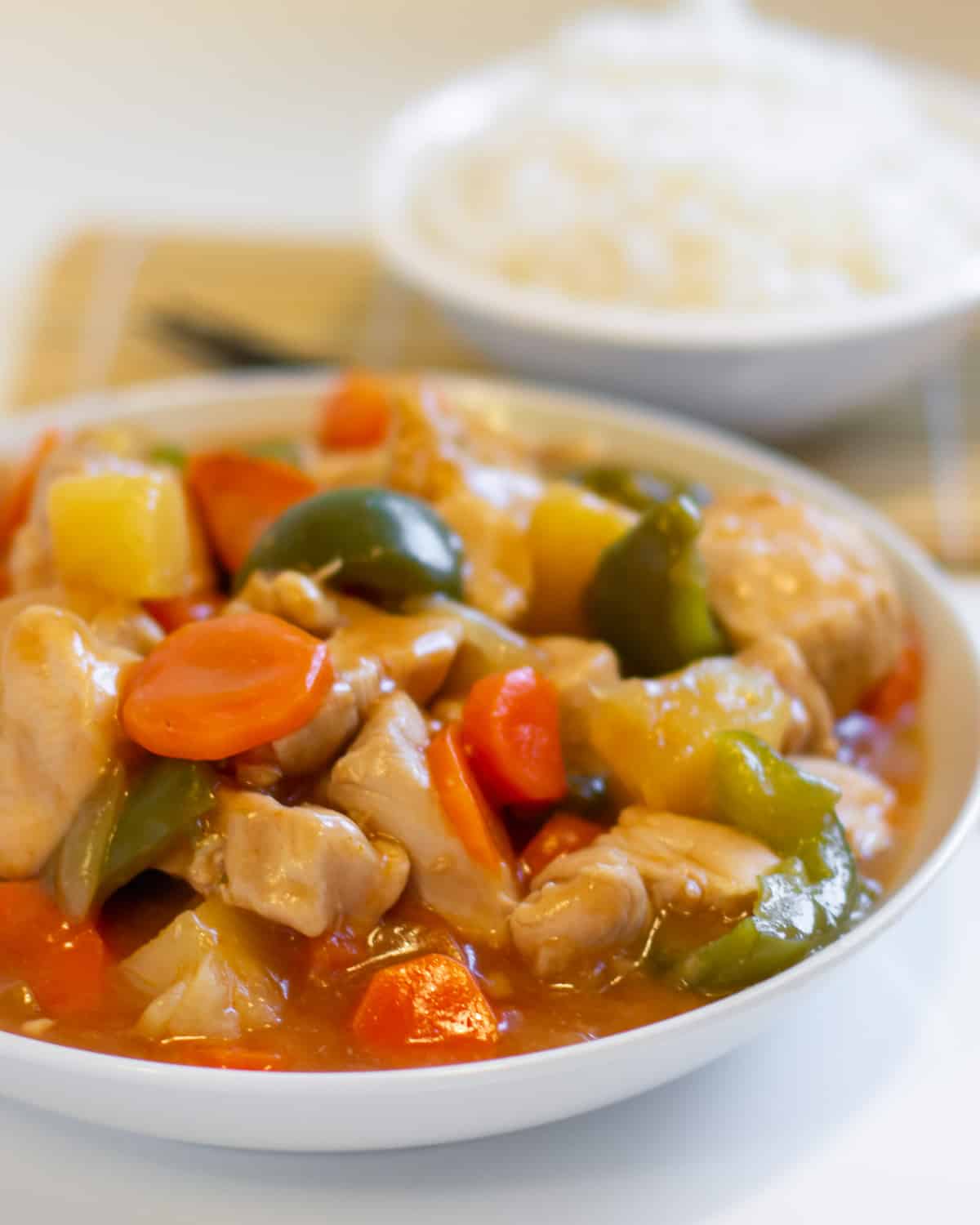 What Makes This Stir Fry So Good?
A good sweet and sour sauce needs to have a nice tang to it and the perfect sweetness. I love it all over the meat, veggies and maybe even some pineapple chunks too. Sweet and sour chicken on a bed of rice is pretty close to perfection for me!!
I have never been successful in replicating a sweet and sour sauce that rivals what I eat at a good Chinese restaurant. I decided it was time to get serious about this and come up with a recipe that worked.
Ingredients You Need to Make Sweet and Sour Chicken
Chicken breast – boneless and skinless cut into cubes
Carrots – peeled and sliced
Onions
Green peppers
Oil
Water – just a little bit when cooking the vegetables
A can of pineapple chunks – save the juice because we will use that as well!
Ketchup
Vinegar
Brown Sugar
Soy Sauce
Corn starch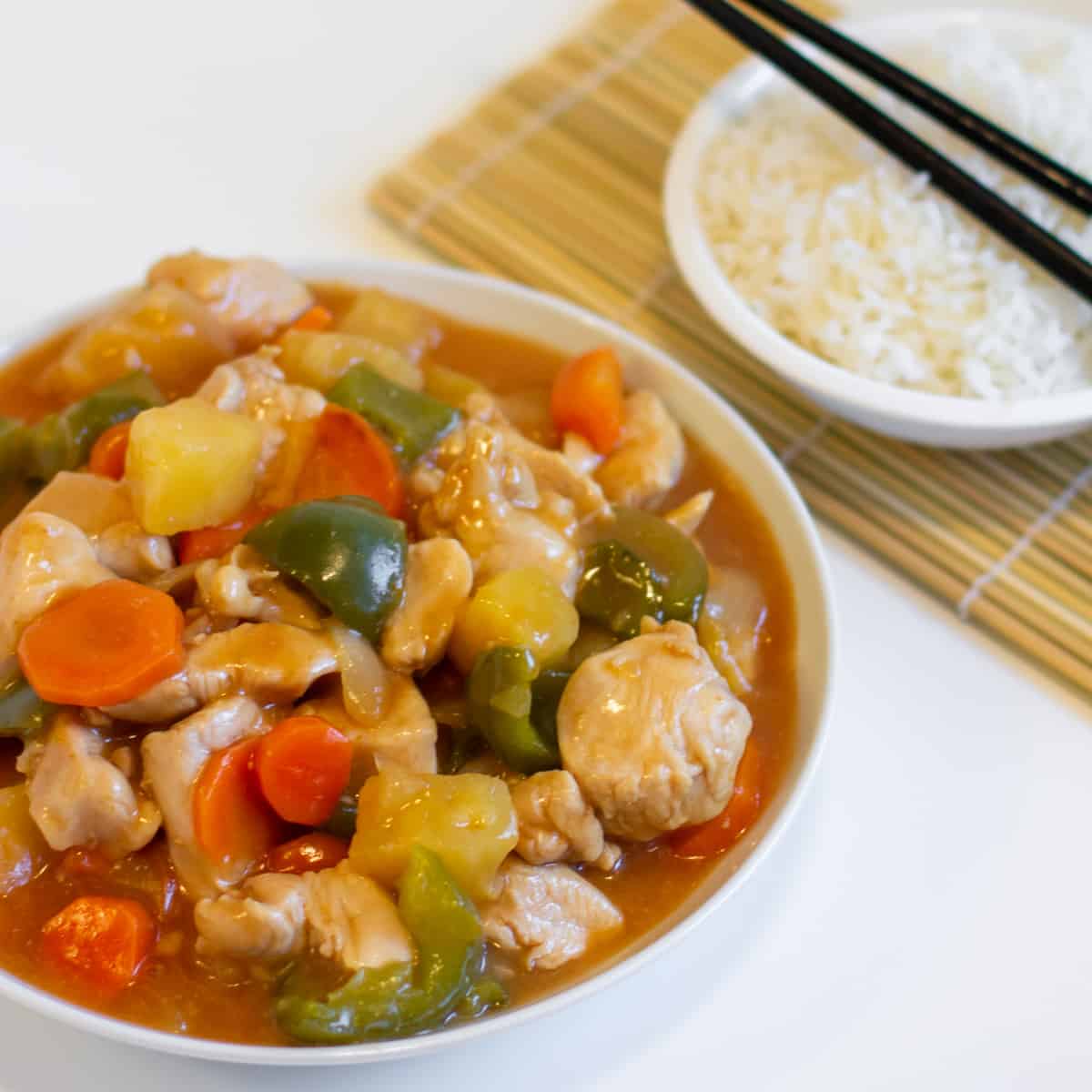 Steps For How to Make Stir Fry!
Prep all the ingredients ahead. Cut the chicken into similar sized chunks. Prepare the vegetables by peeling and slicing the carrot and dicing the onion and pepper.
Cook the chicken first. Heat the oil in a wok or frying pan and sauté the chicken until no longer pink. Once cooked, spoon it out and place the chicken on a plate.
Cook the vegetables in the wok/frying pan with a couple tablespoons of water. The water creates a steaming effect during the cooking. Cook with the lid on the pan/wok. Add the pineapple.
Whisk together the ingredients for the sweet and sour sauce in a separate bowl. Pour the sauce in with the veggies.
Add the chicken and cook until the sauce thickens.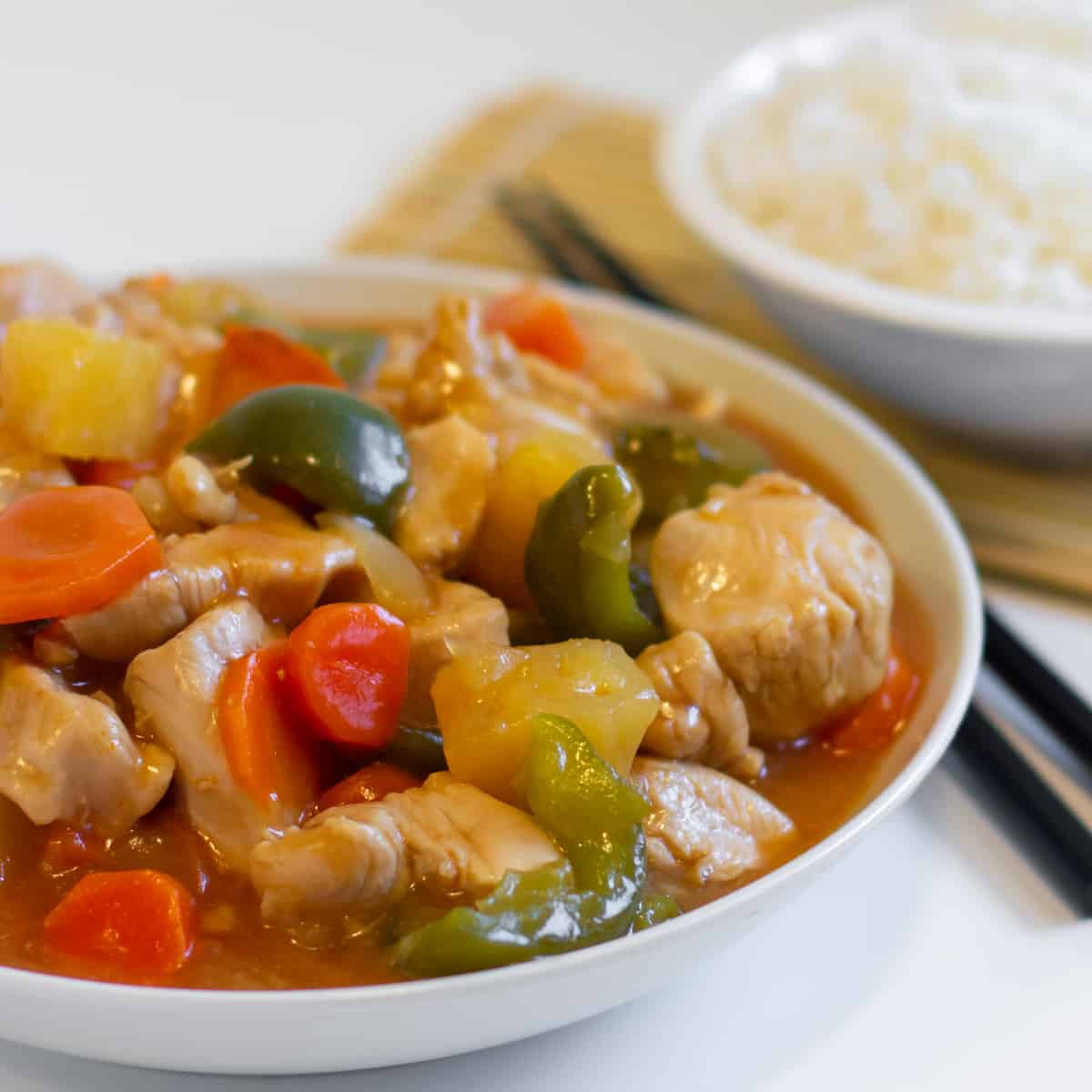 This dish was great and the sauce was perfect. Everyone in the family loved it and they all said it was as good or better than anything from a restaurant. That was all I needed to hear!
Make it a Meal With These Recipes!
If you are looking for some more dishes that go very well with this sweet and sour chicken stir fry, then check out these ideas!
Sweet and Sour Chicken Stir Fry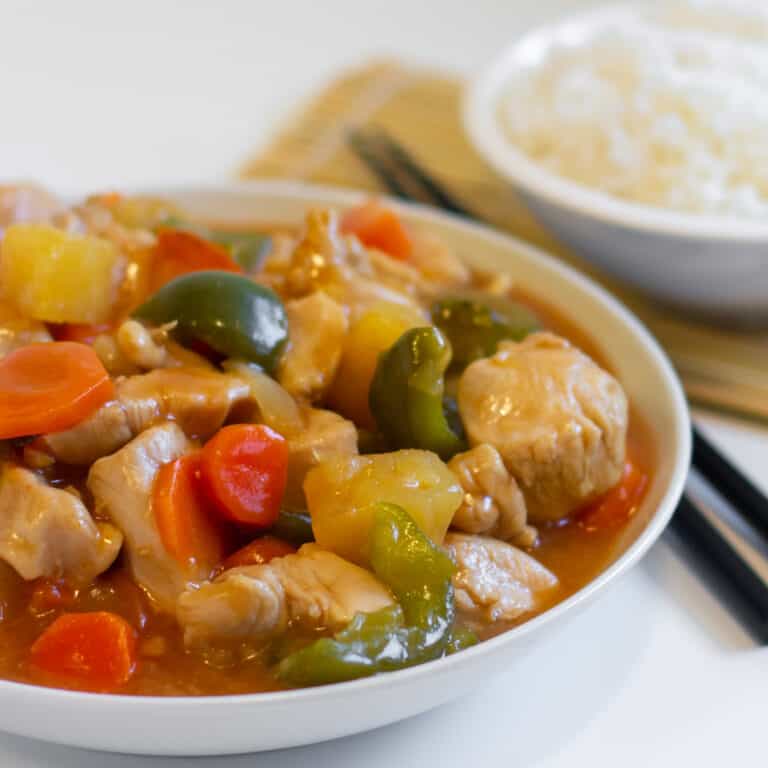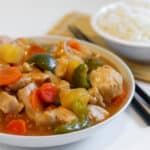 Print
Instructions for how to make Chinese sweet and sour chicken stir fry recipe with pineapple, carrots and green peppers.
Servings: 4
Ingredients
3 tbsp oil
3 chicken breasts , boneless and skinless
2 carrots , peeled and sliced
1 green pepper , cored and diced
1 onion , peeled and diced
2 tbsp water (optional)
1 can pineapple chunks/tidbits in juice , drained with juice reserved
Sweet and Sour Sauce
1/3 cup white vinegar or rice vinegar
1/4 cup pineapple juice ,from the can of pineapple
5 tbsp brown sugar
2 tbsp ketchup
2 tbsp soy sauce
3 teaspoons corn starch
Instructions
Cut the chicken breasts into 1/2 inch chunks.

Peel and slice the carrots.

Cut the pepper and onion into 1/2-1 inch pieces.

Drain the pineapple from the can reserving 1/4 cup of the pineapple juice.

Heat a wok or frypan on medium high heat. Add 2 tbsp oil. Stir in the chicken and cook until no longer pink. Scoop the chicken onto a plate.

Add the remaining tablespoon of oil and dump in the sliced carrots, pepper and onion. Cover the wok or frypan with a lid. Check every couple minutes and stir to ensure the vegetables do not stick to the bottom of the pan. If needed, add the optional 2 tbsp of water which will help steam the veggies and keep them from burning.

Once the carrots are starting to soften, lower the heat and add the pineapple chunks and cooked chicken.

In a separate bowl, whisk together the remaining ingredients, ensuring the corn starch is dissolved.

Pour the sauce into the frypan and stir it gently through the chicken and veggies. Cook for about 5 minutes or until the sauce is thickened.

Serve on cooked rice.
Nutrition
Per serving:
Calories: 393kcalCarbohydrates: 50gProtein: 21gFat: 13gSaturated Fat: 1gCholesterol: 54mgSodium: 708mgFiber: 4gSugar: 42g
Originally published in January 2013