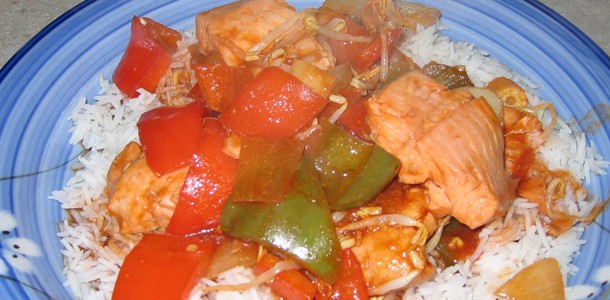 Salmon is a wonderful thing! I love salmon done cedar plank style on the bbq. I love salmon baked in the oven. I love salmon sandwiches. One of my favourite restaurants in Markham is called Fire and Ice. I often order the sweet and sour salmon dish when I am there.
I came home one day and decided to make my own recipe. Here it is.
Sweet and Sour Salmon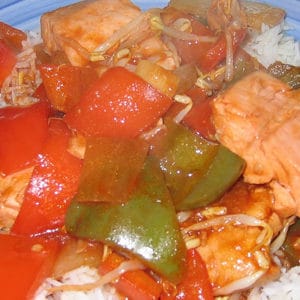 Print
A stir fry recipe of salmon and fresh vegetables in a sweet and sour sauce served on rice.
Servings: 4 people
Ingredients
2 tbsp olive oil
2 large fillets of salmon or 3-4 small fillets , cut into 1-2 inch cubes
1 tbsp ginger , minced
1 red pepper , diced
1 green pepper , diced
1 bunch green onions , sliced
1 can baby corn or oriental vegetables
1/2 cup juice (orange, pineapple etc.)
1/3 cup white vinegar
3 tbsp ketchup
2 tbsp soy sauce
2 tbsp corn starch
1 tbsp sugar
1 tsp salt
Instructions
Heat oil in a large skillet or wok on medium high heat.

Add salmon and fry until salmon is cooked through, about 7-9 minutes.

Remove salmon and keep in a bowl.

Add ginger, peppers, onions, and baby corn. Saute for 5 minutes, stirring occasionally.

In a separate bowl stir remaining ingredients then add them with the vegetables.

Stir and then add salmon. Lower heat to a simmer.

Stir until sauce thickens.

Serve on rice.