Steamed Salmon with Orange Sesame Glaze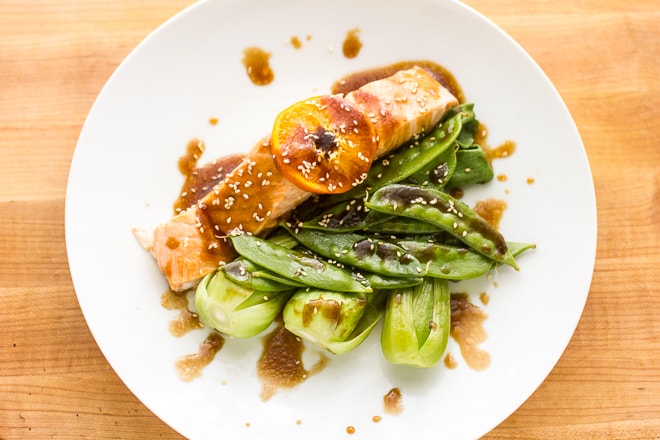 Steamed salmon is so delicious and for the longest time I struggled with how to steam salmon well. It always seemed to come out too dry. In the end I learned that I steamed it for far too long and the temperature of the steam was too high. I always steamed pretty much anything at full steam where the water was at a full boil and creating high steam.
Over the years I have learned that steaming fish should be done at a more gentle steam which does a better job cooking the delicate fish.
One of my favourite glazes for salmon is this orange sesame sauce. The mixture of orange juice, oyster sauce, sesame oil, rice vinegar, soy sauce and sriracha give the perfect mix of Asian flavours. It has an excellent blend of sweet, sour, salty and spicy.
To go along with the salmon, I also steam some baby boy choy and snow peas. Love these veggies and the bright green on the plate just pops! Also, the same glaze for the salmon is delicious drizzled all over the steamed vegetables.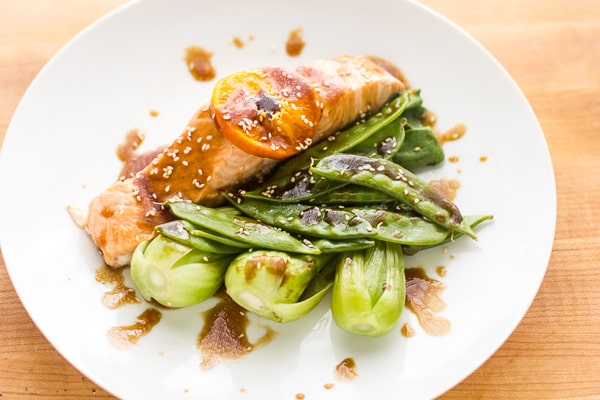 I have steamed this salmon recipe so many times over the years. I have used traditional steamer pots, collapsible metal steaming baskets and bamboo steamers and they all work just fine for the salmon.
But recently, I got my hands on the new Steam Zone from Breville. This high tech steamer allows you to steam two different foods at different temps (high or low) and two different times. As always, Breville's product is well designed and built. I was definitely looking forward to giving it a test drive steaming some salmon and veggies.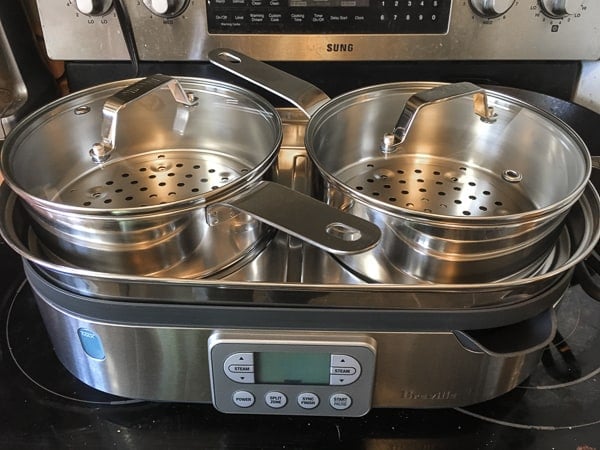 The Steam Zone allows you two either steam using the two steamer pots or if those are removed, you can use the full wide steamer tray.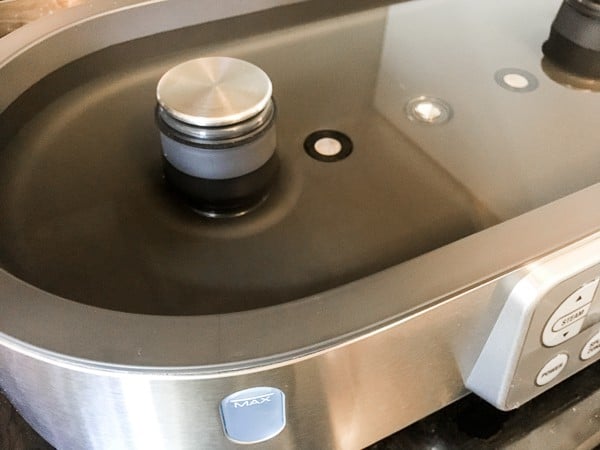 The water reservoir under the steaming tray and pots hold a lot of water and can be used multiple times. The seals around the edges keep all the food juices above in the drip tray.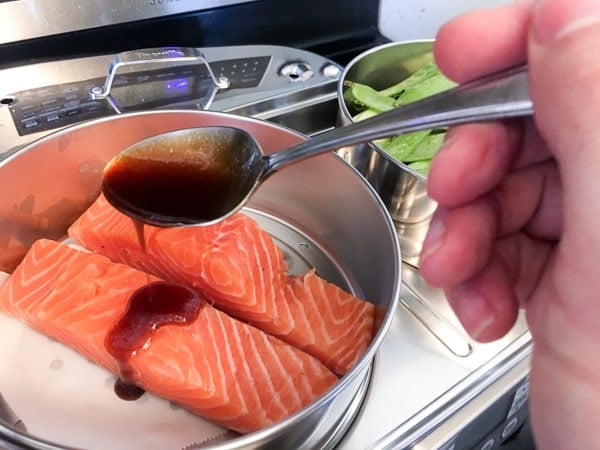 Lay a sheet of parchment paper at the bottom of your steamer. This helps to keep the fish from sticking. Trust me on this. I have tried it without and the salmon lifts out of the steamer far more easily and clean up is a snap.
The Steam Zone steamer pot allows me to place a couple 5 oz salmon fillets without too much crowding. I used salmon with the skin still on, but you could also have the skin removed. Make sure though, that all of the pin bones have been removed.
I made a nice sweet glaze that is full of Asian flavours. I poured about a 1/3-1/2 of the glaze on the salmon once in the steamer. This infuses the flavours into the fish during the steaming process.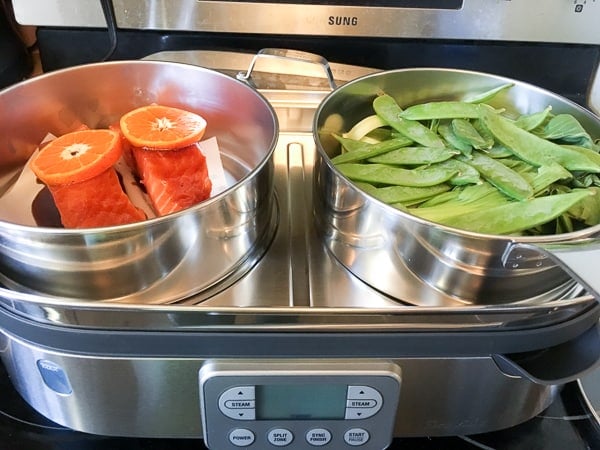 To go with the salmon, I also steamed some baby bok choy and snow peas. One sweet feature of the Steam Zone is that there are two steamer pots and each can be steamed at a different temperature and time. Vegetables are best steamed at a higher temperature than the salmon, so I am able to cook the salmon on low and the veggies on high.
If you do not have this option with your steamer, do not worry, you can steam them together at the same steam temp and they will turn out just fine!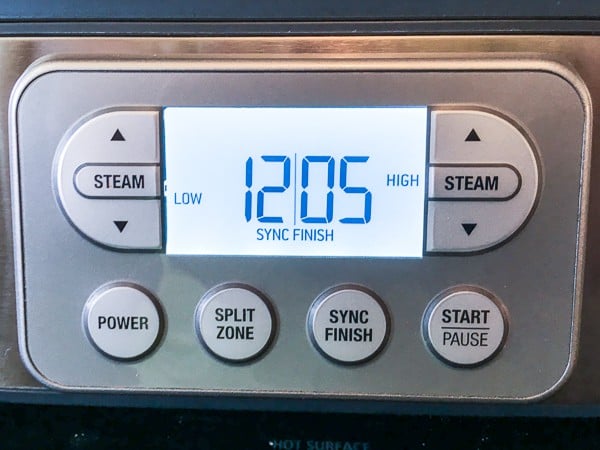 The Steam Zone allows control panel allows you to designate both the temperature and time for each steam zone. For the salmon I steamed on low for 12 minutes and the baby boy choy and snow peas were steamed on high for 5 minutes.
One other awesome feature for this machine is there is a Sync Finish function. This feature makes sure both zones of food are finished at the exact same time.
With this button pressed, the salmon started steaming first and with just 5 minutes remaining the veggies started up. I love this!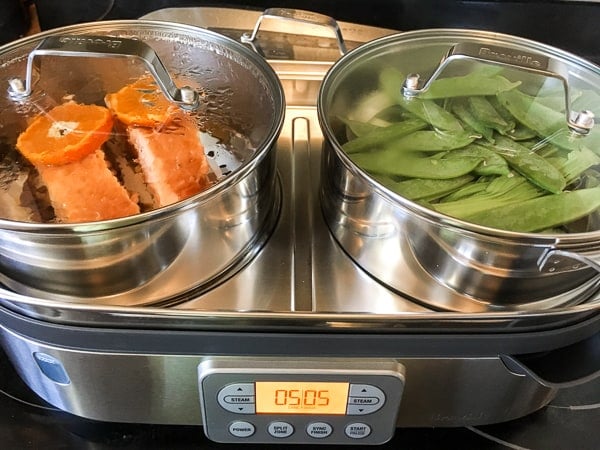 With 5 minutes remaining, the salmon is steaming away and now the vegetables are starting.
The smell is amazing!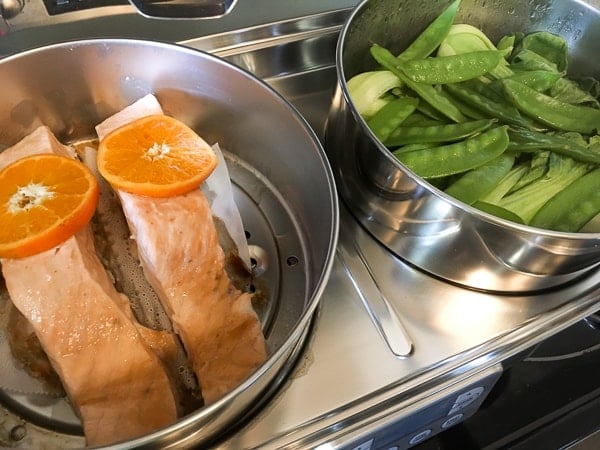 Once done the steamer beeps and I lifted the lid to reveal perfectly steamed salmon and the vegetables are cooked just right as well.
The Steam Zone makes steaming so easy and I just love being able to steam two different dishes separately but at the same time. It allows you to prepare a full meal with one appliance.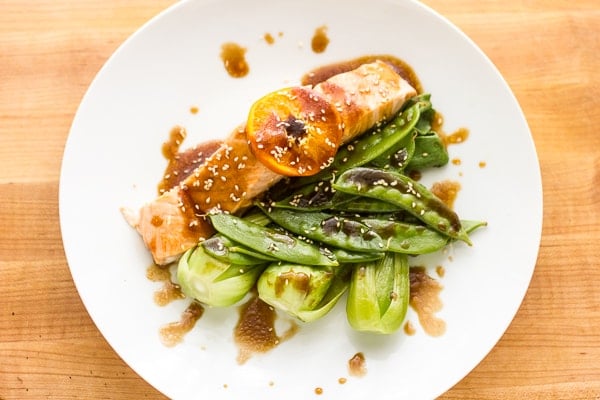 Once plated, this dish looks so amazing. The vegetables are still bright green and still have a hint of crispness. The salmon is moist, flaky and has so much flavour with the glaze.
I have served this dish so many times and each time I get gasps of excitement from the guests.
Steamed Salmon with Orange Sesame Sauce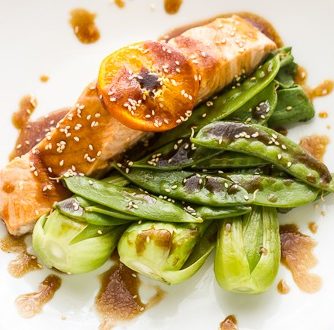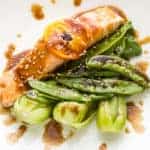 Print
How to steam salmon recipe with an Asian sauce made with orange, oyster sauce, soy sauce, rice vinegar and sriracha. Served with baby boy choy and snow peas.
Servings: 2 people
Ingredients
2 5oz salmon fillets
3 tbsp orange juice
1/4 cup oyster sauce
3 tbsp sesame oil
2 tbsp white sugar
2 tbsp soy sauce
2 tsp sriracha sauce
2 tsp rice vinegar
6 baby boy choy, cut in half lengthwise
1 1/2 cups snow peas
2 slices orange
2 tsp toasted sesame seeds
Instructions
Place salmon fillets in steamer pot or basket lined with parchment paper. Place an orange slice on each salmon fillet.

Whisk together the orange juice, oyster sauce, sesame oil, white sugar, soy sauce, sriracha sauce and rice vinegar together in a bowl. Spoon some of the glaze on top of the salmon.

Place baby boy choy and snow peas in steamer pot or basket. If you have two steaming baskets keep them separated, but if you only have one large steamer, you can steam them together but cook to the salmon temperature and time length.

Steam the salmon on low for 12 minutes and the vegetables on high steam for 5 minutes.

Plate by placing a bed of baby boy choy and snow peas in the middle of a plat. Gently place a salmon fillet right next to the veggies.

Spoon some more of the glaze on top of the salmon and vegetables. Sprinkle with some sesame seeds.

Serve
Disclaimer: Breville provided me with the Steam Zone. They did not pay me for this feature and the views expressed above are my honest reactions after trying the product. This post contains affiliate links.