Baked Salmon with Orange Oregano Aioli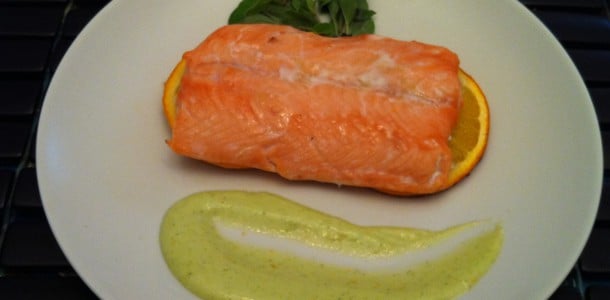 This salmon dish is very light but the orange oregano aioli provides a richness to the fish. This is a low carb offering that goes great with fresh steamed vegetables like broccoli or asparagus.

Print
Servings: 4
Ingredients
4 small salmon fillets
2 oranges
4 tbsp olive oil
fresh oregano sprigs
Instructions
Make the orange oregano aioli. Keep it cool in the fridge.

Preheat the oven at 425.

On a baking sheet place two orange slices side by side. Place a salmon filet on the orange slices. Put a sprig of oregano leaves on the salmon filet and then pour 1 tbsp of the oil on top of the salmon. Do this for all four salmon filets.

Bake the salmon for 18 minutes.

Serve salmon with the aioli.
Notes
Recipe for aioli found here.
Directions