Lemongrass Chicken Drumsticks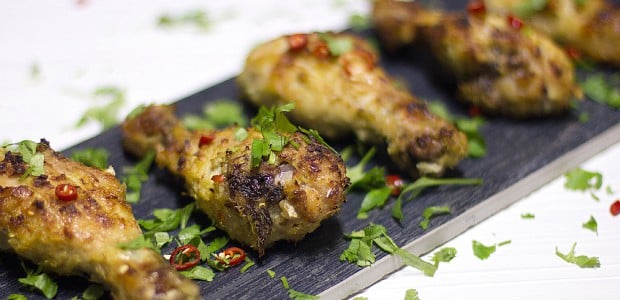 Thai cuisine has some incredible flavours. Cilantro, kaffir lime, lemongrass, galangal, ginger, chilies, coconut milk, lime and fish sauce are just some of the wonderful ingredients that make up Thai food. Many times they are all mixed together, like in Thai curries, but these ingredients are each amazing and can be given the spotlight to create a great dish.
Lemongrass has no relation to lemon, but does have a similar zesty citrus flavour. Used in a lot of Thai cooking, lemongrass is one of the core ingredients for curries, soups and more. It has a woody texture, so make sure that it is pulsed in the food processor long enough to break it down. The flavour of the lemongrass tastes great on this chicken alongside some other wonderful ingredients.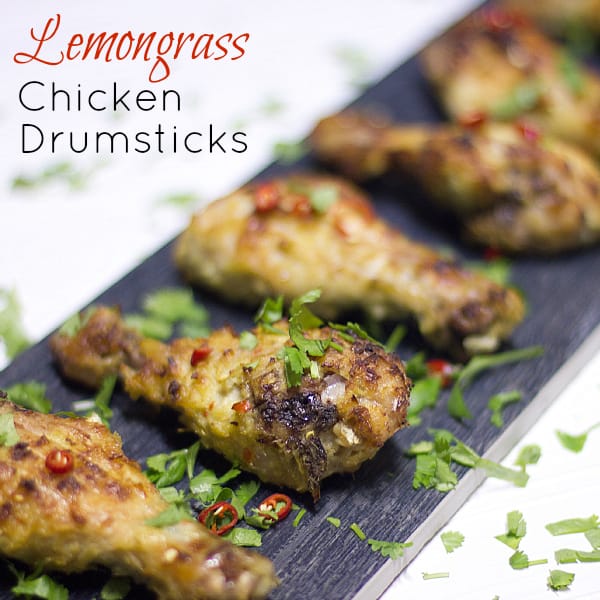 Lemongrass Chicken Drumsticks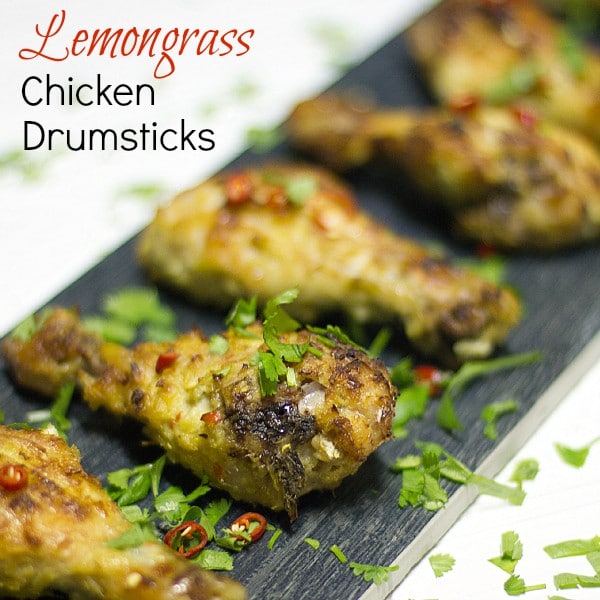 Print
Baked lemongrass chicken drumsticks marinated in a Thai paste of lemongrass, ginger, garlic, fish sauce, soy sauce, palm sugar and Thai chilies
Servings: 6 people
Ingredients
12 chicken drumsticks
2 shallots
2 lemongrass sticks
1 inch fresh peeled ginger
5 garlic cloves
1 tbsp fish sauce
2 tbsp soy sauce
2 tbsp oil
2 tbsp palm sugar or honey
1-3 red chilies
1/3 cup fresh cilantro , chopped (optional)
3 red chilies , sliced (optional)
Instructions
Add shallots, lemongrass, ginger, garlic, fish sauce, soy sauce, palm sugar/honey and 1-2 chilies to a food processor and pulse until a smooth paste forms.

Toss chicken drumsticks in the lemongrass marinade and place in the fridge for 2 or more hours.

Place a wire rack on a cookie sheet lined with aluminum foil. Spray the wire rack with cooking spray.

Place the drumsticks on the wire rack and place in a 375F oven. Cook for 30 minutes.

After the 30 minutes turn the drumsticks cook for another 45 minutes.

Remove from the oven and sprinkle with the cilantro and sliced chilies.