Sweet Heat Thai Chili Sauce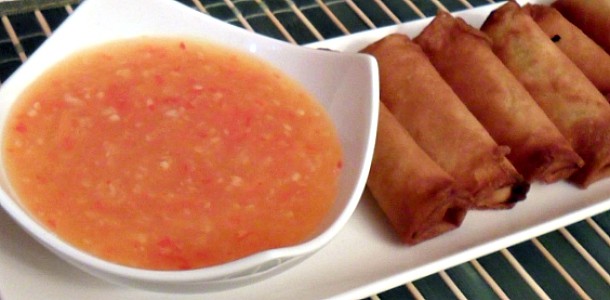 Our family loves sweet Thai chili sauce. We use it for chicken nuggets, spring rolls, a glaze for grilled chicken or shrimp and so much more. There is an Asian grocery store just around the corner from our house and they have a large selection of different brands. The big bottles are $1.79 – it is crazy how cheap they are.
I enjoy them, but they are nowhere near as hot as I like my sauces. Therefore it is time to make my own. Since it is a Thai sauce, I used Thai chilies for the heat. These peppers are tiny but they pack a punch, registering 50,000 – 100,000 Scoville units. If you are interested in more information on Thai chilies, other chilies, or the Scoville heat index, I did a post on chili peppers found here. I used 15 Thai chilies and the sauce was very hot. If you are interested in a medium heat I would recommend 10 peppers and 5 for a mild heat.
Sweet Heat Thai Chili Sauce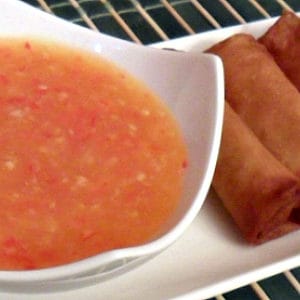 Print
Servings: 3 cups
Ingredients
1 cup rice vinegar
1 cup water
1 cup sugar
15 thai chilies
4 garlic cloves
3 tbsp chopped ginger
1/4 cup grated daikon
1/4 cup grated carrot
3 tbsp corn starch
2 tbsp water
Instructions
Cut the stems off the Thai chili peppers. Place the peppers (seeds and all!), garlic cloves, ginger, vinegar and water in a blender. Blend until the peppers, garlic and ginger are finely minced.

Pour the sauce in a pot and stir in the sugar. Bring it to a boil and keep it at a rolling boil for 10 minutes, stirring often.

Remove from the heat and stir in the grated carrot and daikon.

In a small bowl, mix the corn starch and 2 tbsp of water until the corn starch dissolves. Pour it into the sauce, stirring with a whisk. Keep stirring until the sauce thickens. If the sauce does not thicken enough, it may be necessary to put it back on the heat for a few minutes, stirring constantly, until it thickens.