Sesame Beef Sandwich with Asian Slaw and Wasabi Mayo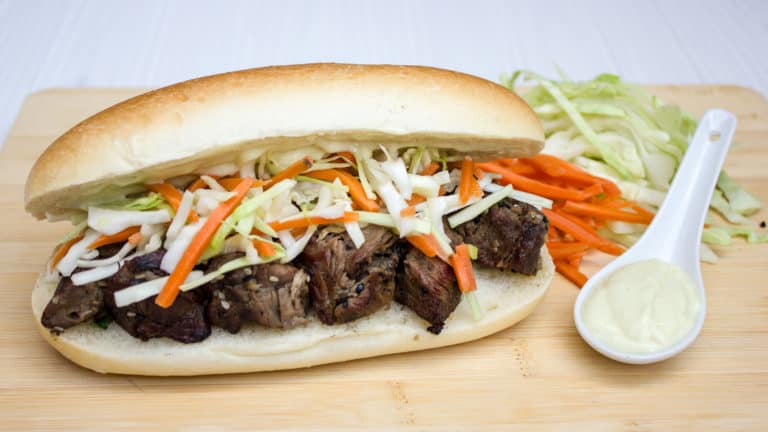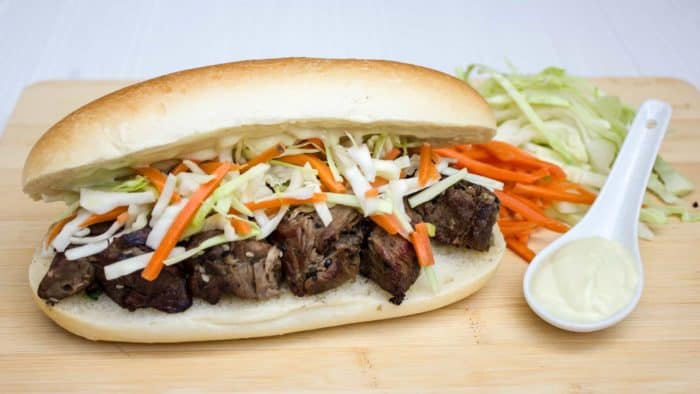 Sometimes leftovers can be as enjoyable as on the first day!
Sometimes they can even be better!
Last week I shared a delicious recipe for Sesame Asian Beef Skewers.
For that recipe, I made my first video tutorial and posted it up on youtube. The link for that video is here. In preparation for that video I prepped and grilled tons of the skewers. We ate them straight up the first two days and they are totally amazing like that. But on day 3, I knew that innovation was necessary. Since I always love a good sandwich, I figured that was the way to go.
This sandwich reminds me of a Vietnamese banh mi sandwich, and those are amazing. This sandwich was awesome! The Asian slaw goes so well with the sesame beef and the wasabi mayo is creamy with a great kick. This sandwich is so incredible that I may be making more of those beef skewers just so that I can make these again!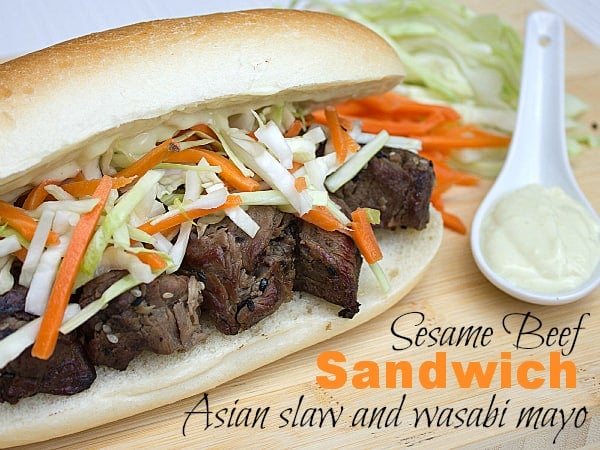 Sesame Beef Sandwich with Asian Slaw and Wasabi Mayo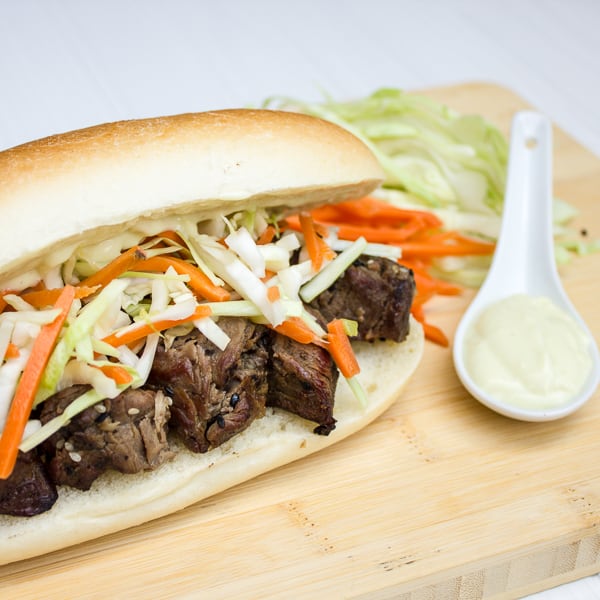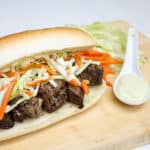 Print
A delicious sandwich made with grilled beef tenderloin skewers with an Asian cole slaw and a wasabi Mayo.
Servings: 4
Ingredients
6-8 Sesame Beef Skewers
4 sliced buns
1 cup shredded cabbage
1/2 cup thinly slice carrot
2 tbsp soy sauce
2 tbsp sesame oil
2 tbsp rice vinegar
2 tbsp brown sugar
1/4 cup mayo
2 tbsp water
1 tbsp wasabi powder
Instructions
Make the beef skewers according the the recipe found in the link below. Remove beef from the skewers.

Make the wasabi mayo by mixing the wasabi powder and water to form a paste. Mix into the mayo until smooth.

Make the asian slaw by mixing together the soy sauce, sesame oil, rice vinegar and brown sugar until the sugar dissolves. Pour over the cabbage and carrots until evenly coated.

Assemble the sandwiches by putting an equal amount of beef and slaw on each bun. Spread on some wasabi mayo.
Notes
Recipe for the Asian Sesame Beef Skewers:
https://www.theblackpeppercorn.com/asian-sesame-beef-skewers/