Grilled Ham and Pineapple Tropical Skewers
This is a sponsored post by TUMS Canada.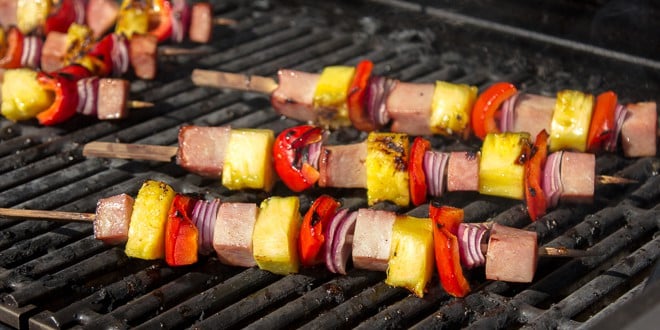 Oh the grill! There is not much that excites me more in the cooking realm, than firing up the BBQ. Sometimes I know exactly what I am going to grill, while other times I have no set plan. There are days when I stroll through the grocery store to see what inspires me. I suppose that is like an artist deciding what to paint, or an author thinking about what to write. The creative cook in me, loves to make food that is exciting, passionate as well as tasty! Using the grill is a significant place for creative cooking because I always love to #EATMOREBBQ!!
Recently, I was in the mood for skewers and wanted a more tropical mix of flavours, so I went with ham and pineapple. Along with ham and pineapple, I also used some red onions and red peppers as well. During grilling, I brushed a honey cinnamon glaze on the skewers. These turned out awesome! There was a nice tropical flavour and the glaze provided a nice sweetness with a hint of spices.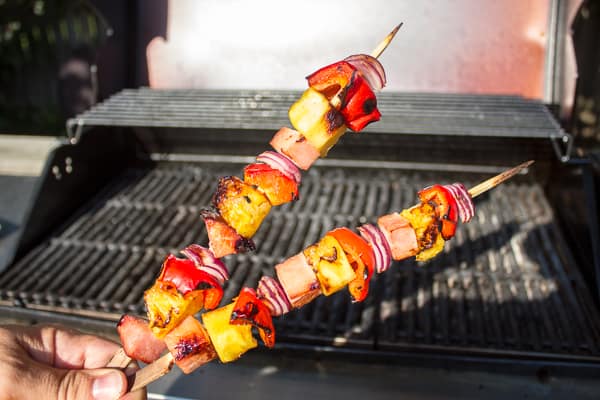 Using skewers is a great way to BBQ. Here are a few tips when using skewers for grilling.
Make sure the skewers soak for at least 30 minutes. This reduces the chance for the skewers to burn or catch fire.
Buy bamboo. Of the many different skewers I have purchased, I have found that bamboo does not create as many slivers and they do not seem to catch fire as much as standard wood skewers.
Cut the meat and vegetables into even size chunks. This ensures that they all cook through at the same time.
Consider wrapping some foil on the handles of the skewers. This keeps them from discolouring and then they can be removed prior to serving.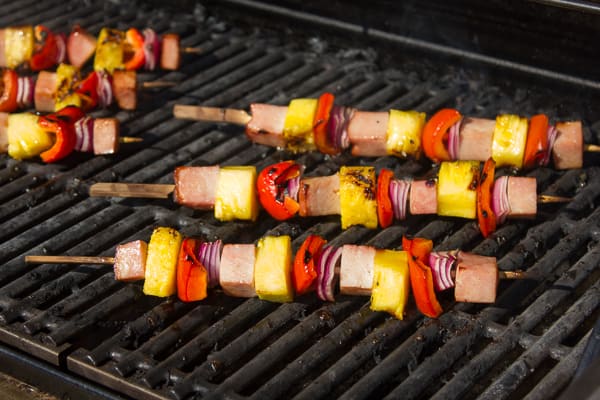 Grilled Ham and Pineapple Tropical Skewers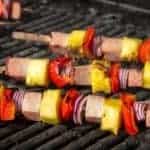 Print
Ingredients
1 pound ham
1 fresh pineapple , peeled and cored
1 red onion , peeled
1 red pepper , cored
1 tbsp olive oil
2 tbsp juice (pineapple, orange, apple, etc.)
4 tbsp honey
1/2 tsp cinnamon
1/4 tsp cayenne pepper
wooden skewers
Instructions
Soak skewers in water for 30 minutes.

Cut the ham, pineapple, red onions and red pepper into 1 inch chunks.

Thread the ham, pineapple, red onions and red pepper onto the skewers.

Preheat grill to medium high.

Make the honey glaze by mixing together the oil, juice, honey, cinnamon and cayenne pepper.

Place skewers on the grill.

While grilling, brush the glaze on the skewers. Every couple minutes, turn the skewers and brush on more glaze.

Cook until the onions and peppers are tender.

Serve immediately.
This post is sponsored by TUMS Canada and is part of the #EATMOREBBQ campaign.