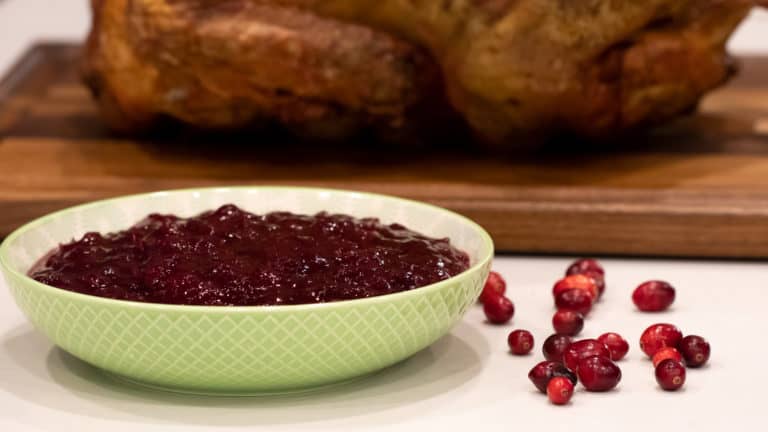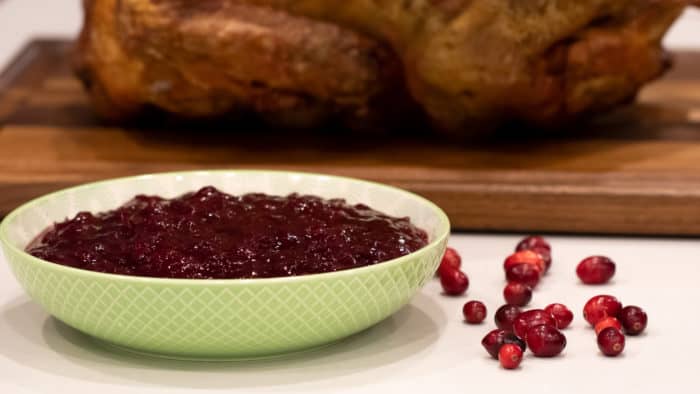 I love to host holiday dinners. There are a handful of dishes that I just have to make every year, and homemade cranberry sauce is one of those recipes. People love placing a spoonful of cranberry sauce on a slice of roast turkey.
It is just so good.
A bowl of cranberry sauce on the table is an essential part of the holiday dinner for our family. I remember there was one year that I forgot to buy the bag of fresh cranberries. The horror! Luckily, I had a can of cranberry sauce in the pantry. It was not the same as homemade sauce, but at least we had cranberry sauce to go with the meal.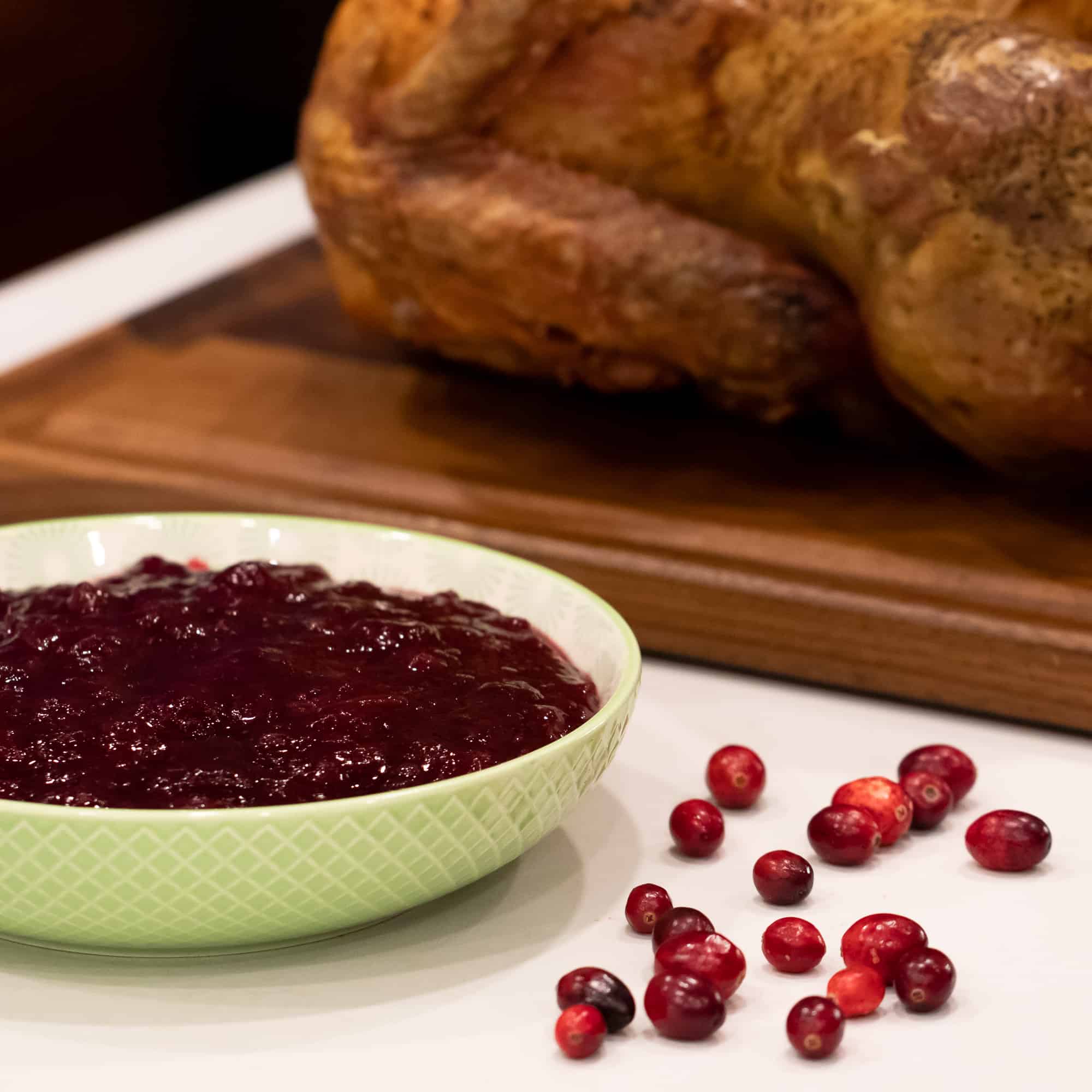 If you are planning a holiday dinner for Thanksgiving or Christmas, then check out some of these great recipes to go along with this cranberry sauce!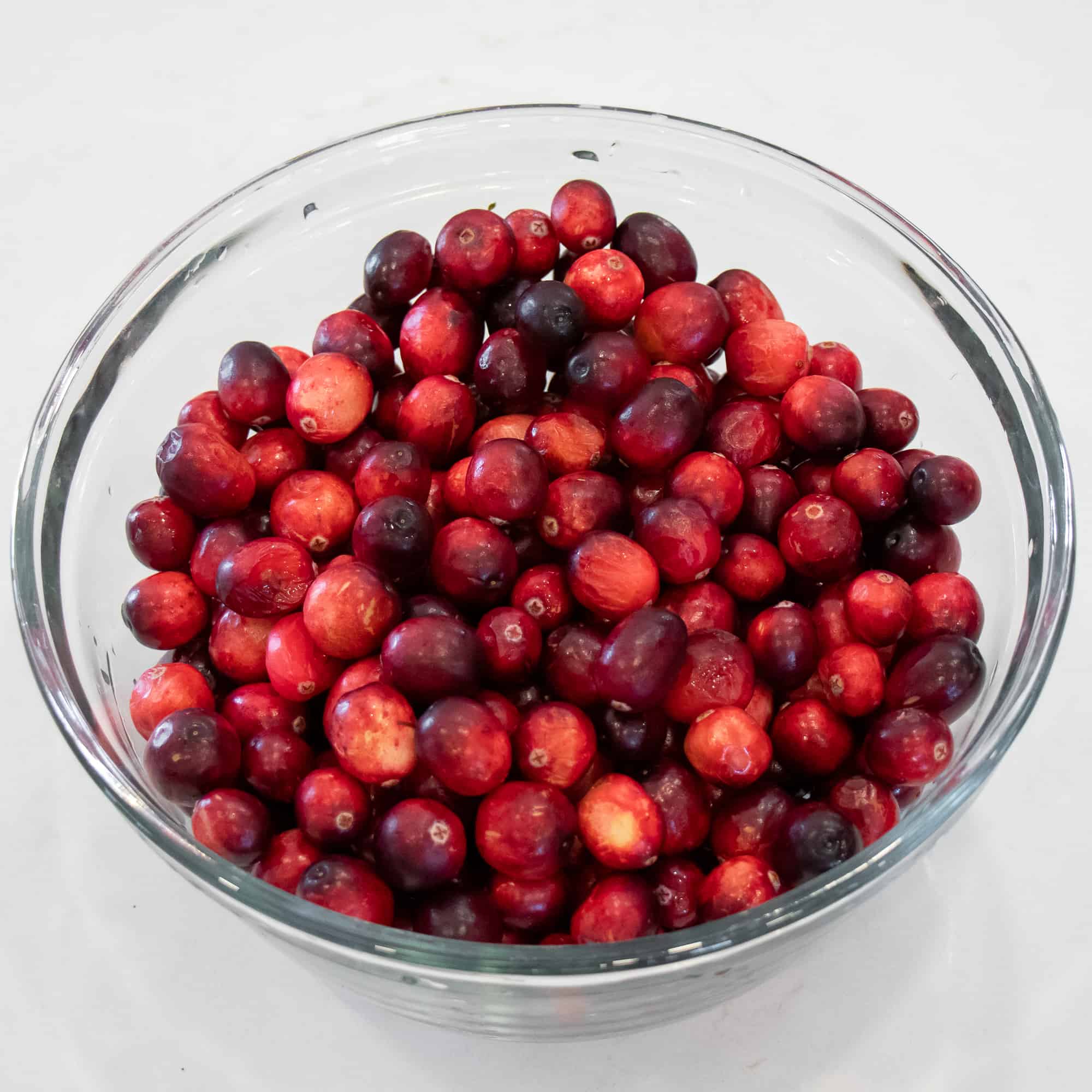 Finding fresh cranberries is typically not very difficult, especially right before a holiday like Christmas or Thanksgiving. Usually they are packaged in a bag and weigh 12oz (340g).
This homemade cranberry sauce recipe uses one of these bags. If you need more sauce, you can definitely double the recipe and cook it together at the same time in a larger pot.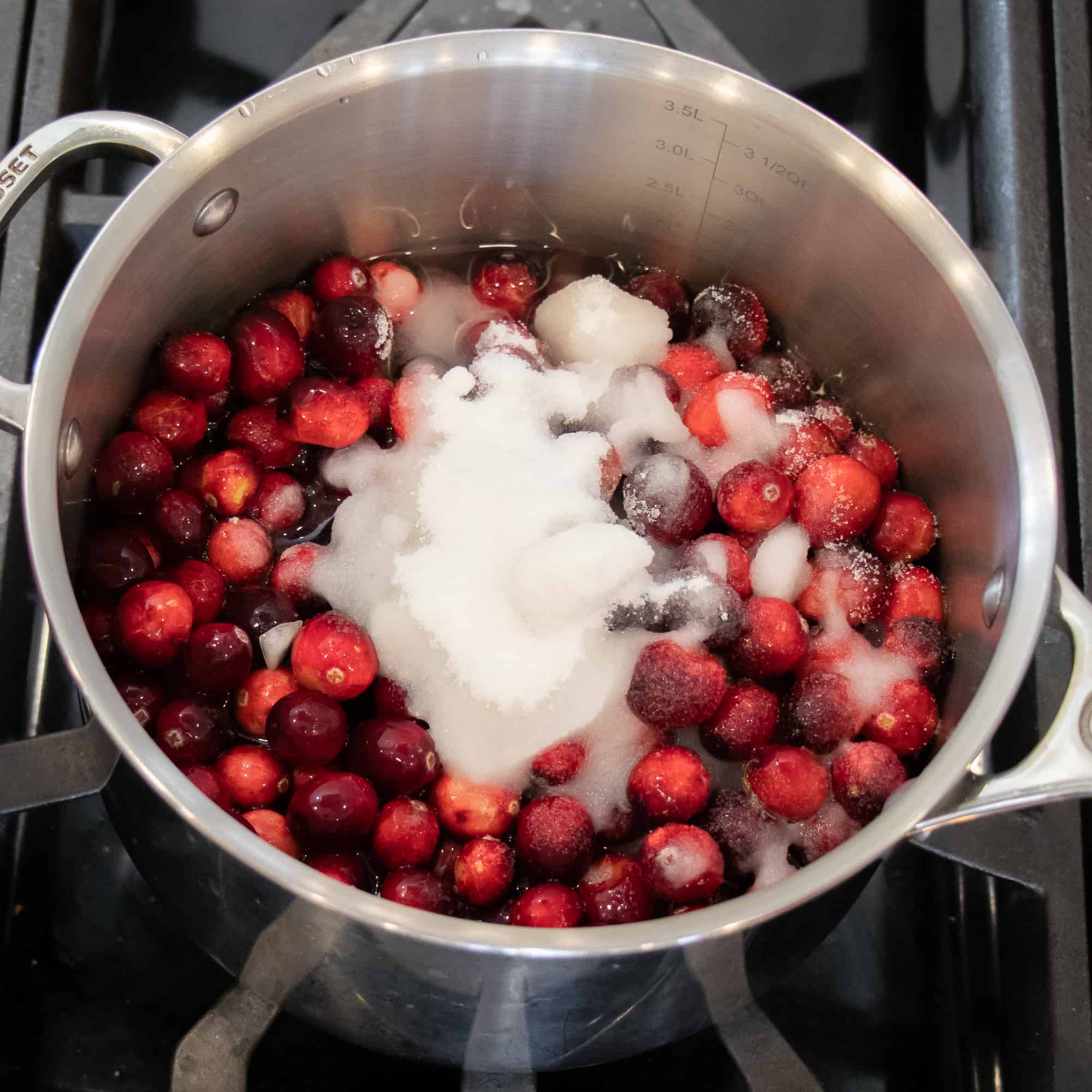 Ingredients for Homemade Cranberry Sauce
Making cranberry sauce is very simple and uses just a few ingredients. The basic ingredients for this sauce are fresh cranberries, sugar and water.
There are many other items that you can add in to enhance the flavour of the sauce. I like to add a hint of cinnamon and a pinch of cayenne. That tiny bit of spice is not strong or overpowering, but it does deepen the complexity of the sauce.
You could also add in some cloves, orange rind, pecans or other ingredients to create a unique taste to the cranberry sauce. There are lots of options.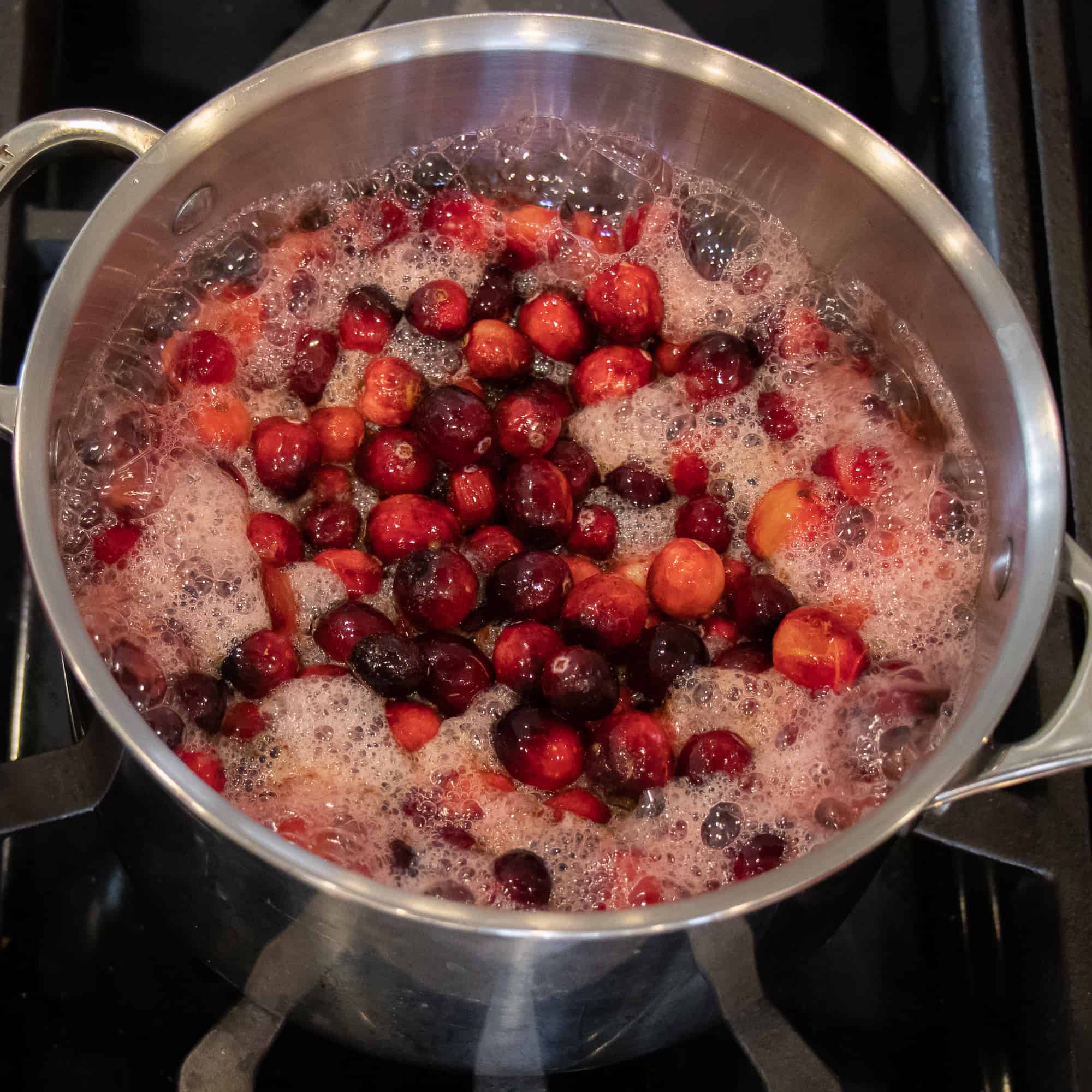 How to make cranberry sauce
Heat the cranberries, water, sugar and spices in a saucepan. Cook over medium high heat and bring to a boil. You will notice the boil starting on the outside. I like to stir the cranberries every minute or two so that they are all cooking evenly.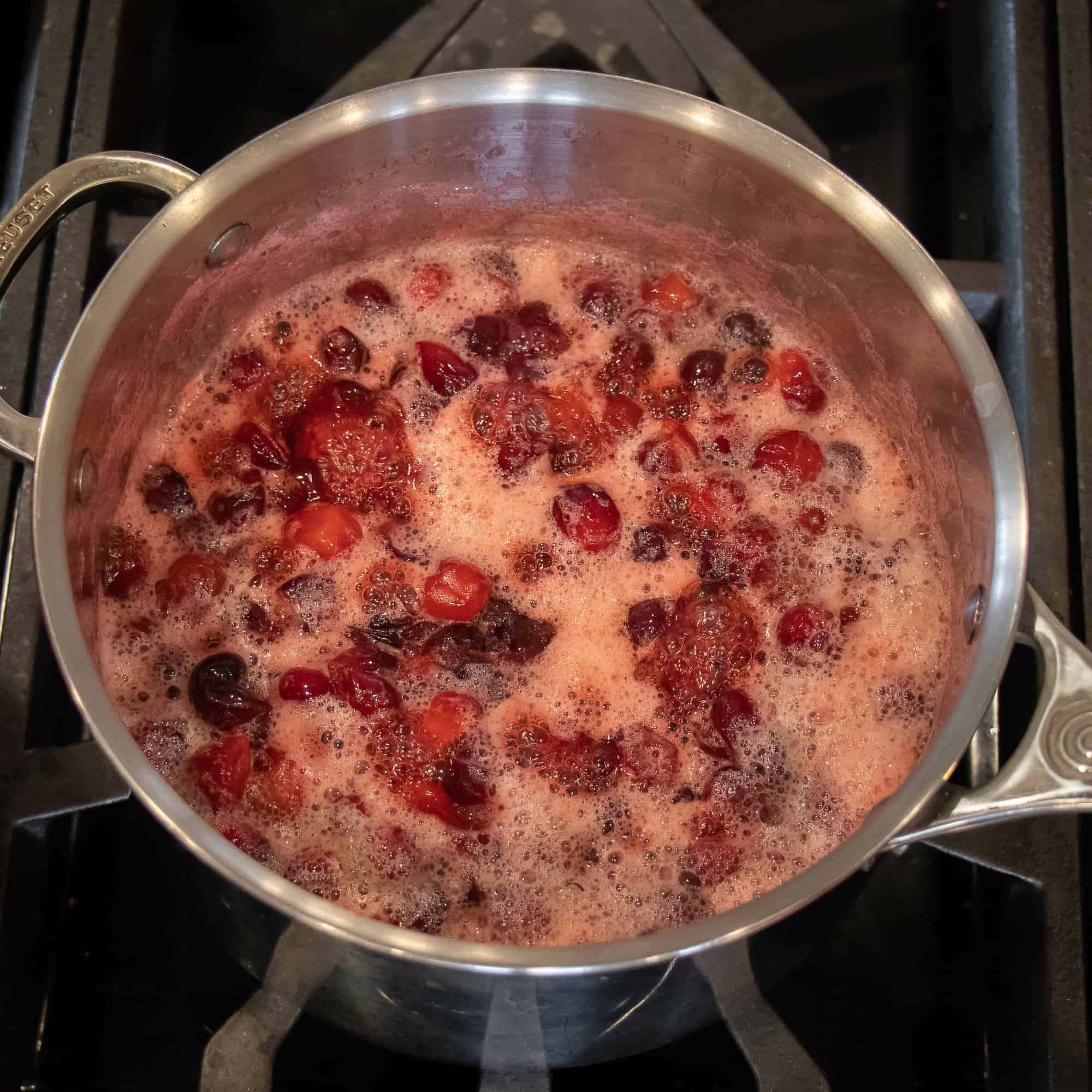 Once it has come to a boil, it is good to reduce the heat. I set it to medium low. Essentially, you want the sauce to simmer, and have a low rolling boil for about 15 minutes.
Be careful that it is not boiling too high while it is simmering. This sauce can really build up a boil and may actually spill over the sides. This is a sticky mess that you do not want to clean up. Keeping it at a low rolling boil and stirring it regularly will help keep the sauce in the pot.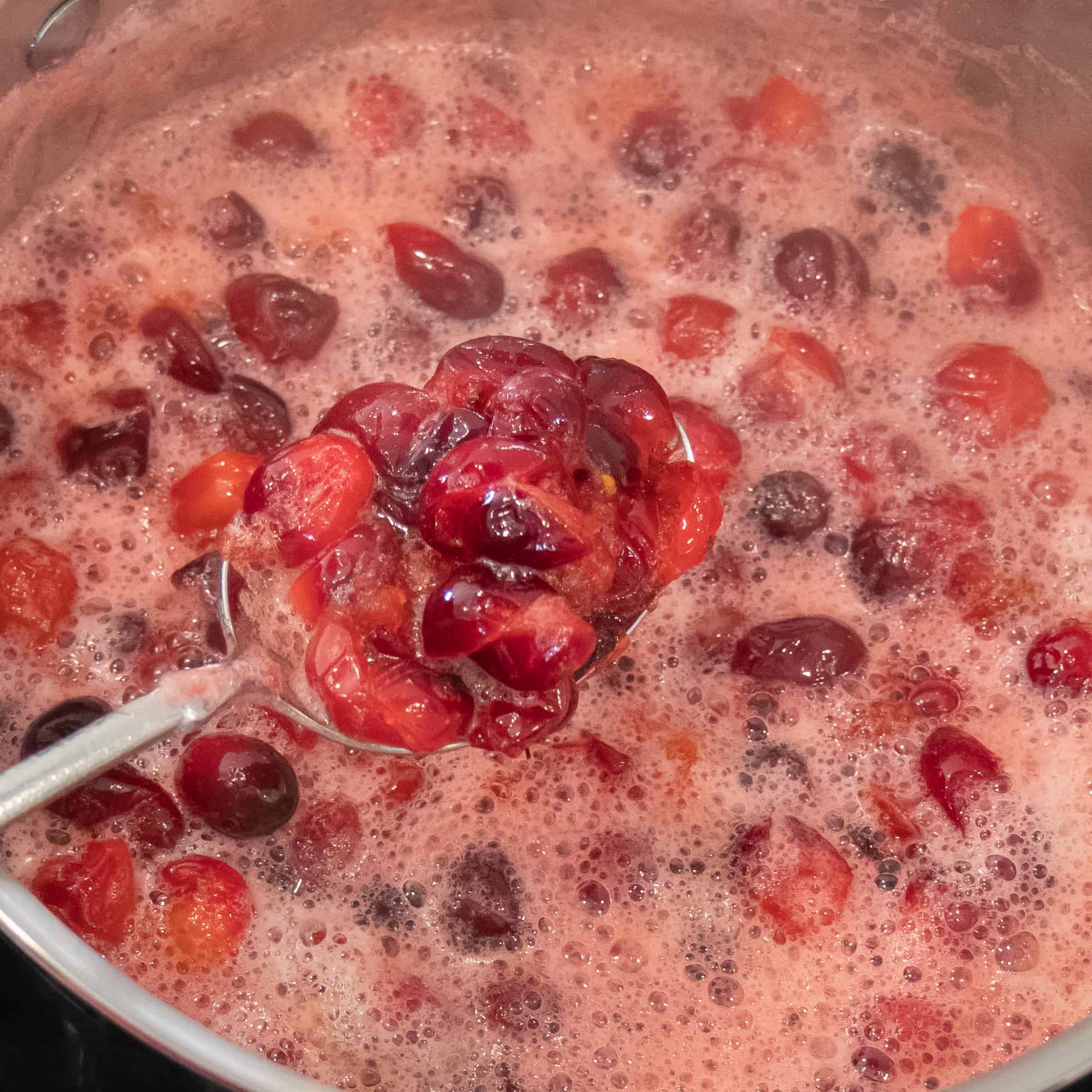 How long to cook the cranberry sauce?
After the sauce has simmered for 12-15 minutes, it should be ready. Give the sauce a stir and check to see that most of the cranberries have broken open. While they do not all need to be open, most of them should be broken. The pectin, inside the cranberries, are released as the sauce simmers. This creates the nice thick sauce.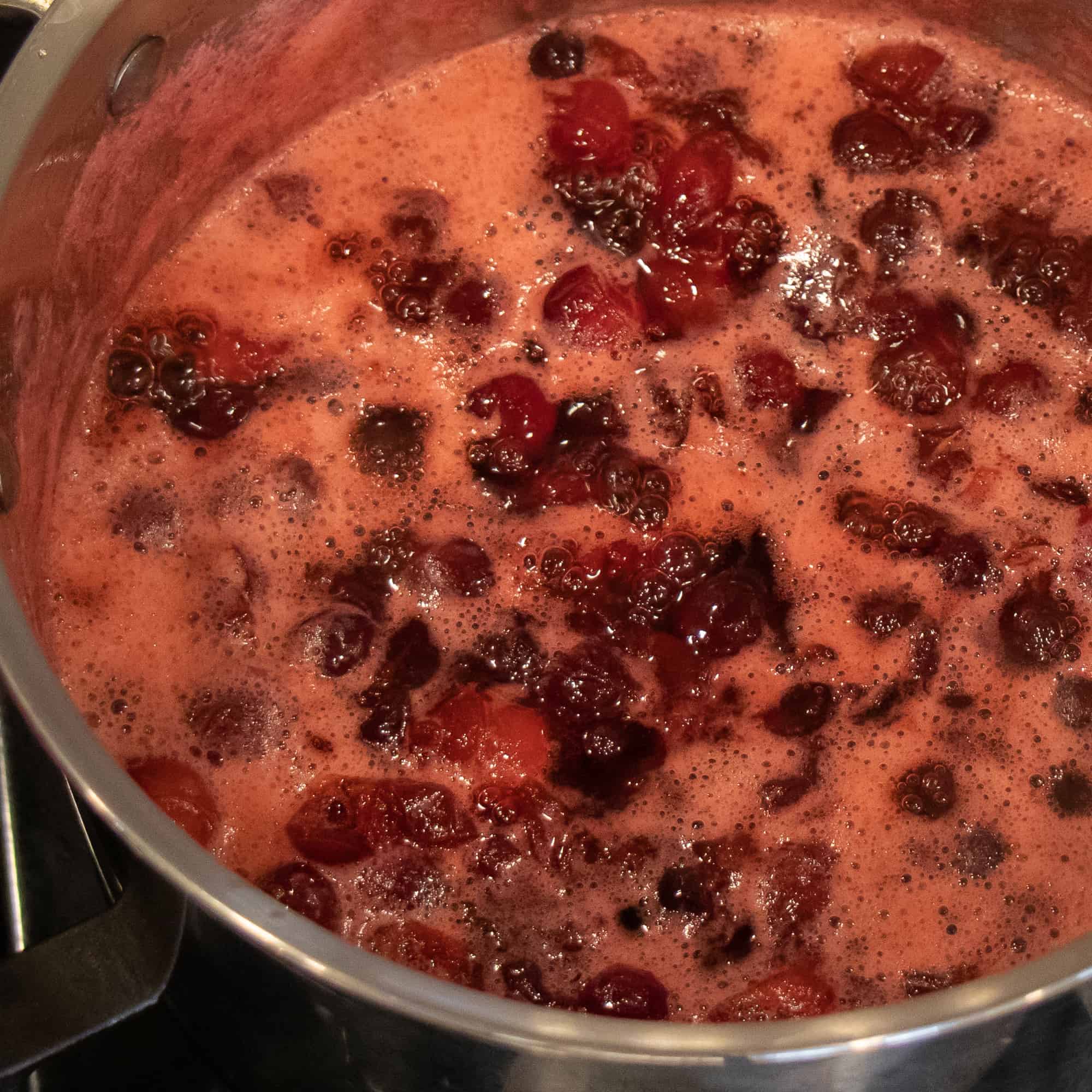 Turn off the heat
Once you see that many of the cranberries have burst open during the simmering, it is time to turn off the heat. The sauce needs to cool down. I let it come to room temperature on the stove. Then, I transfer it to a plastic storage container with a lid and place it in the fridge.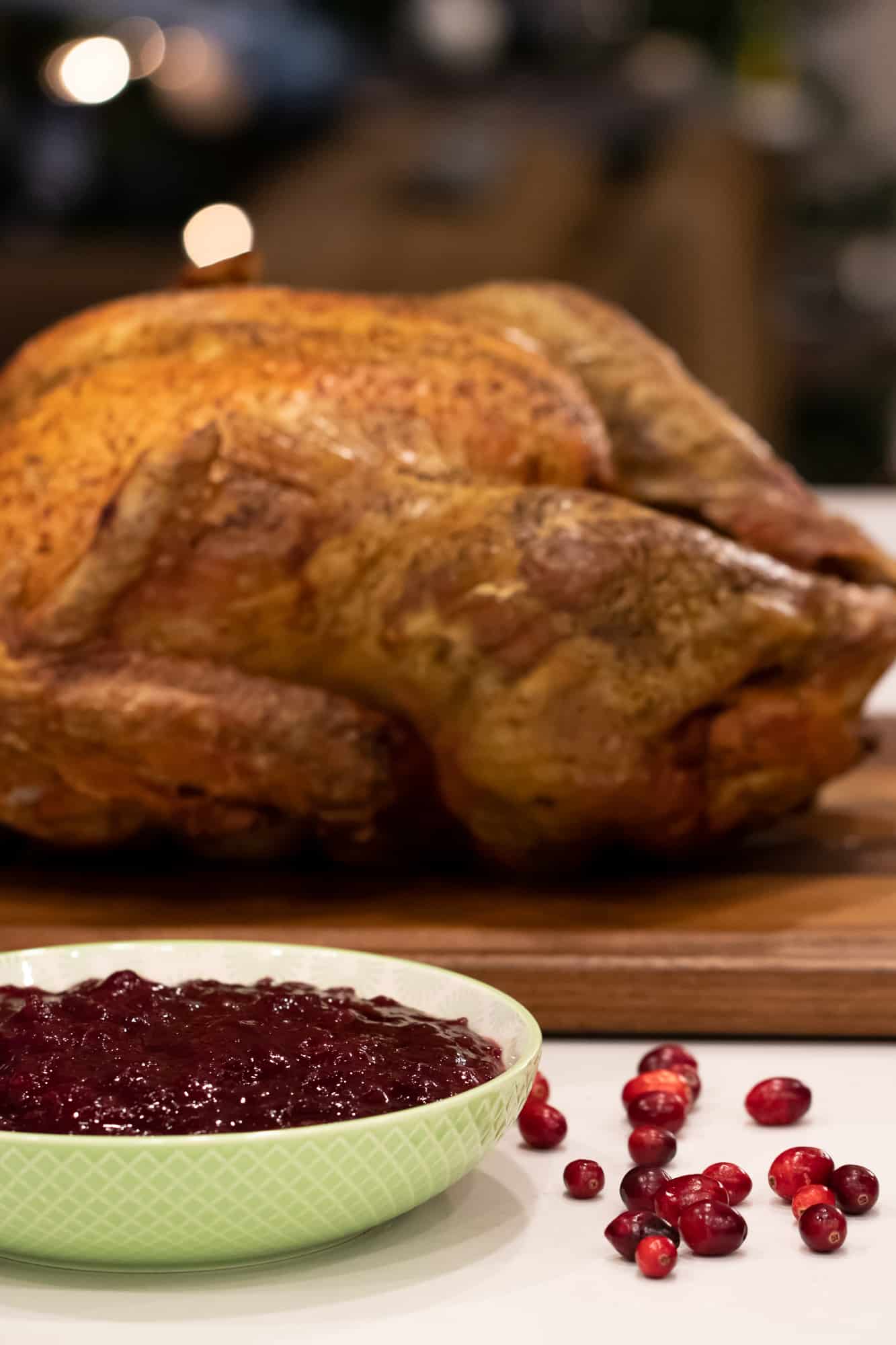 Can you make cranberry sauce ahead?
Sometimes there are so many items on a holiday dinner menu that making everything on the actual day can be overwhelming. So, if there are things that can be prepared a day or two ahead, it can lessen the stress and busyness on the actual day.
Normally, I make cranberry sauce in the morning of Thanksgiving or Christmas day, well before much of the dinner prep is in full swing. But, this is definitely something you can make even a couple days ahead. Just make sure to keep in in a sealed container in the fridge.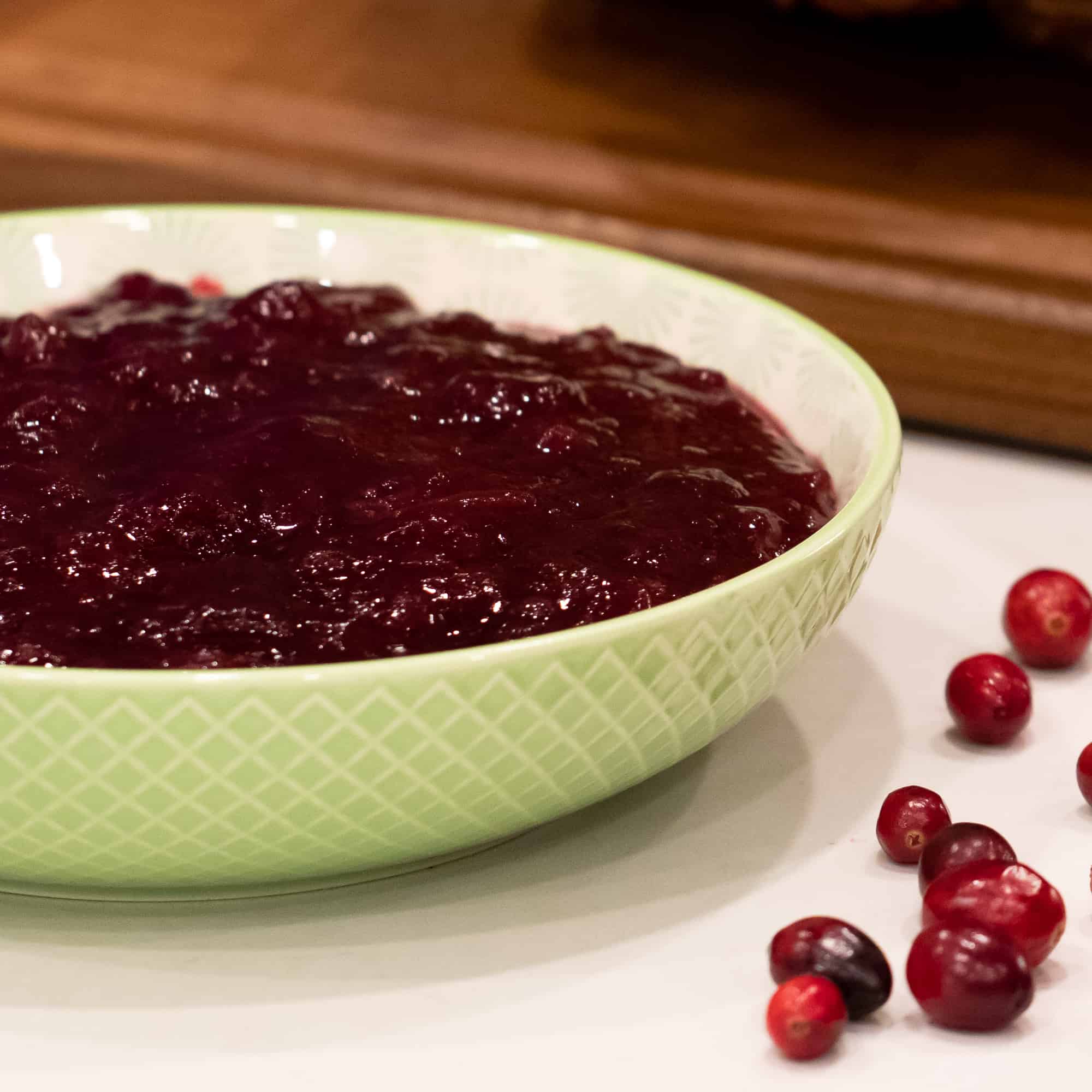 Serve cold or at room temperature?
Cranberry sauce is delicious both cold and at room temperature. It is a matter of preference, but if you want to serve it at room temperature, you will need to make sure it comes out of the fridge a bit before mealtime.
Homemade Cranberry Sauce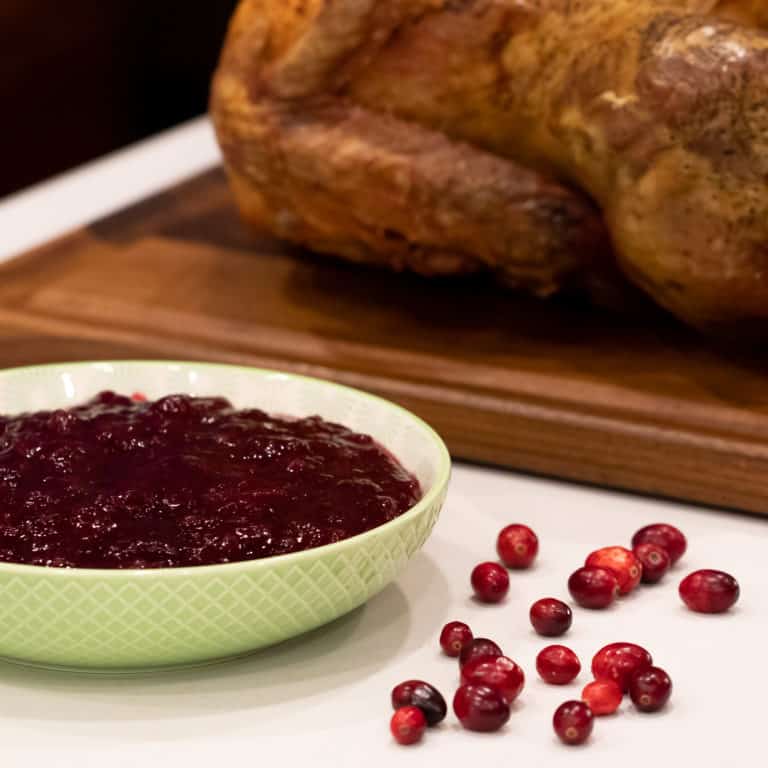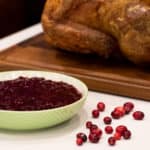 Print
Easy recipe and instructions for how to make homemade cranberry sauce with fresh cranberries. Perfect condiment for thanksgiving or christmas turkey dinner!
Servings: 8 servings
Ingredients
1 bag fresh cranberries 12oz (340g) package, about 4 cups
1 cup water
1 1/3 cups sugar
1/2 tbsp cinnamon
1/8 tsp ground cayenne
Instructions
Add all ingredients to a saucepan.

Bring to a boil and lower heat so that it is just barely boiling.

Wimmer for 15 minutes or until the cranberries break open.

Turn off heat, stir well and let cool to room temperature. The cranberry sauce will thicken as it cools.

Serve with turkey.
Nutrition
Per serving:
Calories: 150kcalCarbohydrates: 39gProtein: 1gFat: 1gSaturated Fat: 1gSodium: 3mgFiber: 2gSugar: 35g