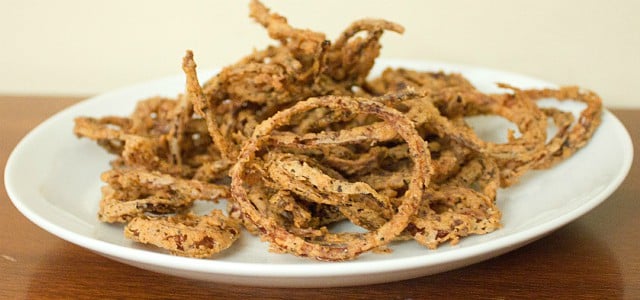 I know, I know, I am supposed to be done the series on appetizers. But, there are a few recipes that didn't make it into the top 12 for this year's Super Bowl Snacks. So, I thought I would post them as honourable mentions! Today's recipe I simply call onion crisps.
There is an awesome restaurant called The Keg and they have these onion crisps – I think they call them onion frizzles or something. Anyway, they are so amazing and I always want more. They are great on a steak, on a burger or just as a side.
In an effort to recreate the experience from The Keg, I made these onion crisps. Have you ever eaten something at a restaurant and then try to make it at home?
I love it when it works and these onion crisps were spectacular. Think onion rings, but thin, ultra crispy, with a nice spice of salt and pepper. Woohoo! I am definitely going to make these the next time I grill a t-bone steak!
Onion Crisps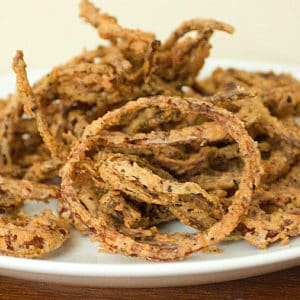 Print
This deep fried onion crisps recipe could not be easier to make. Thin, crispy rings seasoned with salt and pepper. They go great on a burger or a steak
Servings: 2
Ingredients
1 large onion
1 cup milk
1 cup flour
1 tsp salt
1 tsp pepper
Instructions
Slice an onion very thin. Use a mandoline if you have one.

Soak in the milk for 15-20 minutes.

Mix the flour, salt and pepper.

Remove a handful of the onions from the milk and shake excess milk off. Dredge the onions in the flour mixture making sure that all the onions are coated. Remove from the flour and shake the onions again to get off the excess flour.

Drop into 375F hot oil. Deep fry for a few minutes. The onions will crisp up and brown. Remove and drain on a paper towel.