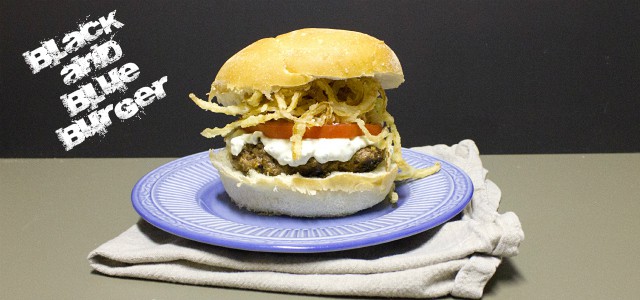 I cannot believe that it is already Saturday. Where did the week go? Wow. Saturday mornings, during this time of year, are filled with hockey. Typically, we are at the arena all morning long, from 7:30am to as late as 1:00pm. Today the schedule of games allowed us to split up. My wife took two of the kids for the early games and I am taking one for a noon game. I did not grow up with hockey and have never played a game on ice. I have played many a street hockey game though and totally remember those days on side street in Bright's Grove. Street hockey totally symbolizes growing up in Canada! I live in Toronto and it is currently illegal to play street hockey on roads or laneways with a fine of $65. One the one hand, I can sort of understand the reason to not allow street hockey on some roads, but on the other hand, there are streets in our own subdivision that get little traffic and would be great to have a street hockey game. It seems anymore that people do not connect with their neighbours like used to happen years ago. People are busy. I remember we used to have neighbourhood picnics in the community I grew up in. Those types of connections are rare anymore. Street hockey is one example of community life and I hope that it finds its way back to the side streets of Toronto.
Ok, enough of my rant! My oldest son turned 9 this week and I have already shared with you the cupcakes he got as his dessert. Our kids always get to pick their birthday meal and Ben has, for a while, known that he wanted homemade hamburgers. A number of months ago, while the temperature was still decent, I barbecued some burgers. For Ben's and mine, I chopped up a couple jalapeno peppers and mixed it in with the meat. He has remembered that and requested it, along with fresh cut french fries. I was happy to make that for my boy!
Along with the minced jalapeno peppers in the ground beef I decided to 'kick it up a notch', as Emeril would say. I coated the ground beef with blackened seasoning and blackened them on a skillet. Blackening is a distinctly Cajun cooking technique, popularized by Chef Paul Prudhomme. To blacken something, you rub the meat with a mix of blackened spices and cook it on a cast iron skillet at very high heat. A black crust of spices is created around the meat and juices are locked inside. It tastes wonderful!
To round out this black and blue burger, I made a simple blue cheese spread. It is rich and creamy and compliments the spices of the blackened burger. Another burger topping we had was onion crisps. The recipe for that is from a previous post, which is found here. After dinner Ben said this was the best burger he has ever had!
Black and Blue Burger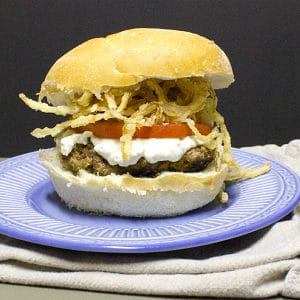 Print
A spicy blackened burger with a blue cheese and mayonaise spread. Jalapeno peppers are mixed into the beef to add some extra heat to the cajun spices.
Servings: 6 burgers
Ingredients
2 pounds extra lean ground beef
2 jalapeno peppers , minced
3 tsp paprika
1 tsp cayenne
1/2 tsp black pepper
1 tsp salt
1 tsp garlic powder
1 tsp onion powder
1/2 tsp thyme
1/2 tsp oregano
1/4 cup blue cheese
1/3 cup mayonnaise
Instructions
Cream together the blue cheese and mayonaise. Keep in the fridge until needed.

Knead together the ground beef with the minced jalapeno peppers and form 6 burger patties.

Make the blackened seasoning by mixing together the spices. Rub the burgers on both sides with the blackened seasoning.

Heat a cast iron skillet quite hot. Place the burgers. They sear and create a blackened crust. After about 3-4 minutes, flip the burger to create the crust on the other side. Cook the burger to your preference.

Top the burger blue cheese spread, onion crisps and any other desired toppings.