Honey Garlic Chicken Wonton Cups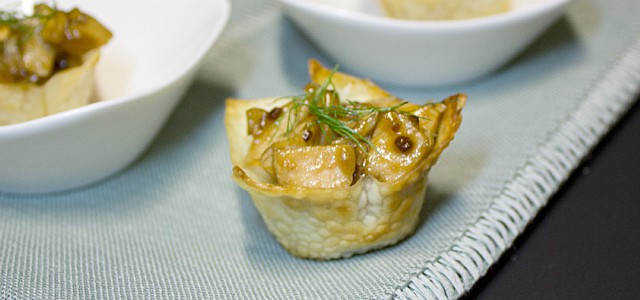 Today has been a busy day. J's uncle passed away and she left, with most of her siblings, for a 3 1/2 hour trip to where the funeral was held. Saturday is also a day packed with all three of our kids playing hockey in the morning. All three played well, but it was a memorable day for B as he scored his first goal. He has become a stronger player as the season has progressed and it was great to see him score one today. To celebrate we went to McDonalds, just like we did when E scored his first goal earlier in the year. On top of all this, today was E's birthday. Since J was at the funeral for the day, we did the family celebration last night and he got his presents and had cake and ice cream. Tomorrow I will post some pictures of the cake I made along with the birthday boy.
This recipe is part 3 of our wonton cup dinner from earlier this week. Knowing that J would not be a fan of the very spicy Buffalo Chicken Wonton Cups with Blue Cheese Mousse, I decided that I needed to make something that was far milder. I had half a jar of honey garlic sauce in the fridge and, POOF, these were created. These are the easiest of the wonton cups to prepare and are just a few ingredients. That in know way means that they are low on flavor. Any fan of honey garlic chicken will love these wonton cups. I used store bought sauce but have also made my own for chicken wings. Here is the link to my honey garlic sauce recipe. I wish I had some green onions in the fridge to use as a garnish. Instead I used some fennel fronds from the salad we had as a side dish.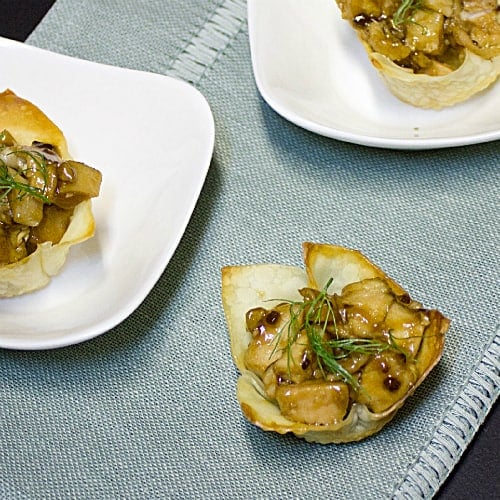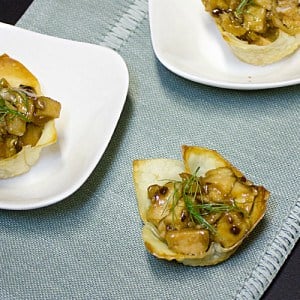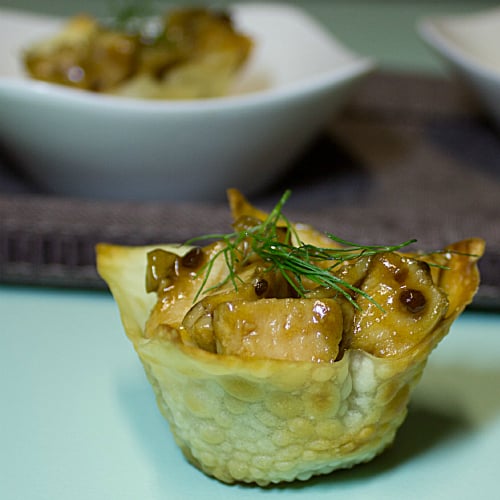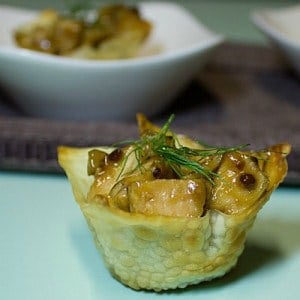 Honey Garlic Chicken Wonton Cups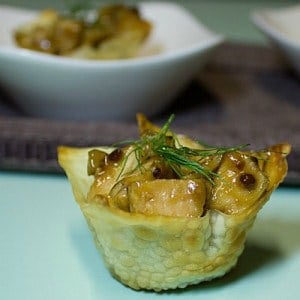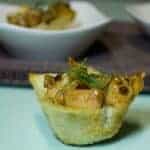 Print
These wonton cups are like honey garlic chicken wings in a bite size cup. Low in fat, these are a healthy alternative to wings.
Servings: 24 cups
Ingredients
24 wonton wrappers
3 tbsp oil
2 1/2 cups cooked chicken breast , cut into small cubes
3/4 cup honey garlic sauce
4 green onions , thinly sliced (optional for garnish)
Instructions
Brush one side of a wonton wrapper with 3 tbsp oil and press, brushed side down, into a mini muffin tray forming a cup. Do this for all 24 wonton wrappers. Bake in a 350F oven for 10-12 minutes. The wrappers will crisp up and start to brown. Let cool completely.

Stir the chicken with the honey garlic sauce in a bowl and heat in the microwave for just a couple minutes (may vary depending on the microwave). This is just to warm the chicken and the sauce as the chicken is already cooked.

Spoon some honey garlic chicken into each wonton cup. If desired, top with a few slices of green onions.

Serve warm.