Buffalo Chicken Wonton Cups with a Blue Cheese Mousse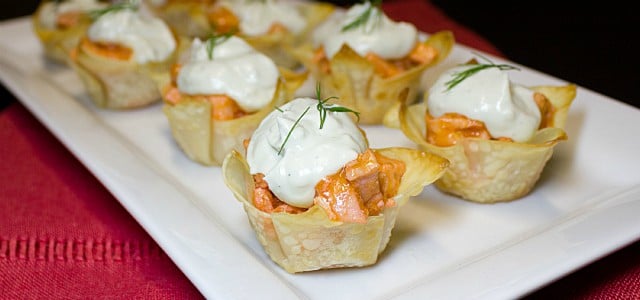 I have come to a realization. What I am about to share with you is so profound, it may shake your whole understanding of food and possibility impact the course of your life. I am somewhat afraid to share this with you as the information is so earth shattering it may cause a rip in the space time continuum. There is no way I could keep this knowledge only to myself though – it must be shared so that you and everyone else in the blogosphere can experience what I have.
Are you ready?
You sure?
Do you think you can handle it?
Okay here goes…
Buffalo sauce makes everything better!
You may be tempted to chuckle to yourself and think that Steve has lost it. Just last week he put mango hot sauce on ice cream. I urge you not to sluff this information off. Do not disregard it as the blubbering of some wacko in Toronto. What I say is true… Everything is better with buffalo sauce!
Take these little bite size beauties. These buffalo wonton cups are outstanding, the buffalo flavor is awesome and goes great with the crunch of the wonton! My family is nuts for wonton cups lately. The kids just love them and I have been wanting to try some different fillings. Tonight I made three new kinds and these buffalo chicken cups are the first I get to share with you. The blue cheese mousse is rich and smooth and adds a creaminess to the wonton cup.
Try these and I am sure you will agree with me – Everything tastes better with buffalo sauce!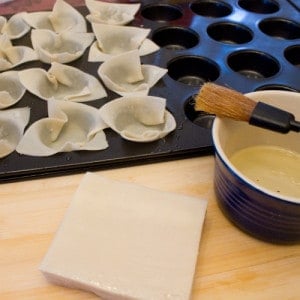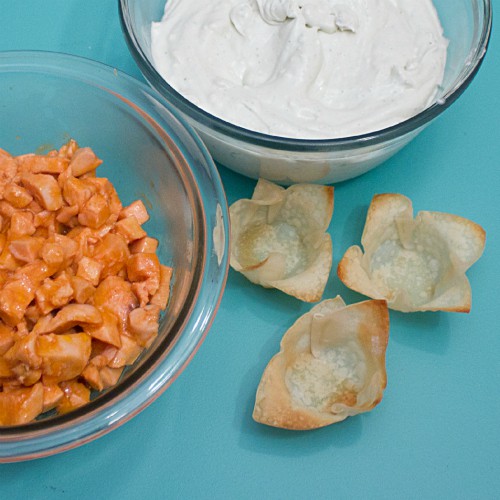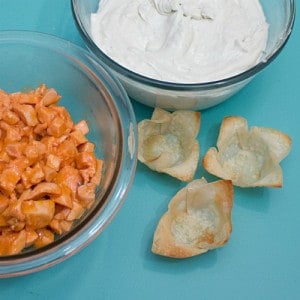 It is possible to use precooked and cubed chicken breast. It would work out just as well and would make this dish even simpler!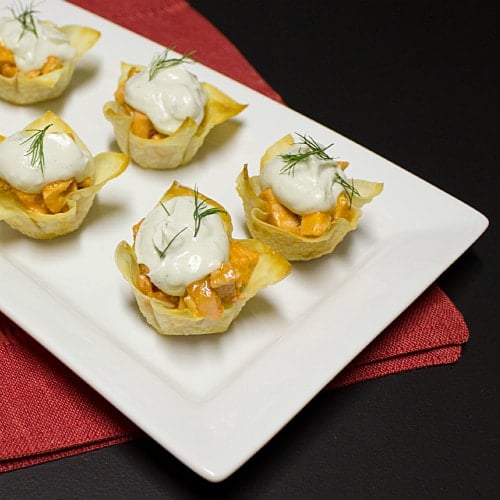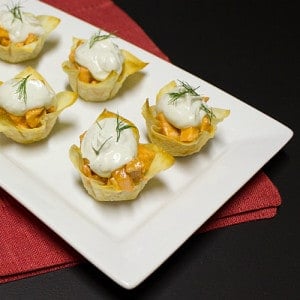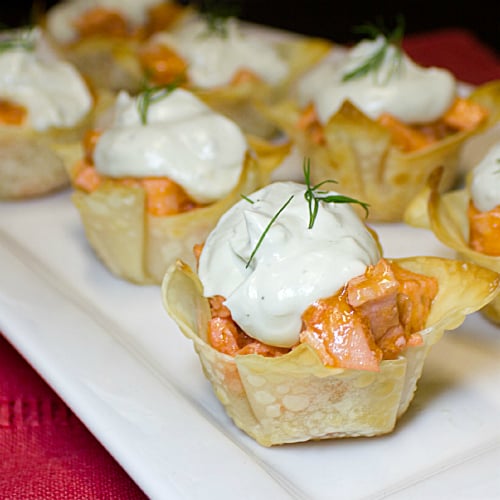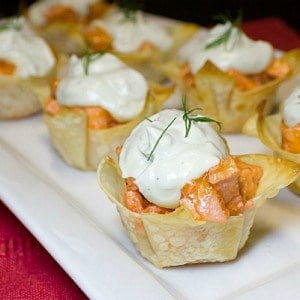 Buffalo Chicken Wonton Cups with a Blue Cheese Mousse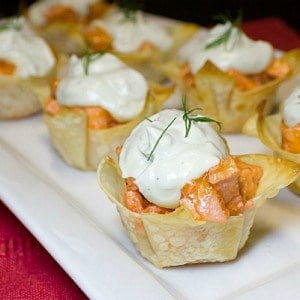 Print
These wonton cups are filled with a spicy buffalo chicken and topped with blue cheese mousse. These are easy to make and are the perfect appetizer or party food.
Servings: 24 cups
Ingredients
24 wonton wrappers
5 tbsp oil
3 chicken breasts , boneless and skinless
1/3 cup butter
1/2 cup hot sauce
1/3 cup ketchup
1 tsp garlic powder
1/2 tsp ground black pepper
1/3 cup blue cheese
1/3 cup cream cheese , softened
1/3 cup sour cream
1/3 cup mayonnaise
Instructions
Brush one side of a wonton wrapper with 3 tbsp oil and press, brushed side down, into a mini muffin tray forming a cup. Do this for all 24 wonton wrappers. Bake in a 350F oven for 10-12 minutes. The wrappers will crisp up and start to brown. Let cool completely.

With an electric mixer, beat the blue cheese, cream cheese, sour cream and mayonnaise until smooth and creamy with no lumps. Place in the fridge until needed.

Coat the chicken breasts lightly with the remaining oil. Bake on a broiling pan or baking sheet in a 350F oven for 20-30 minutes. The chicken should be fully cooked. Let the chicken cool and cut into small, 1/2 inch cubes.

Make the buffalo sauce by melting the butter in a saucepan. Stir in the hot sauce, ketchup, garlic powder and black pepper. Bring to a boil then lower the heat and simmer for 5 minutes. Remove from heat.

Toss the chicken with the buffalo sauce until evenly coated.

Spoon some of the buffalo chicken into each wonton cup. Top with some blue cheese mousse.

Serve warm.