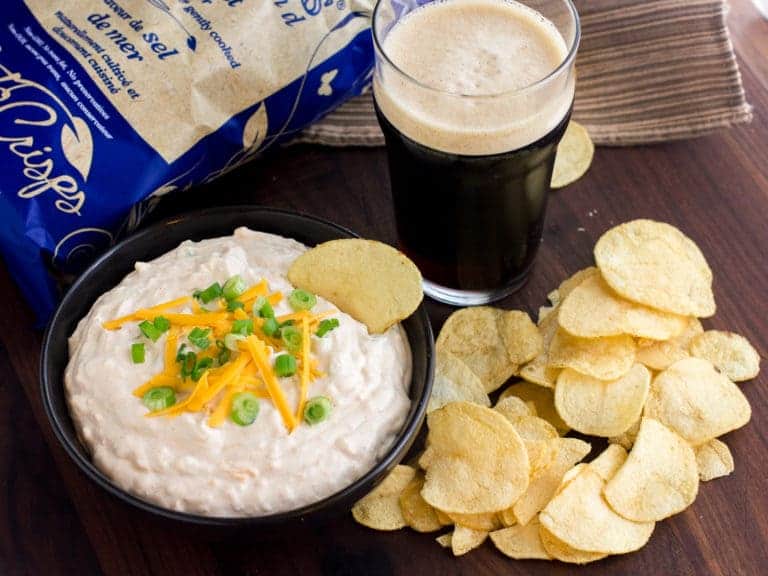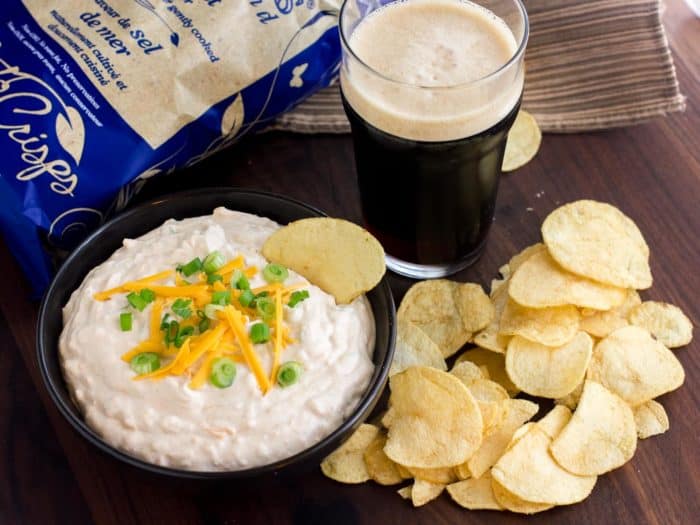 Chips are the perfect snack for me. They are great whether I am watching a sports game or movie, playing a board game or hanging out with friends. We always have a few bags in the pantry ready for some snack cravings.
Mackie's Crisps are a brand of potato chips that are made in Scotland. They are a thick cut chip but have a lighter and crispier texture than some of the other thick chips I have had. There is a lightness to them and all the focus is on the chip.
I love that these chips are available in Canada. They come in a number of flavours and some of them pay tribute to Scottish regional cuisine. The Flamegrilled Aberdeen Angus and the Haggis with Cracked Black Pepper were unique flavours and totally awesome!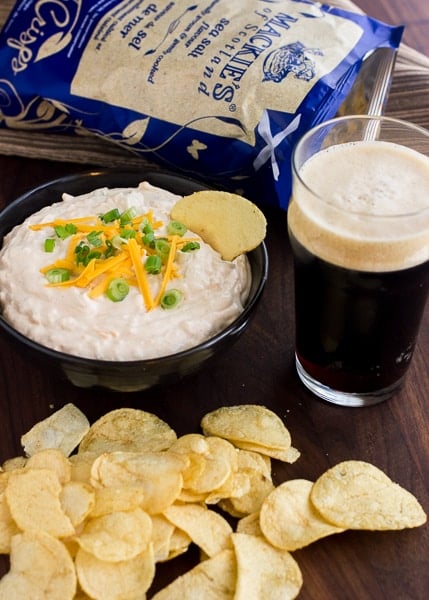 While I enjoy chips with different flavours, I am a sucker for chips and dip. If there is a bag of chips next to a bowl of dip, I will likely park myself there and enjoy!
So many times I have made the classic french onion dip. It's easy to make by just mixing together one packet of french onion soup mix with a tub of sour cream. Yup – it's that easy.
But I have also made it from scratch using caramelized Vidalia onions. So good!
Check out that recipe here: French Onion Chip Dip
French onion dip works great with these Mackie's Crisps, but I decided to try something a little different.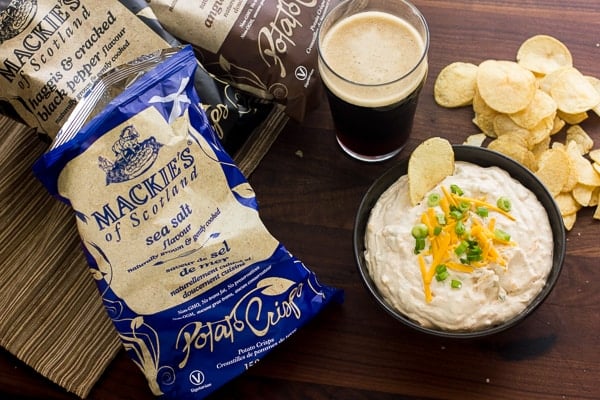 I wanted to make a dip that complemented Mackie's Crisps. These chips totally remind me of a pub, so I decided that a pub inspired dip would work really well with the Sea Salt Mackie's Crisps.
So if I wanted a pub type dip, then I need to add some beer!
Not just any beer, either. The beer for this dip needs to be a stout or porter. The deep dark complexity of a stout is perfect for this dip.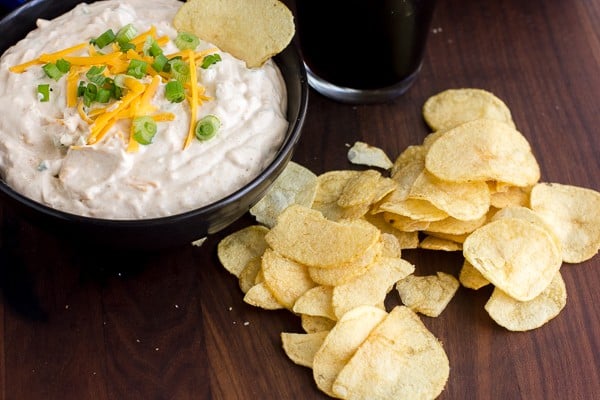 Most of the dips I make use lots of sour cream. For this dip I also mixed in some cream cheese and grated cheddar cheese. The sharper the cheese the better, so I use either old or extra old cheddar. Old cheddar works very well alongside the flavour of the stout in the dip.
To finish off, I stirred in some sliced green onions. This gives some texture and zing to the dip. I like to have a little bit of bite or crunch in the dip, so the green onions work well. You could also stir in some crumbled bacon.
Sprinkle a little grated cheese and green onion slices on the top of the bowl to enhance the presentation when serving.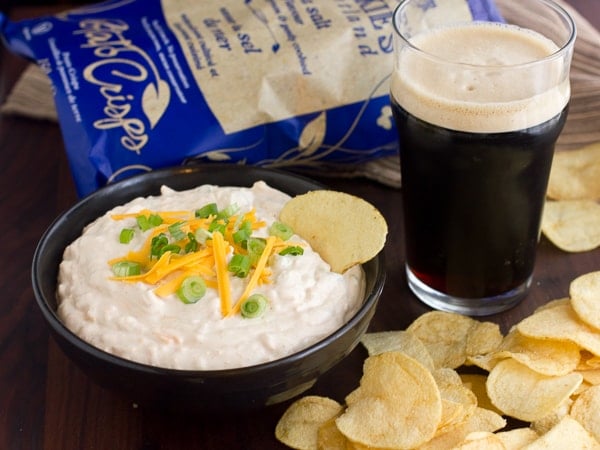 Mackie's Crisps are a thicker cut chip and that makes them perfect for scooping up some of this dip.
I watched a baseball game with a bowl of this dip, a bag of Mackie's Crisps and a glass of beer. Yup, that was one awesome snack to go along with the game.
Too bad my team lost.
But the chips and dip kept me in a good mood.
Beer and Cheese Chip Dip Recipe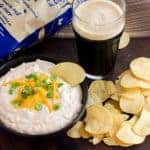 Print
Dip for potato chips that is perfect pub food. Beer and cheese mixed with sour cream and cream cheese mixed with spices and sliced green onions.
Servings: 8
Ingredients
1 package (8oz) cream cheese , softened
1 cup sour cream
1/2 cup beer (porter, stout or other type)
1/2 tsp salt
1/2 tsp garlic powder
1/2 tsp paprika
1/4 tsp cayenne pepper
1 1/2 cup old cheddar cheese , grated
6 green onions , sliced
Instructions
Using a hand blender, cream together the cream cheese, sour cream, beer and spices, until smooth.

Stir in the grated cheese and sliced green onions.

Serve chilled with potato chips.
Nutrition
Per serving:
Calories: 247kcalCarbohydrates: 4gProtein: 8gFat: 22gSaturated Fat: 13gCholesterol: 68mgSodium: 393mgFiber: 1gSugar: 2g

This post is sponsored by Mackies Crisps. All opinions are my own.