Beer Battered Onion Rings and Cajun Dip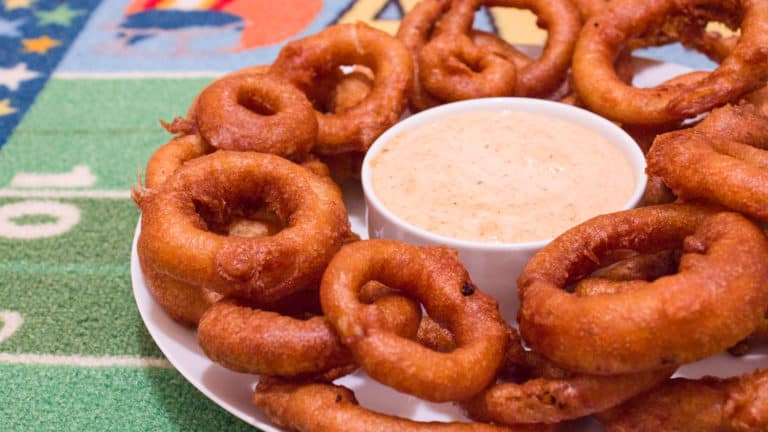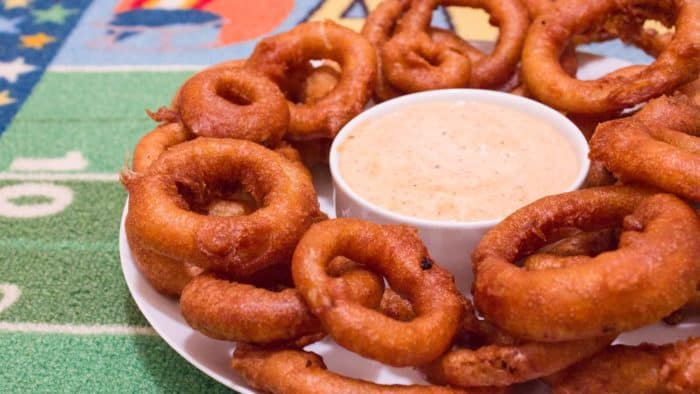 I think that Saturday provided one of the most exciting playoff games I have ever seen. The San Francisco and New Orleans game was crazy, especially the end of the fourth quarter where the lead changed sides 4 times in 3 minutes. Not being a fan of either team I was able to sit back and enjoy the game.
I imagine that if I was a fan of either team I would have had moments of sheer joy and utter heartache at various moments of the fourth quarter. But it was the 49ers that ended the game with joy in their hearts. That throw from Smith to Davis in the end zone with 9 seconds left was incredible and seeing Davis walk to the sidelines openly crying in happiness was quite a sight to see.
There is NOTHING like NFL playoffs! I love it.
The following game was a snorefest in that it seemed to be over the moment it started. Denver was clearly no match for New England.
Today's post was a recommendation from my wife. She thought I should put onion rings on and as I was preparing to make them I wanted to also include a dipping sauce similar to the one that comes with the Bloomin' Onion from Outback Steakhouse. That sauce is so awesome and it goes great with these onion rings.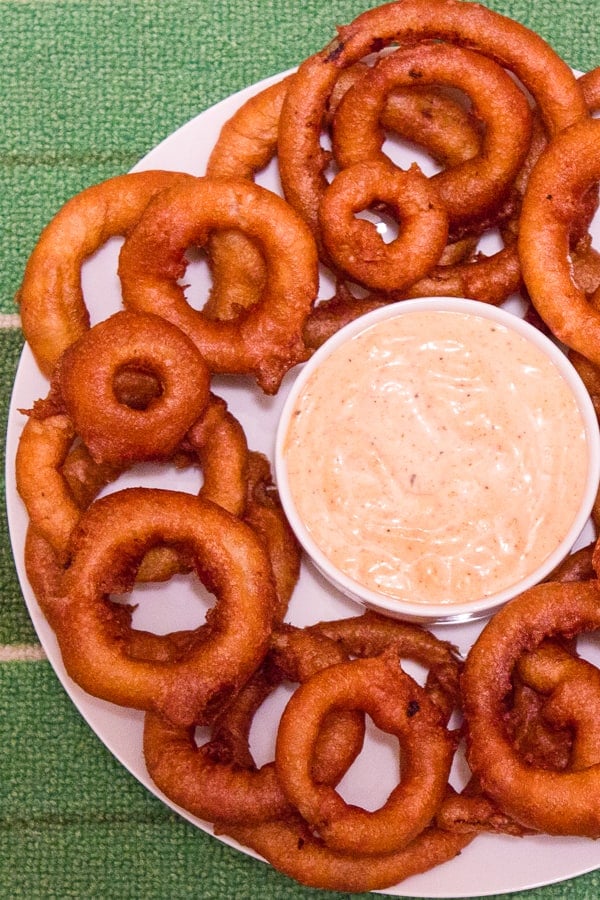 This was the first time I have ever made onion rings and I was quite surprised that it was so easy to make. I was worried that the onions would not be cooked through by the time the batter was cooked and browned. That was not the case. The batter was perfectly browned and the onion was sweet and tender. So very tasty and I ate way more than I should have!!
If you have missed any of the previous appetizers in the 13 Days of Super Bowl Snacks, you can find them here.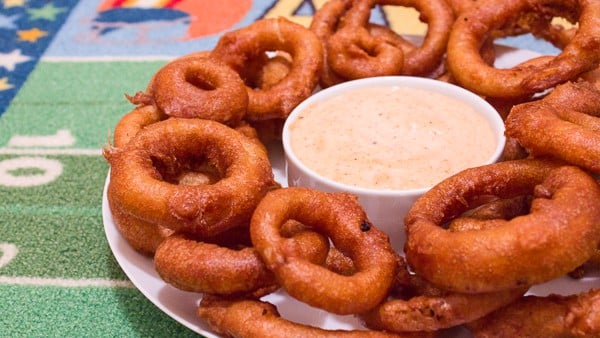 Beer Battered Onion Rings and Cajun Dip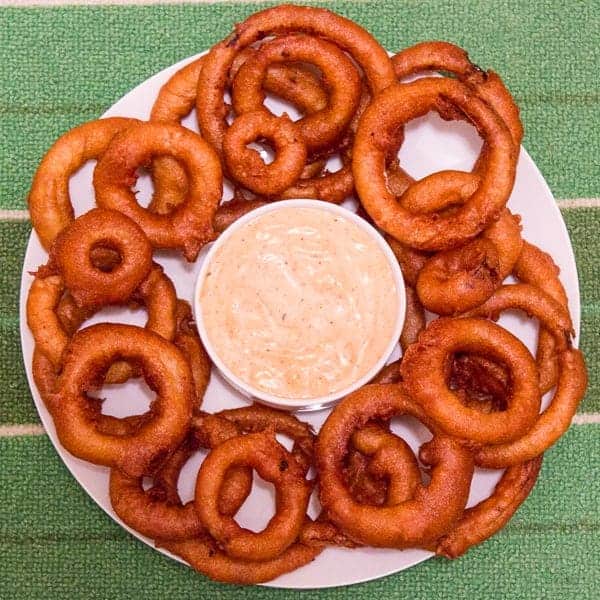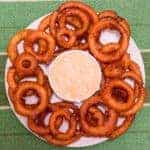 Print
Light and crispy onion rings recipe that are deep fried in a beer batter coating with a cajun dip similar to the kind from Outback Steakhouses Bloomin' Onion.
Servings: 4 people
Ingredients
Onion Rings
1 large spanish onion
1 1/4 cup flour
1/4 cup corn starch
1 tsp baking powder
1/4 tsp baking soda
1/2 tsp salt
1 cup beer
oil for frying
Cajun Dip
1/2 cup mayonnaise
2 tbsp ketchup
1 tbsp horseradish
1/2 tsp paprika
1/2 tsp black pepper
1/2 tsp garlic powder
1/2 tsp salt
1/4 tsp cayenne pepper
Instructions
To make the dip, mix the mayonnaise, ketchup, horseradish, paprika, black pepper, garlic powder, salt and cayenne pepper.

Peel the onion and slice it about 1 cm thick. Separate each ring and toss with the 1/4 cup of flour.

In a bowl mix the 1 cup flour, with the corn starch, baking powder, baking soda and salt. Stir in the beer until it creates a smooth batter.

Heat the oil to 375F. Dip the onions, one ring at a time, in the batter then slowly drop in the hot oil. After about 45 seconds, flip the ring to the other side. The onion rings should be a golden brown on each side. Do not cook more than 4 or 5 onion rings at a time or they will bunch together.

Drain on paper towels. Serve with the dipping sauce.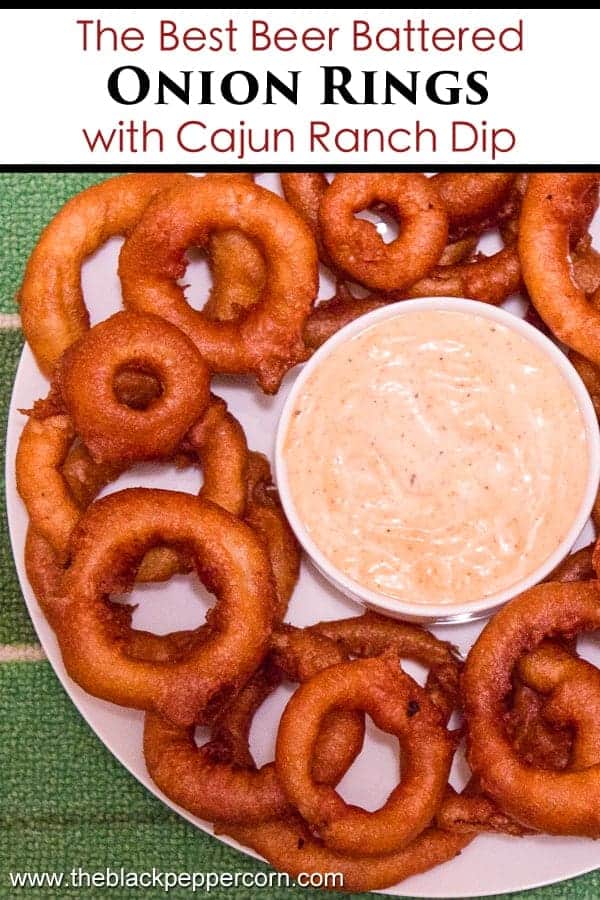 Recipe adapted from BakeSpace