Tender pork cutlets with crispy breading, this schnitzel is amazing with a bowl of apple sauce.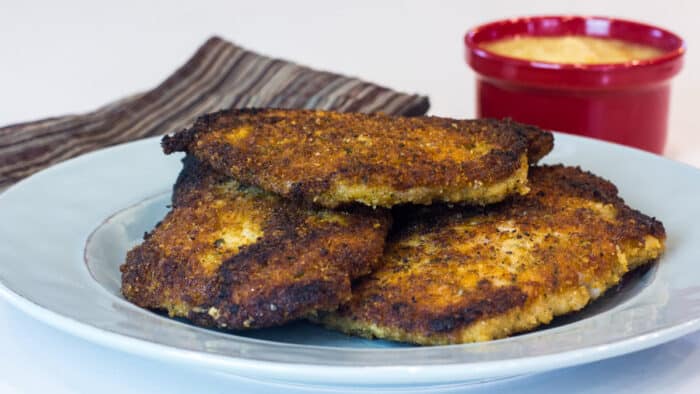 I cook pork dishes quite a bit and pork schnitzel is on the regular rotation. The meat is tender and the breading that coats the pork is nice and crispy from being pan fried. It is easy to make and tastes just like you can find in a restaurant.
What Is Schnitzel?
Schnitzel is a term used for a cutlet of meat that has been pounded and tenderised. Following that, it is breaded and then fried in some oil. Schnitzel is common with pork, veal and chicken.
Wiener schnitzel is popular in Austria and Germany and traditionally served with veal. Pork and chicken is a popular variant of schnitzel, but one thing I just learned was that in Germany and Austria, actual wiener schnitzel must be served, by law, with veal. It is against the law there to make schnitzel with pork or chicken and call it wiener schnitzel.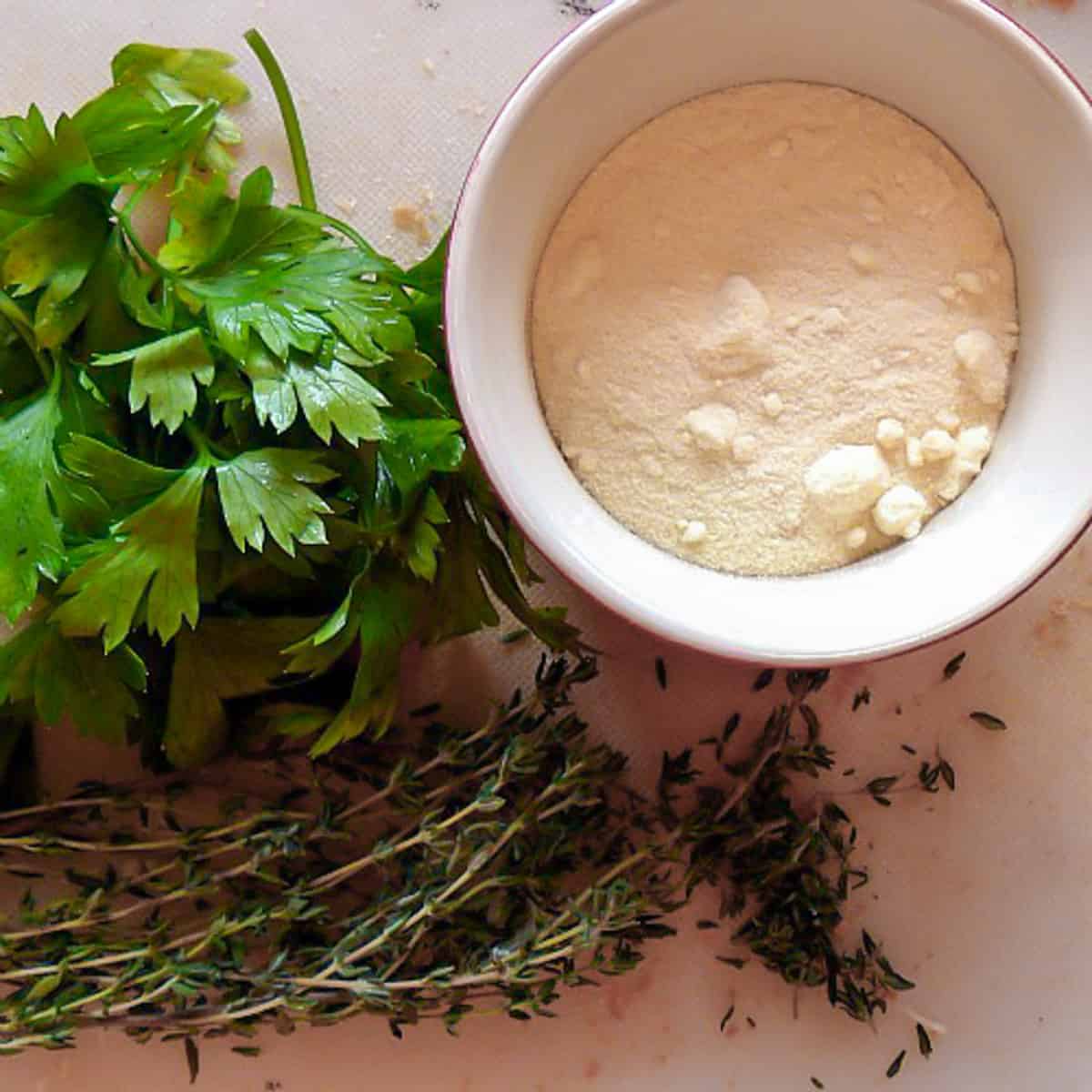 Ingredient Notes
Pork Loin Chops – It is important to use a boneless chop and I love using pork loin, although other chops could also be used.
Bread Crumbs – I buy my breadcrumbs in the supermarket, but you could also make your own
Romano cheese – This cheese is mixed into the breading. Parmesan cheese will also work just fine.
Flour – The cutlets are dredged in the flour for the 2 stage breading process.
Egg – These are to help the breading stick to the meat as is cooks.
Fresh Herbs – I use some fresh parsley and thyme in my breading, but you could also just as easily use dry herbs.
Spices – Salt, pepper and garlic powder are used to season the breading.
Oil – schnitzel is pan fried in a skillet.
Loin Roast Or Loin Chops
Boneless pork loin chops are used in this schnitzel recipe. While you can purchase chops, I typically buy a loin roast and then slice the chops myself. This allows me to control the thickness. I like trim them of any excess fat and slice into chops that are about 1/4 inch thick. Then, once they are tenderised, they are nice and thin and will fry up quick.
What About Chicken? Another type of meat great with schnitzel is chicken. Slice them in half horizontally, and then tenderise them the same way as these pork cutlets.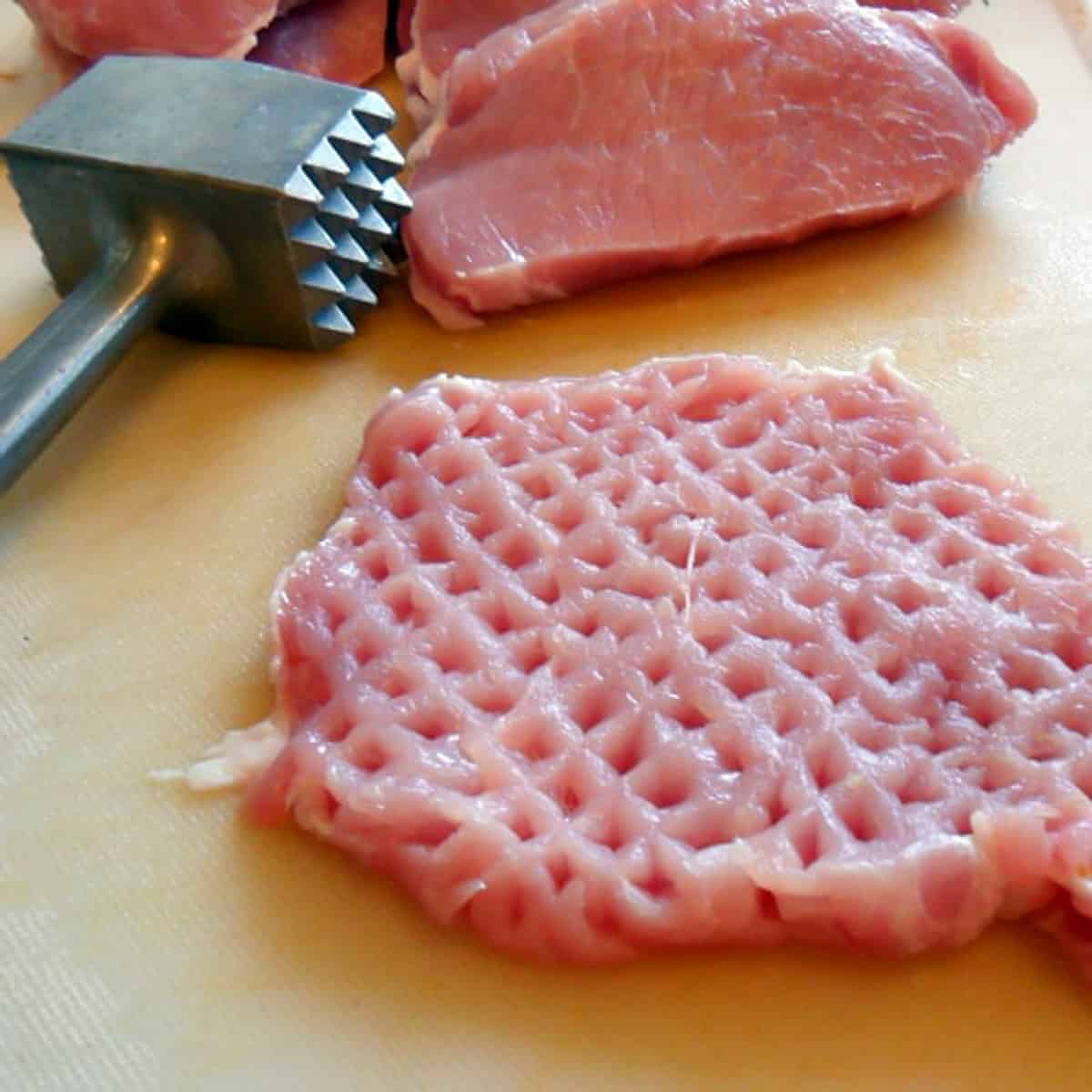 How To Tenderise Pork Chops
The pork cutlet in a schnitzel needs to be tenderised. This will allow it to be nice and tender once cooked, which is a hallmark of a good schnitzel. Take a meat mallet or pounder, and hit the meat with the spike side of the mallet. This will create indentations in the meat. Do this all over the pork cutlets. Flip and pound the other side as well.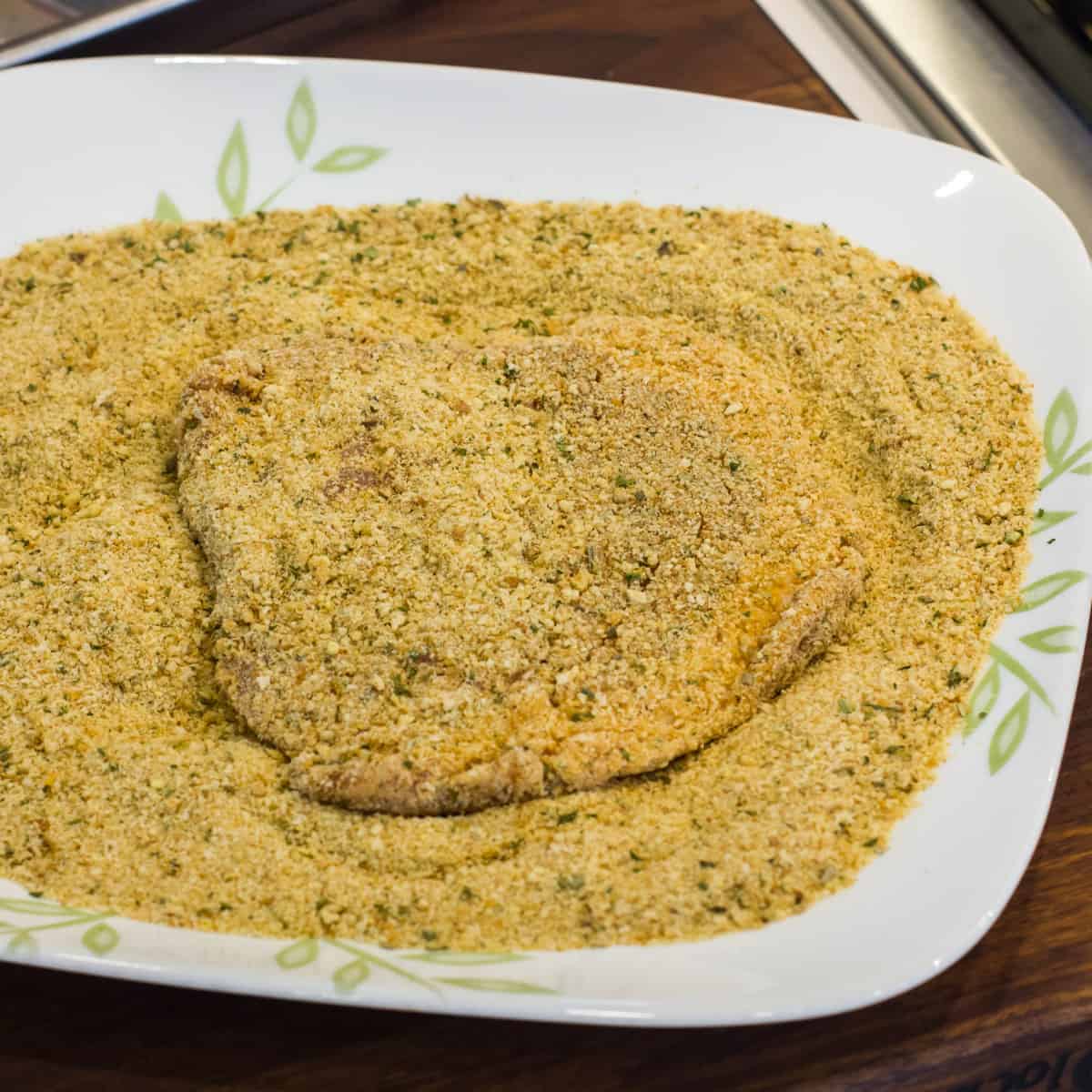 How To Bread Pork Chops
Make the breading by mixing together the bread crumbs, romano cheese, herbs and spices. Place in a bowl or other dish for dredging. Place the flour in a bowl and the eggs in another bowl. Whisk the eggs so they are nicely scrambled.
So, now you should have three bowls/dishes – one with the flour, a second with the beaten eggs and a third with the bread crumb mixture.
Take a tenderised cutlet and dredge it in the flour mixture. Make sure it is coated in the flour on all sides.
Dip the same cutlet into the egg making sure to coat it all over in the egg. Lift it up and let any excess egg drip off.
Dredge the cutlet into the bread crumb mixture ensuring that it is coated all over with the crumbs.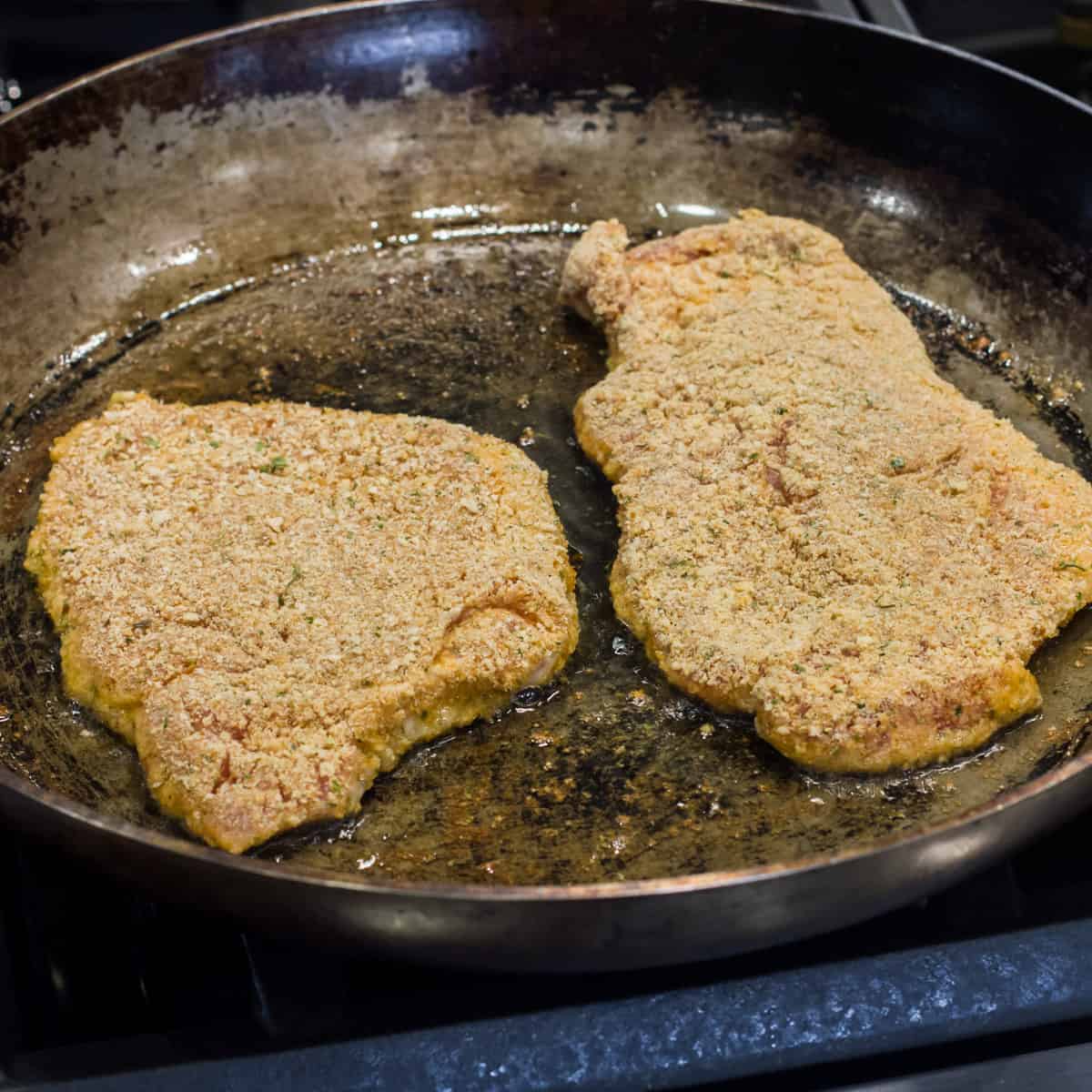 How To Cook Pork Schnitzel
Heat the oil in a skillet over medium high heat. Place 2 or 3 breaded cutlets into the skillet. You want to make sure not to crowd them in the pan, so only add ass many as will fit with some space between them.
Fry the schnitzel for about 3-4 minutes. The breading should be nicely browned on the bottom side. Flip it over and fry for another 3-4 minutes to cook the meat through and brown and crisp up the breading.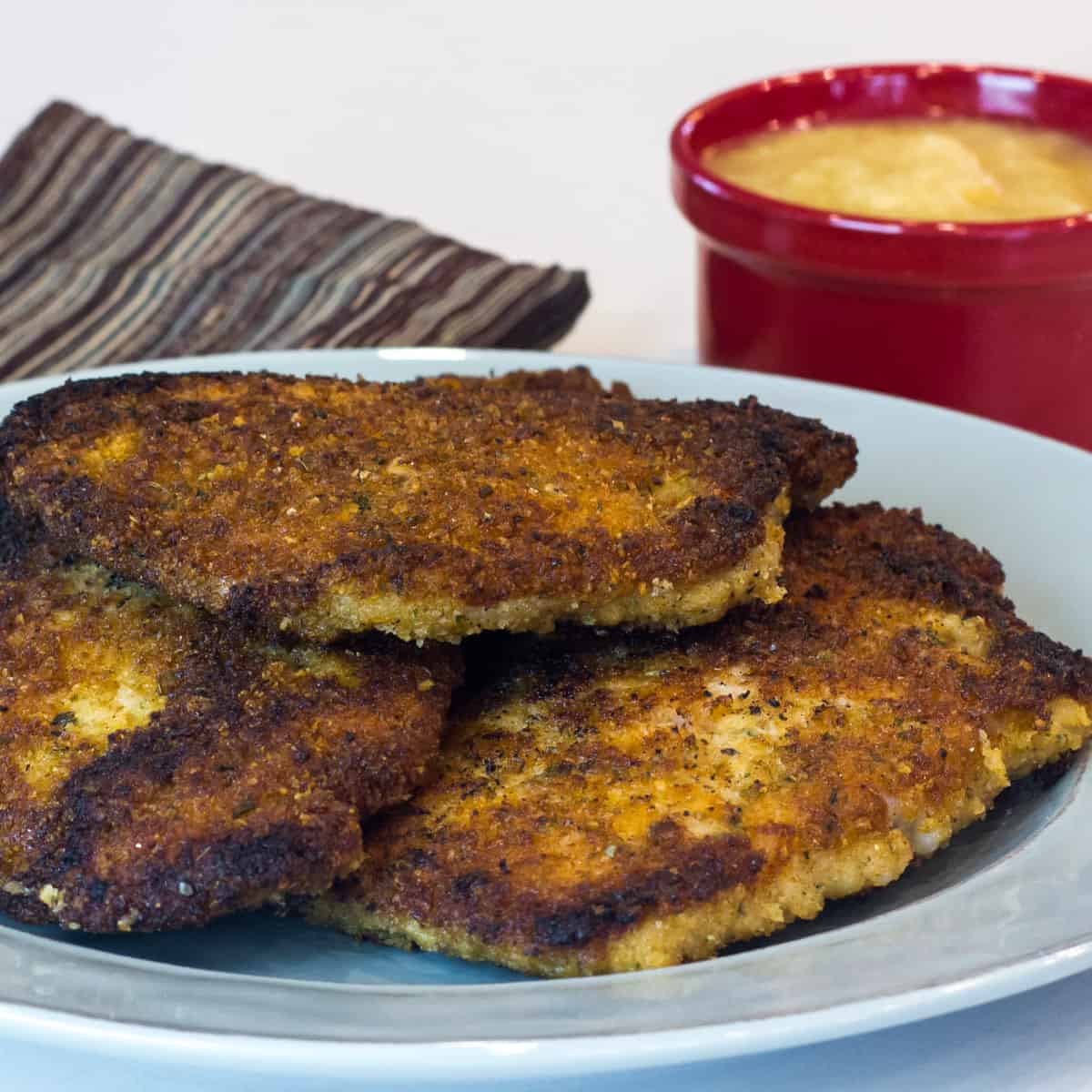 Once the pork schnitzel has been cooked, it is ready to serve. They are best served hot and we love them with a side of apple sauce!
Dishes To Serve With Pork
Pork Schnitzel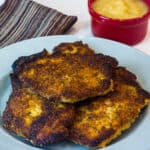 Print
A breaded recipe for how to make pork schnitzel. Similar to weiner schnitzel this is coated in bread crumbs and served with apple sauce.
Servings: 8
Ingredients
8 boneless pork loin chops
2 cups bread crumbs
1/2 cup romano cheese
1 tbsp fresh thyme
2 tbsp fresh parsley , chopped
1 tsp salt
1/2 tsp garlic powder
1/2 tsp black pepper
1/2 cup flour
4 eggs
1/3 cup oil
Instructions
Prepare the meat by trimming off the fat. If you are using a roast, slice it into 1/4 inch slices. Pound the pork chops with a meat mallet.

Chop the parsley and remove the thyme leaves of the stem. discard the stem.

Mix the bread crumbs, Romano cheese, parsley, thyme, salt, black pepper and garlic powder in a medium sized bowl

Get three bowls. Put the flour in the first, scramble the eggs and put them in the second and use the breadcrumb mixture for the third.

Take the meat through the three stage breading process. First, dredge in the flour, then dip in the eggs then dredge in the breadcrumbs.

Heat oil in a skillet over medium to medium high heat. Once the meat has gone through the three stage breading process, lay them in a frypan with the hot oil.

Fry about 3 minutes per side, or until golden brown.

Serve with apple sauce.
Nutrition
Per serving:
Calories: 483kcalCarbohydrates: 26gProtein: 38gFat: 24gSaturated Fat: 6gCholesterol: 178mgSodium: 660mgFiber: 2gSugar: 2g