Stovetop recipe for German style braised red cabbage and apples. Sweet and tart, this is a delicious side dish.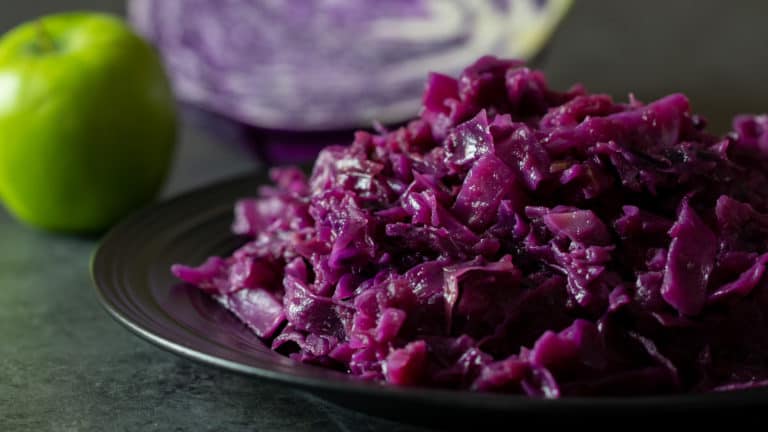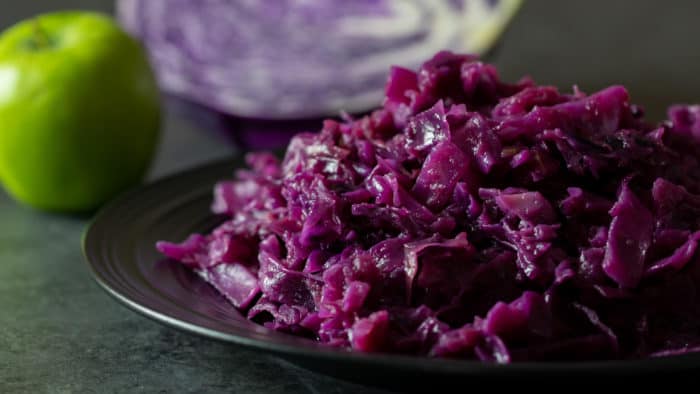 This recipe for braised red cabbage with granny smith apples is prepared on the stovetop. It is simmered slowly to create a delicious side dish that is both sweet and tart. This is a traditional German dish also called Blaukraut.
Braised red cabbage is one of my favourite side dishes that I have ever had. I think that it is the combination of the sweetness that comes from the apples and little bit of sugar as well as the tart tang from the vinegar.
Either way, braised red cabbage is amazing and ideal to go alongside a pork roast.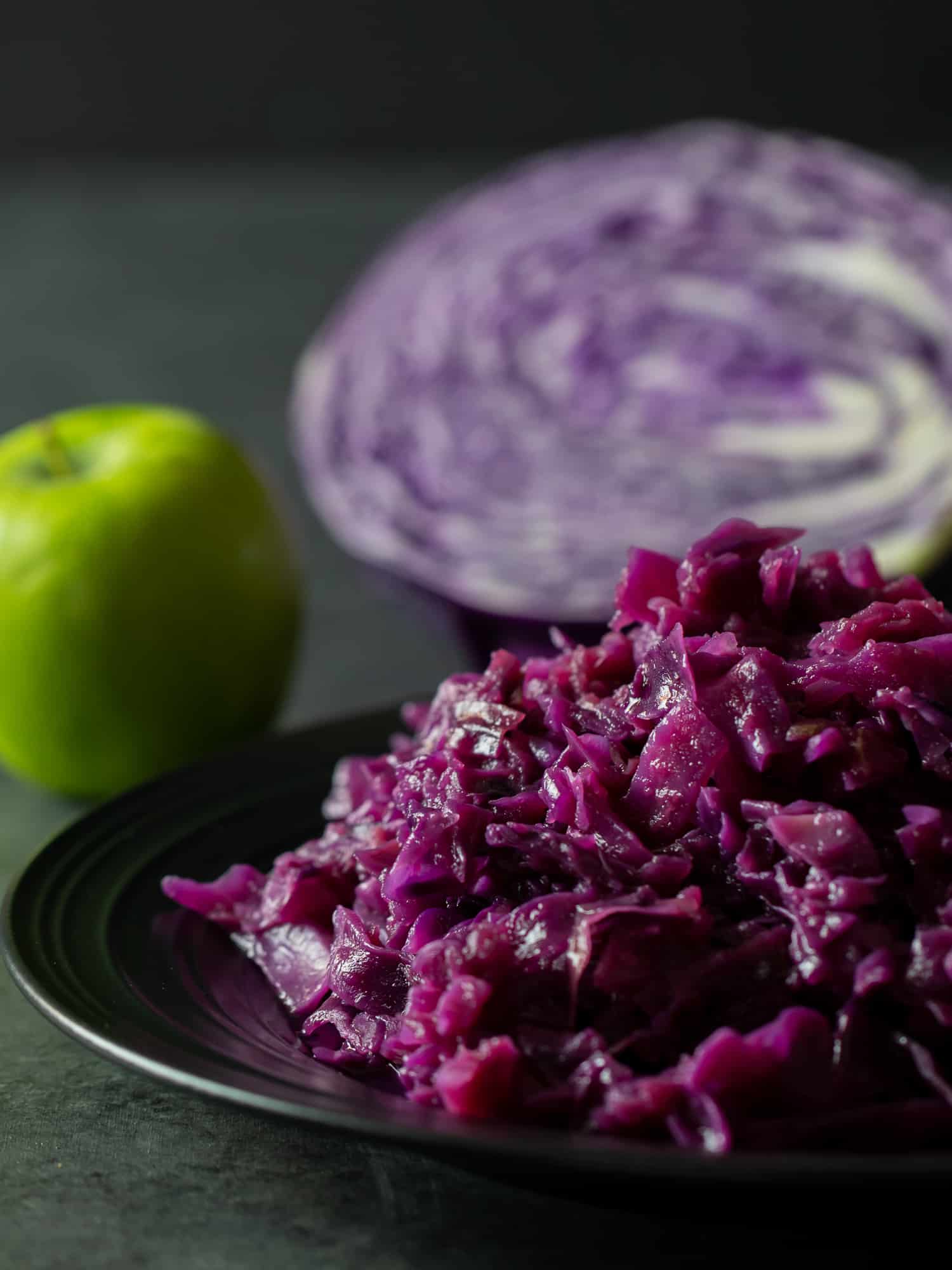 Different cooking methods?
This recipe uses the stovetop to cook the dish in a dutch oven or pot. Slowly simmering on the stovetop is the traditional way to prepare braised red cabbage. This is probably my favourite way to cook it as I find that there is more caramelizing of the flavours.
But, there are a couple other ways I make braised red cabbage. This likely shows you how much I absolutely love this side dish!
Slow Cooker Red Cabbage and Apples – Preparing this in a slow cooker works very well. I love that you just throw everything in the in the slow cooker and then let it cook away. The finished dish is pretty darn close to the traditional stovetop version!
Pressure Cooker Red Cabbage and Apples – Using a pressure cooker is all about saving time and getting stuff done fast. Only taking about 30 minutes and not requiring any stirring or checking, this method is great for a weeknight.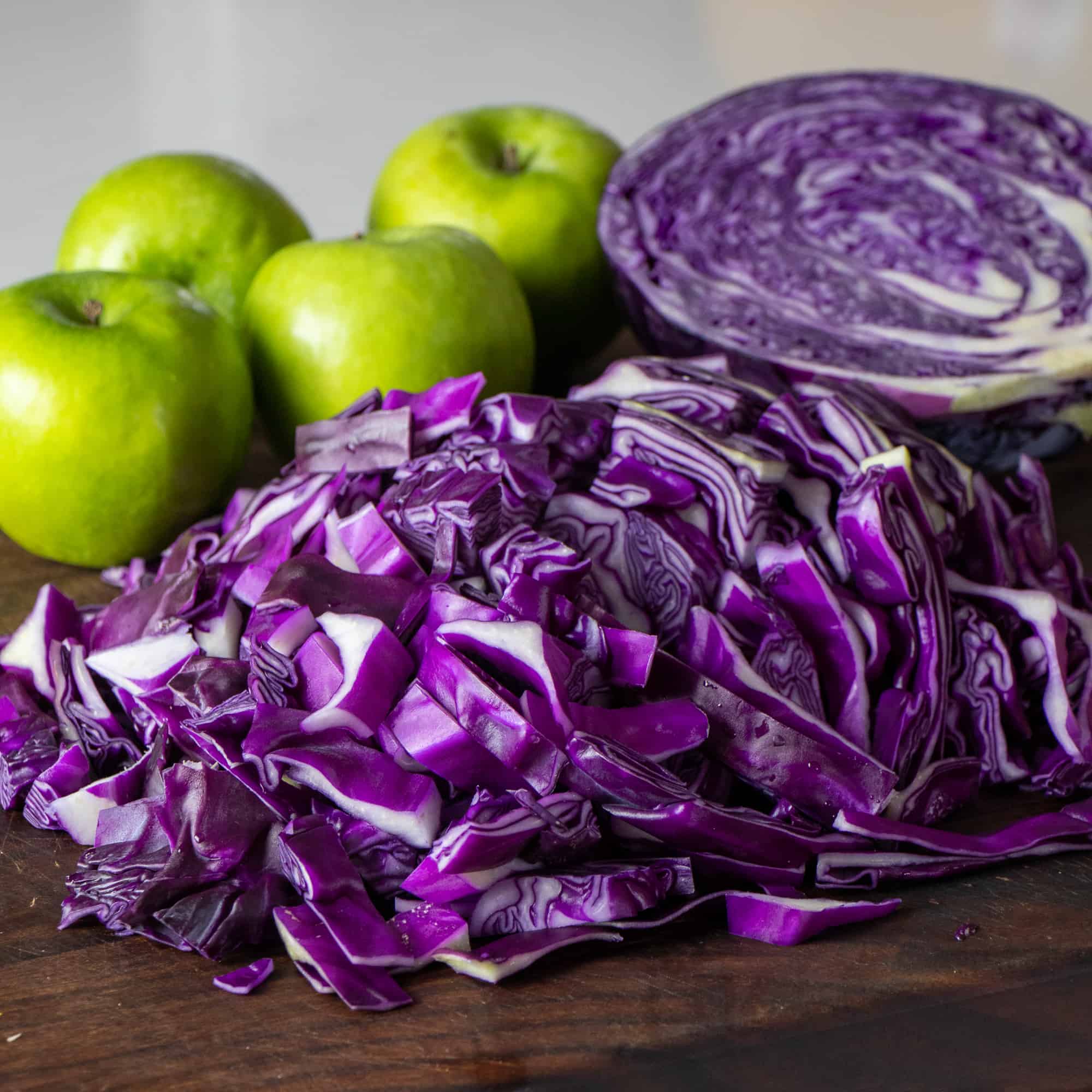 This recipe uses 8 cups of sliced red cabbage which is half of a large size head of cabbage. Cut the cabbage into strips that are 1/2 inch thick. Peel and core the apples and then chop them into rough chunks. I like to use granny smith apples, but over the years, I have used many different kinds of apples.
How to cook braised red cabbage on the stovetop
Using a stovetop to make braised cabbage is quite simple. Heat the butter in a dutch oven or large saucepan over medium high heat. Stir in the onion and sauté until tender. This usually takes about 5 minutes.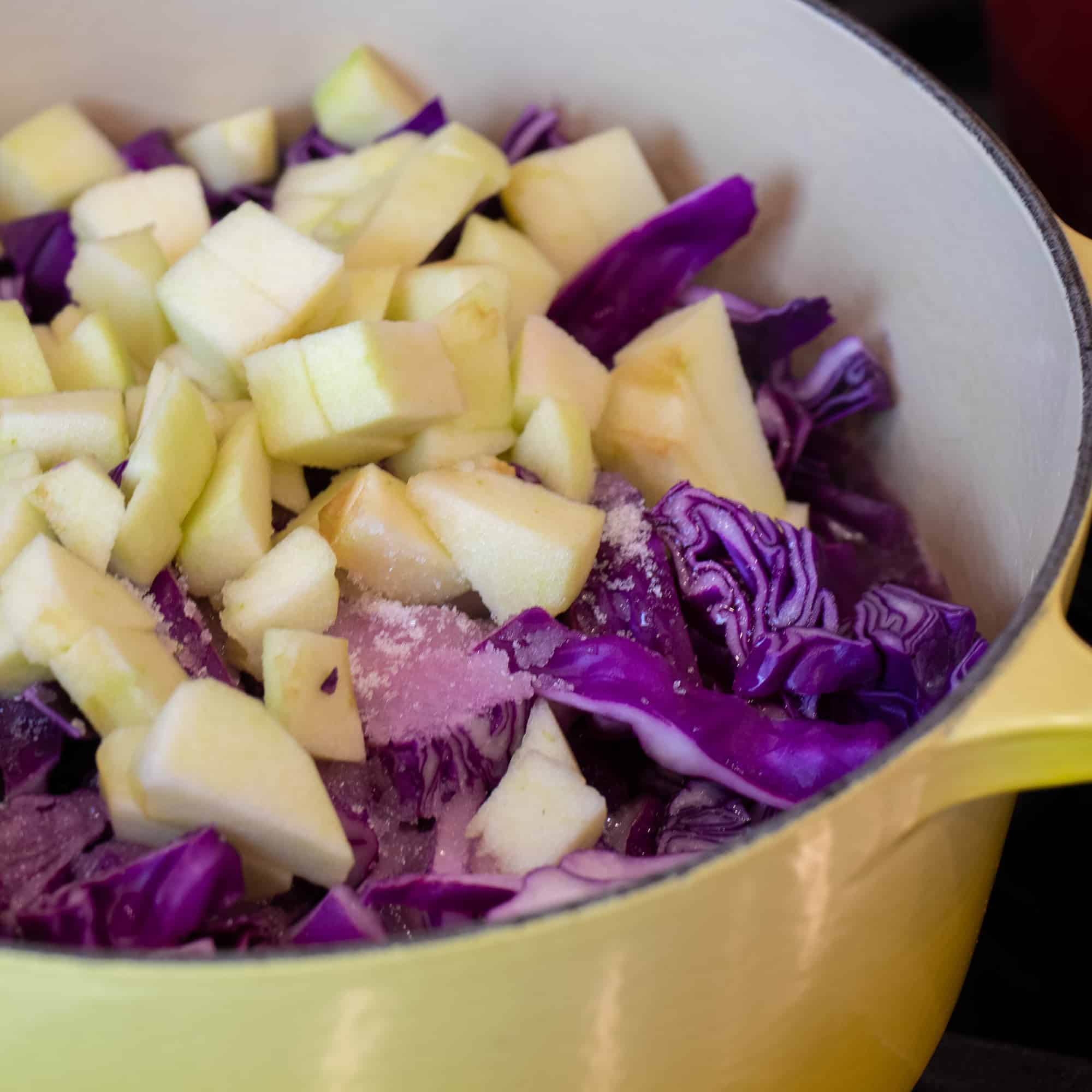 The next step is to add all the remaining ingredients to the dutch oven and stir. I told you this way going to be easy! Bring the water to a boil and then lower the heat. I set the heat it to medium low. You are looking for the liquid to have just a light boil.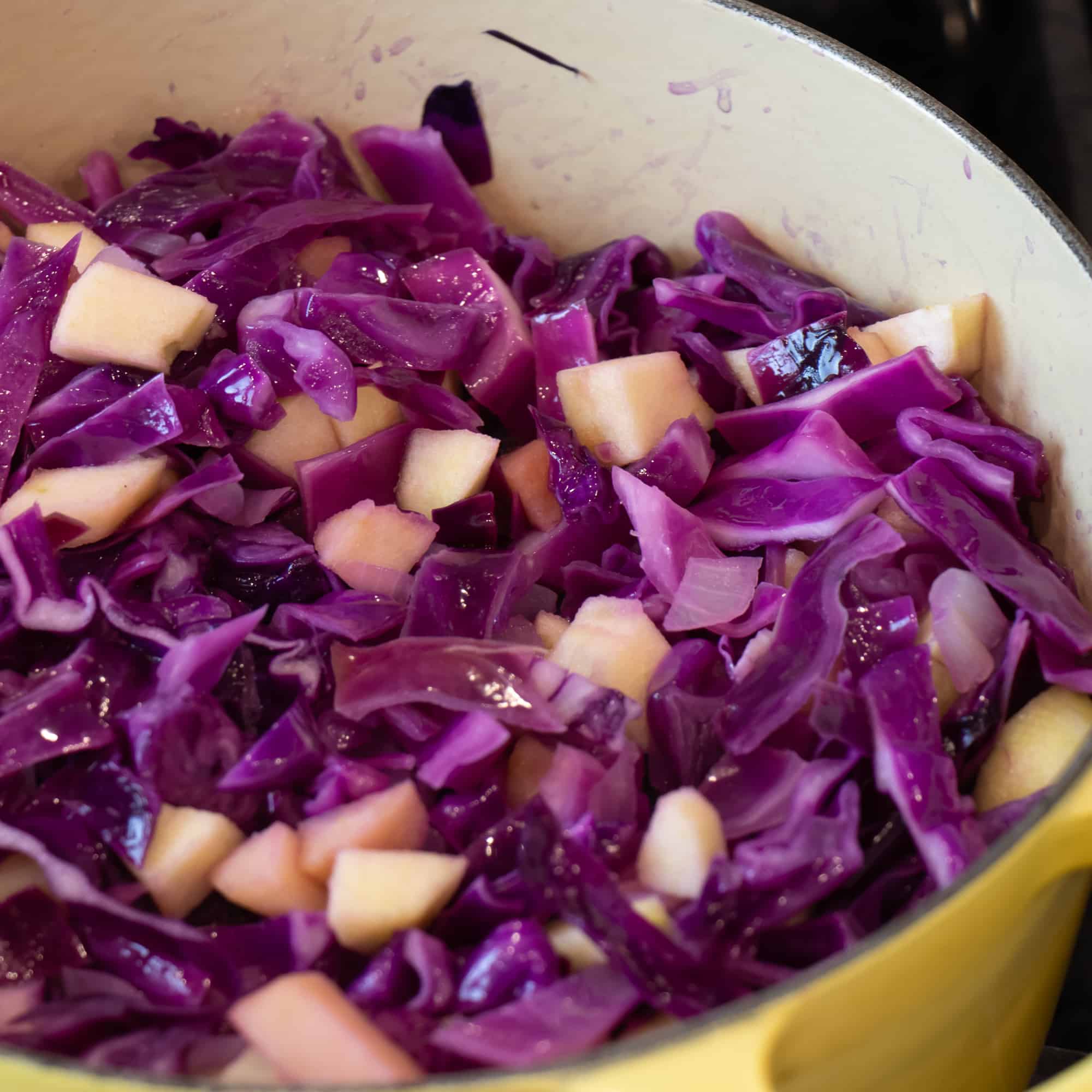 Everything will reduce as it simmers. The cabbage will shrink as cooks and the liquid will thicken. Make sure to stir the cabbage around occasionally and I tend to give it a mix every few minutes. You will see the purple colour drawing out of the cabbage and into the broth. But, as it braises, the colour will be drawn back into the cabbage to create the deep purple that is typical of braised red cabbage.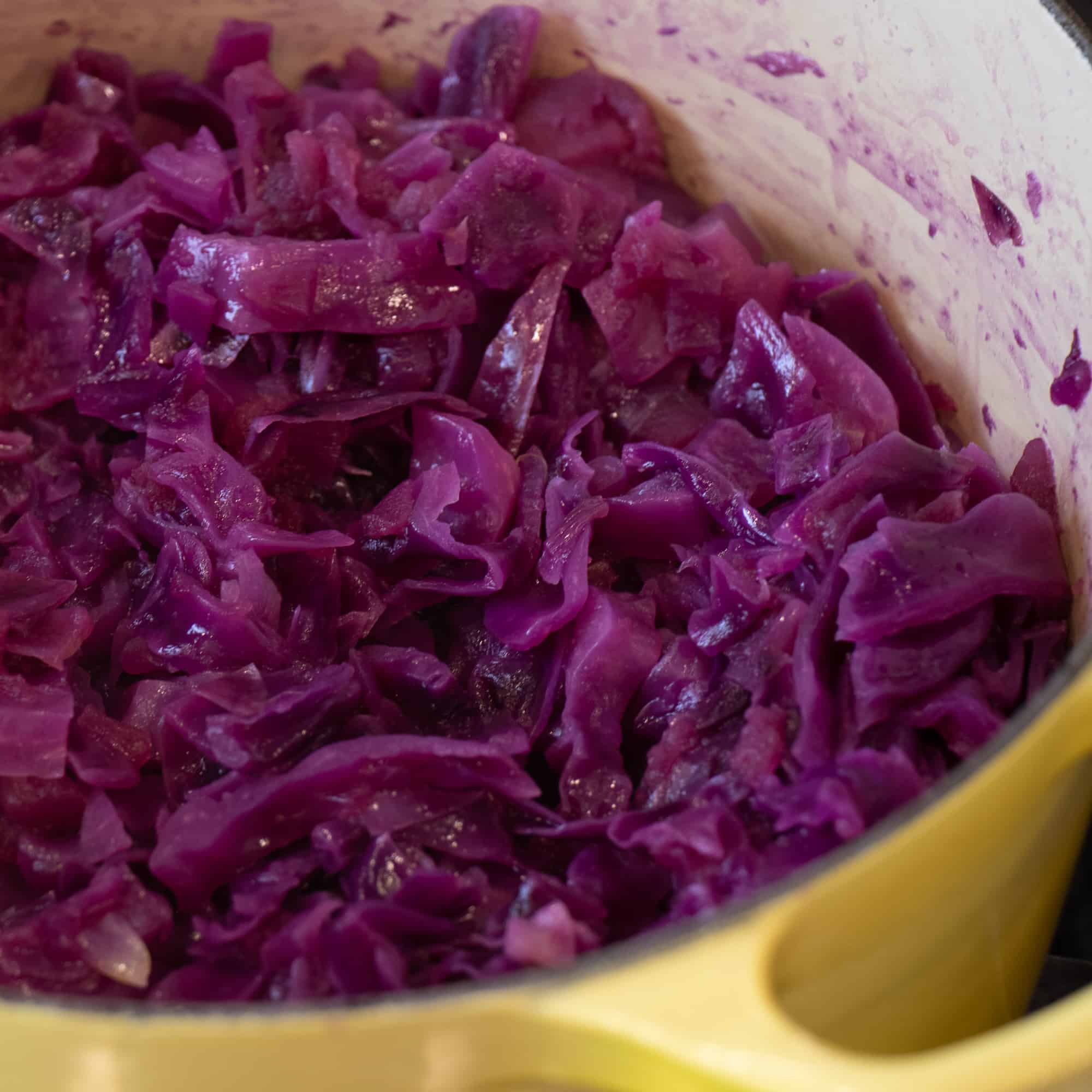 How long to braise red cabbage?
The picture above shows how the cabbage looks after it has braised for about an hour. While it does not need that long to finish cooking, I find that letting it braise a little longer than you might think, results in a deeper flavour and a more tender cabbage. Also, I like to braise with the lid off as this helps to both reduce and thicken the sauce. Make sure to check the amount of liquid while it is simmering. There should always be at least a little liquid in the dutch oven or else the cabbage may burn on the bottom. While the amount of water in the recipe should be enough, you can always add a little more during the braising. You will probably also notice that the chunks of apples are gone. They dissolve during the cooking and become part of the sauce. This adds to the sweetness of the finished dish.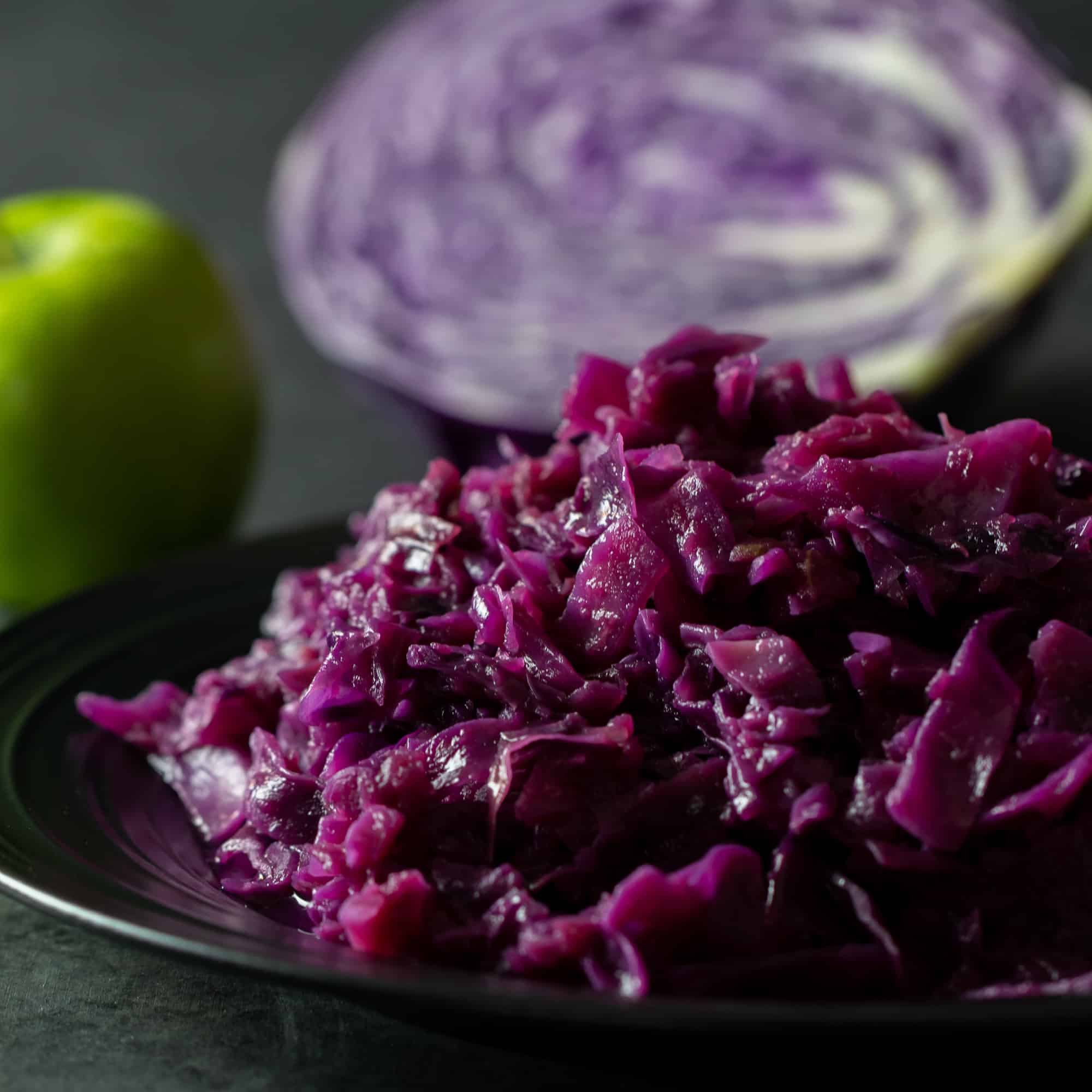 While this is traditionally served as a side dish, I have been known to eat a plateful myself. It is just so good! Traditionally braised red cabbage is served with roast pork and they do go very well together. Here are a number of recipes that are a perfect compliment to this delicious side dish.
Make it a meal with these recipes!
Braised Red Cabbage and Apples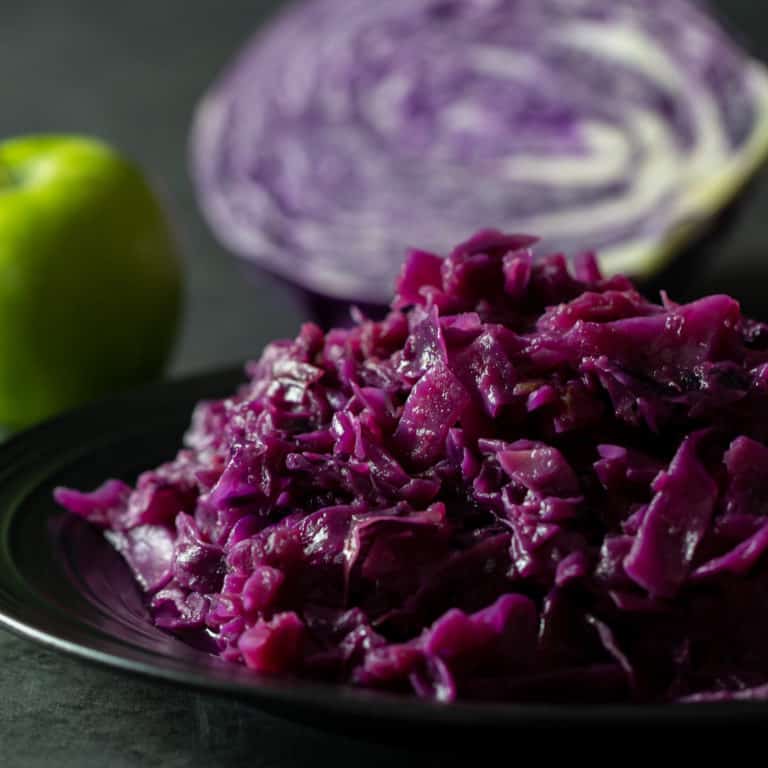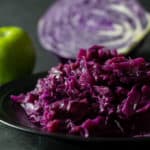 Print
A finished photo of the red cabbage and apples that were braised in a dutch oven.
Servings: 8
Ingredients
3 tbsp butter
1 medium onion peeled and diced
8 cups red cabbage cut into 1/2 inch strips
3 granny smith apples peeled, cored and diced
1/2 cup vinegar
1/3 cup sugar
2 1/2 cups water
1 tsp salt
Instructions
Heat the oil in a dutch oven or pot over medium high heat. Add the onion and saute until fairly soft, about 5 minutes.

Add the rest of the ingredients and stir. Bring to a boil and then lower the heat to medium low. You are still looking for the water to have a light boil.

Continue to braise the cabbage and apples, stirring occasionally, until the cabbage is soft and a deep purple colour. The apples will likely dissolve and be part of the sauce. This generally takes 45-60 minutes.
Nutrition
Per serving:
Calories: 142kcalCarbohydrates: 26gProtein: 2gFat: 5gSaturated Fat: 3gCholesterol: 11mgSodium: 358mgFiber: 4gSugar: 19g