Pressure Cooker Red Cabbage and Apples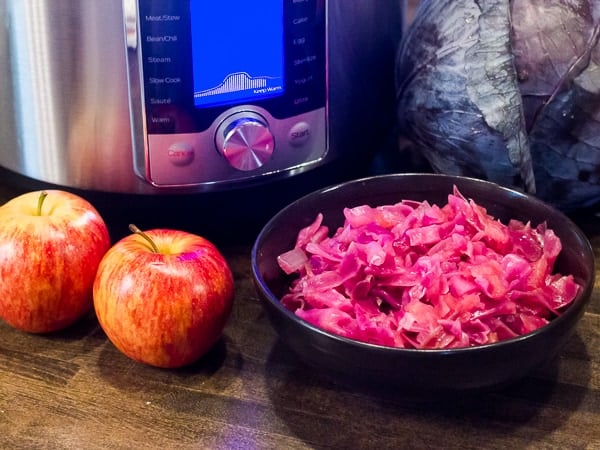 Braised red cabbage and apples is one of my favourite side dishes and it can be made super fast in a pressure cooker, like an Instant Pot. This classic German dish is perfect alongside pork chops, chicken, sausages and more. I even enjoy having red cabbage and apples as a side to my Traditional Ukrainian Pierogies.
This side dish has a wonderful flavour and the braised cabbage has a nice sweetness that comes from the apples. For the longest time I usually made this dish in the slow cooker. I even have instructions for making these in the Crock Pot – Red Cabbage and Apples – Crock Pot Recipe
Lately, I have discovered how this dish can easily be adapted to a pressure cooker. I find that many of the recipes that are made in a slow cooker, can easily be converted for a pressure cooker. One of the great things about using a pressure cooker is that it speeds up the cooking time considerably, instead of a slow cooker.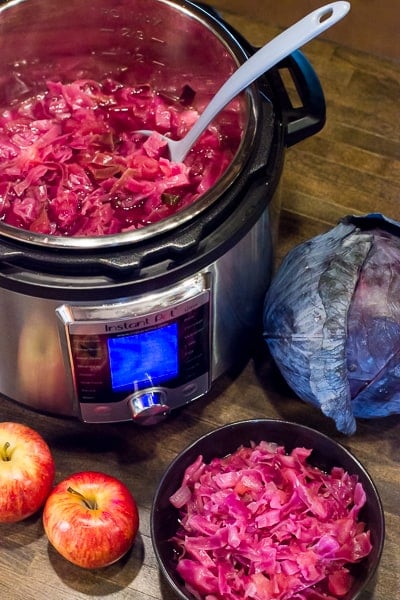 While using a slow cooker to make the braised red cabbage and apples takes about 8 hours, using a pressure cooker drops that cooking time down to 10 minutes. Yes it is that fast!
Sure, it does take a little extra time for the pressure cooker to come up to pressure, but in less than an hour you can have a side dish that would normally require hours of slow cooking.
This is an excellent fall recipe and I find that one medium sized red cabbage, four apples and one onion fill up a 6 qt pressure cooker perfectly.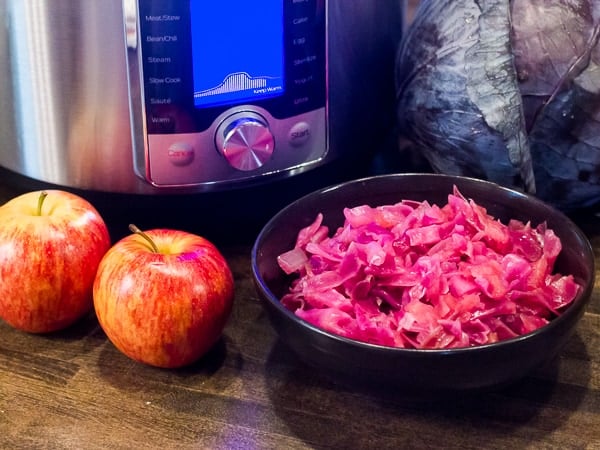 If you are looking for some other pressure cooker recipes, check out these!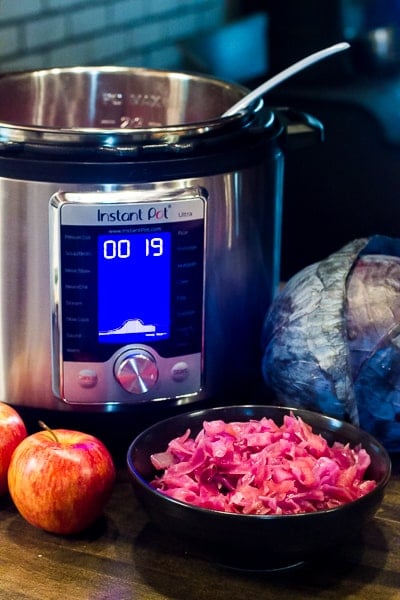 Pressure Cooker Red Cabbage and Apples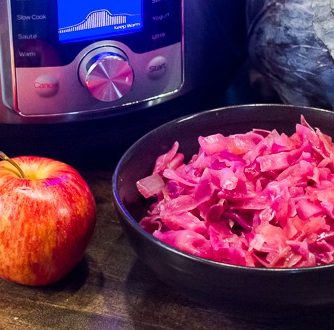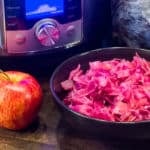 Print
Braised red cabbage and apples is a classic German side dish that can be made quickly in a pressure cooker like an Instant Pot
Servings: 8
Ingredients
1 red cabbage thinly sliced
4 apples peeled and chopped
1 onion diced
1 1/2 cups water
1/2 cup vinegar
1/4 cup sugar
1/2 tsp salt
2 tbsp corn starch
3 tbsp water
Instructions
Add red cabbage, apples, onion, 1 1/2 cup water, vinegar, sugar and salt to the pressure cooker pot and stir.

Close the lid and make sure the valve is set to seal. Set the pressure cooker on high for 10 minutes.

Once the pressure cooker has cooked for the 10 minutes and beeped, manually release the pressure by turning the valve to vent. Once the air pressure is released, remove the lid and stir.

Whisk together the corn starch and 3 tbsp water to make a slurry. Slowly pour into the cooked cabbage and stir until fully dissolved into the sauce. Continue to stir until the sauce has thickened.

Serve.