Deep Fried Sous Vide Pork Belly Skewers with Honey Garlic Glaze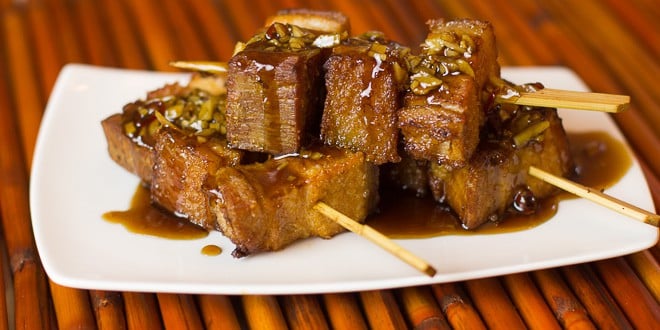 Cooking pork belly in the sous vide is an experience. Of all the food I have cooked in the Sous Vide Supreme
, pork belly is my favourite. Tender and decadent, pork belly prepared in a sous vide is a 3 day event. I might even call it a ritual. Some people may think that the time is excessive but it is oh so worth it. For detailed instructions on how to cook the pork belly in the sous vide, click here.
After the pork belly comes out of the water bath, one way to finish it off is to give it a quick deep fry. They are crispy on the outside like bacon and succulent in the middle. Drizzle it with an Asian honey garlic glaze and you have a pork version of honey garlic chicken wings!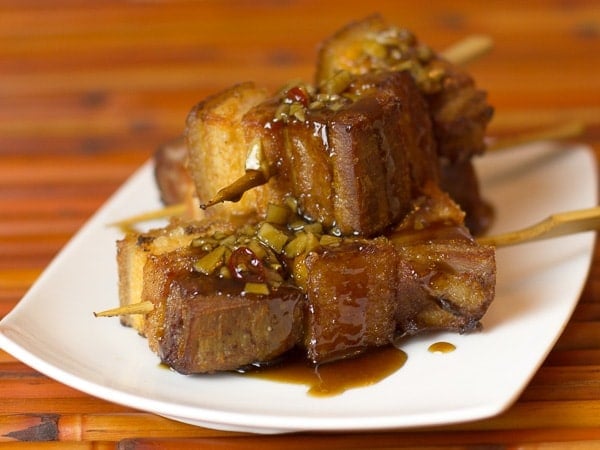 Deep Fried Sous Vide Pork Belly Skewers with Honey Garlic Glaze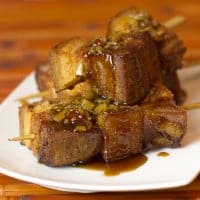 Print
Servings: 4
Ingredients
1-2 pounds pork belly cooked sous vide (recipe here)
1/3 cup butter
8 garlic cloves , minced
2 thai chilies , sliced
1/2 cup soy sauce
1 cup honey
small skewers
Instructions
To make the sauce, melt butter in a saucepan. Add the minced garlic and chilies and cook for a few minutes to release the flavor. Add the soy sauce and honey and bring to a boil. Lower the heat to a simmer. The sauce will thicken after 10 minutes or so.

Slice the pork belly into 1 inch chunks. Spear them onto skewers.

Heat oil to 325F. Slowly place the skewered pork belly into the hot oil and cook for about 3 minutes. The outside should be crispy and golden in color.

Drain on a paper towel for 1-2 minutes.

Place on serving plate and drizzle with honey garlic glaze.