Curried Pork Tenderloin with Mint Yogurt Sauce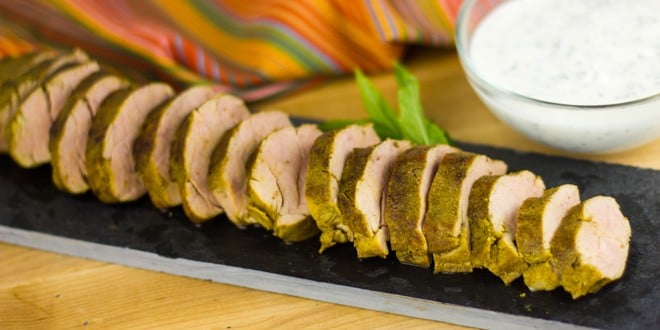 Pork Tenderloin is one of my favorite cuts of meat to cook. Relatively inexpensive, pork tenderloin is one of the most lean, tender and prime cuts of meat for the price. They are great grilled, done sous vide, smoked, roasted and even cut into medallions and pan fried. When cooking pork tenderloin, I often use a spice blend to rub all over the outside of the meat. Today I was in the mood for some curry flavors so I used my Curry in a Hurry Spice Blend. To go with this curry flavored pork tenderloin is a mint yogurt sauce that is basically a very basic type of raita. Only three ingredients but it is refreshingly cool and goes perfect with the pork.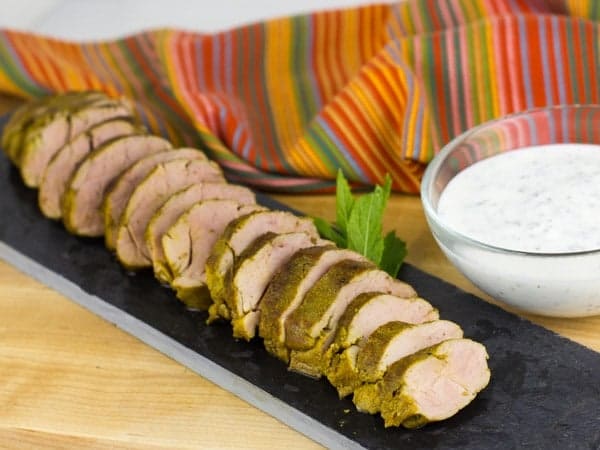 Curried Pork Tenderloin with Mint Yogurt Sauce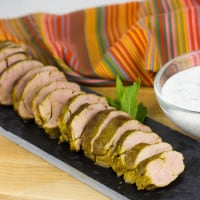 Print
Servings: 4
Ingredients
2 pork tenderloins
4 tbsp Curry in a Hurry Spice Blend
1 cup plain yogurt
2 tbsp fresh mint , minced finely
2 tbsp honey
Instructions
In a bowl, mix together yogurt with minced fresh mint and honey. Cover bowl with plastic wrap and place in the fridge until serving time.

Trim pork tenderloins of any fat and silver skin. Rub the curry spice blend all over the tenderloins.

Cook them using either the sous vide or grilling method.

Sous Vide Cooking Method

- Vac seal in a food safe bag and cook in Sous Vide Supreme set for 135F for 2 hours. Remove from water bath and sear in a skillet on high heat. For more information on how to sous vide pork tenderloin,

check here

.

Grilling Method - Heat the grill to medium high heat. Place the pork tenderloins on the grill and cook them for about 5 minutes. Roll it a quarter way and cook it for another 5 minutes. Continue this until it has cooked on 4 sides and reads about 145-150F on the thermometer. The tenderloin is round, so cooking on 4 sides gives it an even level of cooking.

After cooking the pork (any method), let it rest for 5-10 minutes. Slice it in 1/2 inch medallions and serve with the yogurt sauce.