Lemon Garlic Fingerling Potatoes
These mini potatoes are creamy on the inside but the skin is browned with flavours of butter, lemon and garlic. This is an amazing side dish for steak, roast beef, chicken and so much more!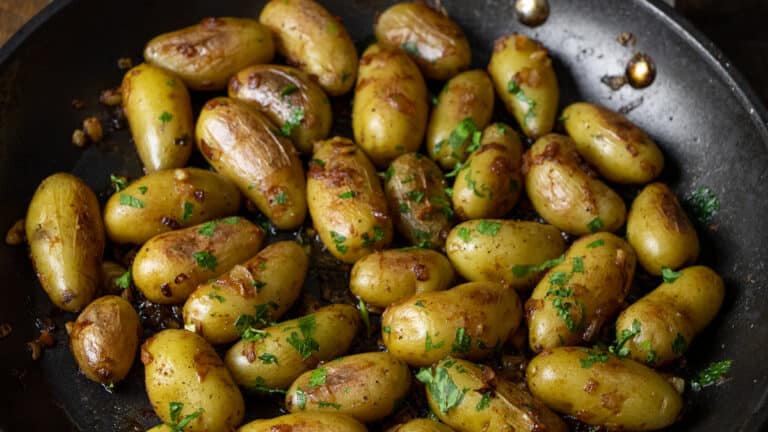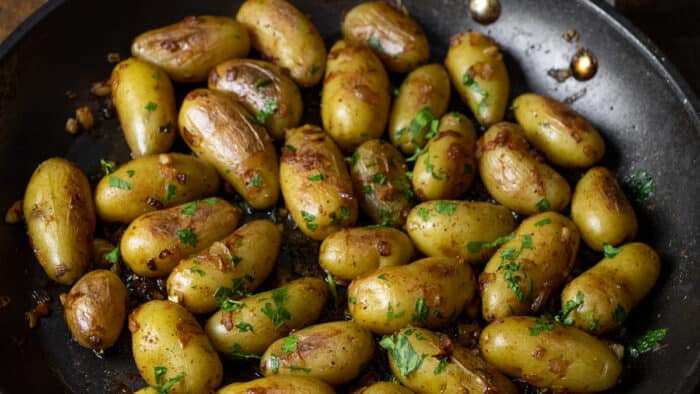 I am always on the look out for a new side dish. I make mini potatoes all the time, and recently cooked these lemon garlic fingerling potatoes that immediately became a hit. Therefore, I prepared them a couple days later, and knew I had to share with you, how to cook fingerling potatoes this way.
These fingerling potatoes are twice cooked. First, they are boiled until cooked through and then they are cooked in a skillet with butter, garlic, shallots, lemon juice and lemon zest. This will brown the outside of the potatoes while keeping the inside soft. Plus the potatoes will be coated with so much garlic and lemony flavours. These potatoes are so good!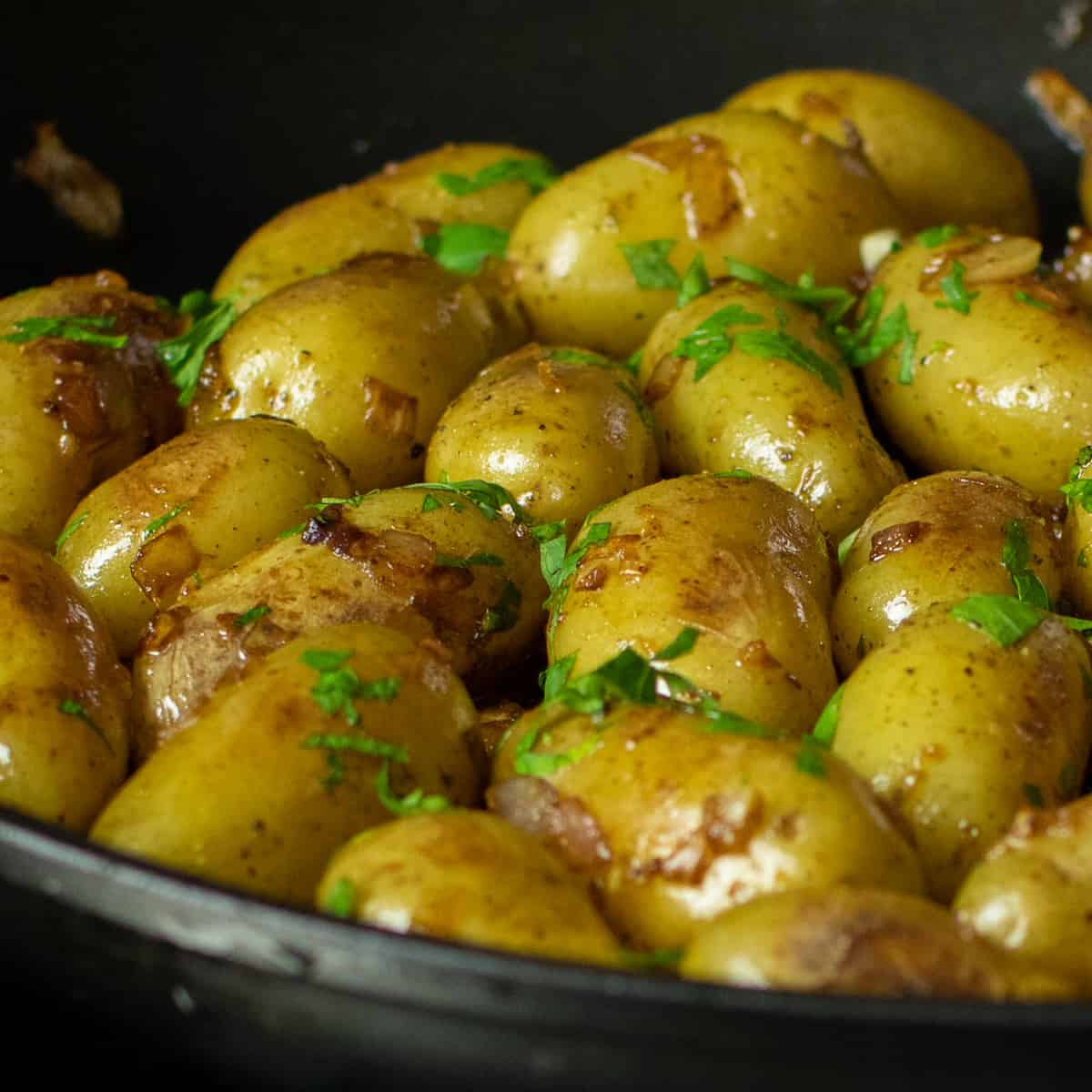 What Are Fingerling Potatoes?
Fingerling potatoes are small waxy potatoes, with an oblong shape, that are perfect for boiling. They are soft and creamy on the inside and over the years have become quite possibly my favourite choice when I am looking for a potato side dish.
It seemed that fingerling potatoes used to only be available for a couple months a year, but anymore, my local supermarket has them available all year long. That's a big win for me, since I love them so much.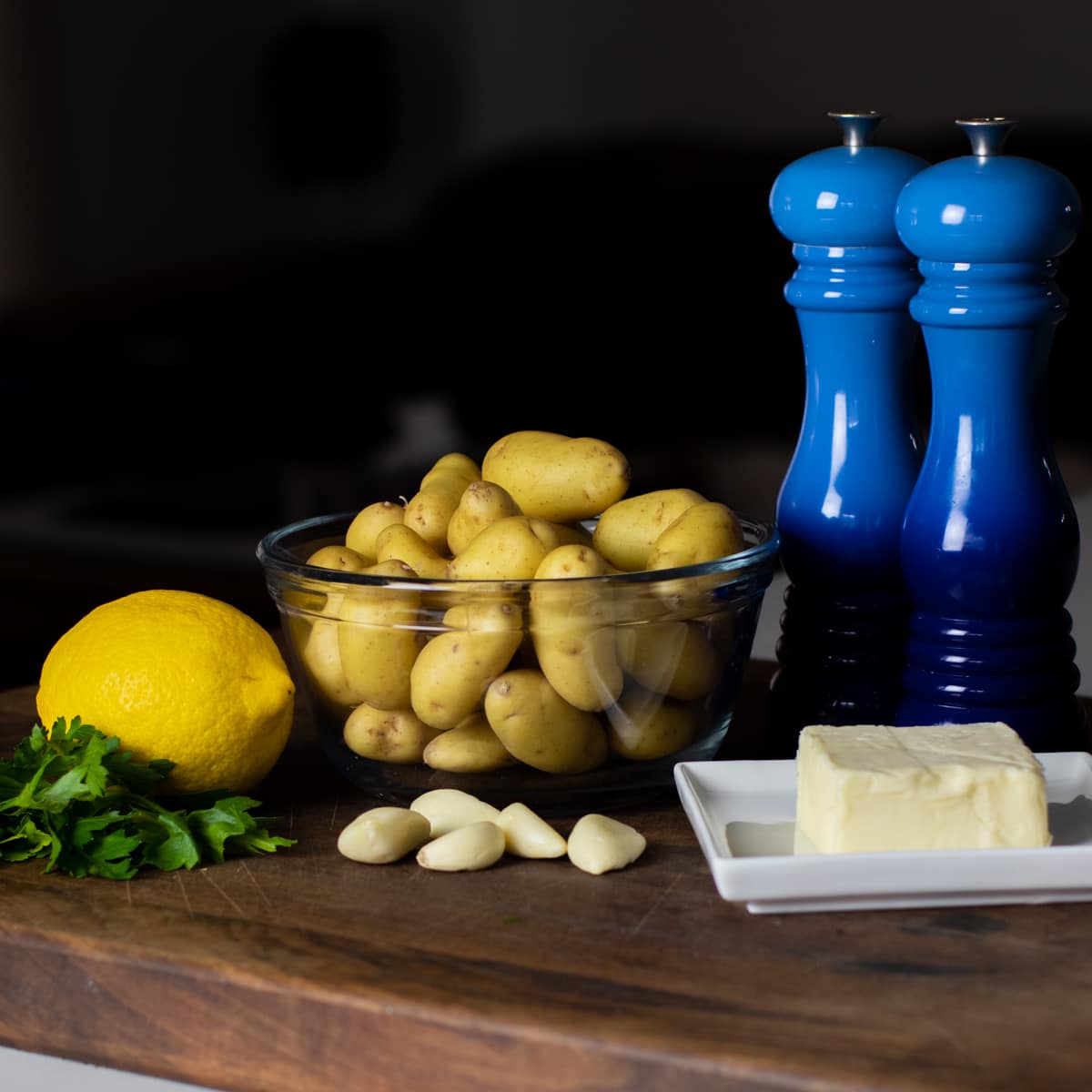 Ingredients For Lemon Garlic Potatoes
Fingerling potatoes – while any small or baby potato will work, I love using these long shaped fingerling spuds.
Butter – after the potatoes are boiled, they are browned and pan fried in the butter.
Garlic – lots of minced garlic will really enhance these potatoes!
Shallots – after I took the above photo, I realized that I did not include a shallot with all the other ingredients. While they are not necessary, they do add a nice flavour to these lemon garlic fingerling potatoes.
Lemon juice – I use the juice of half of a lemon which is about 3 tablespoons of lemon juice.
Lemon zest – this adds a really nice zing to these potatoes.
Salt
Pepper
Fresh parsley – this is sprinkled on the potatoes after they have finished cooking.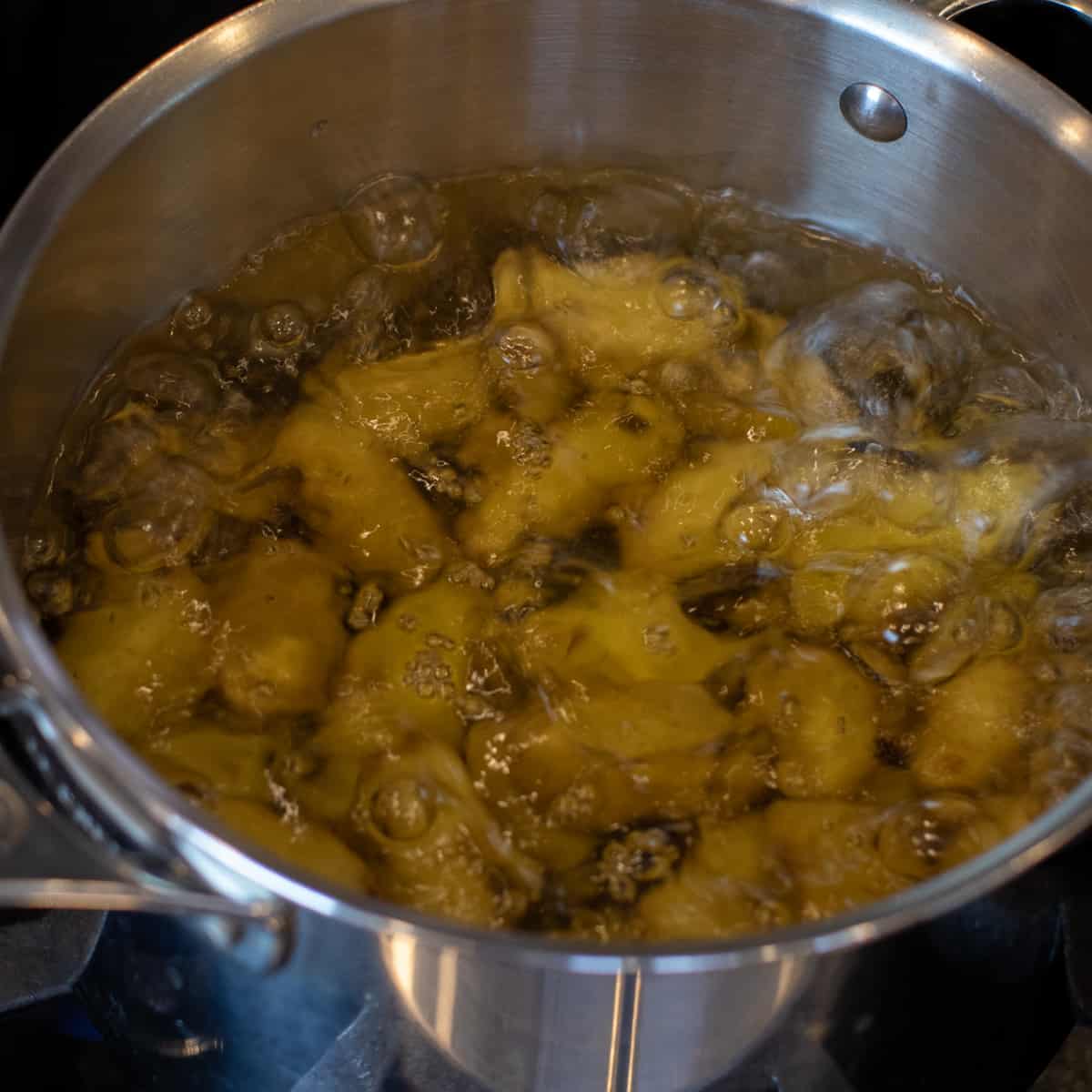 How To Boil Fingerling Potatoes
Place these mini potatoes in a large enough pot and fill it with water so that there is at least an inch of water above the top of the potatoes.
Bring to a boil and lower the heat just to the point where the water is still boiling but not too heavy of a boil. Continue to let the potatoes cook until they are soft when poked with a fork or knife. This should take about 20 minutes or so.
Drain the potatoes and let cool slightly and dry.
Expert Tip: I find that boiling potatoes in a larger pot is best. That bigger pot typically has a wider bottom which means the potatoes are spread out more and not piled as high. this seems to cook the potatoes more quickly as well as more evenly.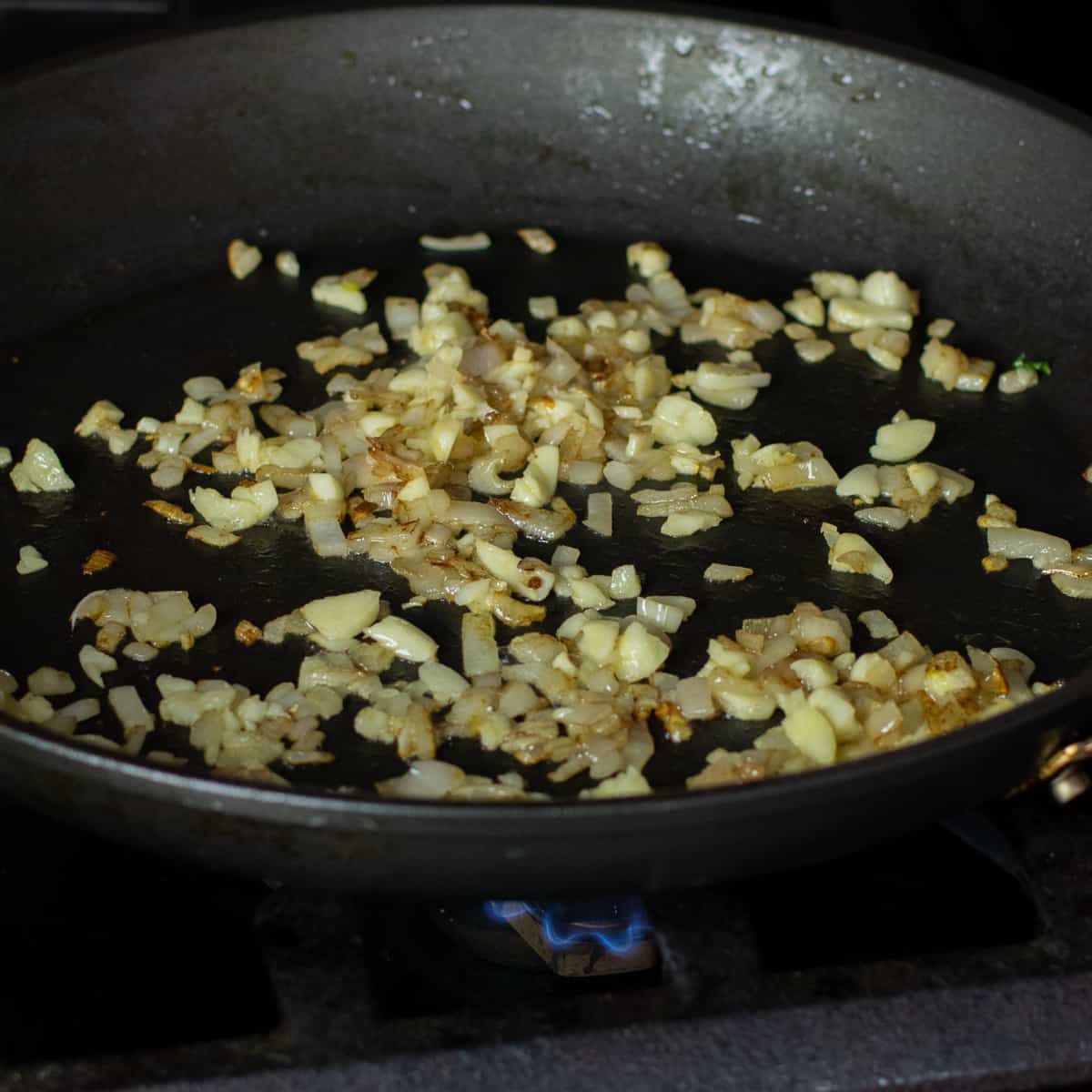 Sauté the Garlic and Shallots
After you have boiled the potatoes, you can heat the butter in a large skillet. Make sure to use a large enough skillet so that the fingerling potatoes are are able to all fit in the pan and not be piled on top of each other.
Once the butter is melted, add the minced garlic and shallots. Let them sauté, stirring often to make sure they are able to cook evenly.
Expert Tip: Garlic can burn quickly which can add a bitter taste to the dish. If it seems like the garlic is browning too fast, reduce the heat to slow the cooking down a little bit.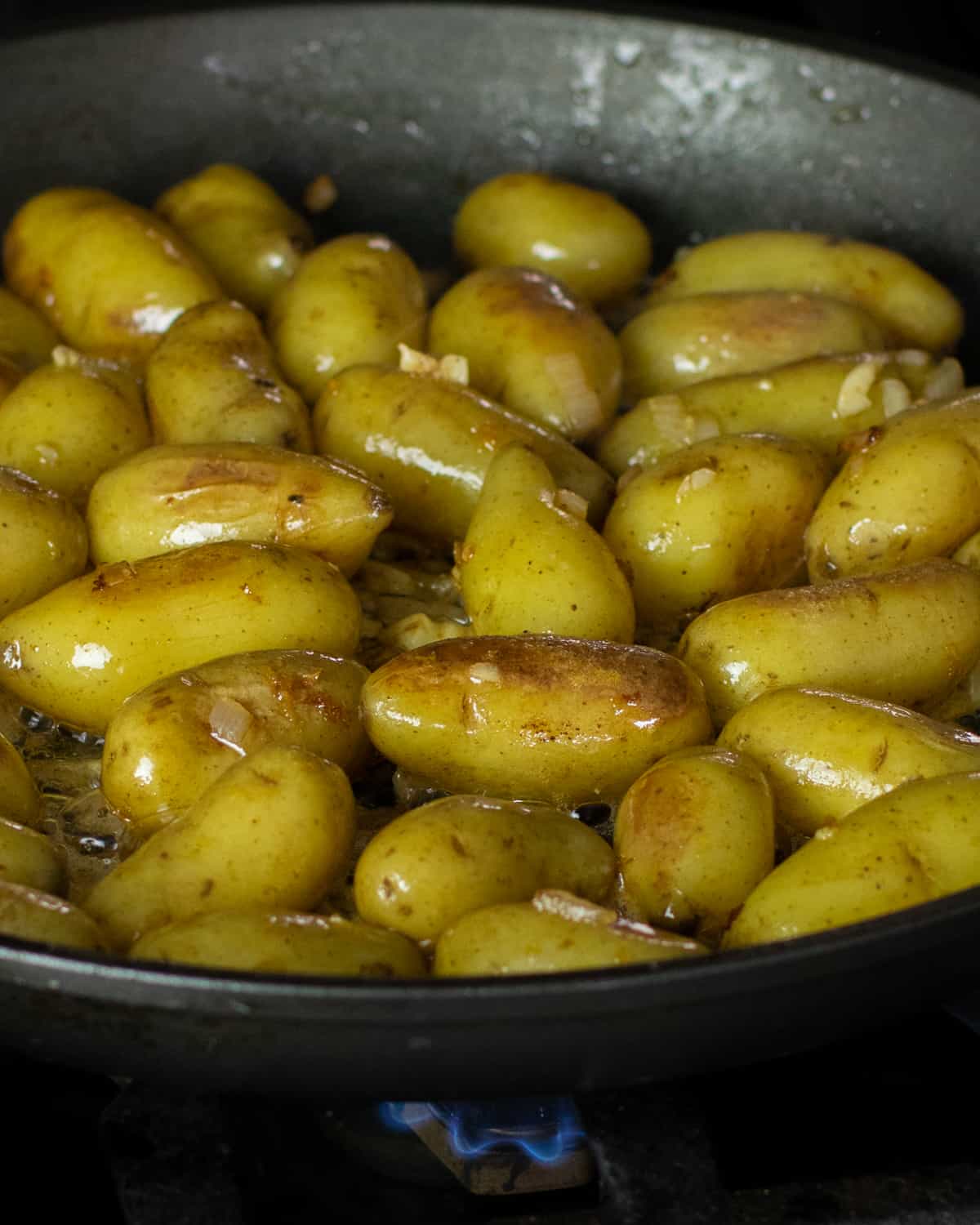 Add the cooked fingerling potatoes to the frying pan and toss to coat in the butter. Spread them out so they are all on the surface of the skillet and let the potatoes brown.
Cook them for a few minutes, turning and stirring them regularly. This allows the potatoes to brown on all sides.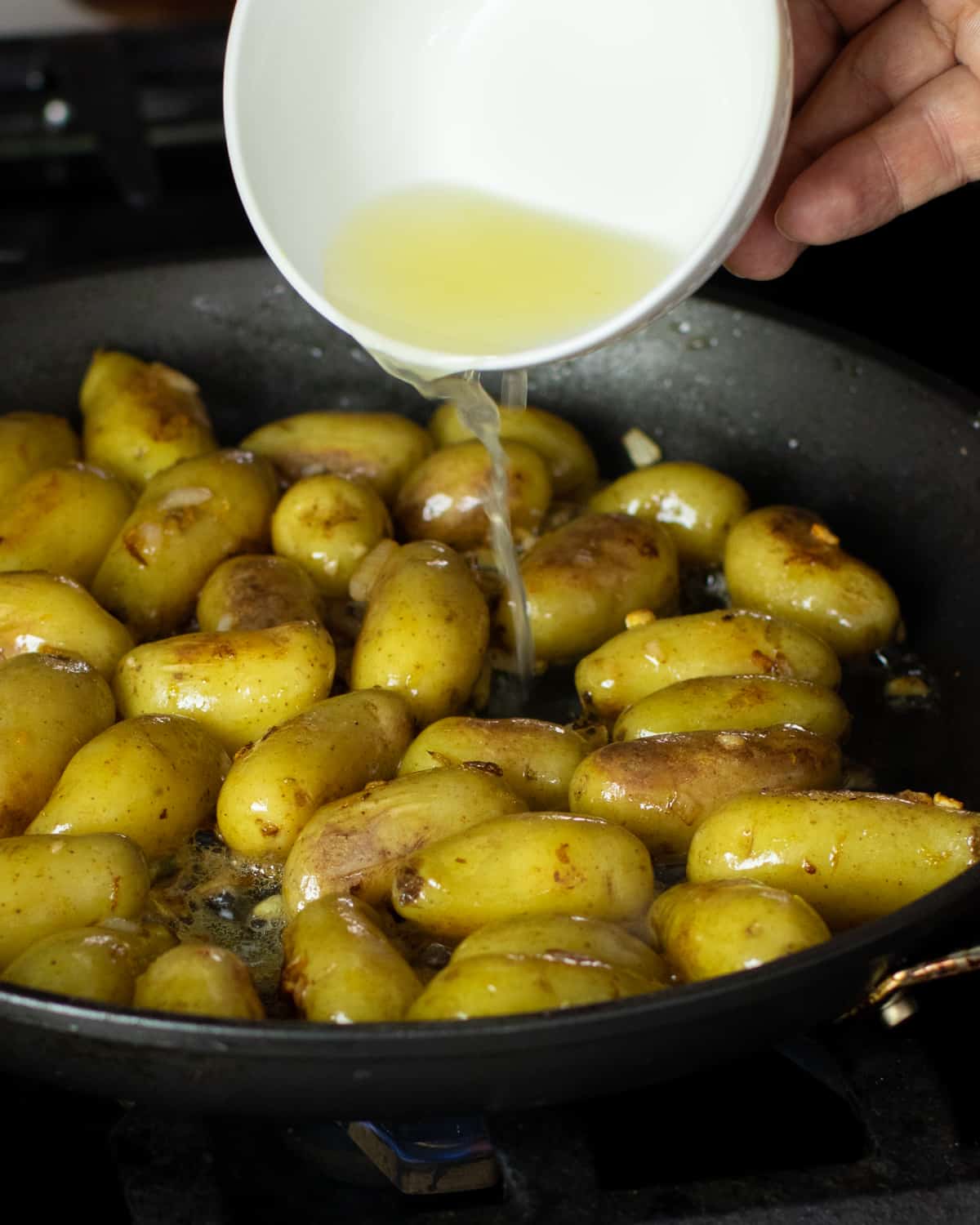 OHH The Lemon!
The lemon really pushes these fingerling potatoes to another whole level. I have cooked fingerling potatoes using this method many times. But it is the addition of the lemon juice and lemon zest that gives it the wow factor.
Pour in the lemon juice, lemon zest, salt and pepper and stir the potatoes some more. Let them cook for about 5 more minutes. This gives the potatoes a bright lemony flavour. As they cook in the butter and lemon, toss them around regularly and it almost coats the potatoes in a buttery glaze.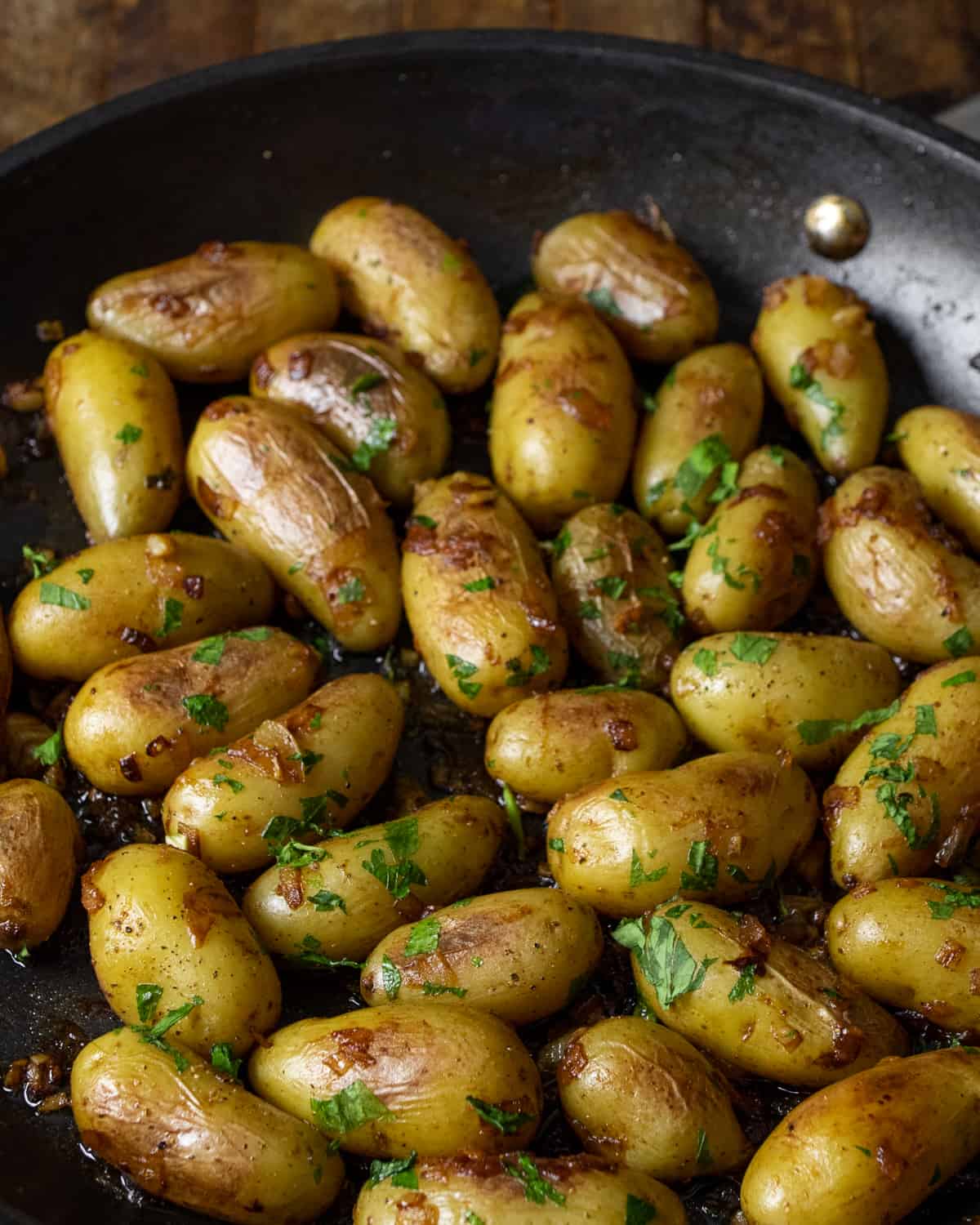 Once the potatoes have finished cooking, they should be slightly browned on the skin. You are not looking for them to be too dark of a brown colour because that will make the texture of the potatoes too hard. Keeping them a nice golden brown will give the outside of the skin a nice flavour, while keeping the inside of the potato creamy and soft.
Remove the potatoes from the heat and top with the minced fresh garlic. They are ready to be served!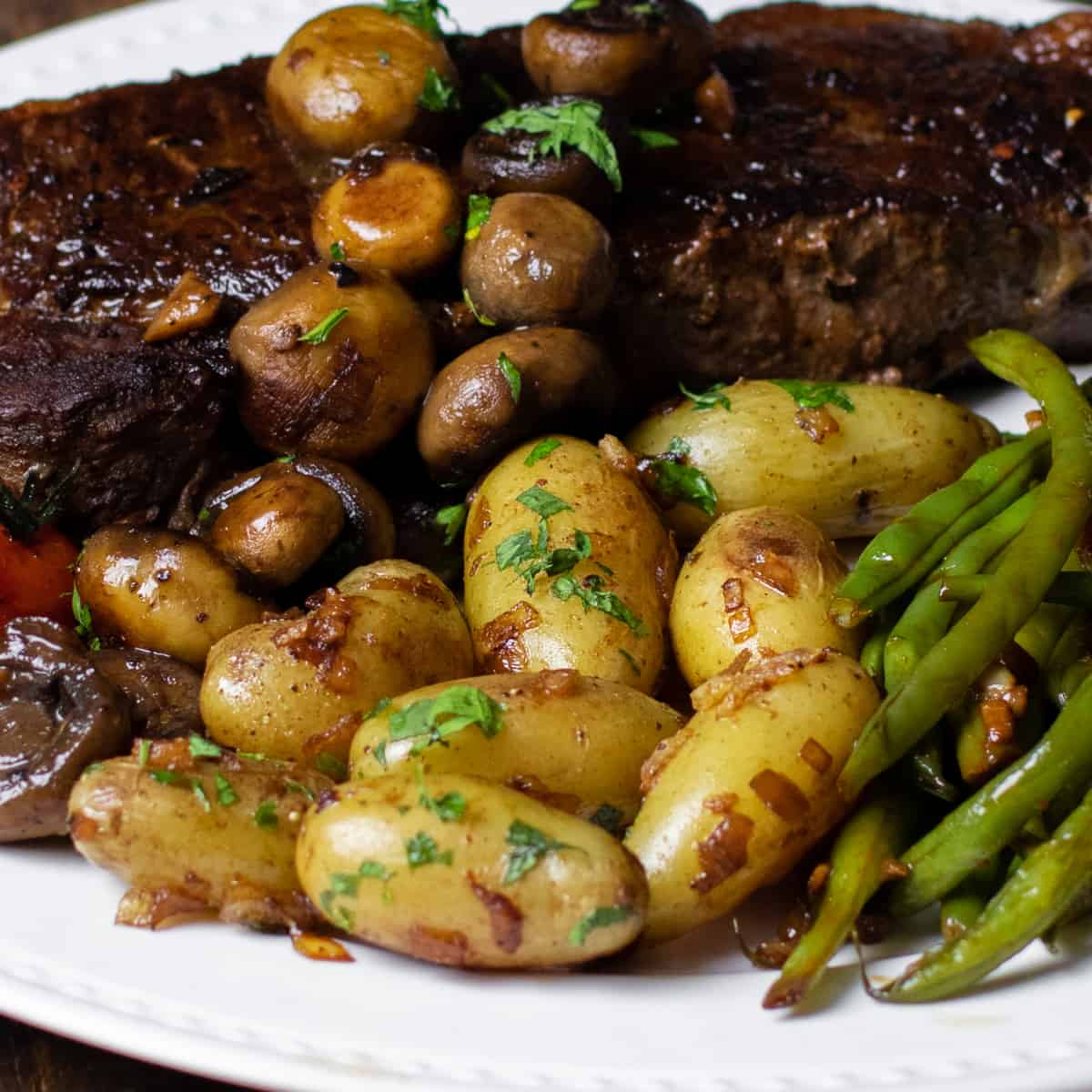 These lemon garlic fingerling potatoes are so good and the perfect side dish alongside steak, roast beef, chicken, fish and so much. These potatoes are great alongside so much!
Other Delicious Potato Recipes
If you are looking for some other potato dishes, then check out these recipes!
Lemon Garlic Fingerling Potatoes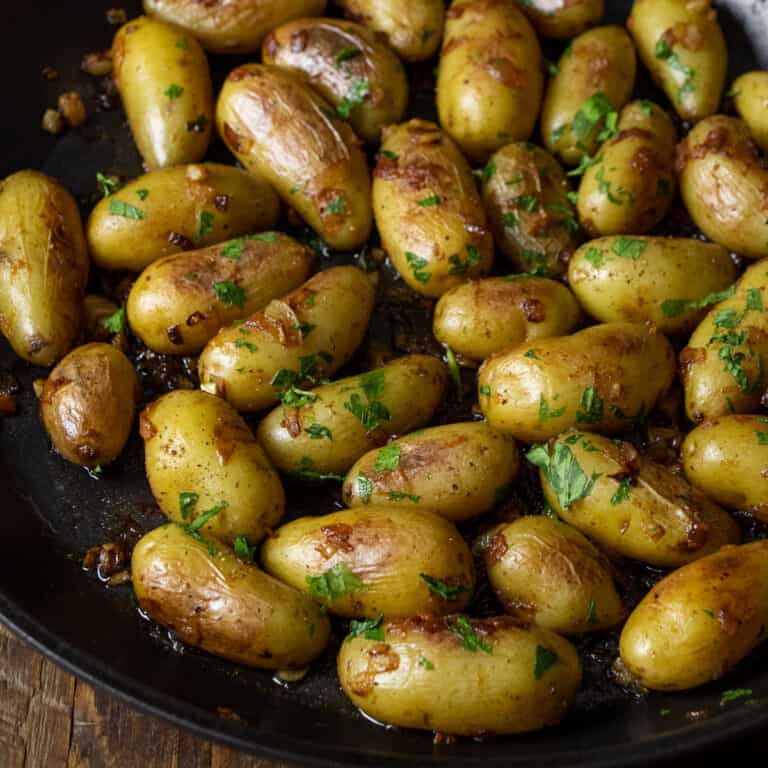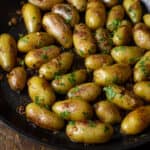 Print
Simple recipe for baby fingerling potatoes fried with lemon, garlic and shallots. Easy instructions for how to cook fingerling potatoes.
Servings: 4
Ingredients
1.5 pound fingerling potatoes
3 tbsp butter
5 cloves garlic , minced
1 shallot , peeled and minced
3 tbsp lemon juice
1 tsp lemon zest
1 tsp salt
1/2 tsp black pepper
2 tbsp fresh parsley , minced
Instructions
Boil the fingerling potatoes in water until cooked and tender when poked with a fork or knife. Drain and let the potatoes dry.

Heat the butter in a large skillet over medium heat. Add in the minced garlic and shallots. Sauté for a couple minutes.

Add the cooked fingerling potatoes to the skillet and toss in the butter to coat. Cook for a few minutes, turning often to make sure the potatoes get browned all over.

Pour in the lemon juice and add the lemon zest, salt and pepper. Continue to cook an additional 5 minutes, stirring often.

Remove from the heat and garnish with the fresh minced parsley.
Nutrition
Per serving:
Calories: 220kcalCarbohydrates: 33gProtein: 4gFat: 9gSaturated Fat: 5gCholesterol: 23mgSodium: 662mgFiber: 4gSugar: 2g