Texas Chili with Steak, Corn and Black Beans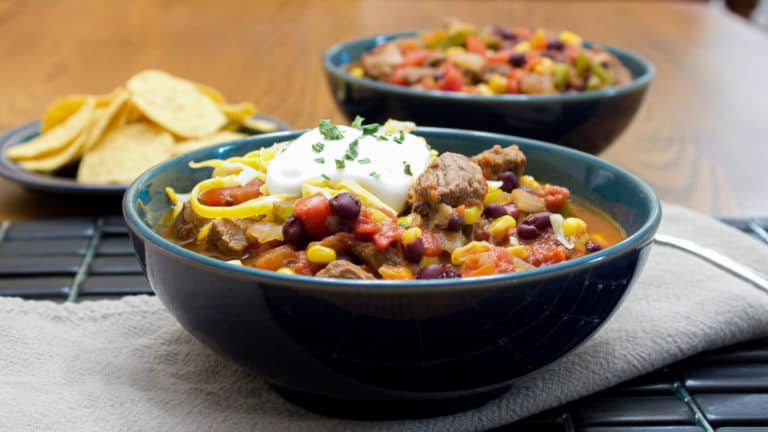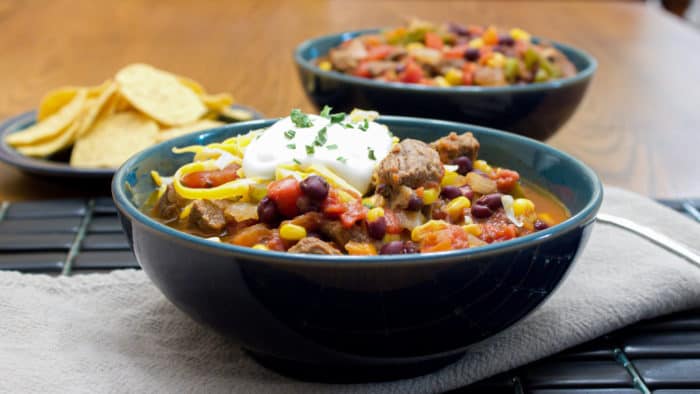 There are times when life calls for a cupcake. Yesterdays pina colada cupcake would fit the bill. There are other times when life calls for something more substantial. On those days this Texas chili would be the perfect choice.
This chili is as hearty as they come. Normally chili is made with ground beef but not this Texas chili. Here we have 2 pounds of steak cubed and thrown in. This is serious chili made for people who need a serious meal! Packed with onions, peppers, corn and black beans, every spoonful is an adventure for the taste-buds.
I used a blade steak, primarily because that was the kind on sale this week. It turned out well and was very tender. Obviously some steaks are tougher than others and would require more time of simmering to tenderize them. You could also use a small 2 pound roast. Just cube it small and throw it in!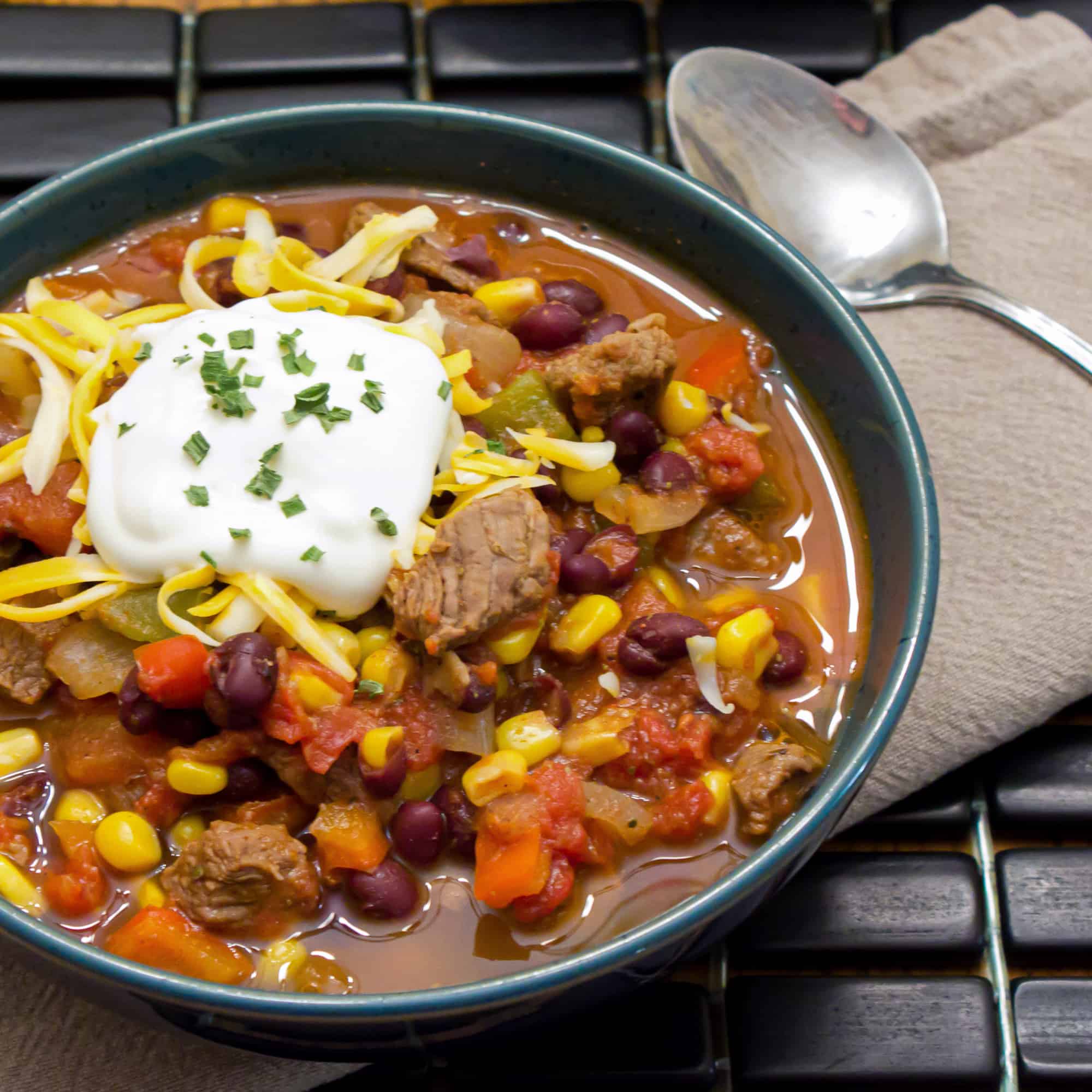 Black beans are used in this chili, which is different from the more commonly used red kidney beans in chili. Black beans go particularly well with the corn. I know that Texas chili is often said to be without beans, but black beans and corn are true tex-mex flavours and I love lots of stuff in my chili.
Also, there are a number of Texas chili recipes that use only black beans and no meat. I have never been to Texas but fear that if I did go, I would just travel from one restaurant to another!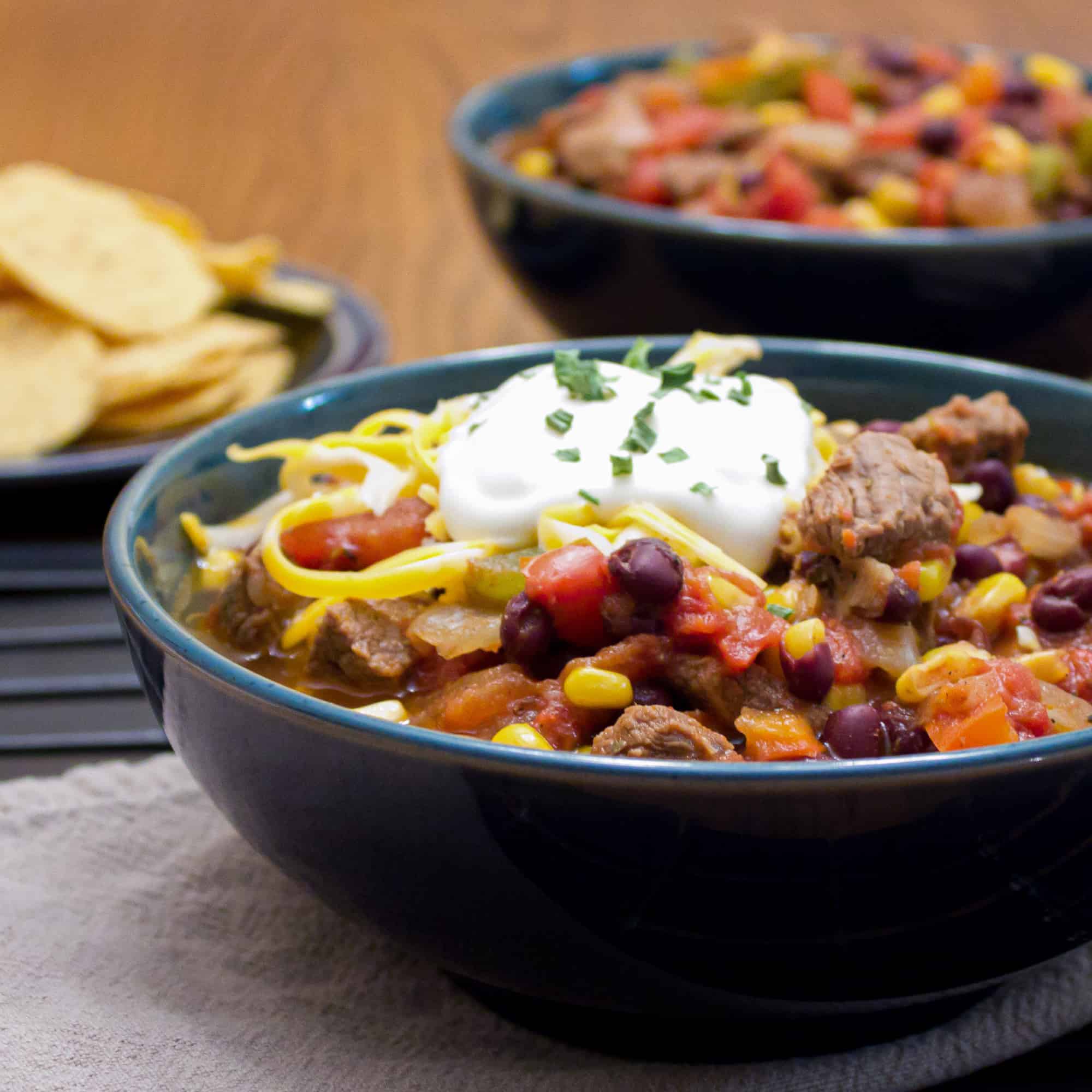 During these winter months, chili is the perfect meal. My family tears through a pot so fast. We love to have it with nacho chips for scooping or crusty bread to sop up the thick broth.
Texas Chili with Steak, Corn and Black Beans
Print
Hearty chili recipe with cubes of steak, black beans and corn. This is serious chili made for people who need a serious meal!
Servings: 8 people
Ingredients
2 tbsp oil
3 garlic cloves , minced
1 onion , chopped
1 bell pepper , chopped
2 pounds steak (sirloin, blade, rib eye or other)
1 can of diced tomatoes
1 can of black beans , drained
2 cups frozen corn
1 tbsp paprika
1 tbsp cumin
1 tsp ground coriander
1 tsp cayenne pepper
1 tsp ground black pepper
1 tsp salt
1 tbsp honey
grated cheddar
sour cream
Instructions
Heat oil in a large pot. Add the garlic, onion, and bell pepper. Stir to ensure nothing sticks to the bottom of the pot.

Cut the steak into small cubes, cutting away fat and any membranes from the beef. After the onion and pepper have been cooking for a few minutes, add the cubed steak. Cook for 5-7 minutes stirring occasionally. The steak should be browned on all sides.

Stir in the tomatoes, black beans, corn, spices and honey. Bring to a boil and lower the heat to a low simmer. Cover and let the chili cook for at least an hour. Stir it every 10 minutes to make sure nothing is sticking to the bottom of the pot.

Ladle into a bowl. Garnish with cheddar cheese and sour cream. Serve with nacho chips or crusty bread.