Prosciutto Caesar Wonton Cups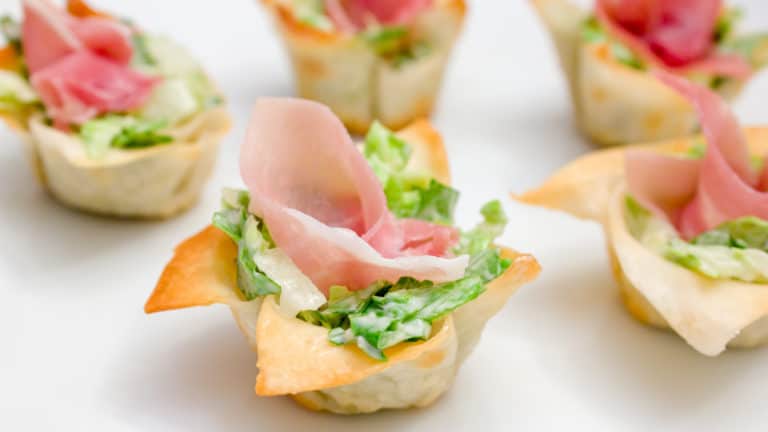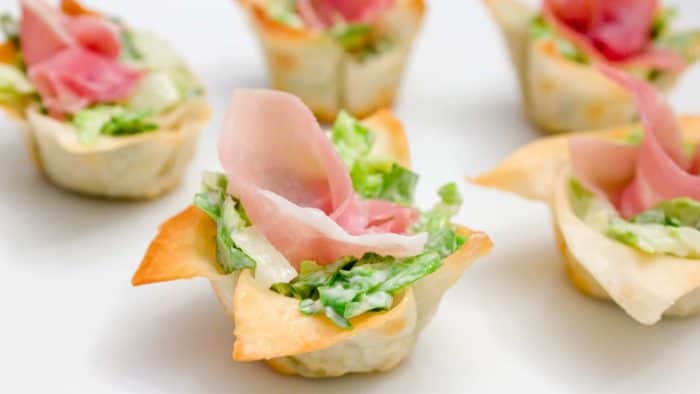 Well, it finally feels like winter here in Toronto. Up to now we have had unseasonably warm weather, but on Friday the snow came and it is cold outside. It was not even a lot of snow but the news made it sound like some major winter storm.
It is crazy because the weather is supposed to warm up again on Monday and likely all the snow will melt. I must say that this has been the greatest winter I have ever experienced. I do not like snow or cold so any winter that has little snow works great for me!
I cannot wait to watch the football today. There is a blogI follow which has combination of content that is sports and food related. It is SportsGlutton and, if you are a sports fan, I encourage you to check it out.
Today's post is a prosciutto caesar wonton cup. These cups are a snap to make and are a great addition to a menu of bite sized appetizers.
The cups are made from wonton wrappers and can be baked a few days ahead while staying fresh and crisp. They can be filled with the salad and prosciutto just before serving.
At first glance these cups look like they take a lot of time and effort to make and because of their fancy appearance they draw a lot of compliments. On top of that, they taste delicious!
These wonton cups are easy to make, can be made ahead and stored in an airtight container up to three days in advance.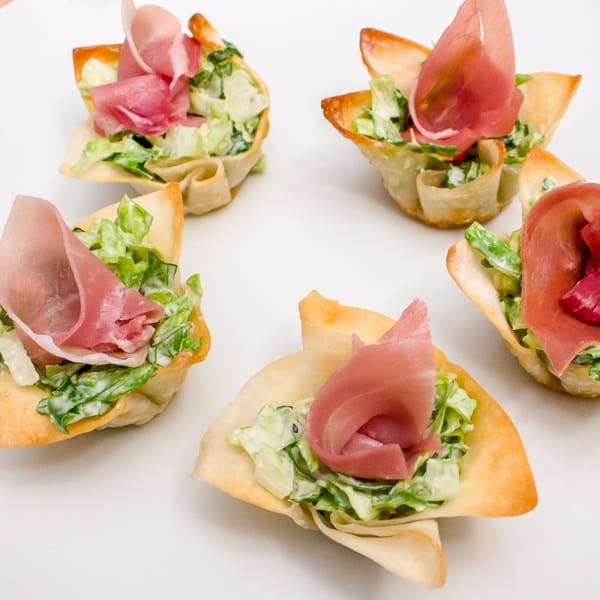 Prosciutto Caesar Wonton Cups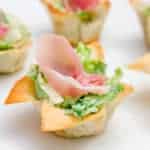 Print
This wonton cup recipe is a snap to make and filled with caesar salad, parmesan cheese and a slice of prosciutto. They look amazing and taste delicious!
Servings: 24 cups
Ingredients
24 wonton wrappers
3 tbsp oil
1 large romaine lettuce
1/3 cup ceasar salad dressing
1/4 cup fresh grated parmesan cheese
4 slices of prosciutto
Instructions
Brush one side of a wonton wrapper with oil and press, brushed side down, into a mini muffin tray forming a a cup. Do this for all 24 wonton wrappers. Bake in a 350F oven for 10-12 minutes. The wrappers will crisp up and start to brown. Let cool completely.

Chop the romaine lettuce very fine. Mix with the caesar salad dressing,

Spoon some of the romaine lettuce into each wonton cup. Sprinkle some parmesan cheese and top each with a piece of prosciutto.