Pork and Porter Stew – A Slow Cooker Recipe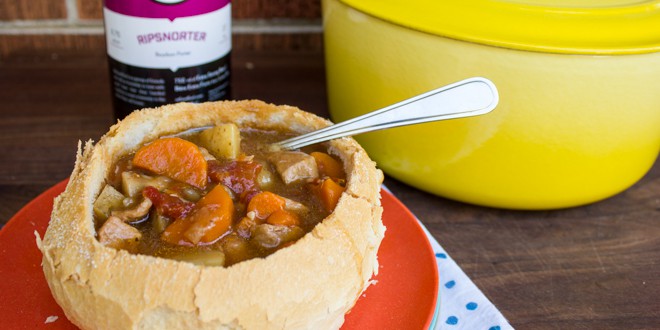 This past weekend was a cool one here in Toronto. It came as a surprise considering how warm thanksgiving weekend was the week before. Not only was it cold and windy but there were even some snow flakes falling on Saturday afternoon.
Cold weather totally gets me in the mood for soups and stews. So, out came the crock pot slow cooker to make a big batch of Pork and Porter Stew. There is nothing like a big bowl of stew to warm up those cold bones.
The beer I used for this stew is from the good folks at Refined Brewery from Sarnia Ontario. They make small batch craft beer and they have some awesome beers in their lineup. For this stew I used Ripsnorter, which is a Bourbon Porter. This dark beer is rich in flavour without even a hint of bitterness. I love it and it worked great as a flavour base for the broth of the stew.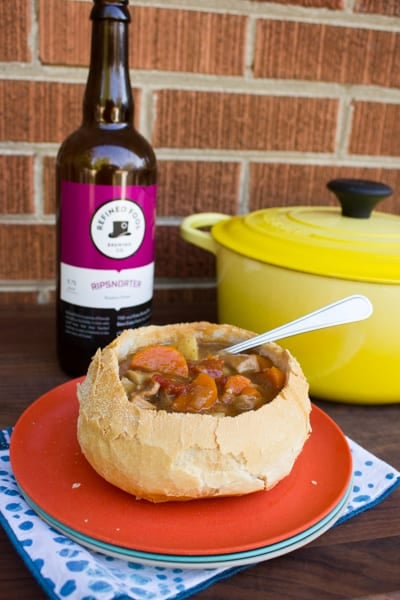 I love to make stew in the slow cooker. It is simple to throw it all together and walk away, letting the crock pot do all the work. After 6-8 hours of cooking, the stew is nice and cooked. The meat is super tender and the veggies are soft. Whisking in some corn starch before serving, thickens the stew broth nicely.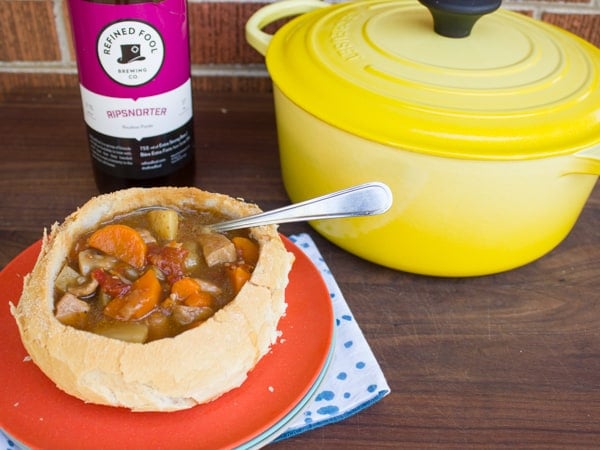 Pork and Porter Stew - A Slow Cooker Recipe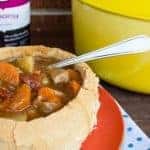 Print
Delicious stew made with pork, potatoes, carrots, celery, onions and mushrooms. The broth is made with beef broth and a bottle of porter.
Ingredients
2 pounds boneless pork roast , cut into small stew size chunks
1 cup flour
1 tbsp paprika
2 tsp garlic powder
2 tsp black pepper
2 tsp salt
1 tsp oregano
1/4 cup oil
2 onions , minced
3 garlic cloves , minced
3 carrots , peeled and sliced
3 celery stalks , sliced
1 1/2 cups mushrooms , quartered
3-4 medium potatoes , peeled and cubed
12 oz bottle of porter or other beer
900 ml beef broth
1-2 tbsp corn starch for thickening
1-2 tbsp water
Instructions
Whisk together the flour, paprika, garlic powder, black pepper, salt and oregano. Toss pork chunks in the four and spices until coated. Dust off any excess flour.

Heat oil in a skillet or dutch oven on medium heat. Add pork and brown the meat flipping every minute or two. Move them to the slow cooker.

Saute the onions, in the skillet for about 5 minutes, stirring often. Dump into the slow cooker.

Mix remaining ingredients (except the corn starch and water) into the slow cooker.

Set the slow cooker to low and cook for 6-8 hours.

With about 15 minutes remaining, whisk together the corn starch and water to create a slurry. Whisk that into the stew to thicken it.

Serve the stew with fresh bread, or even try serving in a large bread bowl.

If the meat is in a skillet, transfer to a large roasting pot. Add remaining ingredients (except the corn starch). Cook in the oven for 3 hours.

Remove from the oven. Whisk together corn starch with a few tablespoons of water. Stir into the stew to thicken the broth.
Notes
Pressure Cooker Option - To make this in the pressure cooker, after step 4, cook the stew on high pressure for 20 minutes. Once done, release the pressure and whisk the slurry (from step 6), into the stew.