White Chocolate Chip Almond Cookies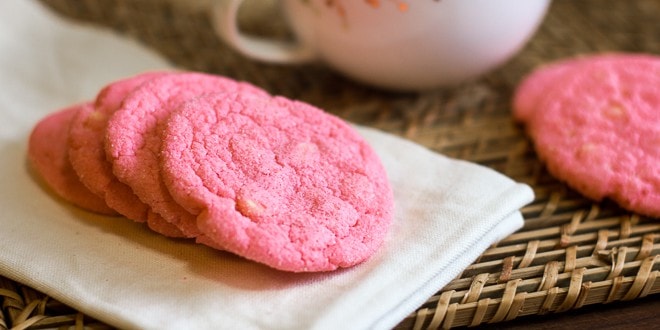 With Easter coming up, I wanted to make some cookies that had a fun spring look to them. I had a bag of white chocolate chips in the cupboard so I decided to use those. To go along with the white chocolate I used some almond extract. The almond flavour is mild and goes really well with white chocolate.
These cookies are really delicious. They have a chewy middle and a sugary crispy coating. Like many cookies, these are best eaten right out of the oven. The soft inside of the cookie with the melted white chocolate chips are just divine and the almond flavour in the cookie is just amazing.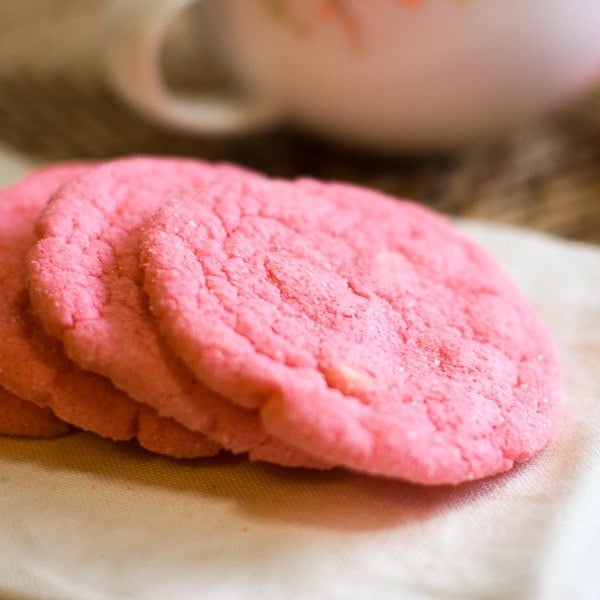 These are a great cookie for Easter. They just look perfect for the spring season.
For food colouring, you can use either drops or gel. I prefer using gel as it keeps the consistency of the cookie dough the same and does not make it too wet.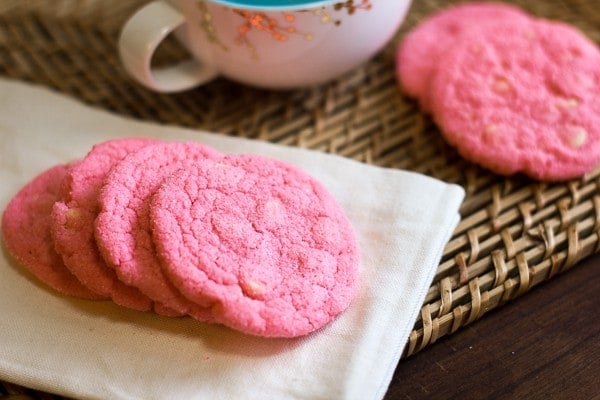 This cookie is a base recipe that I have used for years and have switched up different ingredients to make some nice changes. One variation that I made used peppermint extract, semi sweet chocolate chips and green food colouring to make these Mint Chocolate Chip Cookies.
If you want a nice cookie tray with a vibrant visual look, make both of these cookies. They have very different flavours and both are just awesome!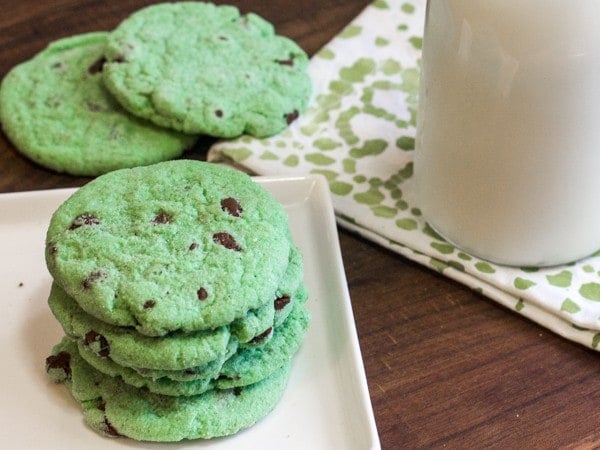 Below is the recipe for the White Chocolate Almond Cookies. I like to make sure that I use parchment paper on the baking sheets. It ensures that the cookies to not stick to the sheet and comes off with ease.
White Chocolate Chip Almond Cookies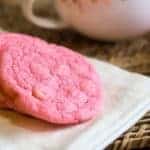 Print
Almond cookies that are chewy on the inside with a crispy sugary coating. This cookie is amazing and the perfect flavour combination of white chocolate and almond extract.
Servings: 24
Ingredients
1 cup butter , softened
3/4 cup sugar
1 egg
3/4 tsp almond extract
2 cups flour
1/2 tsp baking powder
1/4 tsp salt
1 cup white chocolate chips
red food colouring
1/4 cup sugar
Instructions
With an electric mixer, cream the butter and 3/4 cup sugar until light and fluffy. Beat in the egg and almond extract. Mix in the flour, baking powder and salt.

Add red food colouring and mix until all the colouring is incorporated into the dough. Make sure you add enough food colouring so that it is a nice colour of pink.

Mix in the white chocolate chips.

Roll the dough into 1 inch balls and place the balls 2 inches apart on a cookie sheet lined with parchment paper.

Flatten with a glass dipped in the 1/4 cup sugar. Bake in a 375F oven for 8 minutes. Cool on a wire rack.