These chocolate cookies are just amazing and very easy to make. Crisp edges, with a soft and chewy middle, and lots of chocolate!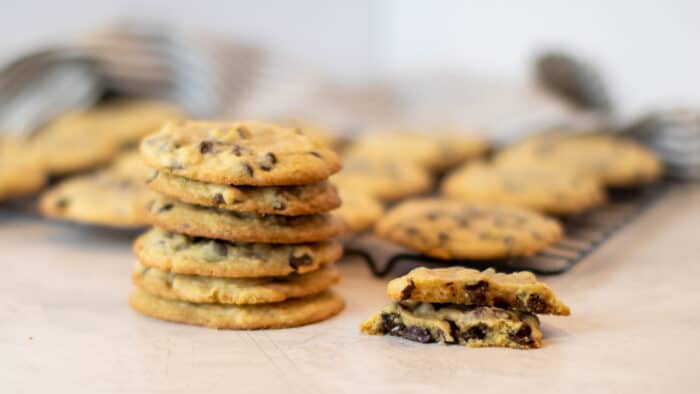 My family will often ask me to prepare some of their favourite recipes and dishes. There are many different things that get requested, but I think that these chocolate chip cookies, might just be the most solicited recipe by my wife and kids.
I can't say that I am surprised because these chocolate chip cookies are amazing. Soft and chewy, with loads of chocolate chips, these cookies are a prefect treat and ideal with a tall glass of milk.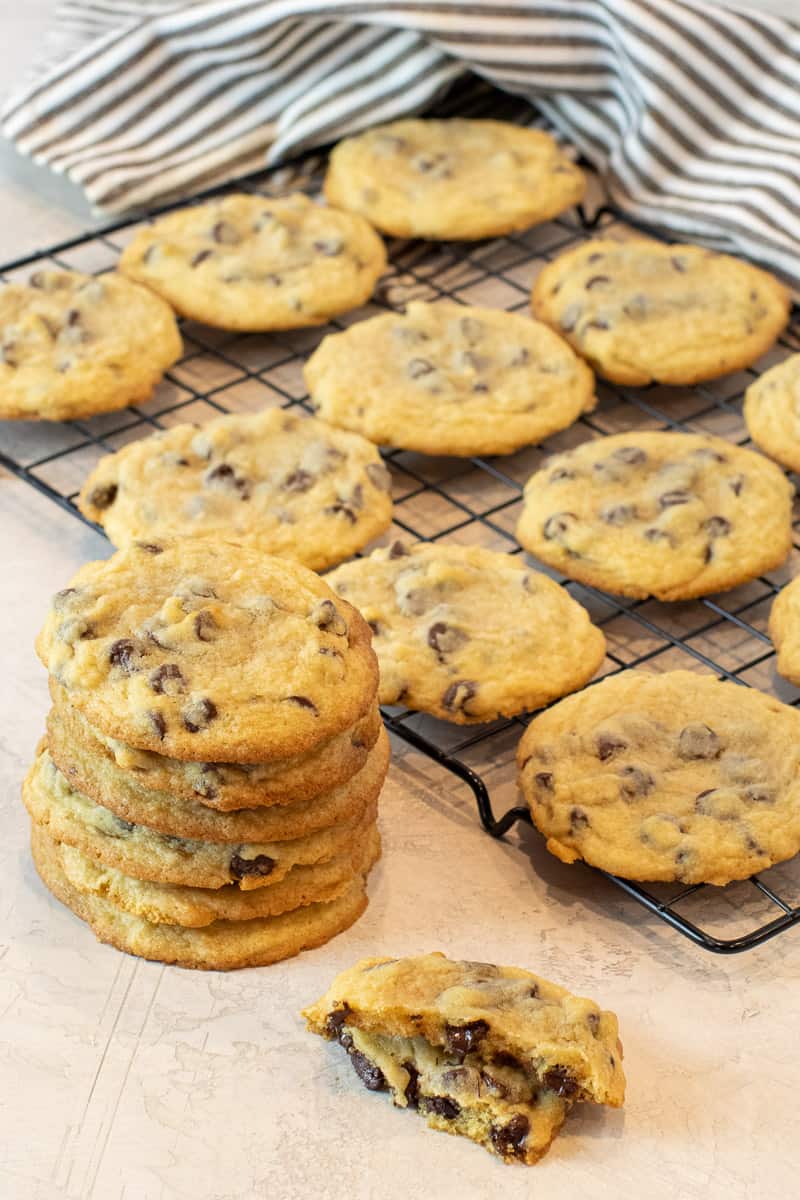 These chocolate chip cookies are very easy to make. I find that I bake these cookies all the time since they are a snap to whip together. They are great for a sweet treat.
I also love to package these up and give to friends, family and neighbours. People love receiving gifts and fresh baking is a great way to show appreciation, or simple to say we are thinking of you.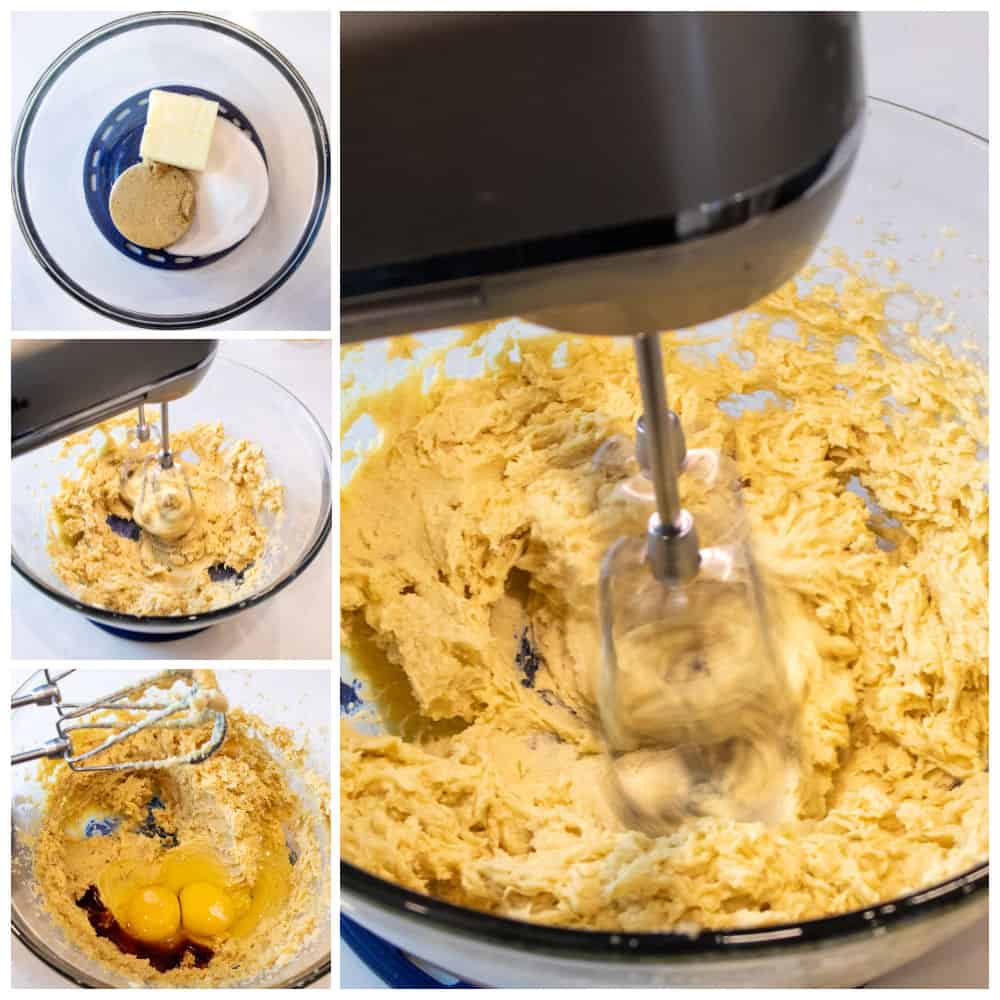 How to Make Cookie Dough?
The first step to making this chocolate chip cookie dough is to cream together the butter and both sugars, in a large mixing bowl. Make sure that the butter has softened so that it will blend easily with the sugar. You can use either an electric hand or stand mixer.
Once the butter and sugar has creamed together and the mixture seems quite smooth, add in the eggs and vanilla. Continue to blend until well mixed.
Mix in the Flour and Chocolate Chips!
Add the flour, salt and baking soda to the bowl. Start the mixer on a low speed so that the flour does not fly all over. Once the flour is nicely incorporated with wet mixture, you can slowly increase the speed to medium low or medium.
You do not need to over-beat or whip the cookie dough, but you do want to ensure that there are no dry pockets of flour, and that the cookie dough has an even consistency.
Dump in the chocolate chips. You can either beat these in on a low speed, or just stir them in with a wooden spoon.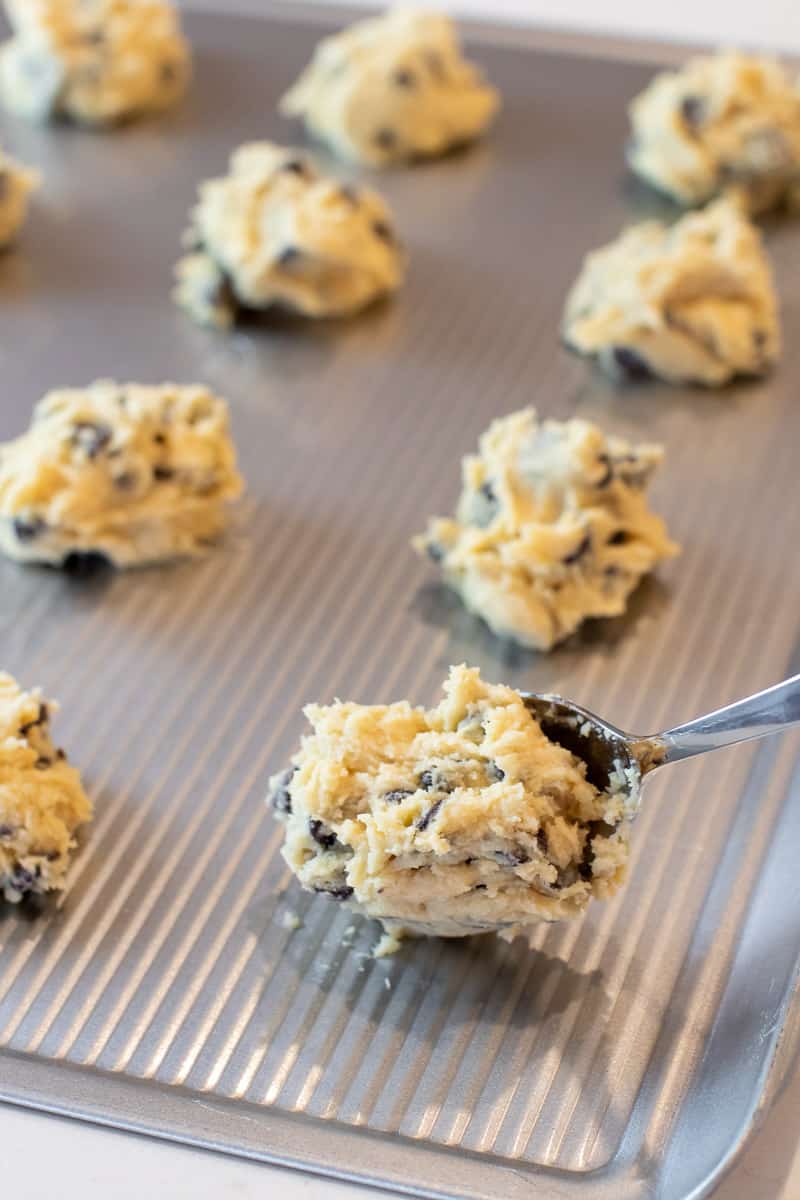 Drop a heaping spoonful of cookie dough. There is probably around 1 1/2 tablespoons of dough for each cookie. You can either drop the cookie dough right on a bare baking sheet, or one lined with some parchment paper or a silicone baking mat.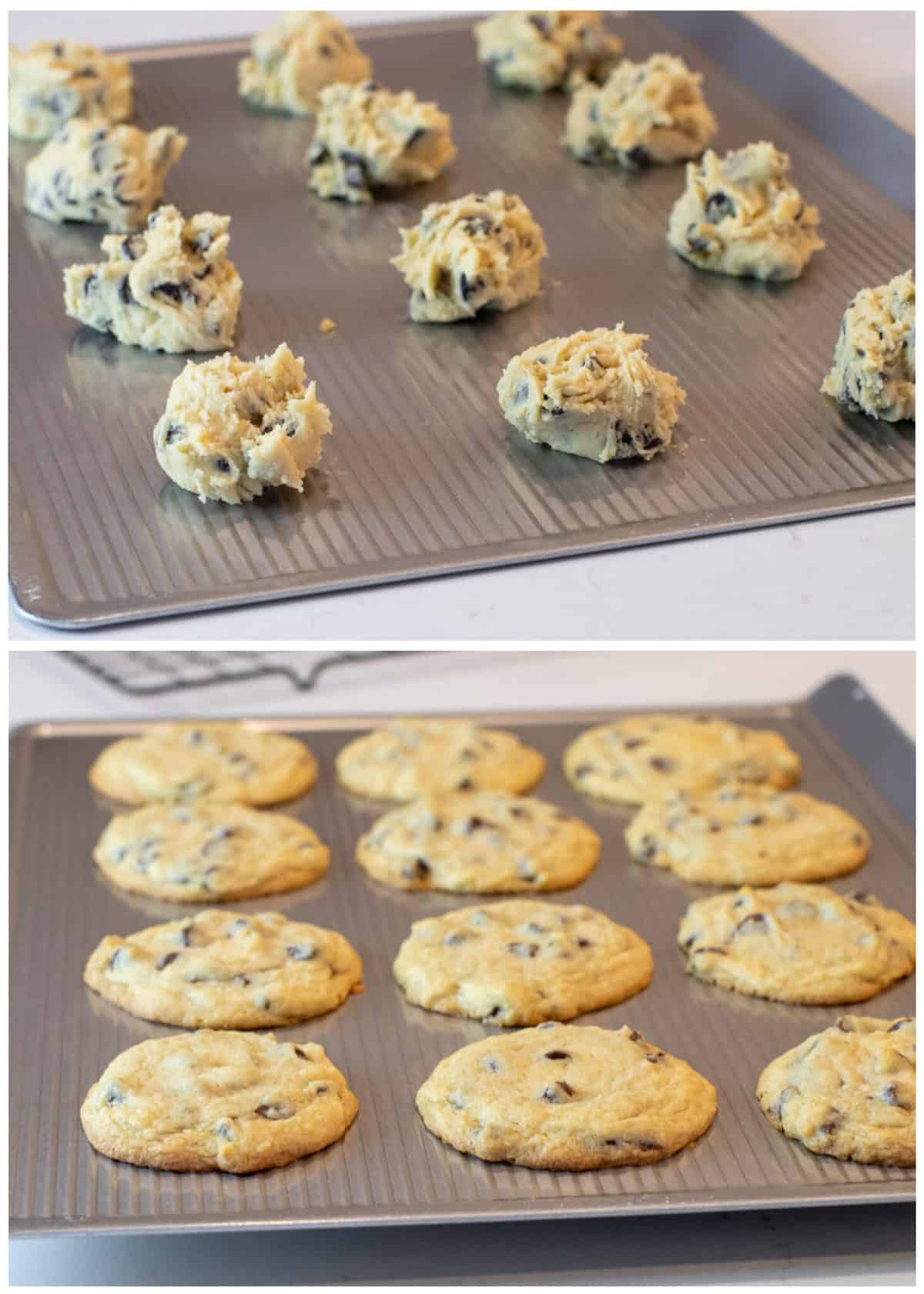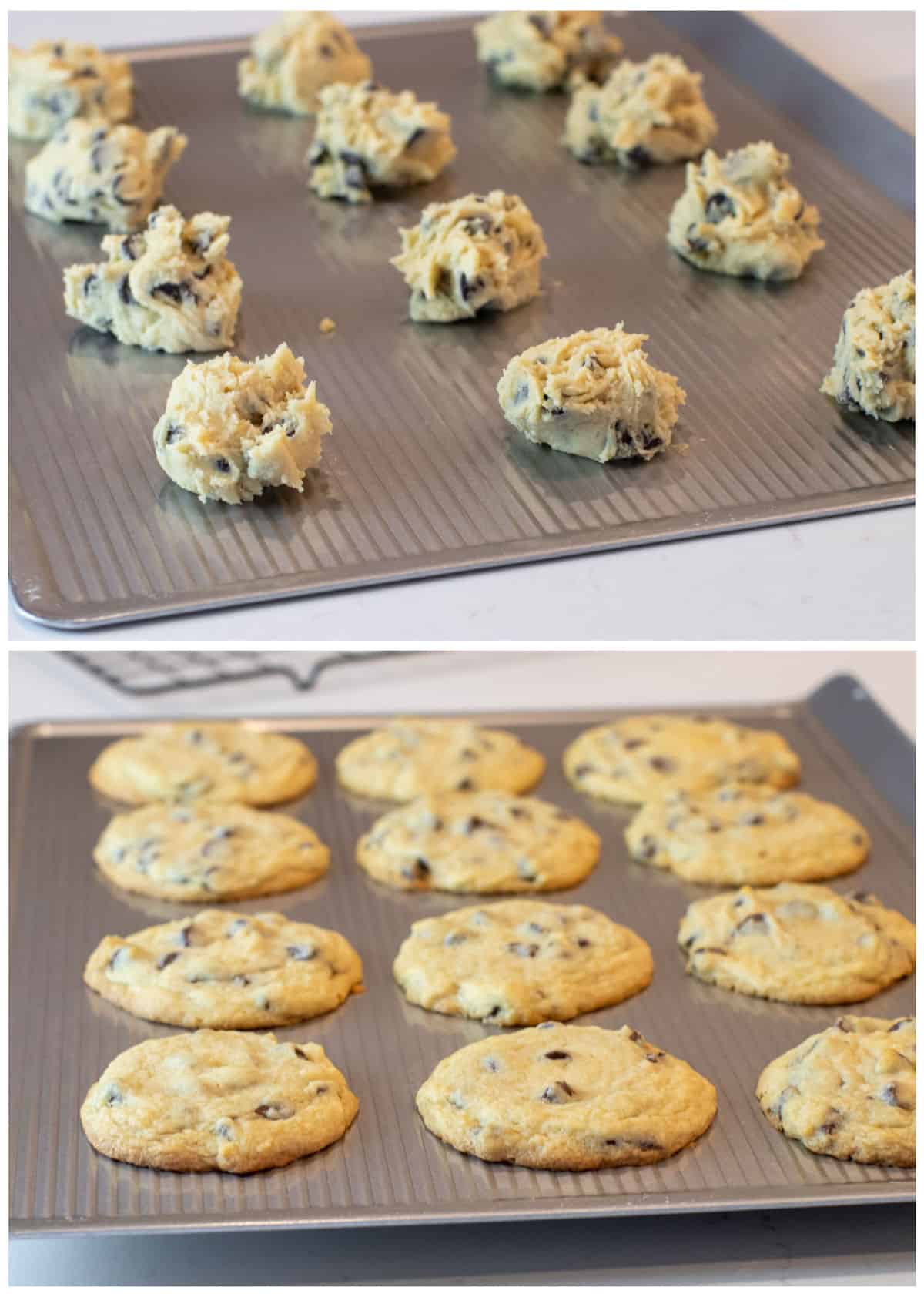 How Long to Bake Cookies?
These chocolate chip cookies do not take long to bake. Put them into a 375F preheated oven for 9 to 11 minutes. You are looking for the edges of the cookies to just start to brown and crisp up.
Be careful not to over-bake the cookies. I will watch them closely for those last couple of minutes, and right when they seem ready, I pull them out of the oven.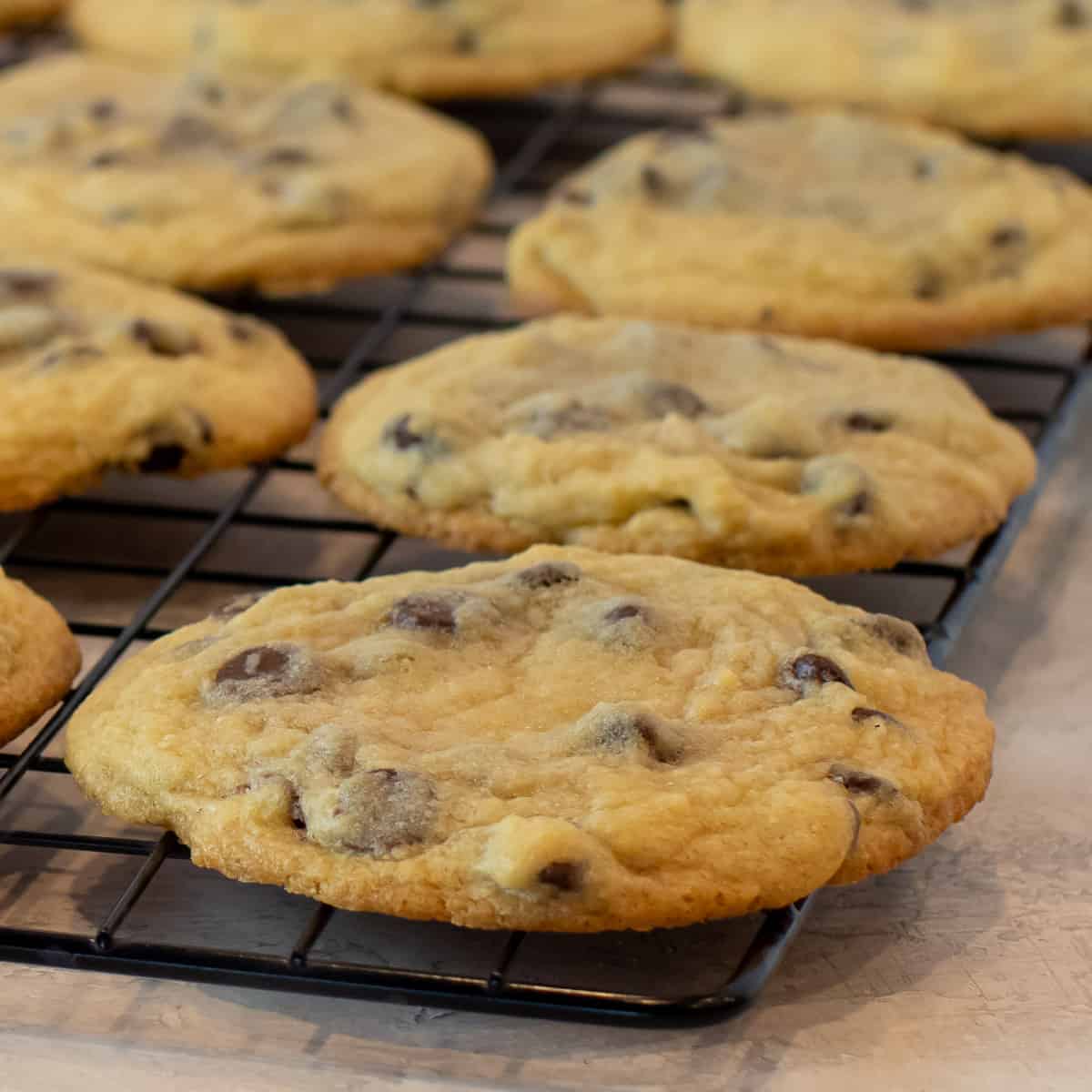 Let the chocolate chip cookies rest on the baking sheet for about 2 minutes after they come out of the oven, and then transfer them to a rack so they can cool completely. Letting them rest for a bit on the baking sheet will help the cookies hold their shape and also ensure that the edges are nice and crisp while the centre is still soft and chewy.
All this waiting will rely on your test of patience. I find that everyone in the family starts hovering around the cookies once they come out of the oven, hoping to grab one. They are best when they are still nice and warm and the chocolate chips are melted.
I have made these chocolate chip cookies for years. They are so good and delicious with a glass of milk or a cup of coffee. There are loads of chocolate chips so you will enjoy chocolatey goodness in every single bite!
Other Delicious Chocolate Recipes
Chocolate Chip Cookies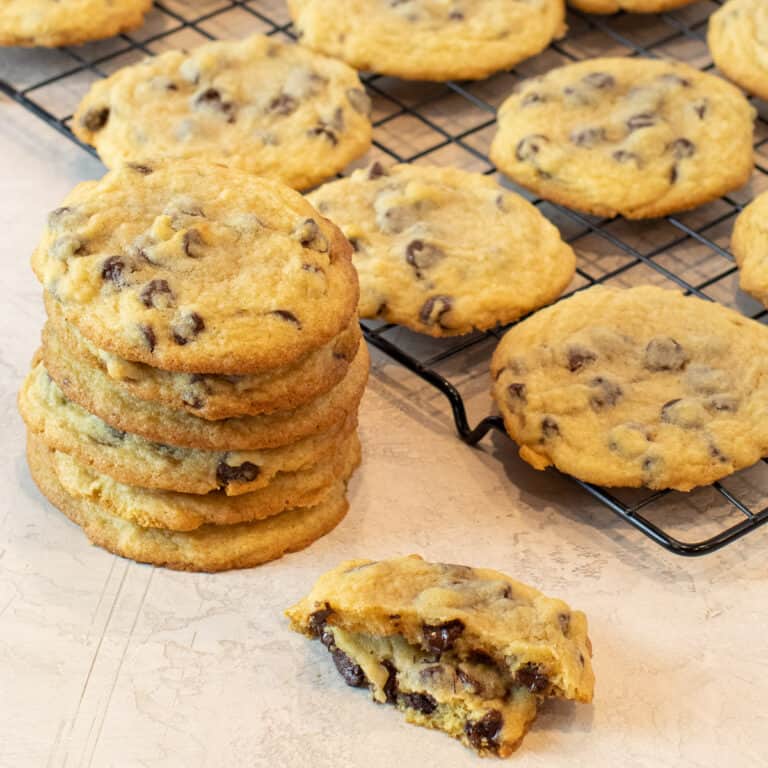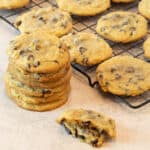 Print
This recipe has simple instructions to make the very best chocolate chip cookies. Chewy cookies with crisp edges and lots of semi sweet chocolate chips.
Servings: 36 cookies
Ingredients
1 cup butter , softened
1 cup brown sugar , packed
1/2 cup sugar
2 large eggs
1 1/2 tsp vanilla
2 1/3 cups flour
1 tsp baking soda
1 tsp salt
2 cups chocolate chips
Instructions
Use an electric mixer to beat the butter, brown and white sugars, until smooth and creamy.

Add the eggs and vanilla and beat until well combined.

Slowly beat in the 2 1/3 cups flour, baking soda and salt. Mix until well combined and there are not more pockets of flour in the mixture.

Stir the chocolate chips in with the cookie dough.

Drop heaping spoonfuls of cookie dough, 2 inches apart, onto a baking sheet. If desired, use a parchment paper on the baking sheet.

Bake in a 375F oven for 9-11 minutes.

Cool on a wire rack.
Nutrition
Per serving:
Calories: 163kcalCarbohydrates: 22gProtein: 2gFat: 8gSaturated Fat: 5gCholesterol: 25mgSodium: 157mgFiber: 1gSugar: 15g