Chocolate Chip Sriracha Cookies
If you like Sriracha, then you will love these cookies! Chewy and chocolatey with a hint of chili heat. These are perfect with a glass of milk!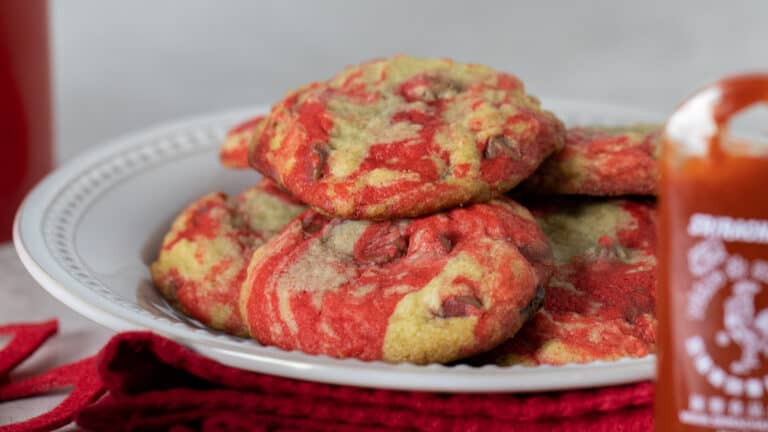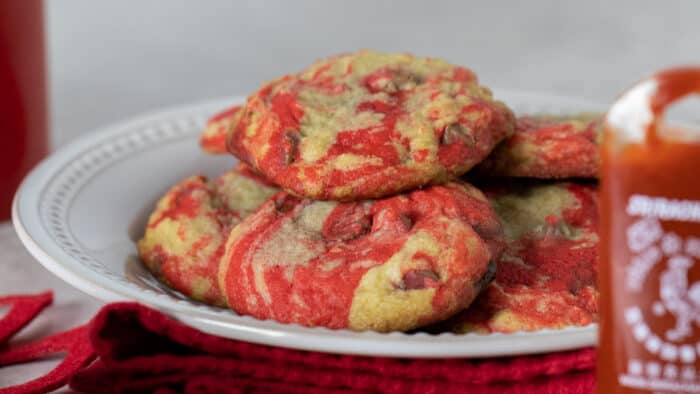 I am a huge fan of spicy food and ever since I discovered Sriracha hot sauce, there has always been a bottle in my kitchen. The heat and flavour of this sauce is amazing, and I find myself adding Sriracha to many different dishes. What about chocolate chip cookies?
These chocolate chip sriracha cookies are so good and I love the swirls of red. The marbling of red in the cookie is not there just for a visual look, but the Sriracha sauce is actually only in the red part of the cookie. Some bites have less red and are also less spicy. There are also times when a part of the cookie has more of the red swirl and you will get a nice kick of heat.
This post is sponsored by Sriracha2Go.
Even though these cookies are spicy, they are not too hot. It is more of an after effect. The sweetness and the chocolate are still the prominent flavours of these chocolate chip cookies.
But, there is a very pleasant building of heat that comes after a few bites. The cookies are so good and just one more example that Sriracha sauce is awesome!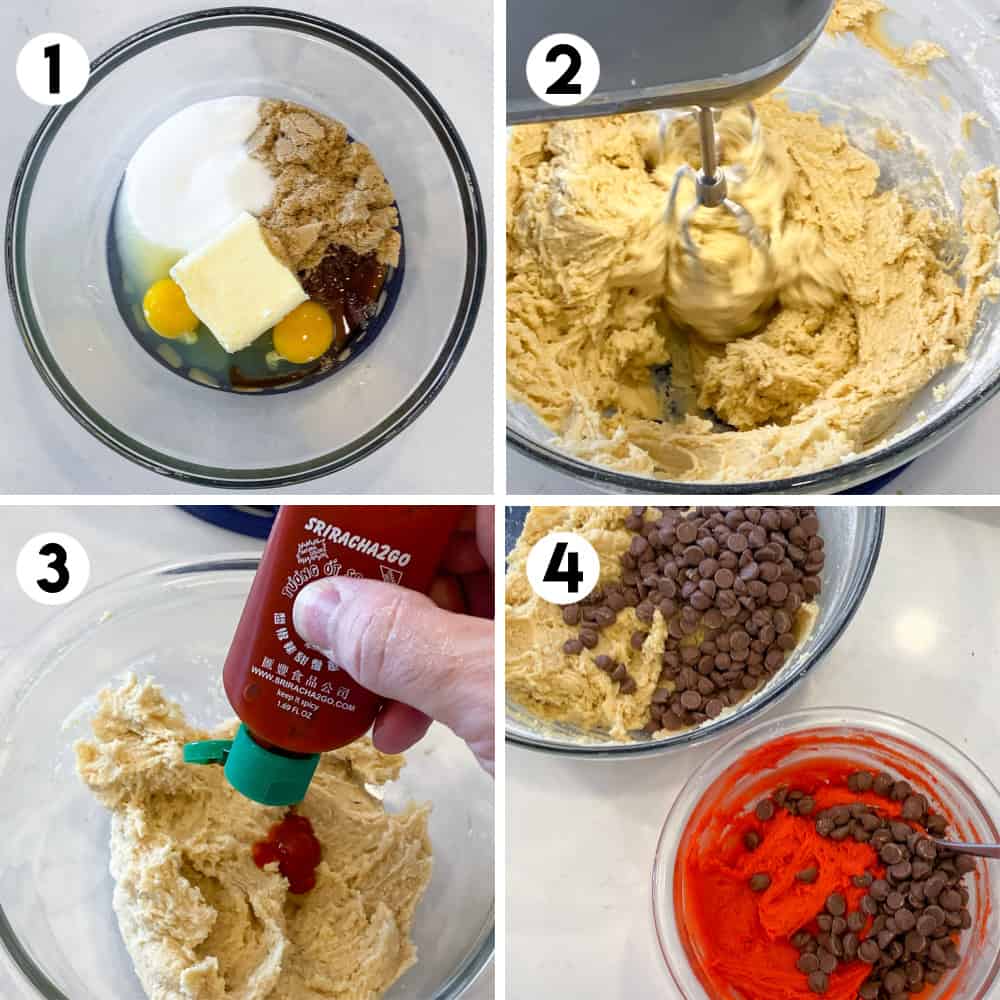 How to make the cookie dough
The first step is to cream together the wet ingredients. Add the butter, sugars, eggs and vanilla to a bowl. Beat with an electric mixer until smooth and creamy, with an almost whipped-like consistency. Both a stand or hand mixer work just fine to make the cookie dough.
Slow add the dry ingredients to the wet mixture – a little at a time.
Once the cookie dough is made, take one third of the dough and place it in a separate bowl. Add the Sriracha sauce, food colouring and extra 1 teaspoon of flour to this smaller portion of dough. The extra little bit of flour helps to keep this red dough the same consistency as the plain cookie dough. Beat it until the Sriracha and red food colouring is well mixed into the dough. I used 1 1/2 tablespoons of Sriracha. Depending on your desired level of heat, you can increase or decrease this amount.
Stir in some chocolate chips into each bowl of dough.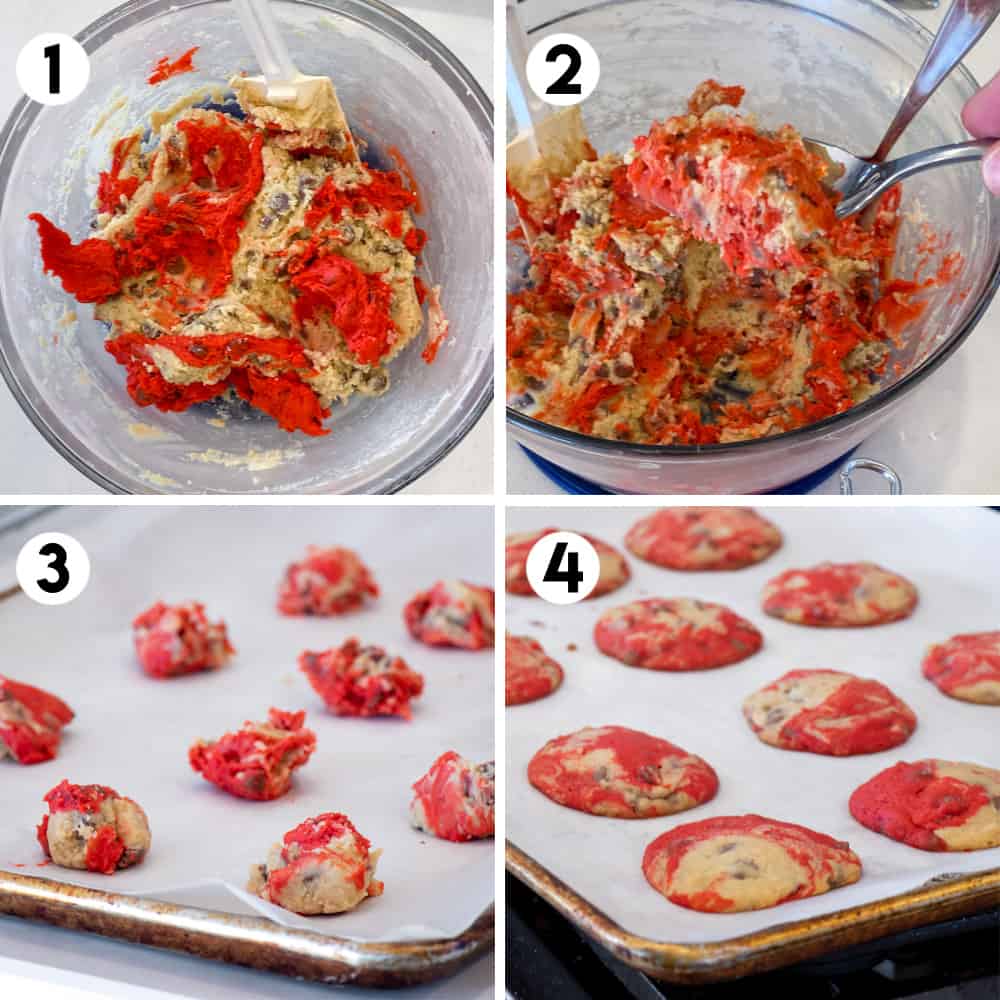 How long to bake these cookies
I love the marbled swirl look of these cookies. It is important not to over-mix the red dough into the plain dough. To do this, I dot and spoon some of the red dough into different sections of the bowl with plain dough. Then, carefully and gently, fold it just a little to create the swirl effect.
Use a teaspoon to scoop out a heaping amount of cookie dough.
Drop the cookie dough on a baking sheet lined with parchment paper or a silicone sheet. Space the cookies about 2 inches apart.
Preheat the oven to 375F and bake the cookies for about 9-11 minutes. Be careful not to over-bake the cookies. They are best when the cookies are crispy around the edges but still chewy in the centre.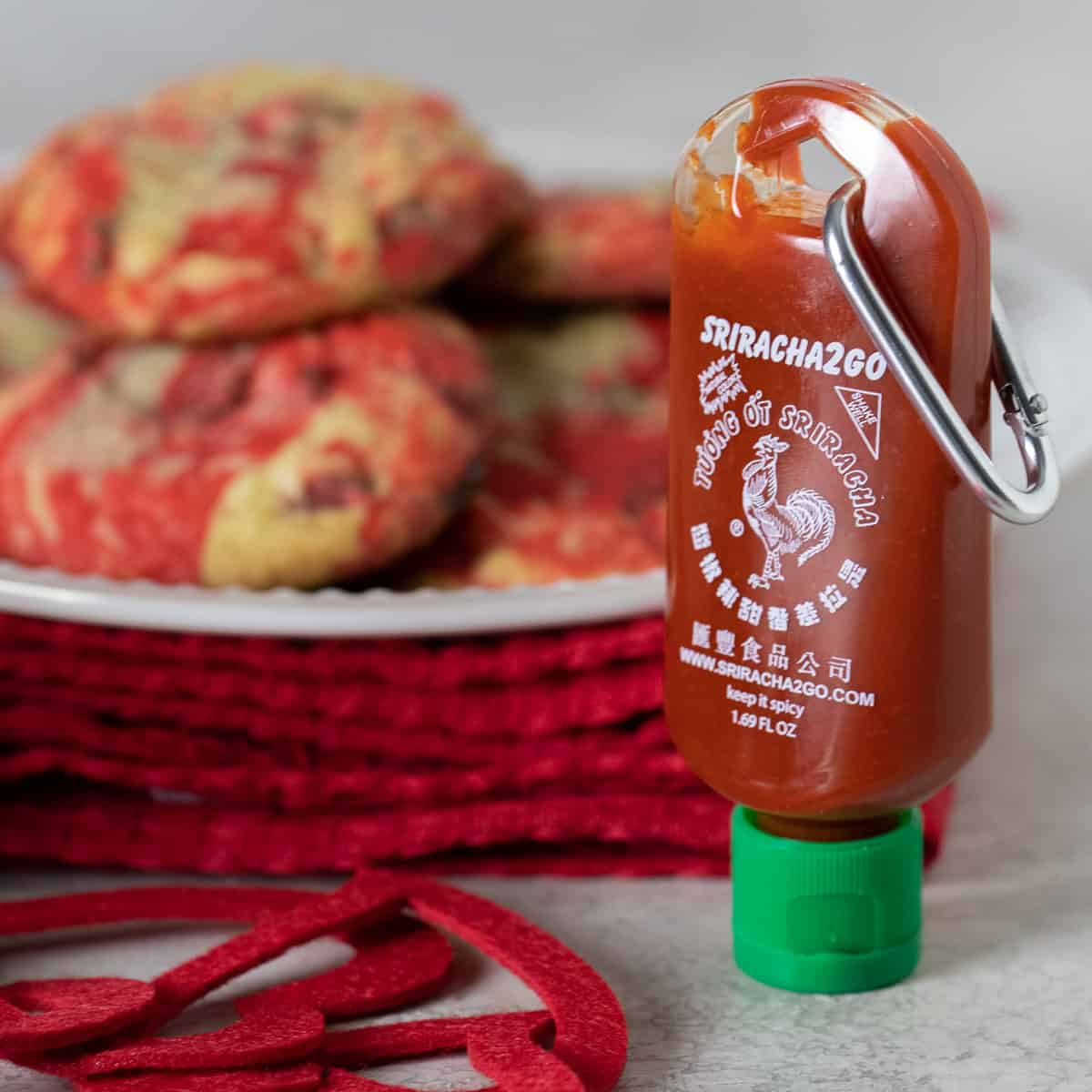 These cookies are so good. The recipe will make 36 cookies and they got gobbled up so quickly at our house.
We had some friends over and they were all intrigued by the idea of a spicy chocolate chip cookie. After trying one, every single person loved these cookies. The Sriracha flavour is there in the background providing some heat, but it is not overpowering.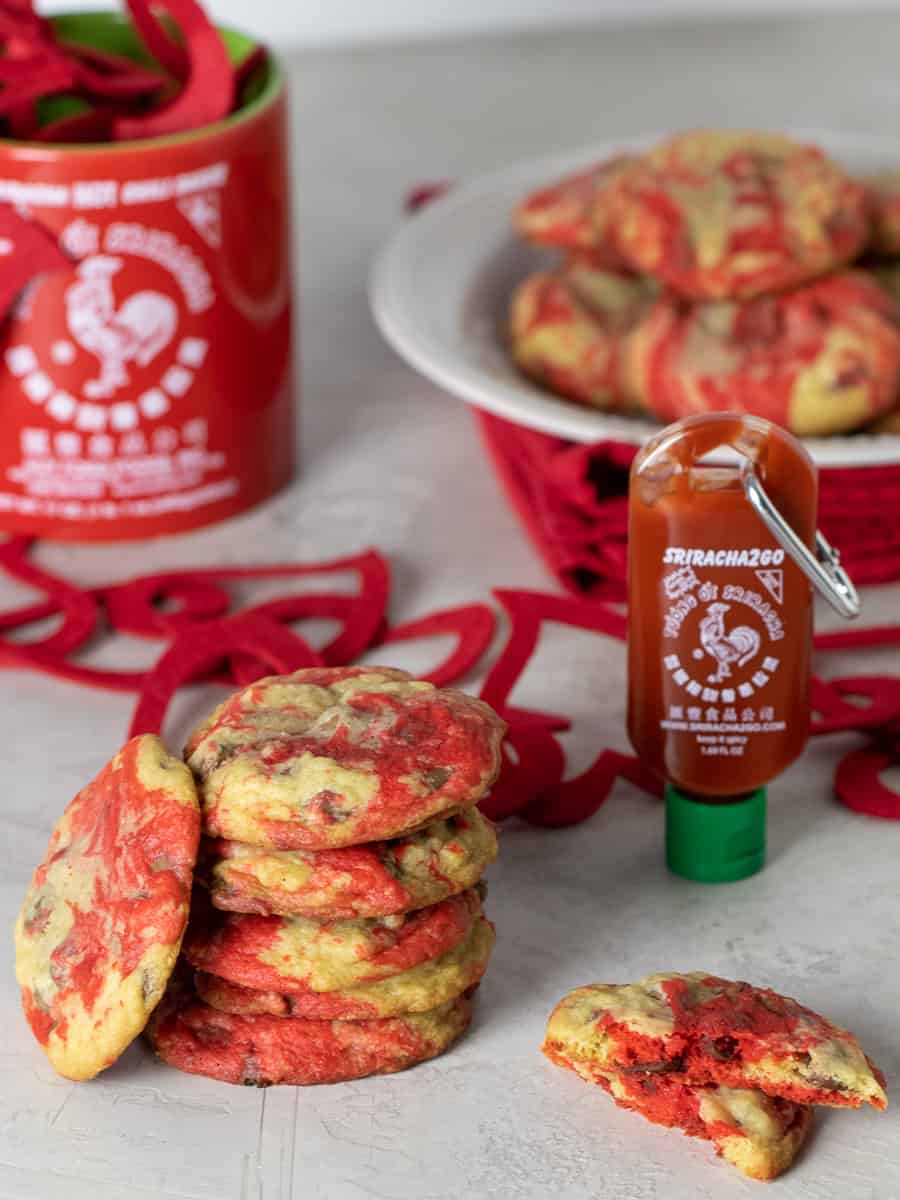 Store these cookies in an airtight container. They will stay fresh and chewy for days!
Here are some other great recipes with Sriracha
Disclaimer: This post is sponsored by Sriracha2Go. All opinions are my own.
Chocolate Chip Sriracha Cookies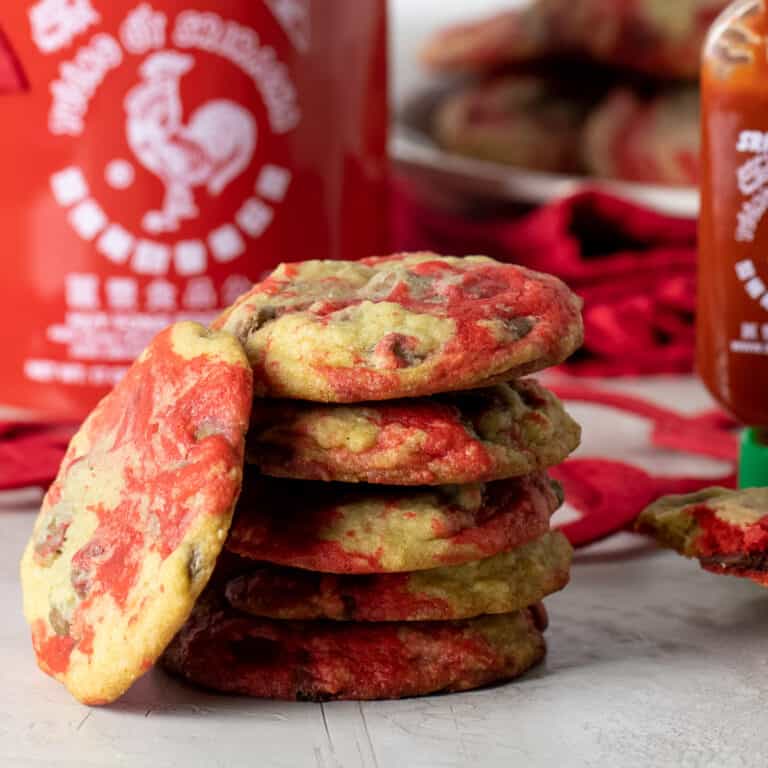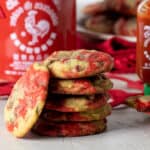 Print
Chewy chocolate cookies with a nice little kick of heat from the Sriracha sauce.
Servings: 36 cookies
Ingredients
1 cup butter , softened
1 cup brown sugar , packed
1/2 cup sugar
2 large eggs
1 1/2 tsp vanilla
2 1/3 cups flour
1 tsp baking soda
1 tsp salt
2 cups chocolate chips
1 1/2 tbsp Sriracha sauce
4 drops red food colouring
1 tsp flour
Instructions
Use an electric mixer to beat the butter, brown and white sugars, eggs and vanilla until smooth and creamy. Slowly beat in the 2 1/3 cups flour, baking soda and salt. Mix until well combined and there are not more pockets of flour in the mixture.

Take one third of the dough and mix, in a separate bowl, with the sriracha and food colouring. Mix the remaining 1 tsp flour. Stir in 2/3 cup chocolate chips in with the red cookie dough.

Stir in the remaining 1 1/3 cup of chocolate chips with the two thirds of plain cookie dough.

Gently fold the cookie doughs together, being careful not to over-mix. There should be large marbled streaks of red dough in with the regular dough.

Drop heaping teaspoonfuls of cookie dough, 2 inches apart, onto a baking sheet lined with parchment paper.

Bake in a 375F oven for 9-11 minutes.

Cool on a wire rack.
Nutrition
Per serving:
Calories: 164kcalCarbohydrates: 22gProtein: 2gFat: 8gSaturated Fat: 5gCholesterol: 27mgSodium: 168mgFiber: 1gSugar: 15g