Honey Sriracha Pork and Snow Peas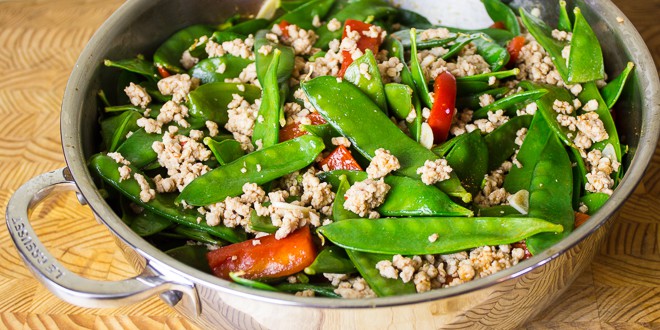 Sometimes I look in the fridge with not much of idea for what to make for dinner. The other day I had a small amount of ground pork that I did not use for some smoked pork meatballs (recipe to come soon!). Not sure what to do with a pound of ground pork, I looked in the fridge and saw that I had a bag of nice fresh snow peas. I always enjoy an Asian inspired dish, so I decided to pull out the sriracha sauce and hit it with some heat. Sriracha is awesome and one of my 'go-to' condiments in the fridge. Wanting to have a little bit of sweet, I mixed in some honey and added some soy sauce, rice vinegar and sesame oil to round out the flavours. The end result was awesome and was great served alongside some steamed rice.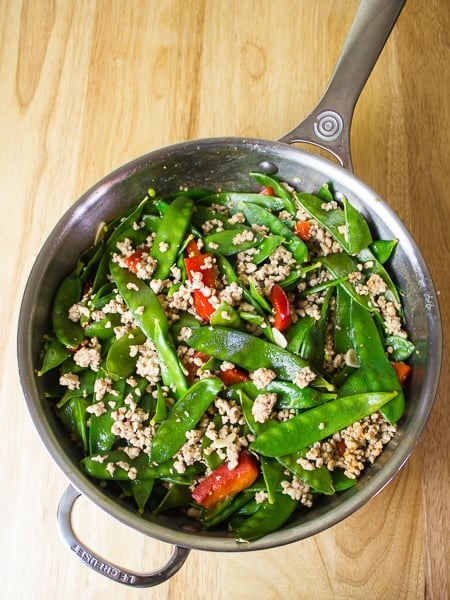 Honey Sriracha Pork and Snow Peas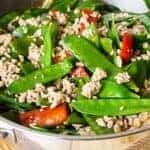 Print
Servings: 4
Ingredients
2 tbsp oil
1 pound ground pork
3 garlic cloves , minced
1 red pepper , cored and thinly sliced
3-4 cups snow peas
2 tbsp soy sauce
1 1/2 tbsp rice vinegar
1 tbsp sesame oil
2-3 tbsp sriracha sauce
3 tbsp honey
Instructions
Heat oil in a skillet on medium heat. Add the ground pork and fry, breaking it apart with a wooden spoon until it is fully cooked.

Add the garlic and red peppers and cook for about 3 minutes.

Stir in the snow peas cover the skillet with a lid.

In a bowl, whisk together the remaining ingredients. After the snow peas have cooked for a few minutes, pour in the sauce and toss so everything is combined.

Continue to cook until the snow peas are tender but still have a little snap to them.

Serve hot.