Chocolate Chip Peanut Butter Bar Cookies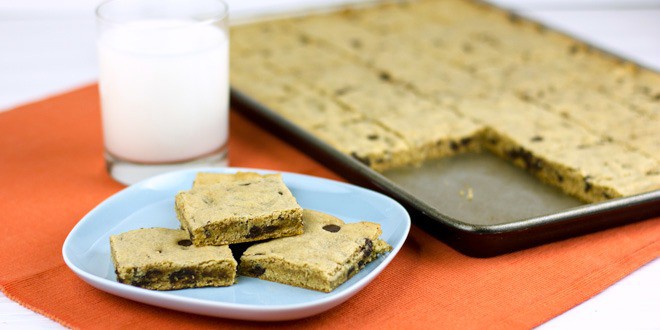 Last week we got a new stove and, since then, I have been testing it to see how works. It is an awesome stove and all this cooking is really just an excuse for me to, well, cook! One of the features of this stove that I love is that it is a dual oven stove. I have already used both ovens at the same time and I know I am going to love this feature! As anyone who bakes knows, it is essential to test a new oven with some baking to ensure that you get accustomed to its temperature and to test for any hot pockets in the oven. Well, my old oven was pretty rough with very uneven heat. The back was far hotter that the front and I had to make sure I rotated anything I was baking. This new oven is incredible! I did not rotate these bar cookies because I wanted to see how even they came out. They were perfect. They tasted pretty awesome as well! A couple of these chocolate chip peanut butter bar cookies with a tall glass of cold milk… yeah – that works!
Now remember, I said that the new stove was a dual oven. Stay tuned for another bar cookie recipe later this week as I tested the other oven at the same time.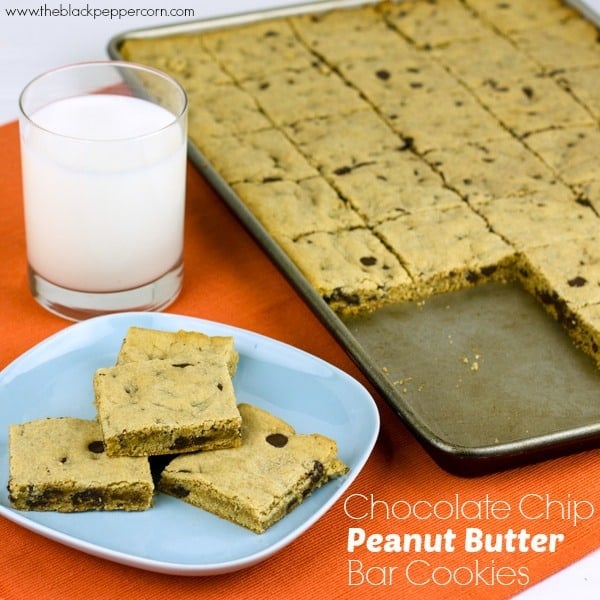 Chocolate Chip Peanut Butter Bar Cookies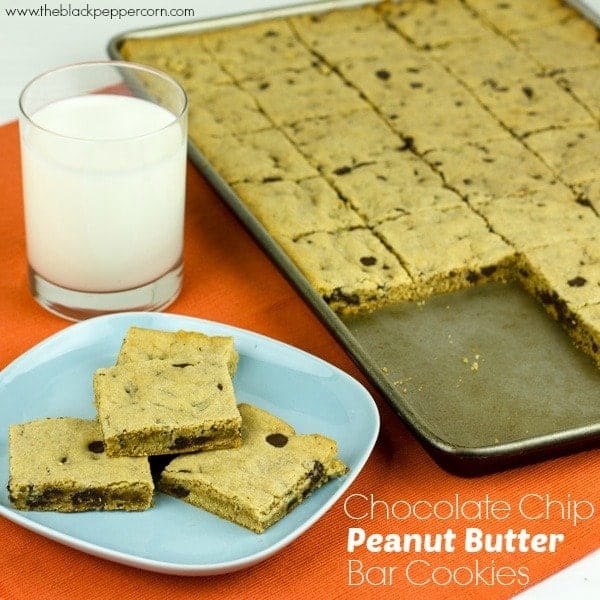 Print
Making cookies has never been easier than with this bar cookie recipe. The flavours of chocolate and peanut butter blend together to make a cookie that is simple yet delightful!
Servings: 35
Ingredients
3/4 cup peanut butter
1/2 cup butter , softened
1/2 cup white sugar
3/4 cup brown sugar
2 eggs
1 1/2 tsp vanilla
2 1/3 cup flour
1/2 tsp baking soda
1 tsp baking powder
1 tsp salt
1 1/2 cups chocolate chips
Instructions
Preheat the oven for 375F.

Grease a cookie sheet - either a 15x10 or 17x11.

With an electric mixer, cream the peanut butter, butter, white sugar and brown sugar until smooth. Beat in the eggs and vanilla.

Whisk the baking soda, baking powder and salt in with the flour, then slowly beat the flour into the creamed ingredients until smooth and no longer lumpy.

With a wooden spoon or mixer on low, add the chocolate chips until evenly combined.

Press the cookie dough evenly on the greased cookie sheet.

Bake in the oven for 20-22 minutes if using a 15x10 cookie sheet or 17-19 minutes if using a 17x11 cookie sheet.

Cool on a wire rack and cut into bars.
Nutrition
Per serving:
Calories: 158kcalCarbohydrates: 20gProtein: 3gFat: 8gSaturated Fat: 3gCholesterol: 17mgSodium: 141mgFiber: 1gSugar: 13g