The Best Peanut Butter Cookies
A simple recipe for the best ever peanut butter cookies. Soft, chewy and delicious! They are perfect with a tall glass of milk.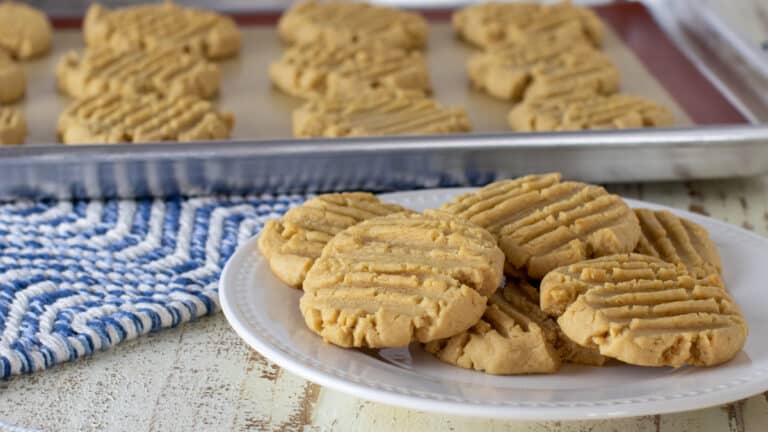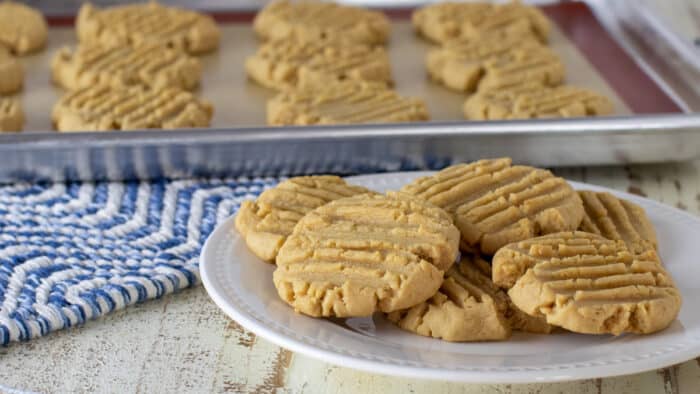 There are a few types of cookies that are staples in many people's baking repertoire. Among them are usually chocolate chip, oatmeal and peanut butter cookies. This is my peanut butter cookie recipe. It is very easy to make and will result in cookies that are soft, chewy and exactly what you look for in a peanut butter cookie.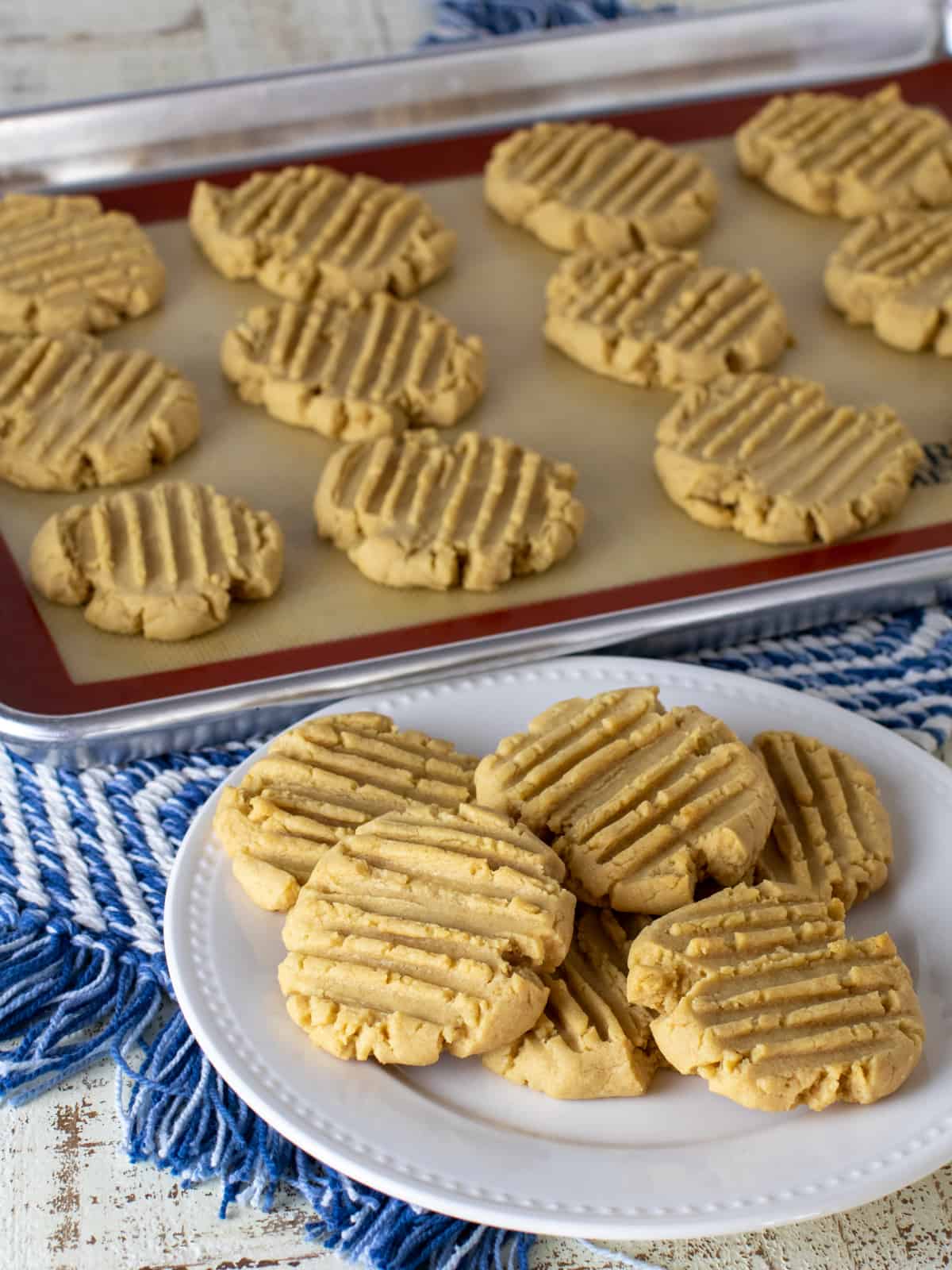 Peanut Butter is What Makes These The Best!
The key to making the best peanut butter cookies is all about the peanut butter. While I love crunchy peanut butter in sandwiches and on toast, my preference is to use creamy peanut for these cookies. Using creamy will result is a softer, chewier cookie. One that is so good, that you will struggle to eat just one, or two, or three. Now, while I prefer to use creamy peanut butter, you could easily use crunchy peanut butter instead.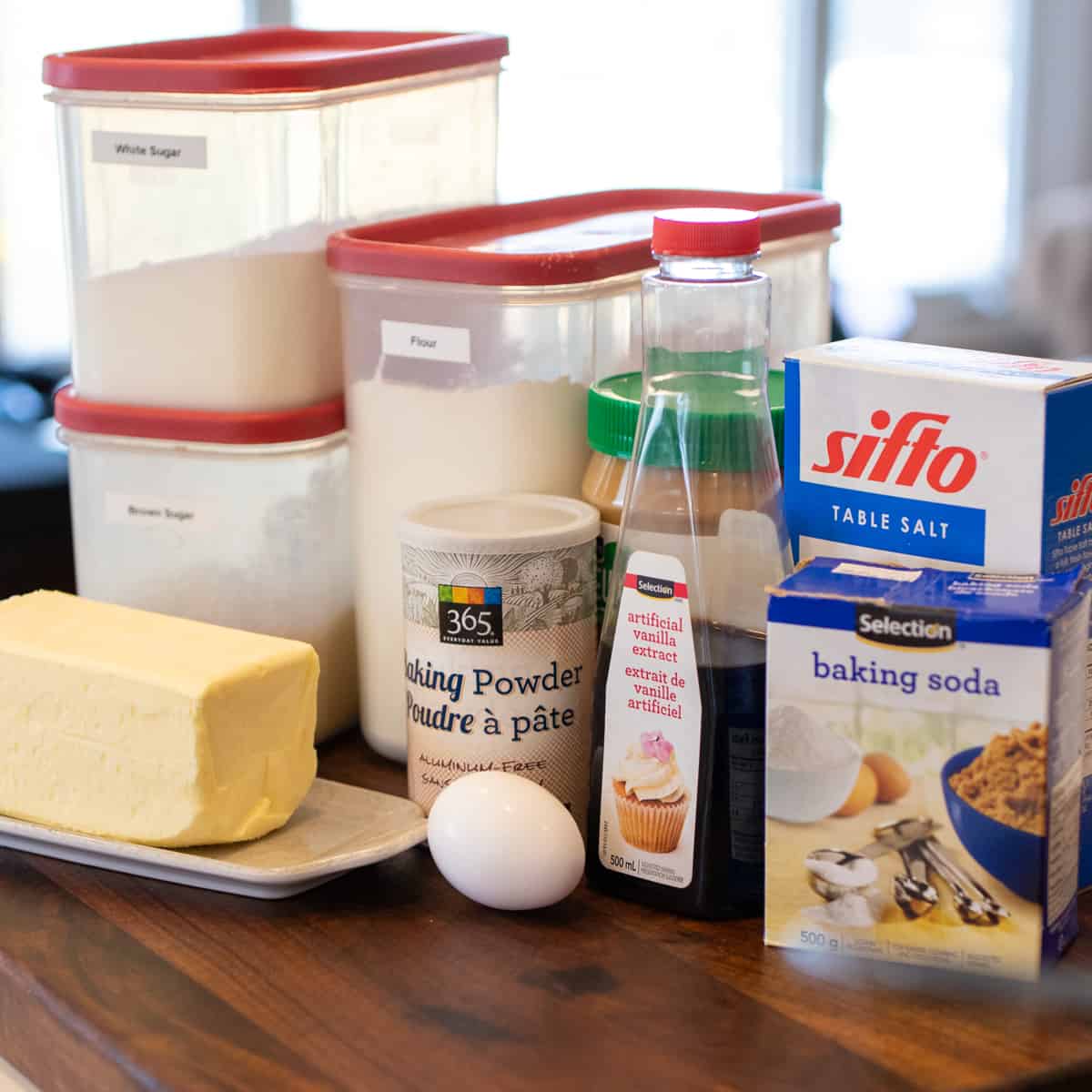 The Ingredients You Will Need
Butter, softened
Creamy peanut butter
White sugar
Brown sugar
Egg
Vanilla
Water
All purpose flour
Baking powder
Baking soda
Salt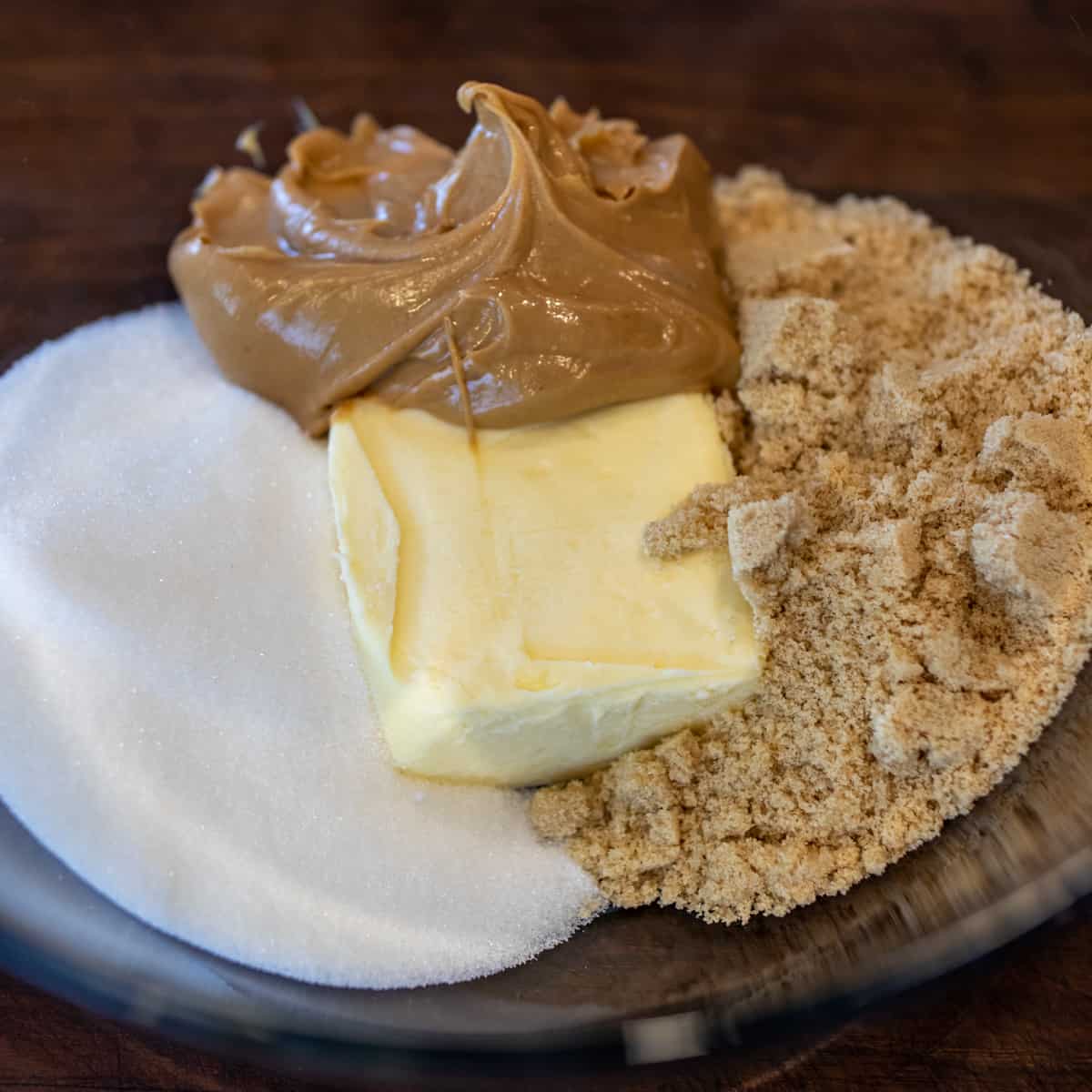 Mix The Wet Ingredients
I find that the easiest way to to make cookie dough is to mix the wet and dry ingredients separately and then beat them together. I do this for most of my cookie dough recipes and I find this works great.
Start with the peanut butter, softened butter, white and brown sugar. Beat them with an electric hand or stand mixer until creamy.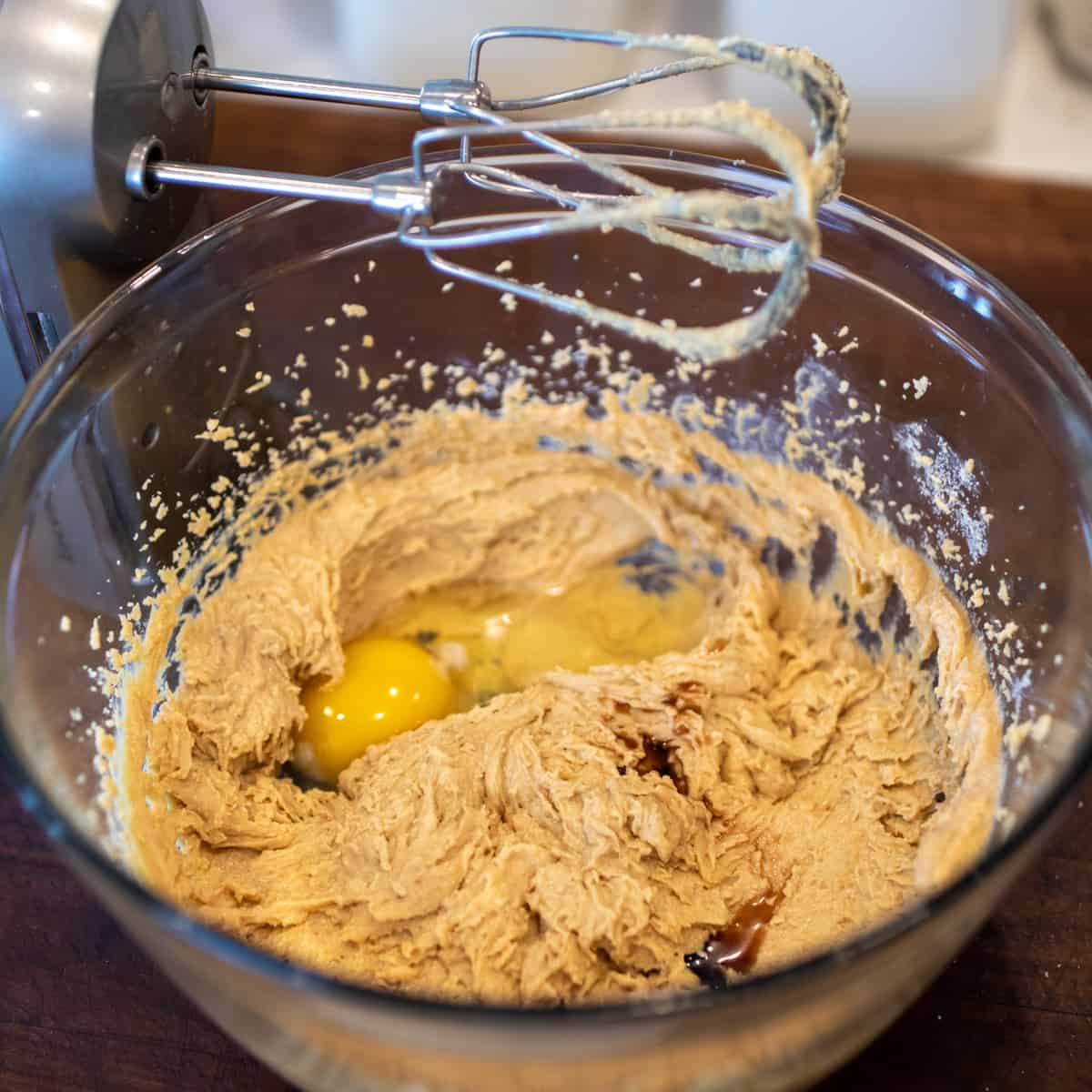 Once the butter, peanut butter and sugars are creamed, beat in the egg, vanilla and water. Make sure that the wet ingredients are smooth and well mixed. This will ensure that the cookies are soft and chewy.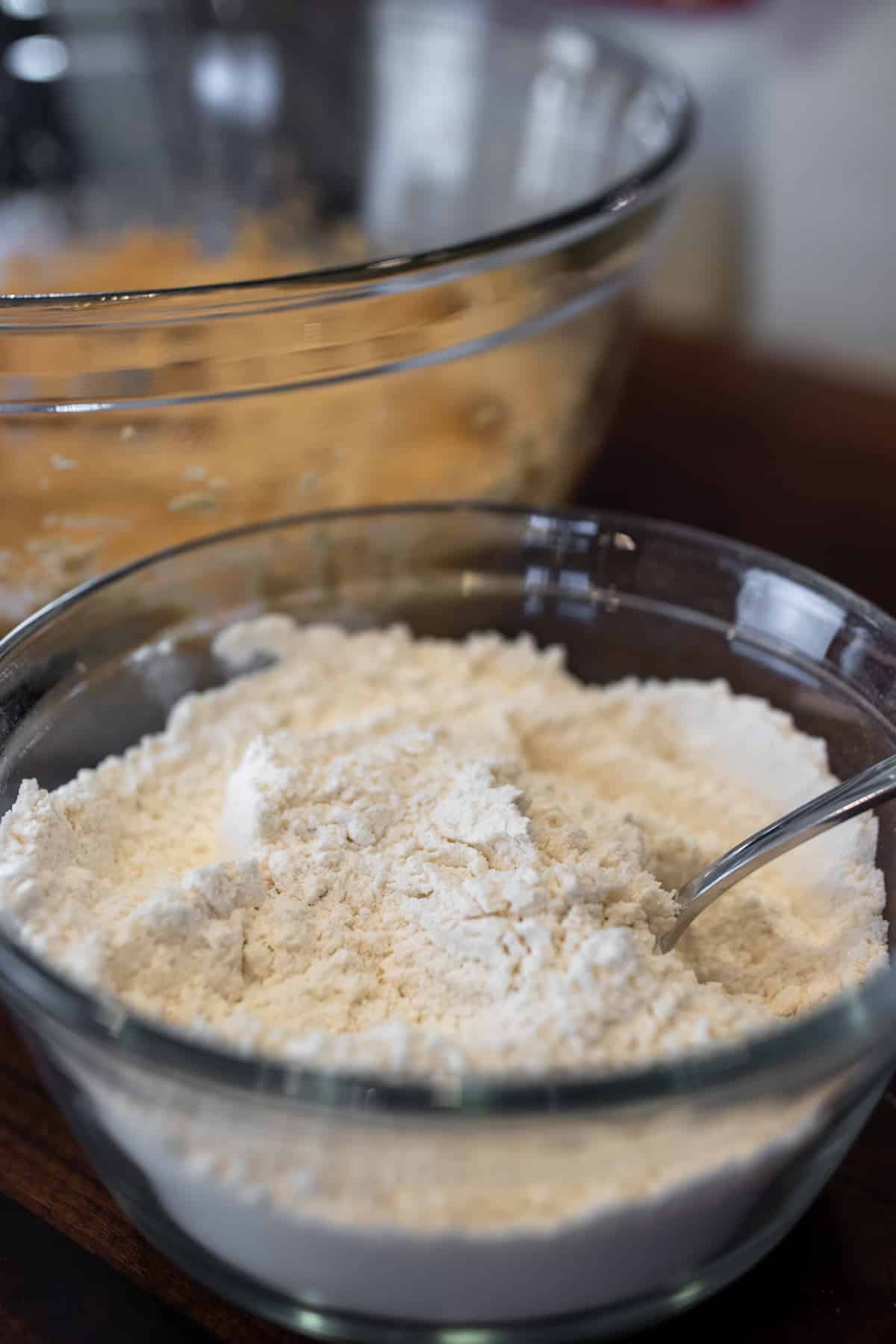 Sift The Dry Ingredients
Take the flour, baking powder, baking soda and salt, and sift them together in a separate bowl. This will allow the baking powder and baking soda to be mixed through the flour.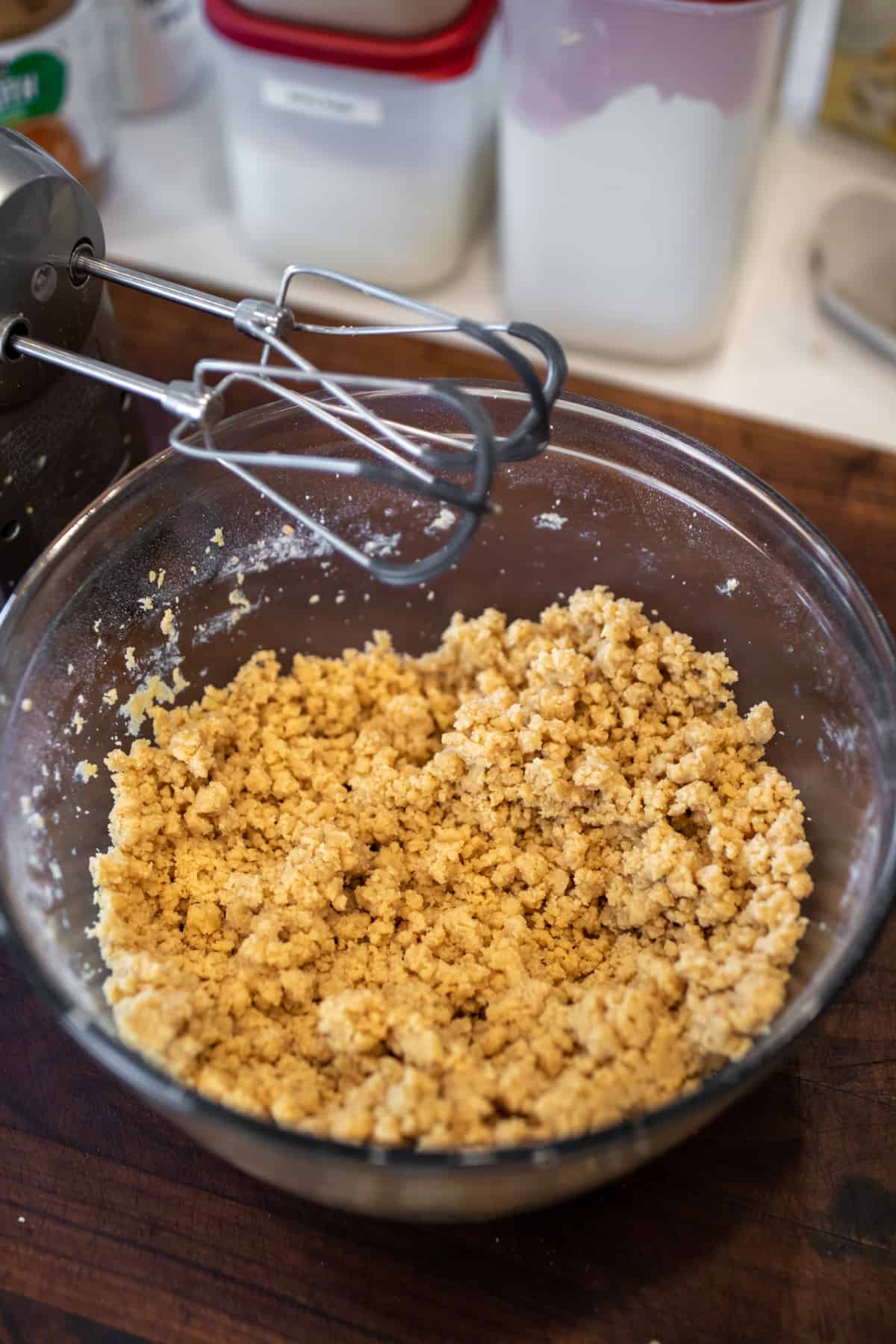 Dump the sifted dry ingredients into the bowl containing the wet ingredients, and beat until well combined. Peanut butter cookie dough is a more dry than most other cookie doughs. So, once all mixed together, it will seem somewhat crumbly in consistency. This is normal.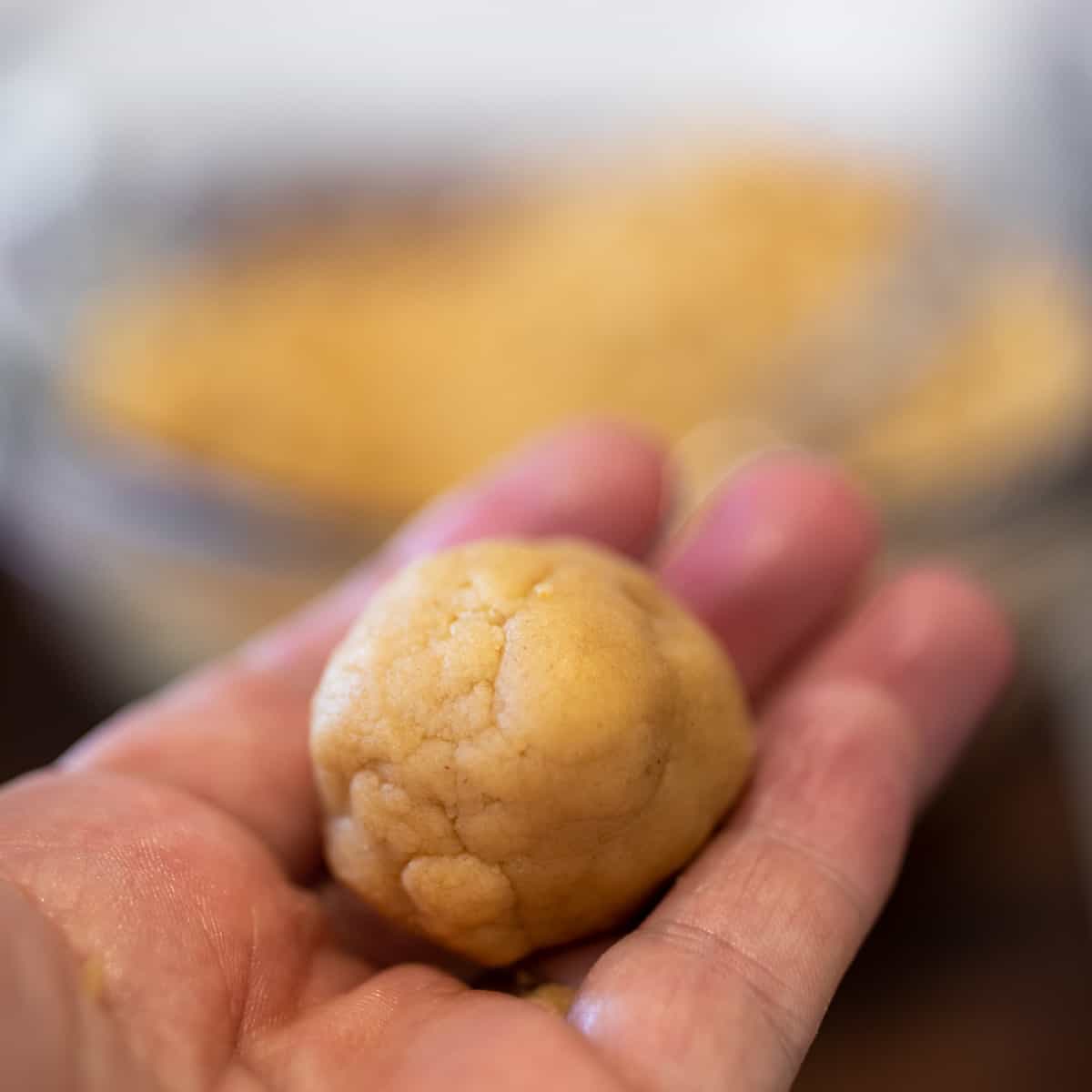 Shape The Cookies
Take a spoonful of the peanut butter cookie dough and roll it into a ball that is about 1 1/4 inch in size. Even though this cookie dough is somewhat dry, it should still be easy enough to shape into a ball. If you find that the ball of dough will not hold its shape, mix another tablespoon of water to the bowl of cookie dough to moisten it a little bit more.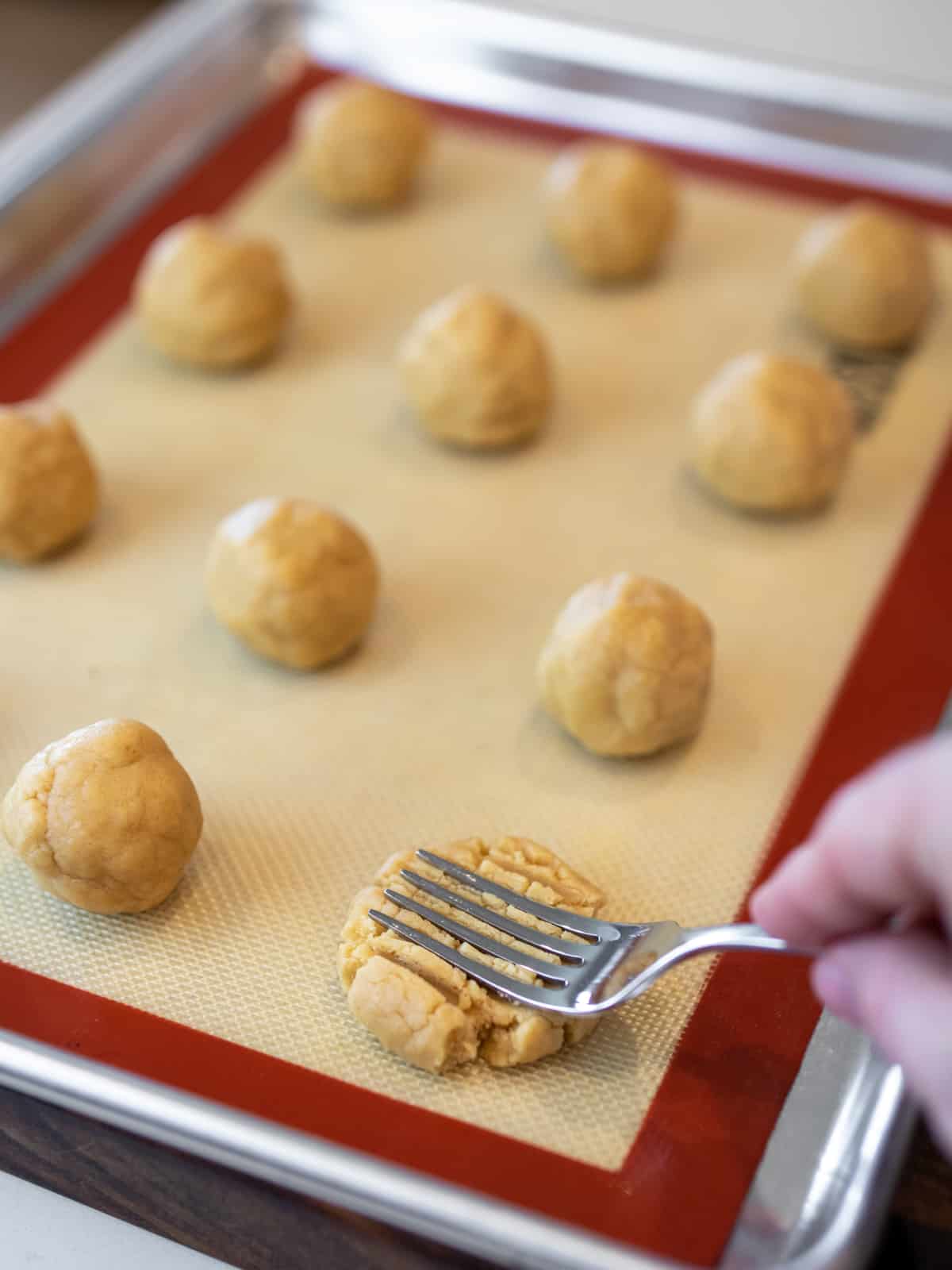 Don't Forget The Fork Mark!
Place the balls of cookie dough onto a baking sheet lined with a silicone baking mat or parchment paper. Space them at least an inch apart. Since peanut butter cookie dough is on the drier side, it will not spread out and flatten as it bakes. So, it needs a little help.
Use a fork to flatten the cookie dough, leaving the iconic fork marks often found on peanut butter cookies. You can do a criss cross pattern, or press the fork down a couple time in the same direction to make sure that the cookie has a fairly even height, aside from the ridges caused but the fork. You should be able to make 24 cookies.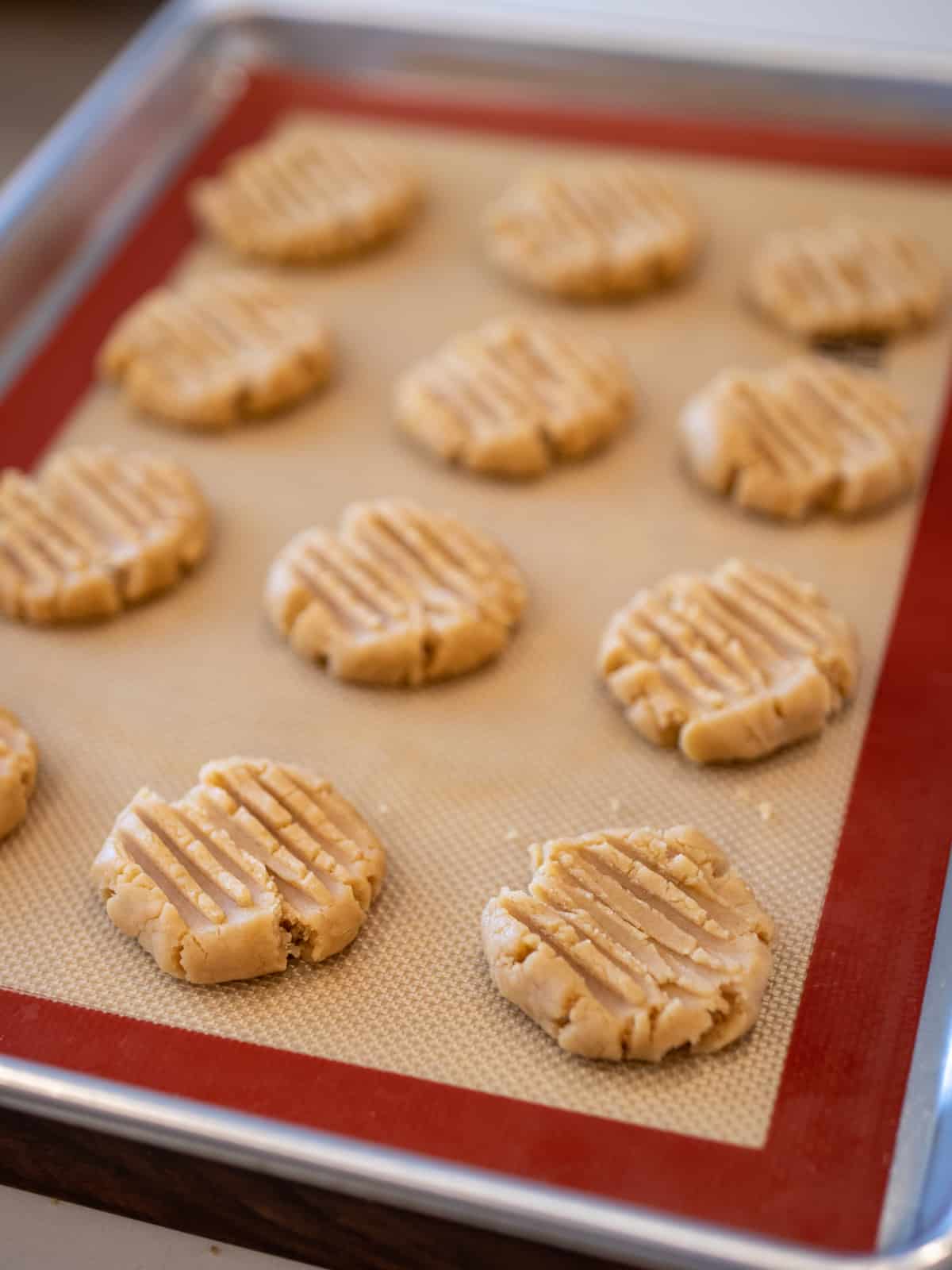 How Long To Bake Peanut Butter Cookies
The cookies are now ready to go into the oven. Preheat the oven to 350F and bake them for 12 minutes. The peanut butter cookies should be just starting to brown around the edges. To make sure that the cookies are soft and chewy it is important not to over-bake them. Once baked, place the cookies on a wire rack to cool.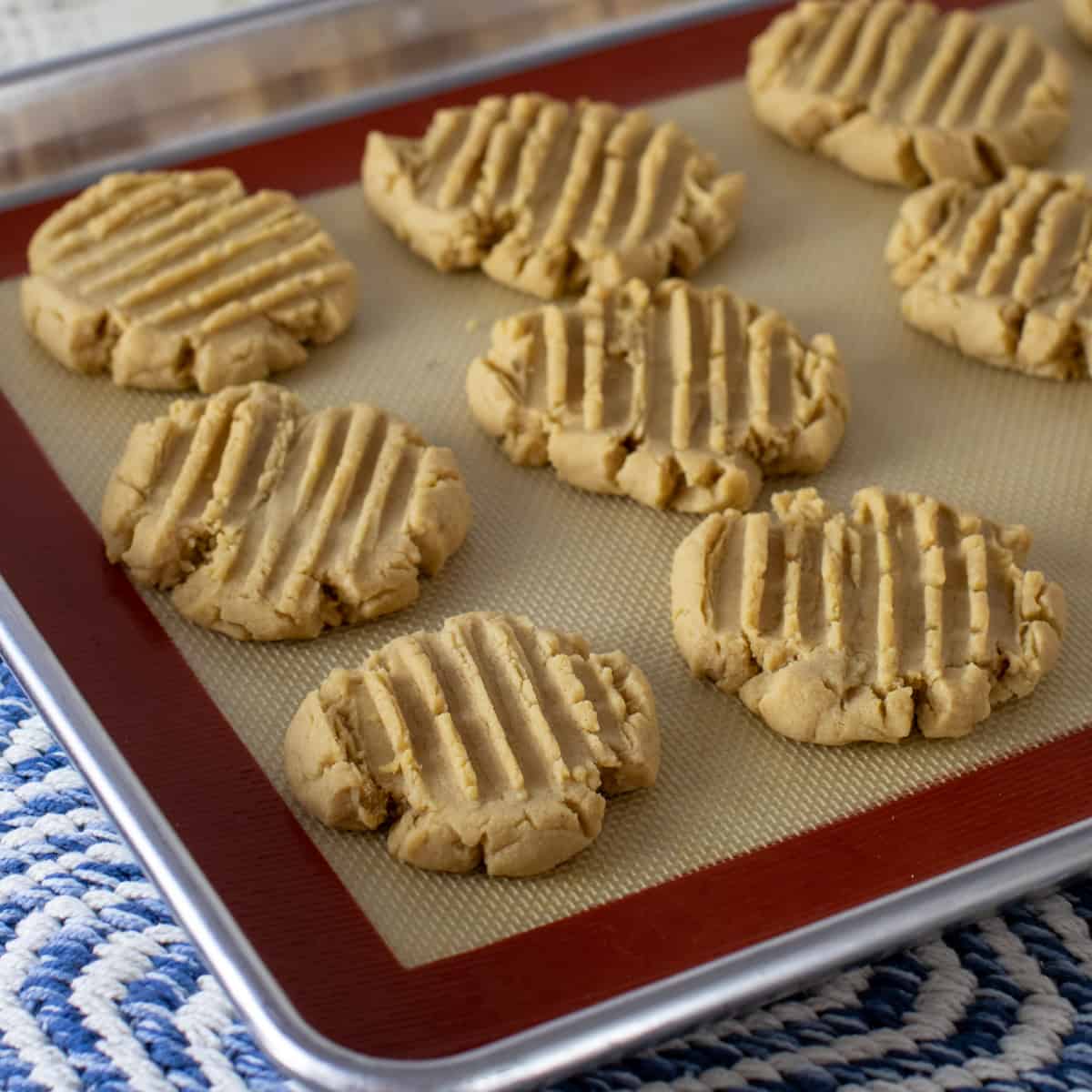 These peanut butter cookies are best served with a coffee or tall glass of milk.
Other Cookie Recipes
If you like these cookies, then check out some other cookie recipes!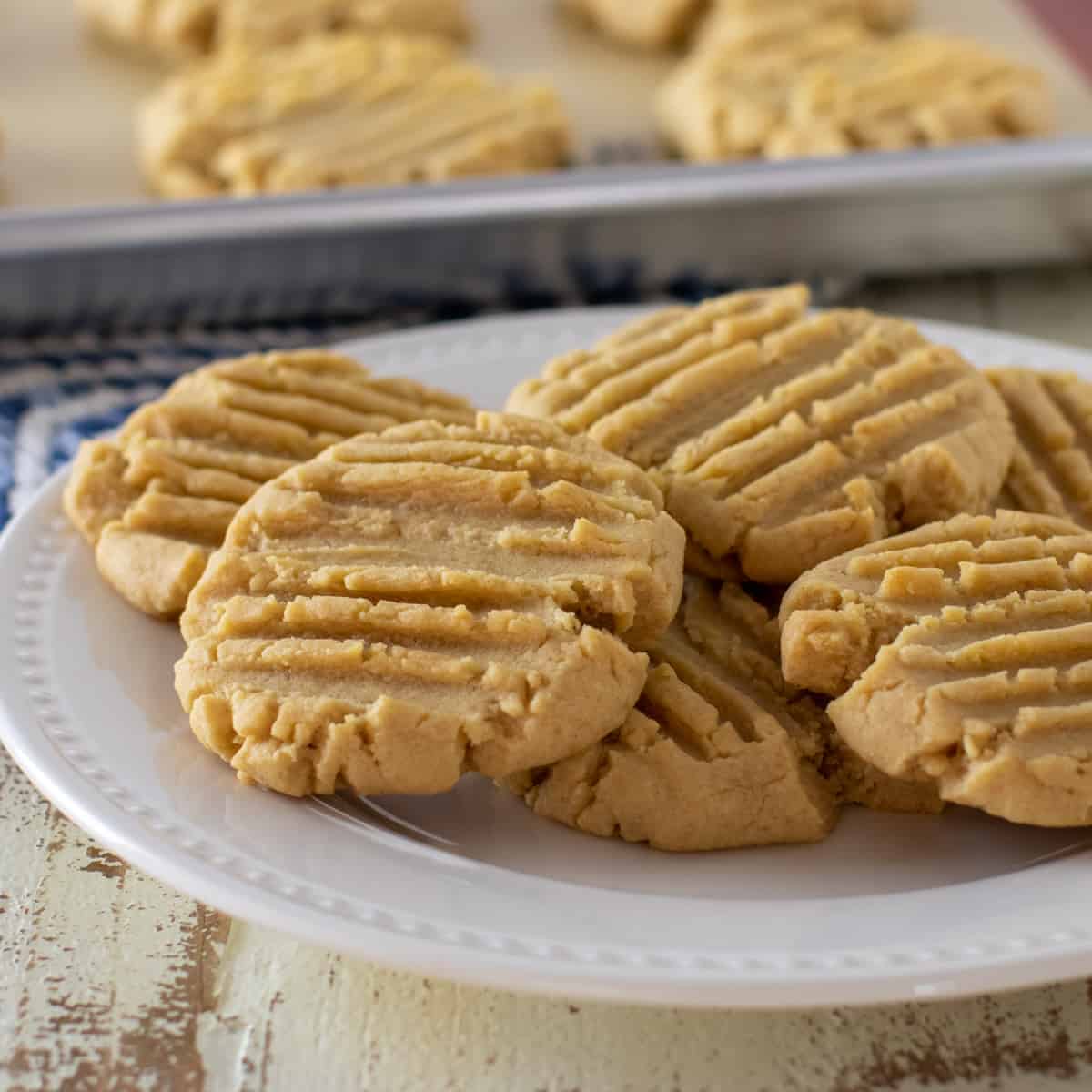 The Best Peanut Butter Cookies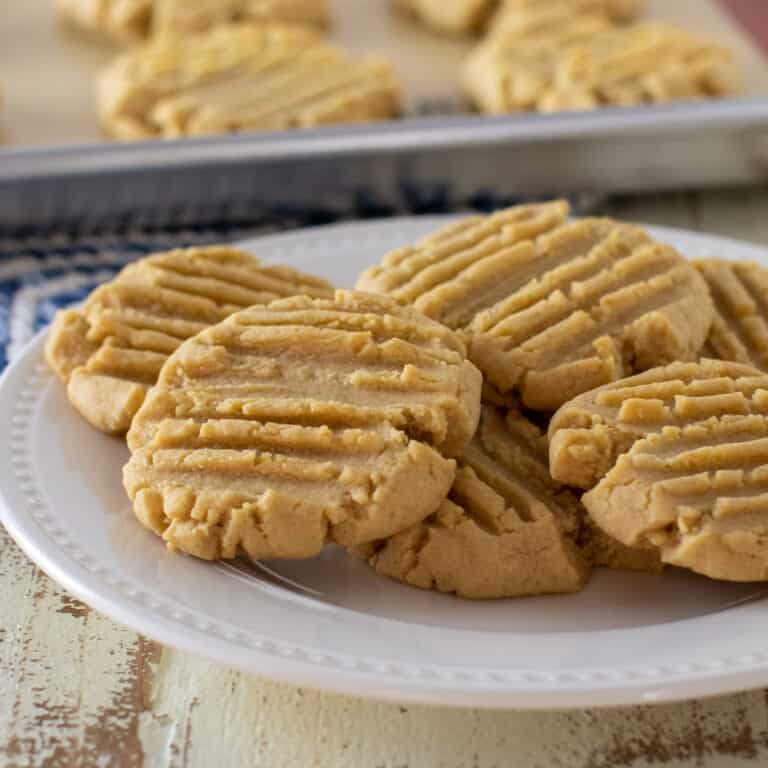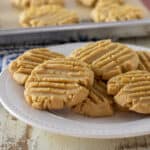 Print
A simple recipe for the best ever peanut butter cookies. Soft, chewy and delicious!
Servings: 24
Ingredients
1/2 cup butter , softened
3/4 cup peanut butter
1/2 cup white sugar
1/2 cup packed brown sugar
1 egg
1 tsp vanilla
1 1/2 tbsp water
1 1/2 cups all-purpose flour
1/2 teaspoon baking powder
1/2 teaspoon baking soda
1/4 teaspoon salt
Instructions
Cream together the butter, peanut butter, white and brown sugars with a hand or stationary mixer. Once creamy and smooth, mix in the egg, vanilla and water.

Sift the dry ingredients together and then mix them with the creamed ingredients.

Roll the dough into 1 1/4 inch balls and lay on a cookie sheet lined with parchment paper. With a fork, lightly press down to form stripe marks on the cookies.

Bake at 350F for 12 minutes. Cool on a wire rack.
Nutrition
Per serving:
Calories: 147kcalCarbohydrates: 16gProtein: 3gFat: 8gSaturated Fat: 3gCholesterol: 17mgSodium: 116mgFiber: 1gSugar: 10g