This honey lemon vinaigrette is full of bright and fresh flavours. Sweet and tangy this is ideal for a salad of mixed greens and also excellent as a marinade for chicken, fish and more!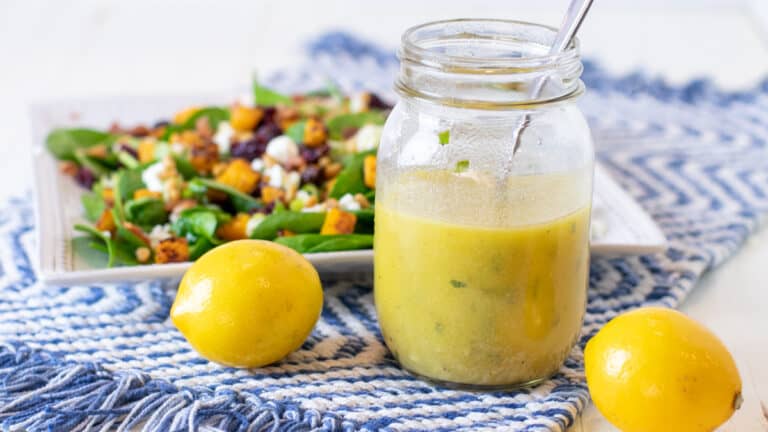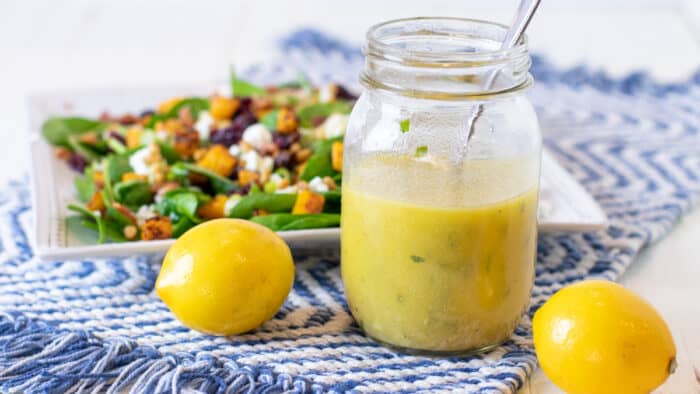 We have fresh salads all the time. We love them with mixed greens, fresh vegetables, nuts, dried fruit and more. This honey lemon vinaigrette is a perfect dressing for these salads.
Lemon vinaigrette is sweet, tangy with fresh herbs and full of bright complete flavours that blend together for a delicious salad dressing.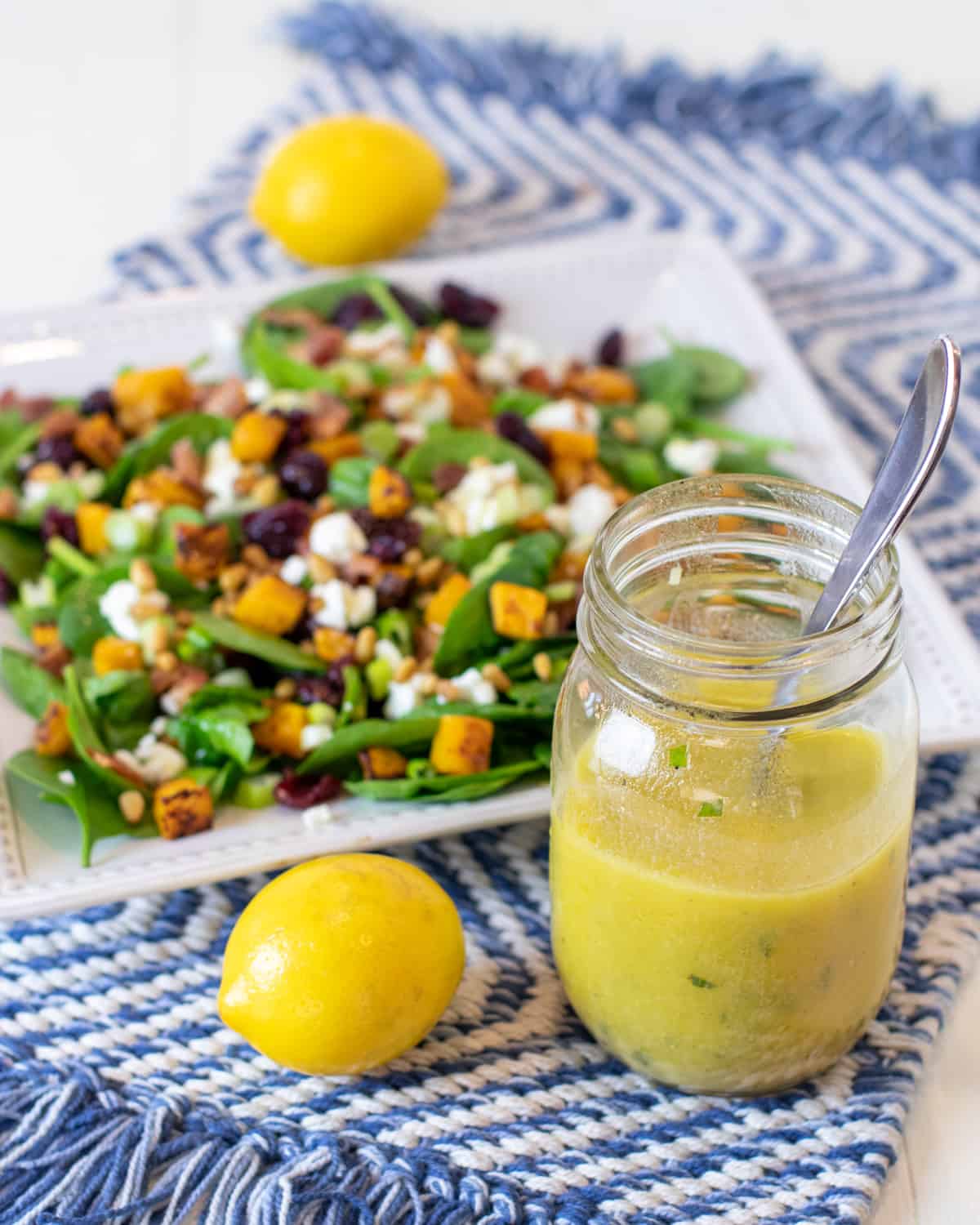 For Salads and Marinades
I typically use this lemon vinaigrette as a salad dressing, but it is also awesome for a marinade. Ideal for marinating chicken, fish, seafood and pork, these can be then grilled, baked or even pan seared!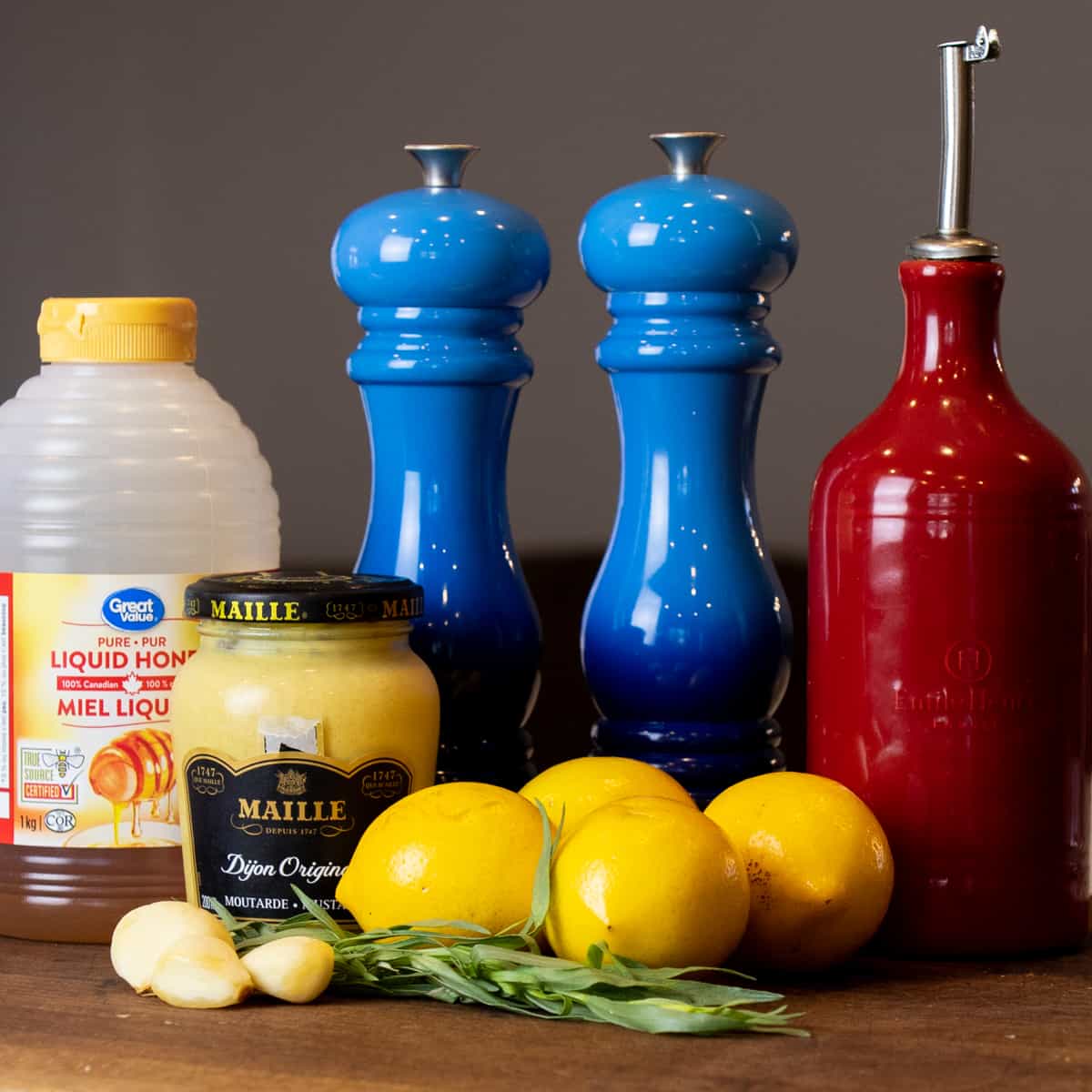 Ingredients You Will Need
The ingredients for homemade lemon vinaigrette are fresh and full of bright flavours.
Fresh lemon juice – while I used Meyer lemons for this vinaigrette, any lemon will work.
Olive oil – this kind of oil is ideal for vinaigrette, but other kinds like vegetable, avocado, and others.
Honey – this is the perfect sweetener to go alongside the lemon juice.
Dijon mustard – required for the vinaigrette to be emulsified.
Garlic
Fresh tarragon – this fresh herb is such a nice addition to the vinaigrette.
Salt
Black pepper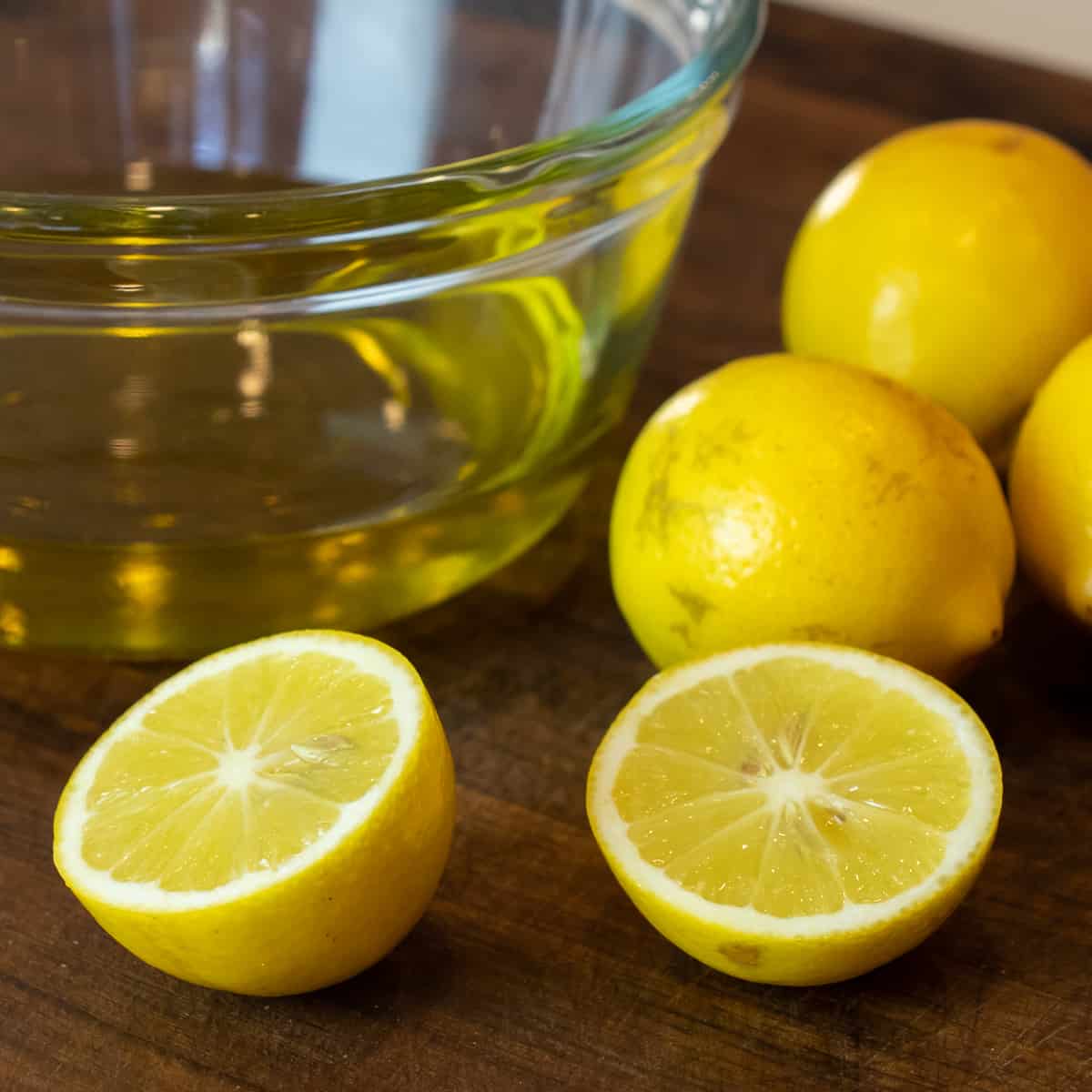 What Kind Lemons To Use?
I typically have lemons in my fridge because they are great added to so many dishes from fish, marinades, salad dressings and more.
For this lemon vinaigrette I used Meyer lemons and they were amazing. If you have never had a Meyer lemon, then let me tell you how good they are. These lemons are smaller than traditional lemon and, while they do still have a tang, Meyer lemons are sweeter.
Any type of lemon will work for this vinaigrette – either Meyer or regular lemons.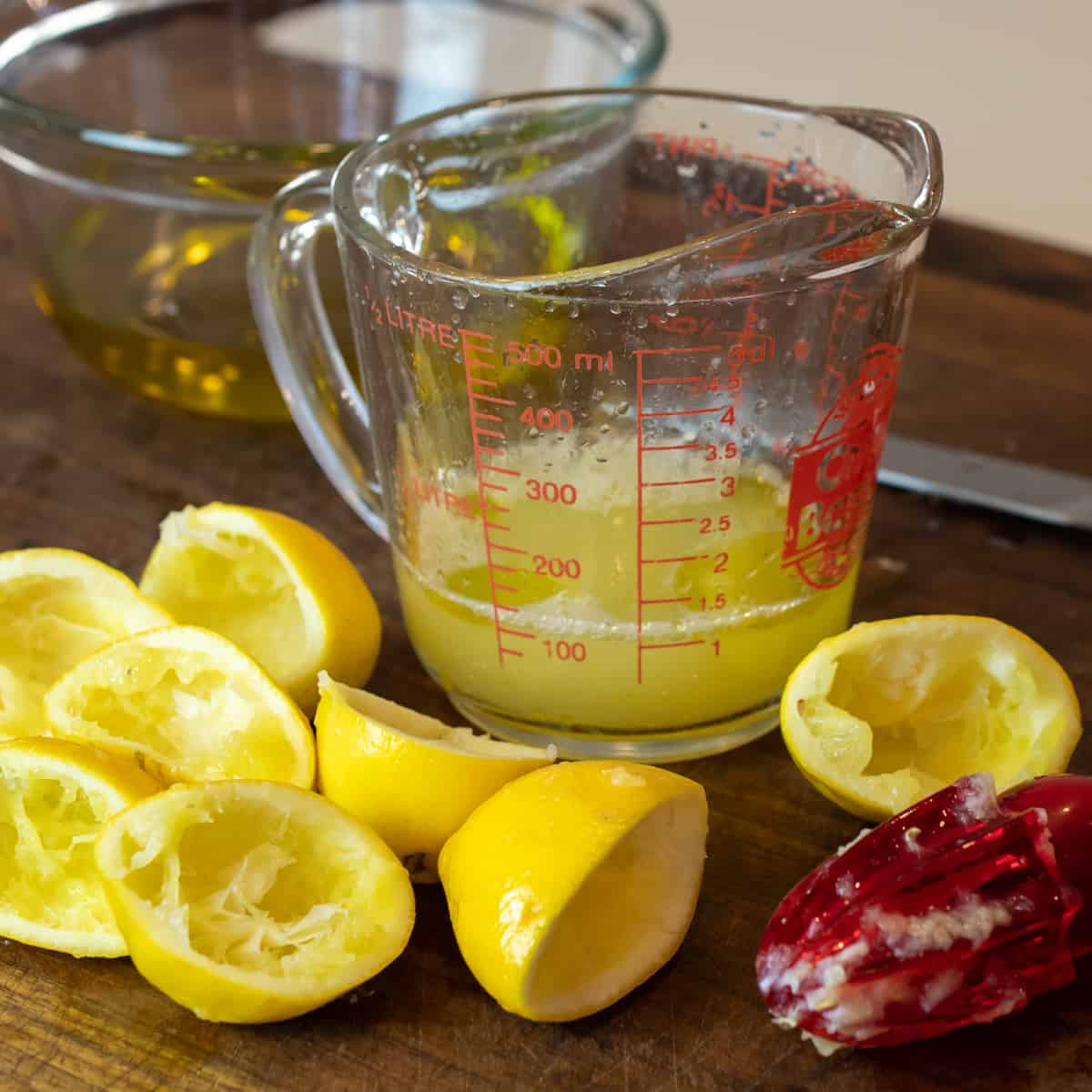 How To Make Lemon Juice
If you are able to get a plump lemon, it can yield a fair amount of juice. Cut the lemon in half and it is ready for juicing.
While you can simply squeeze the lemon half and allow the juice to pour into a measuring cup, this method does not always maximize the amount of juice you can get out of a lemon.
There are different kitchen tools available for juicing. I use a hand held reamer and by turning it into the lemon half, it gets pretty much all the juice out. There are counter top juicers as well as juice presses.
Expert Tip: This recipe calls for 1/2 cup lemon juice. Four Meyer lemons produced the amount of juice required, but regular lemons could likely produce more.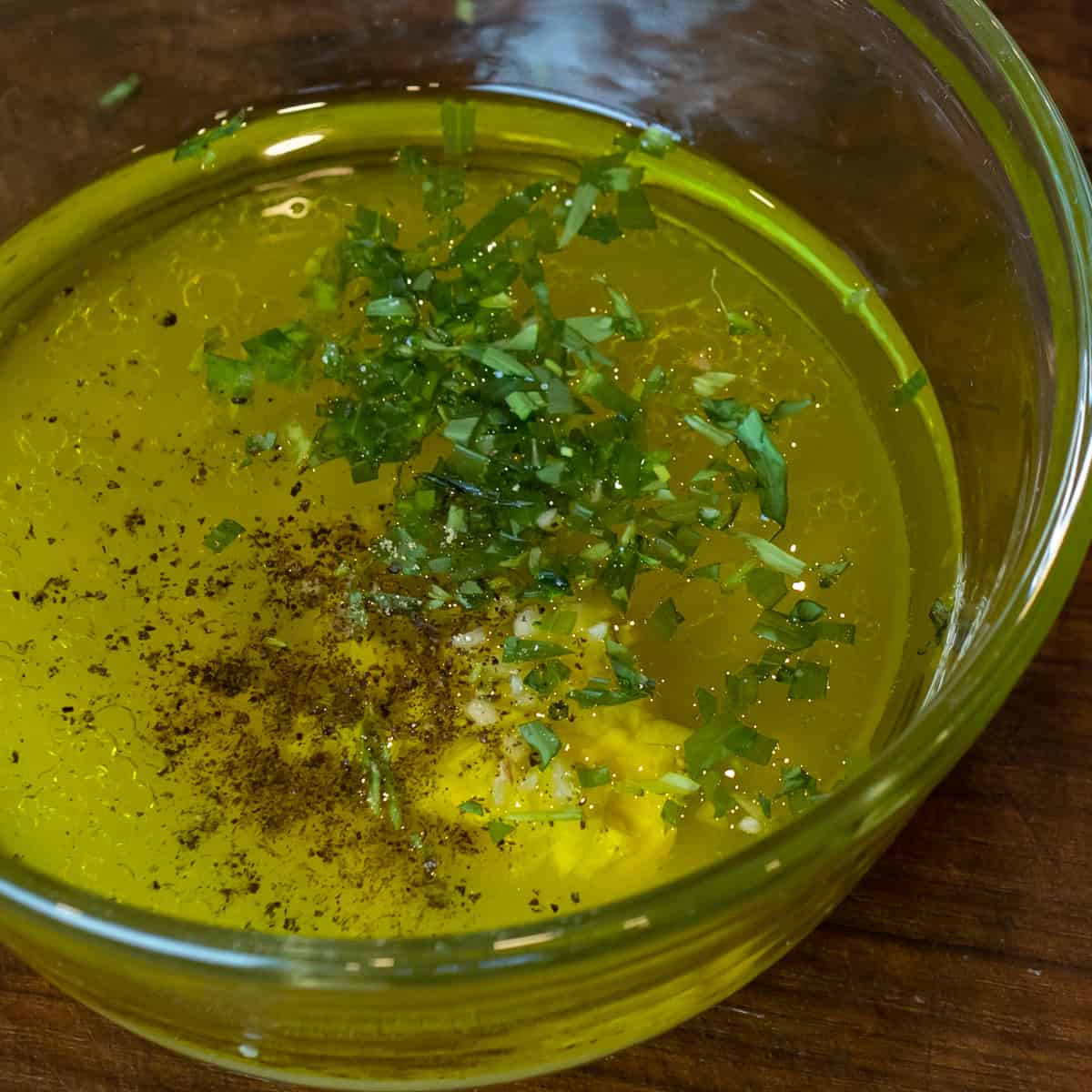 Add all the ingredients into a glass bowl large enough for whisking. The lemon juice, honey and olive oil produce a bright golden colour!
Expert Tip: Tarragon is a delicious herb for the lemon vinaigrette, but if you cannot find this at your local supermarket, then you could also use fresh thyme, oregano or basil.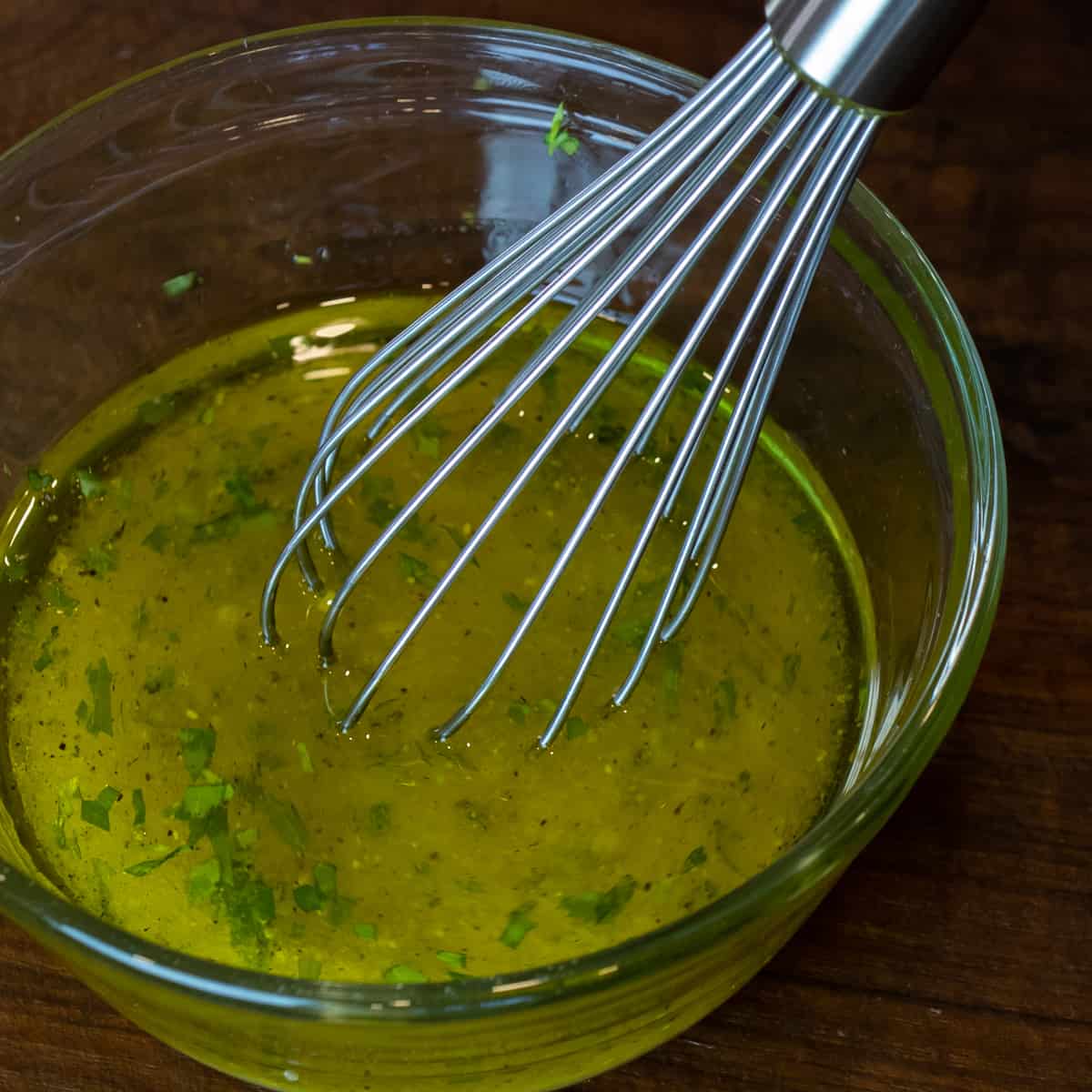 How To Emulsify
The lemon vinaigrette requires the ingredients to be emulsified. Emulsification is the process where you take two liquids that will not combine and mix them together in a way that they have merged. Oil and vinegar will stay apart from each other (pour them together in a glass and see how quickly they separate), but the dijon mustard allows these two liquids to come together and emulsify.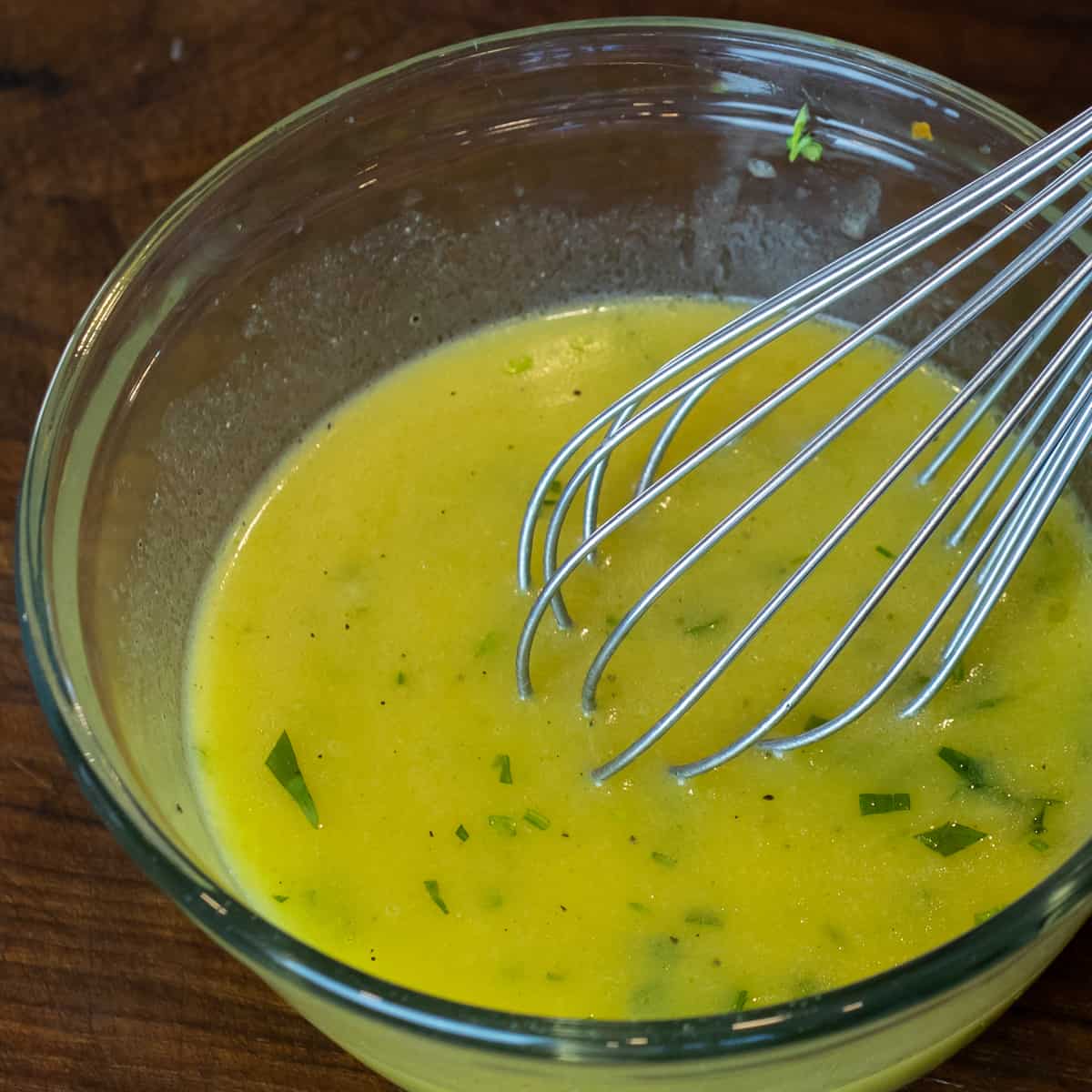 How Long Does It Take To Emulsify?
The emulsification process for this honey lemon vinaigrette is quick and easy. Once you put all the ingredients in a glass bowl, use a whisk and stir quickly. Immediately, you will see the salad dressing come together. It should take no more than about one minute of whisking for all the ingredients to emulsify into one vinaigrette.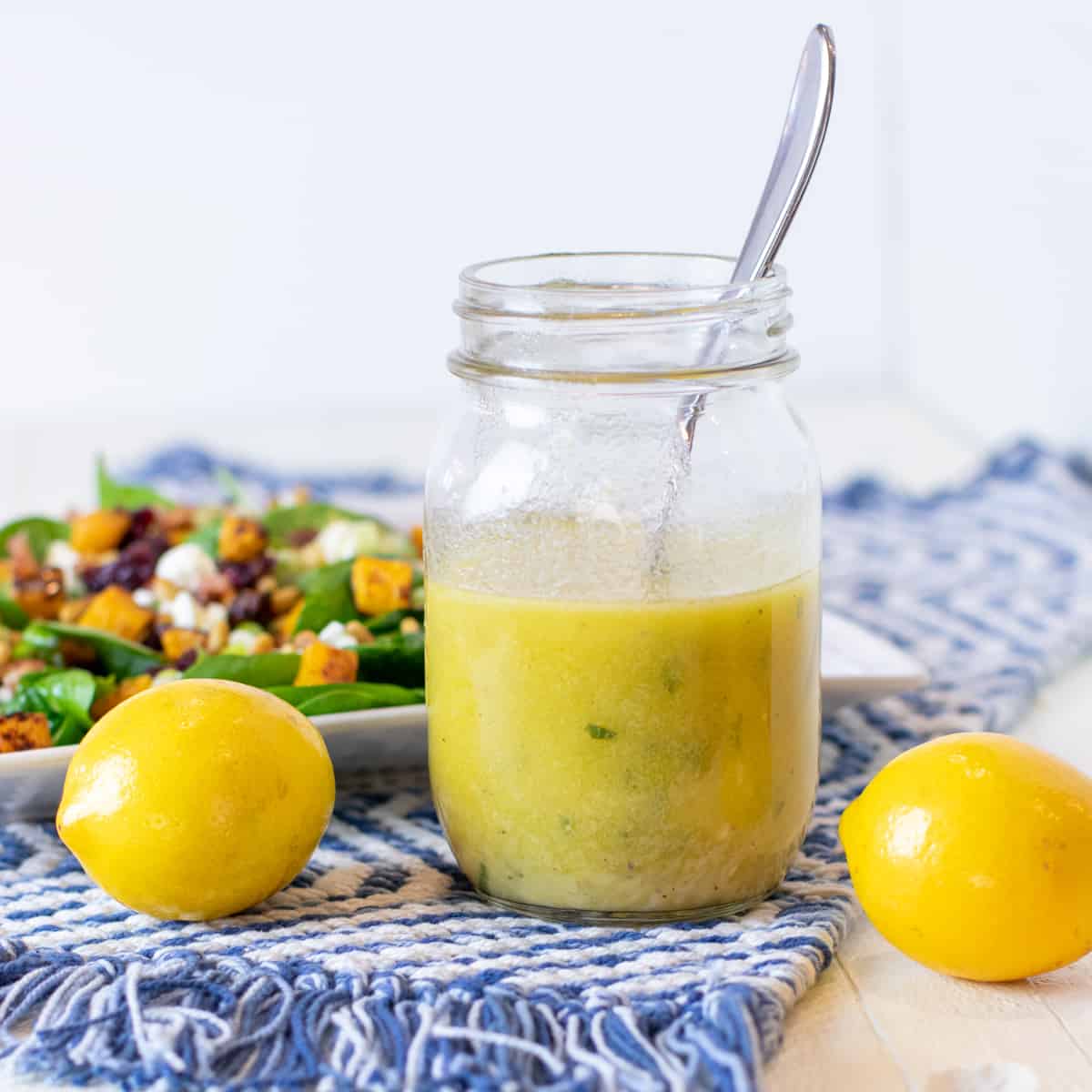 This lemon vinaigrette is perfect for dressing a salad that has fresh greens and other vegetables. I also love to add some nuts and dried fruits.
You could also use this as a marinade for chicken, fish, pork and more!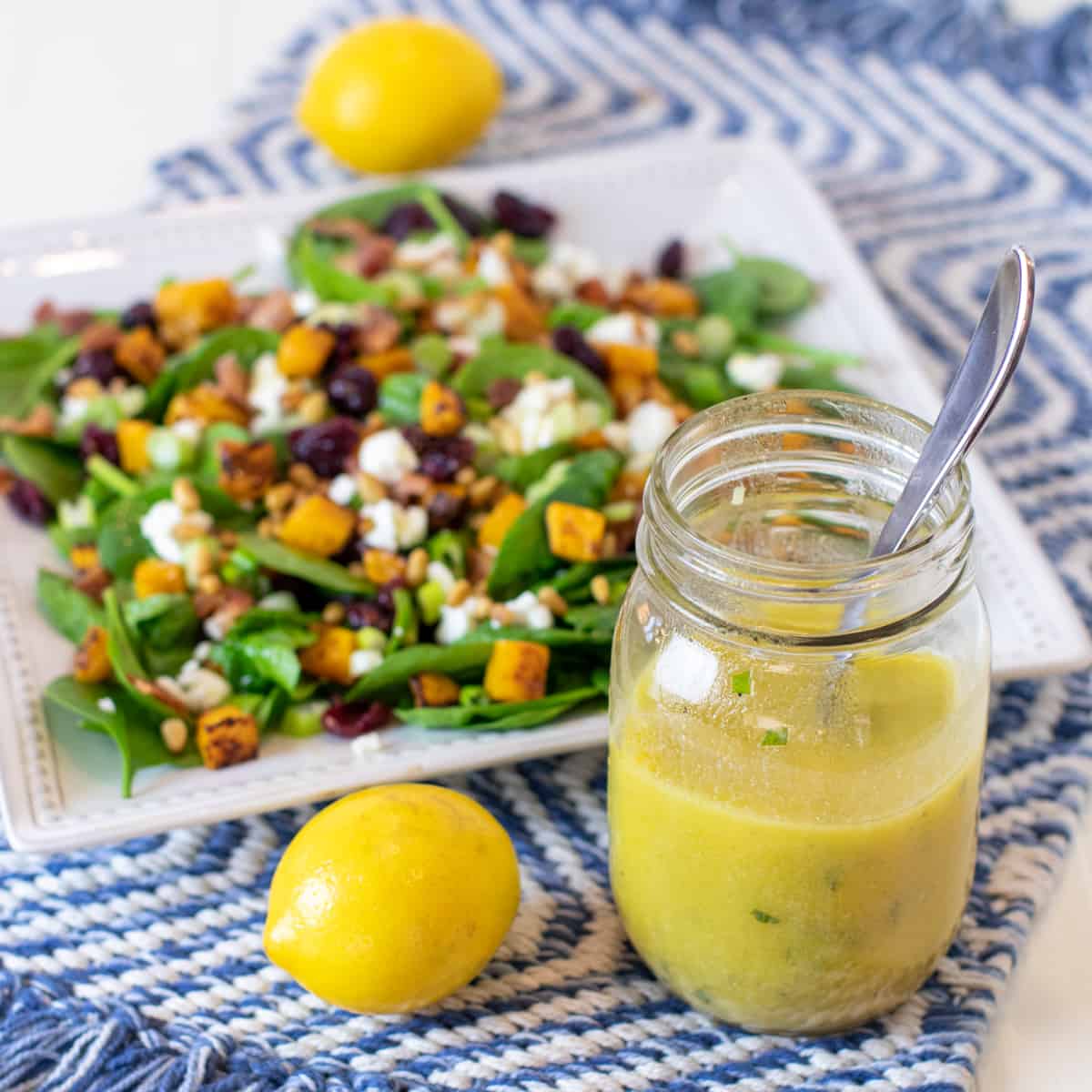 More Salad Dressings and Vinaigrettes
I love making salad dressings and here are a number of other great recipes!
Lemon Vinaigrette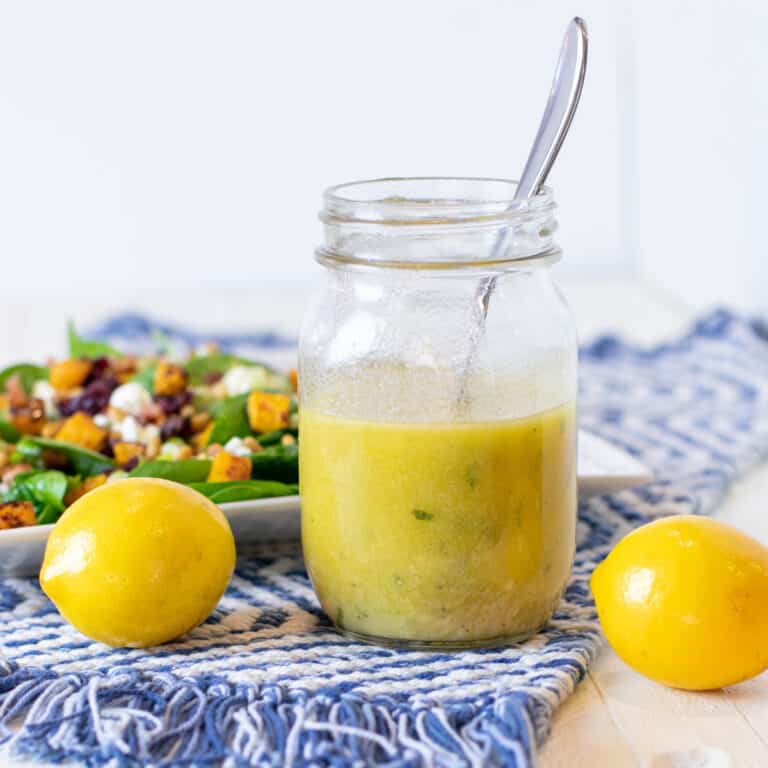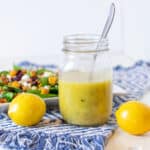 Print
This is the best lemon vinaigrette with honey for sweetness. It is easy to make, uses ingredients you likely have in your kitchen, and perfect on salads as well as other dishes!
Servings: 16
Ingredients
1/2 cup lemon juice , freshly squeezed
2/3 cup olive oil
3 tsp dijon mustard
3 tsp honey
3 cloves garlic , minced finely
1 1/2 tsp fresh tarragon , minced
1/2 tsp salt
1/4 tsp black pepper
Instructions
Place all ingredients into a medium sized mixing bowl.

Whisk until all the ingredients are combined and the salad dressing is emulsified.

Drizzle on a salad, or use in other recipes.

Store in the fridge, in a jar or other sealed container.
Nutrition
Per serving:
Calories: 87kcalCarbohydrates: 2gProtein: 0.2gFat: 9gSaturated Fat: 1gSodium: 84mgFiber: 0.1gSugar: 1g