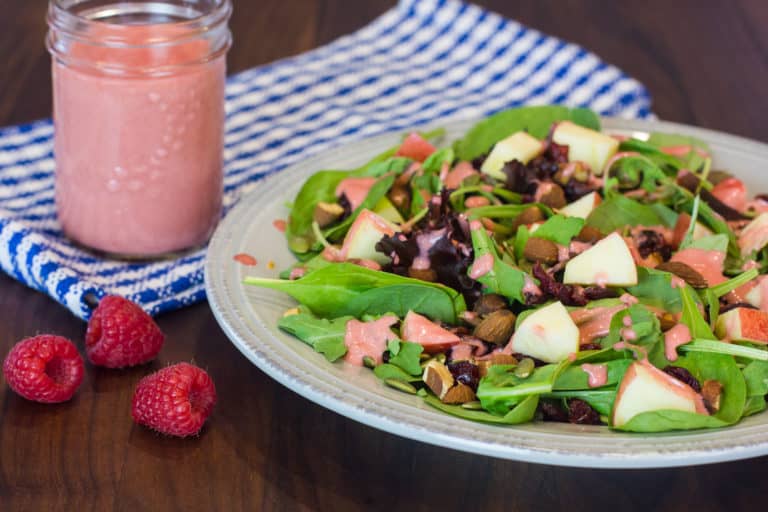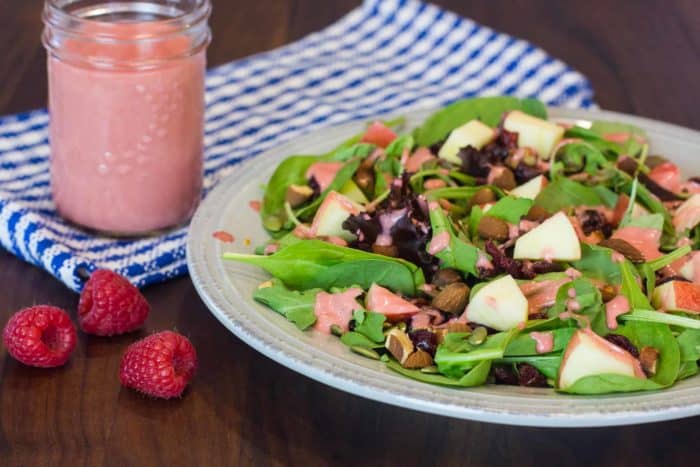 For the longest time, I would buy store-bought raspberry vinaigrette, not even thinking about making my own at home. Then one day I made it myself and could not believe how simple it is. Not only is it easy to make, but it is far fresher and brighter in flavour than what you get from the supermarket.
Raspberry vinaigrette has such an interesting flavour for a salad dressing. Obviously it is somewhat tart, since the berry itself is, but there is also a hint of sweetness from the honey and it is creamy from the emulsified olive oil.
While raspberry vinaigrette is ideal for fresh summer salads, it great any time of year. We have mixed green salads with a light vinaigrette like this multiple times every week. This is easily one of the lightest and healthiest salad dressings you could have.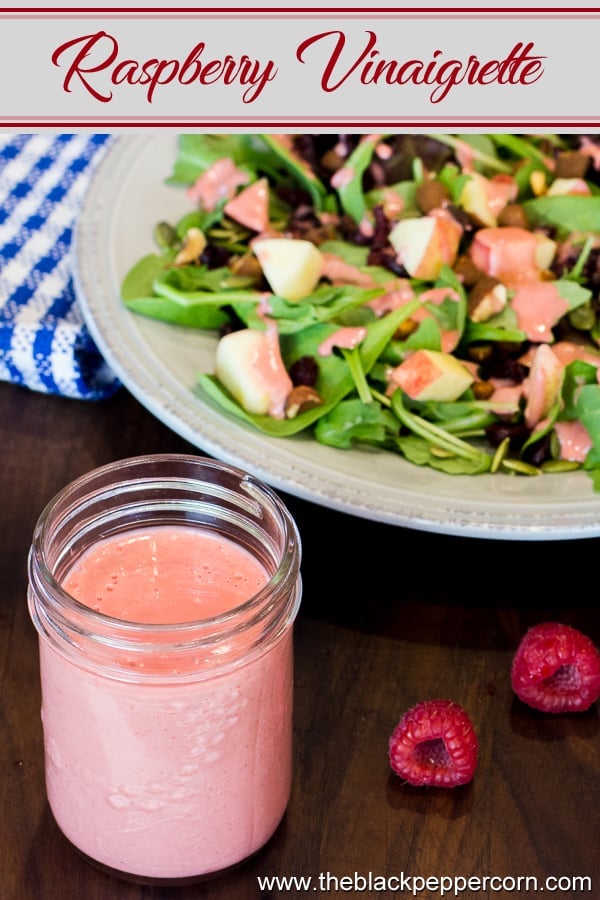 A vinaigrette is a salad dressing that is creamy due to the oil being emulsified into the vinegar. Often, it is emulsified with dijon mustard but I find that, with the raspberries, it emulsifies just fine without needing the mustard.
This vinaigrette could not be simpler to make as it only uses four ingredients. Three of them are regular pantry items, and the fresh raspberries can be picked up any time you are in the mood for this vinaigrette.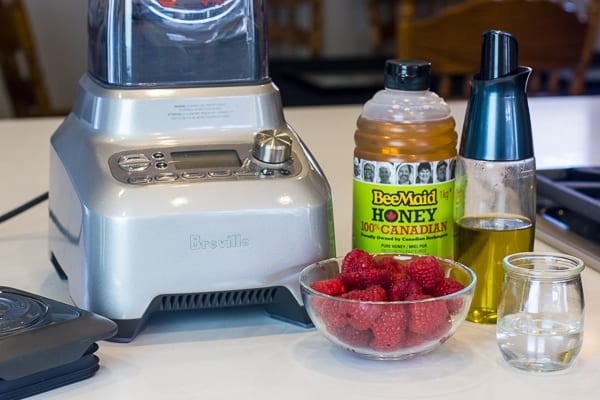 To make, dump the fresh raspberries, honey and vinegar into the blender jar. Seal with the lid and start up the blender. I like to start on low and slowly increase the speed to high. If I put it straight to high, the stuff splatters all over the inside of the blender jar.
After the blender has been running on high for about 30 seconds, turn it down to a medium speed. Lift off the lid (some blenders actually have a lid that has a small removable cap – if yours does, just remove that).
Slowly pour in the oil. This will allow the oil to emulsify with the rest of the ingredients to create a nice consistency for the vinaigrette. If needed, scrape the sides of the blender jar and blend it a little more, until smooth and creamy.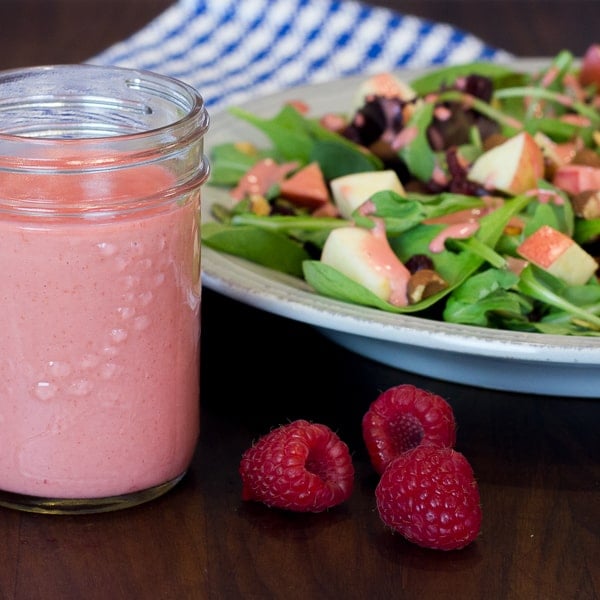 Berry vinaigrettes go especially well with a salad made with mixed greens, dried fruit, nuts and other sliced fresh fruit. In the photos, I used dried cranberries, toasted almonds, pumpkin seeds, royal gala apples and mixed greens. This salad was absolutely incredible!
There are so many variations you can use in putting together a salad. Here are just some possibilities:
Greens – spinach, arugula, kale, boston leaf lettuce and so much more!
Nuts – almonds, pecans, walnuts, pine nuts, peanuts and more.
Seeds – sesame seeds, pumpkin seeds or sunflower seeds.
Fruit – apples, pears or mandarins.
Cheese – feta, pecorino and goat cheese.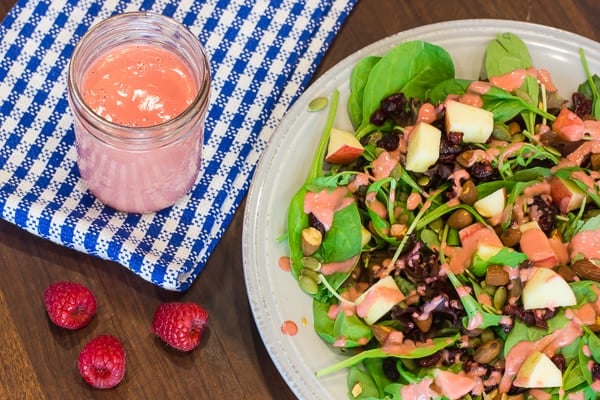 If you are looking for some other salad dressings or vinaigrettes, then check out some of these!
Raspberry Vinaigrette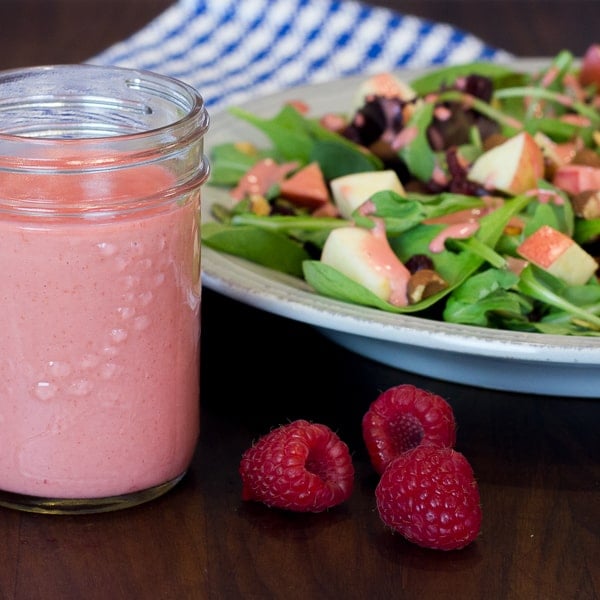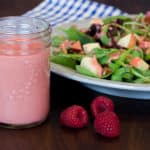 Print
Healthy and delicious vinaigrette with fresh raspberries, honey, olive oil and vinegar. Bright flavour and perfect drizzled on a salad!
Servings: 16 tablespoons
Ingredients
1 cup fresh raspberries
3 tbsp honey
2 tbsp vinegar
1/3 cup olive oil
Instructions
Add fresh raspberries, honey and vinegar to a blender jar. Seal with lid and start blender on low and slowly increase it to high. Let the blender run on high for 30 seconds.

Lower speed to medium. While blender is going, remove lid and slowly drizzle in the oil to allow the vinaigrette to emulsify.

Drizzle the vinaigrette on a salad. Store any extra in a sealed container in the fridge for a few days.
Nutrition
Per serving:
Calories: 55kcalCarbohydrates: 4gFat: 4gSugar: 3g