Naan Pizza with Salami and Buffalo Mozzarella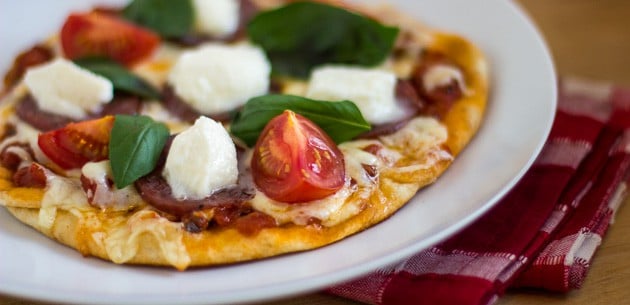 Our family loves pizza and usually we make it at home. Homemade pizza is better than getting it delivered, and is far easier than we often think. I used to buy precooked pizza crusts, but was usually not happy with them. They are dry and come out of the oven hard and crispy. That is not the way that I like my pizza crust. Lately, we have been using naan bread and it makes an amazing pizza crust. Naan bread, which is an Indian form of flat bread has become far more available in local grocery stores. I am surprised that many of the supermarkets around me have 2 or more varieties of naan bread. Traditionally baked in a tandoori oven, naan bread comes out soft with little charred tops. If you have every eaten at an Indian restaurant, you know how amazing naan bread is and it is perfect to sop up some good curry sauce!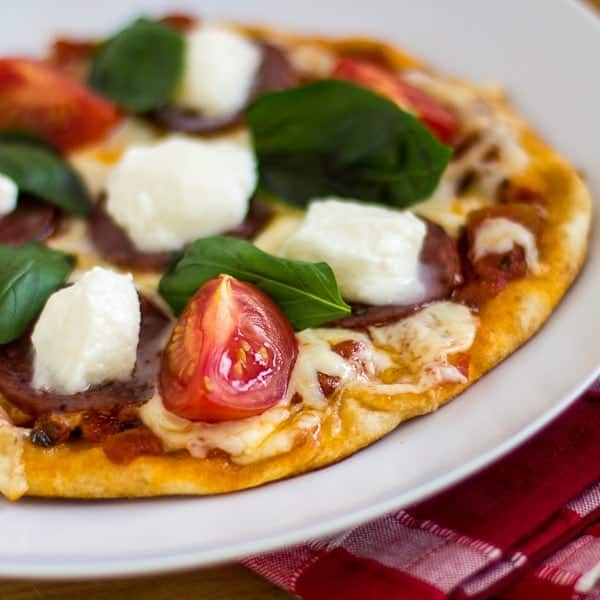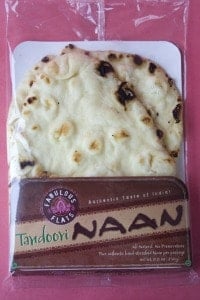 One great thing about using naan bread as pizza crust is that it is the perfect size for an individual pizza. With that in mind, I usually set out many different ingredients and let the kids and adults make their own pizza with the toppings of their choice. The kids love making their own pizza as they are not adventurous with toppings like mom and dad. This recipe is the pizza I made for myself and it was so good I immediately made a second one!!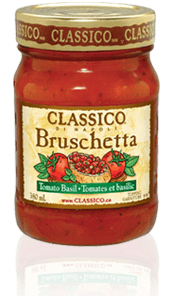 Typically, I use pizza sauce but the other day I saw this bruschetta sauce made by Classico. I am not sure how common Classico sauce is in the United States, but up here in Canada it is in most grocery stores. This bruschetta sauce is far chunkier than a pizza sauce and it had wonderful fresh seasonings. It was amazing as the base sauce for this pizza!
Along with the sauce, I used some hard Italian salami I picked up at my local supermarket and fresh campari tomatoes. Campari tomatoes are like cherry tomatoes, only larger. If you cannot find them, using cherry or grape tomatoes is fine, but only slice them in half, instead of into quarters. Once the pizza came out of the oven, I placed some pieces of buffalo mozzarella and fresh basil leaves. Wow, this pizza was phenomenal and will be made by me many more times in the future!!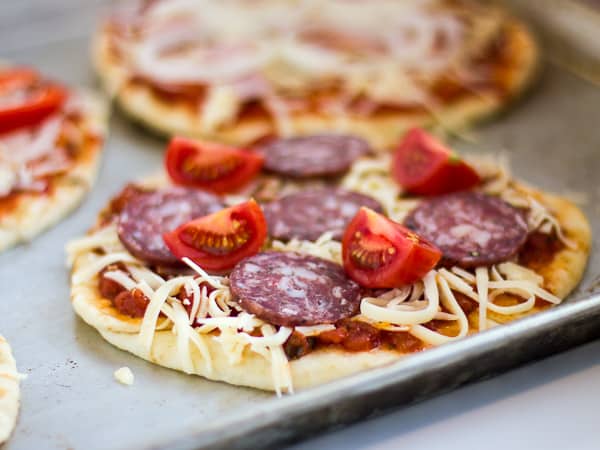 Naan Pizza with Salami and Buffalo Mozzarella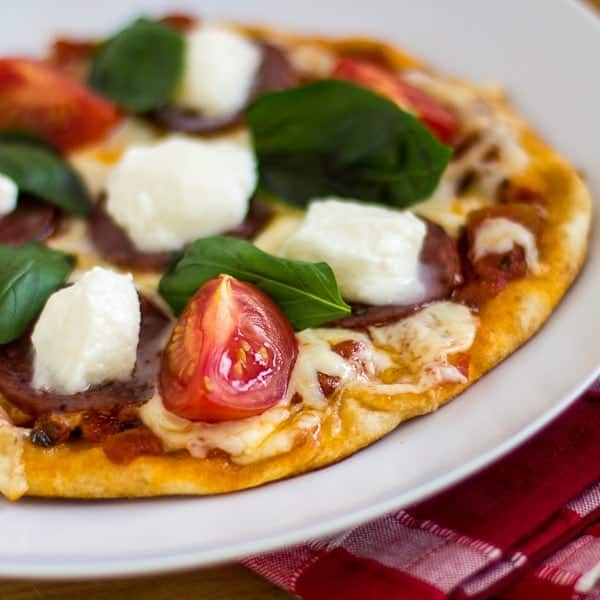 Print
Servings: 2 pizzas
Ingredients
2 naan breads
4 tbsp pizza or jarred bruschetta sauce
2/3 cup grated mozzarella
10 slices Italian salami (ex: soppressata)
2-3 campari tomatoes , quartered
1-2 balls buffalo mozzarella (about 1/2 - 3/4 cup worth)
fresh basil leaves
Instructions
Preheat oven to 425F.

Spread pizza/bruschetta sauce on the naan bread. Sprinkle with grated mozzarella. Top with salami and campari tomatoes.

Bake in the oven for 7-10 minutes or until the cheese in just starting to bubble and the edge of the naan bread is browned.

Remove from the oven. Pinch off some chunks of buffalo mozzarella and place on the pizza. Place some fresh basil leaves on top of the pizza.

Let the pizza rest for a few minutes. This allows the buffalo mozzarella to begin to melt.