Naan Pizza with Salami and Buffalo Mozzarella
Making personal size pizza has never been easier. Using naan bread will result in a pizza with a perfect crust. The Italian salami, buffalo mozzarella and fresh basil are so good!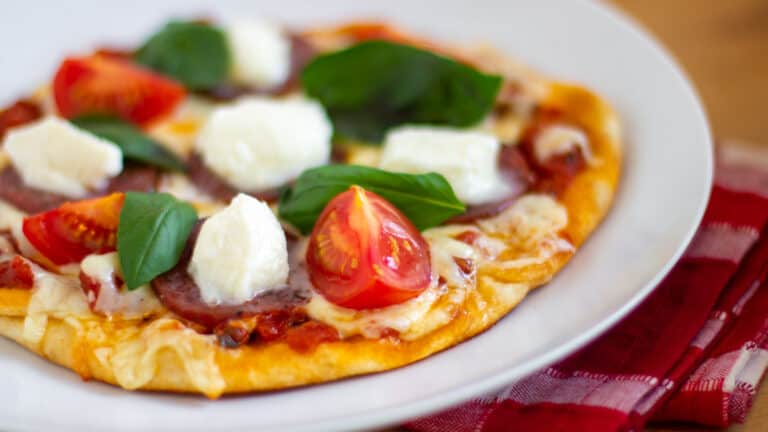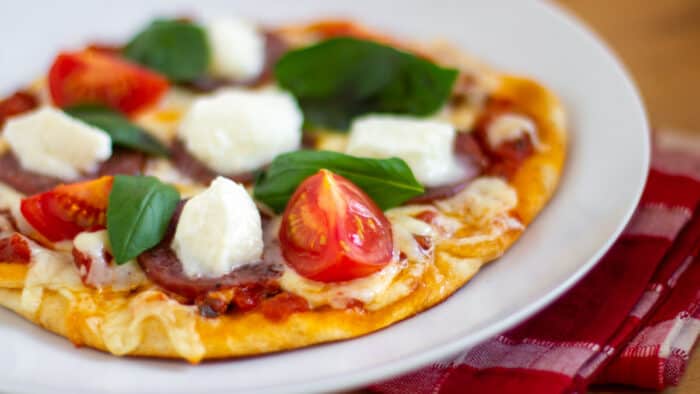 Our family loves pizza and usually we make it at home. Homemade pizza is better than getting it delivered, and is far easier than we often think. I used to buy precooked pizza crusts, but so many times, I was not happy with them. They can be dry and come out of the oven hard and crispy. That is not the way that I like my pizza crust. Lately, we have been using naan bread and it makes an amazing pizza crust. Naan pizza is so good and very easy to make.
What Is Naan?
Naan, which is an Indian form of flat bread has become far more available in local grocery stores. I am surprised that many of the supermarkets around me have 2 or more varieties of naan bread. Traditionally baked in a tandoori oven, naan bread comes out soft with little charred tops. If you have every eaten at an Indian restaurant, you know how amazing naan bread is and it is perfect to sop up some good curry sauce!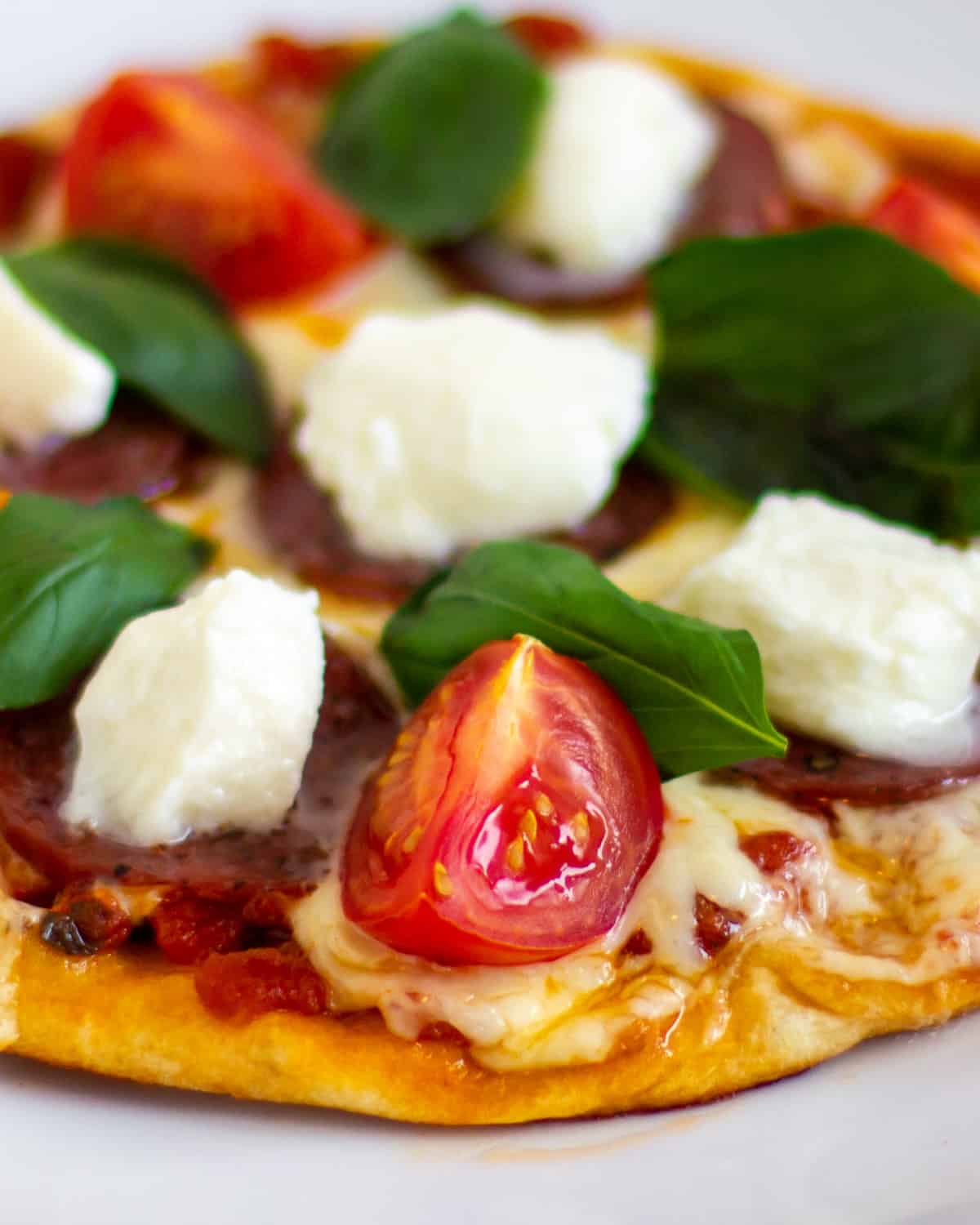 What Makes Naan Great For Pizza?
One great thing about using naan bread as pizza crust is that it is the perfect size for an individual pizza. Also, I find that the texture of the crust on a naan pizza superior than many store-bought pizza crusts. Sure, you could use real dough (either store-bought or homemade) and it will come out great. But, many store bough pre-baked crusts can be hard and dry. Naan pizza crust is light, thin and still soft with a bit of chew in the centre. So good!
Ingredient Notes
Naan Bread – sometimes store brands have different flavours. I prefer to purchase and use just plain original naan for pizza crust.
Pizza Sauce – you can use a store bought sauce from a can or a jar or make it yourself using this recipe – Homemade Pizza Sauce
Italian Salami – There are so many different types of salami, pepperoni and cured meat. I used soppressata and it was so good. This kind of salami works so well as a pizza topping.
Mozzarella Cheese – This is the regular type of mozzarella that you buy at the grocery store. It is grated and so popular on pizza.
Campari Tomatoes – These tomatoes are like a big cherry tomato. They are so good on pizza.
Buffalo Mozzarella – typically made from Italian buffalo, this fresh cheese is soft and creamy and added to the pizza after it comes out of the oven.
Fresh Basil – This fresh herb leaf is placed on the pizza after it comes out of the oven and adds such a bright fresh flavour!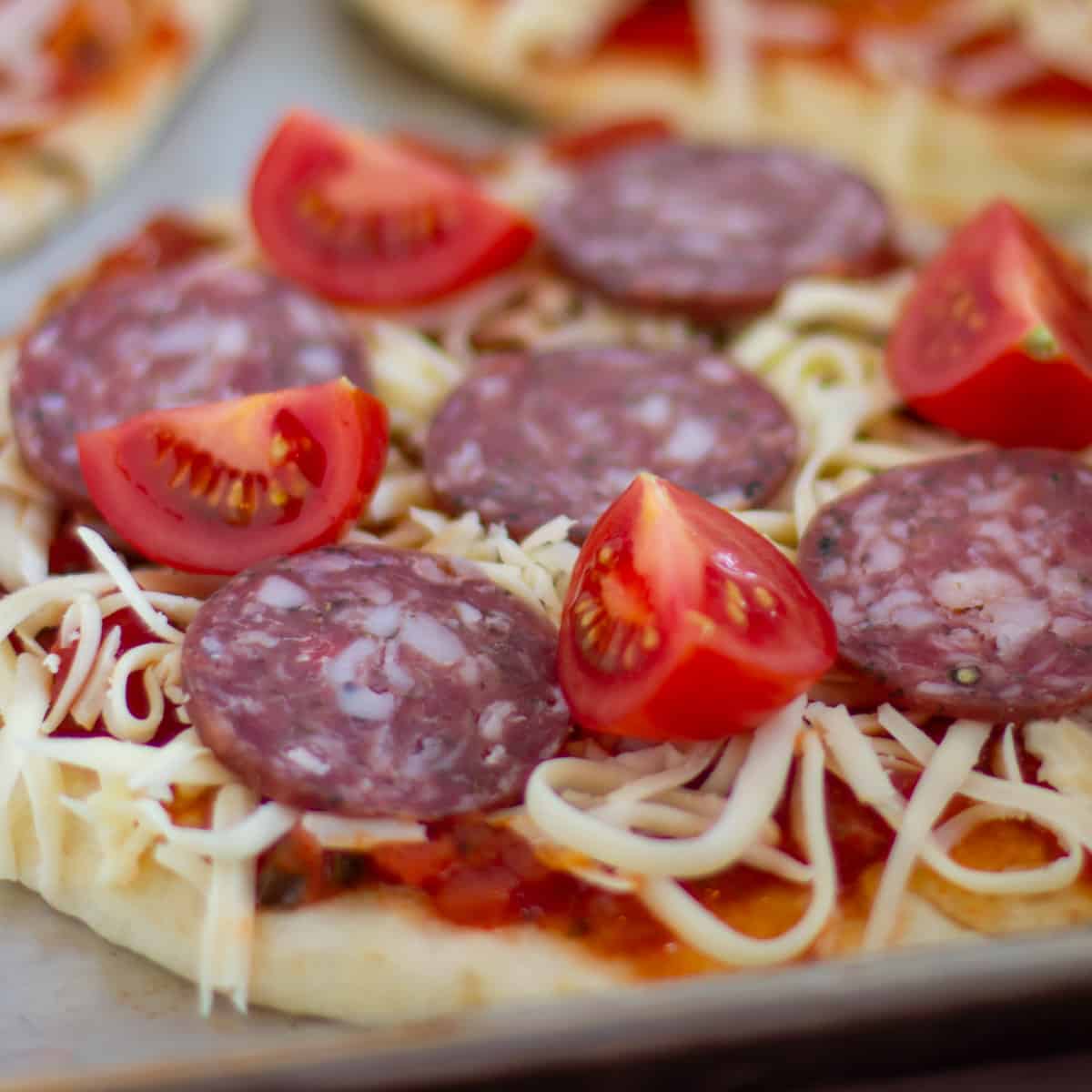 How To Assemble A Naan Pizza
Preparing a pizza with naan bread for the crust is very similar to making any personal size pizza. Place the naan on a baking sheet. Spread some pizza sauce evenly on the naan. Sprinkle the grated mozzarella on top of the sauce and place the sliced salami and quartered Campari tomatoes evenly on the cheese.
How Long To Bake Naan Pizza
Baking a naan pizza is very similar to any pizza. Preheat the oven to 425F and add the baking sheet with the assembled personal sized pizzas to the oven. Bake the pizza until the cheese is melted and bubbly and the sides of the naan are starting to brown. This should take 7-10 minutes.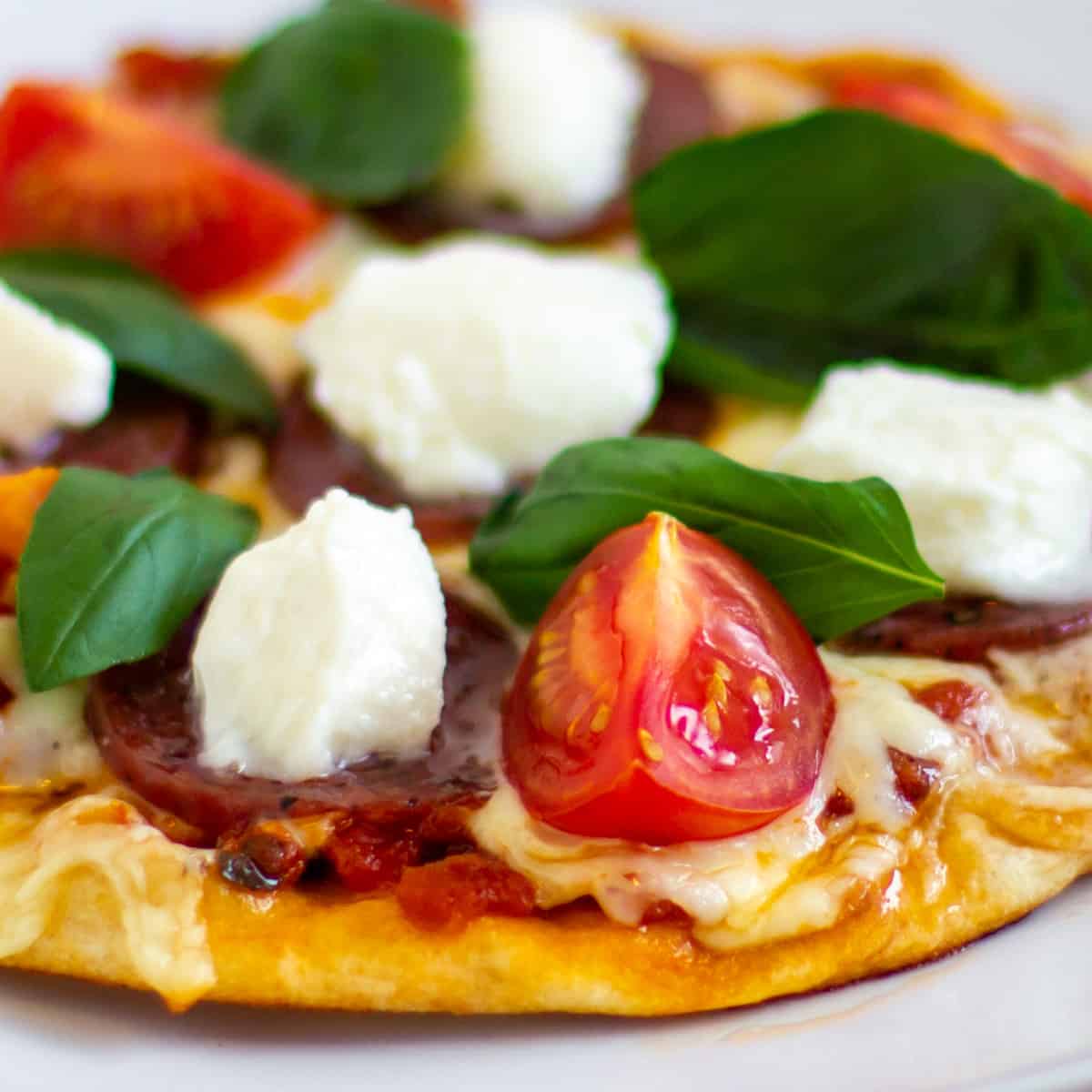 Once the pizza comes out of the oven, place some pieces of buffalo mozzarella and fresh basil leaves. Wow, this pizza was phenomenal and will be made by me many more times in the future!!
More Pizza Recipes!
Naan Pizza with Salami and Buffalo Mozzarella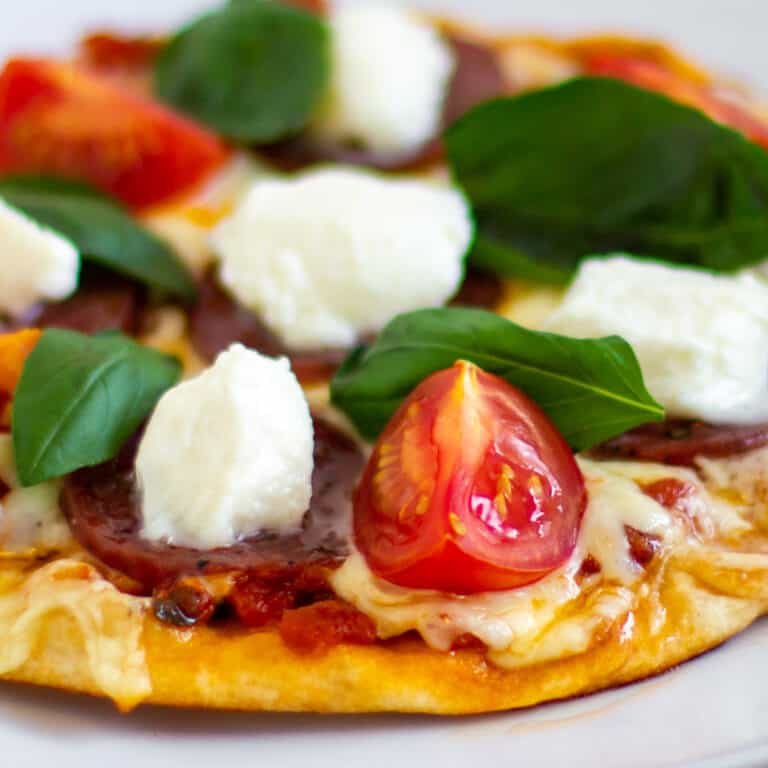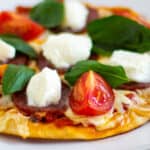 Print
Personal size pizza with bruschetta sauce, hard Italian salami, campari tomatoes, buffalo mozzarella and fresh basil leaves. Easy recipe for gourmet pizza.
Servings: 2 pizzas
Ingredients
2 naan bread
4 tbsp pizza sauce
2/3 cup mozzarella , grated
10 slices Italian salami (soppressata or other kind)
2-3 campari tomatoes , quartered
3/4 cup buffalo mozzarella , about 2-3 small balls
fresh basil leaves
Instructions
Preheat oven to 425F.

Spread pizza/bruschetta sauce on the naan bread. Sprinkle with grated mozzarella. Top with salami and campari tomatoes.

Bake in the oven for 7-10 minutes or until the cheese in just starting to bubble and the edge of the naan bread is browned.

Remove from the oven. Pinch off some chunks of buffalo mozzarella and place on the pizza. Place some fresh basil leaves on top of the pizza.

Let the pizza rest for a few minutes. This allows the buffalo mozzarella to begin to melt.
Nutrition
Per serving:
Calories: 795kcalCarbohydrates: 64gProtein: 37gFat: 42gSaturated Fat: 18gCholesterol: 107mgSodium: 2414mgFiber: 3gSugar: 6g