Southwest Steak Naan Pizza with Spicy Avocado Ranch Dressing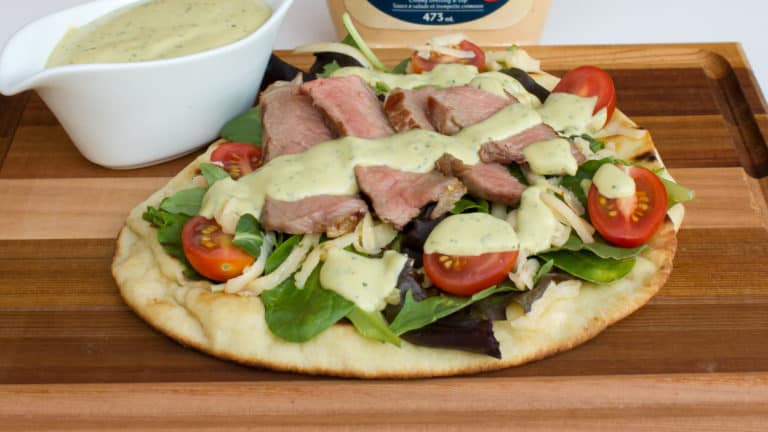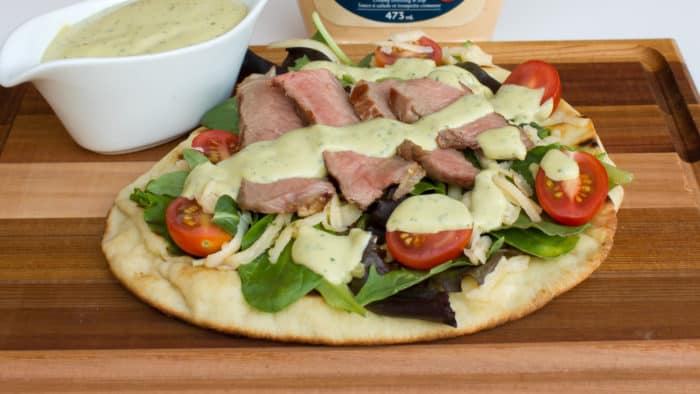 Yesterday, I shared the opportunity given to me by Hidden Valley Ranch. They are releasing two new ranch flavours in Canada, and they have asked 15 Canadian Food bloggers to develop new recipes using these new ranch flavours.
These two new flavours, Spicy and Cheese, both taste amazing and I chose the Spicy ranch to build a recipe. We are allowed to submit two recipes and yesterday I shared my first recipe, Portobello and Indian Eggplant Sliders with Spicy Avocado Ranch Dressing.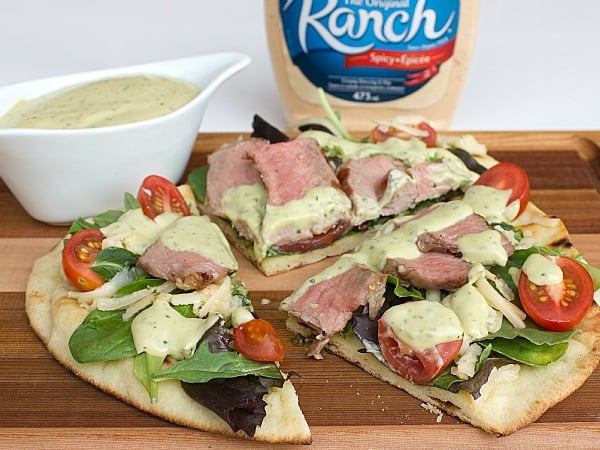 The spicy avocado ranch dressing is so versatile. The Hidden Valley Ranch Spicy is the flavour base for this sauce and it is great on sliders, pizza, salads, club sandwiches and more!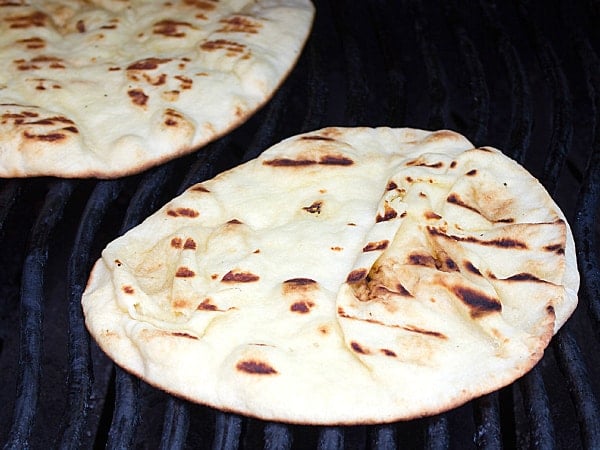 Naan Bread for Pizza Crust?
If you have never used naan bread for a pizza crust, I highly encourage you to try! Naan bread is part ofIndian cuisine and has become very accessible lately and you can find it at most grocery stores.
Put it in the oven, or on the grill, for a couple minutes to toast it up and make it light and crispy. Naan bread can be used just as you would use pizza crust.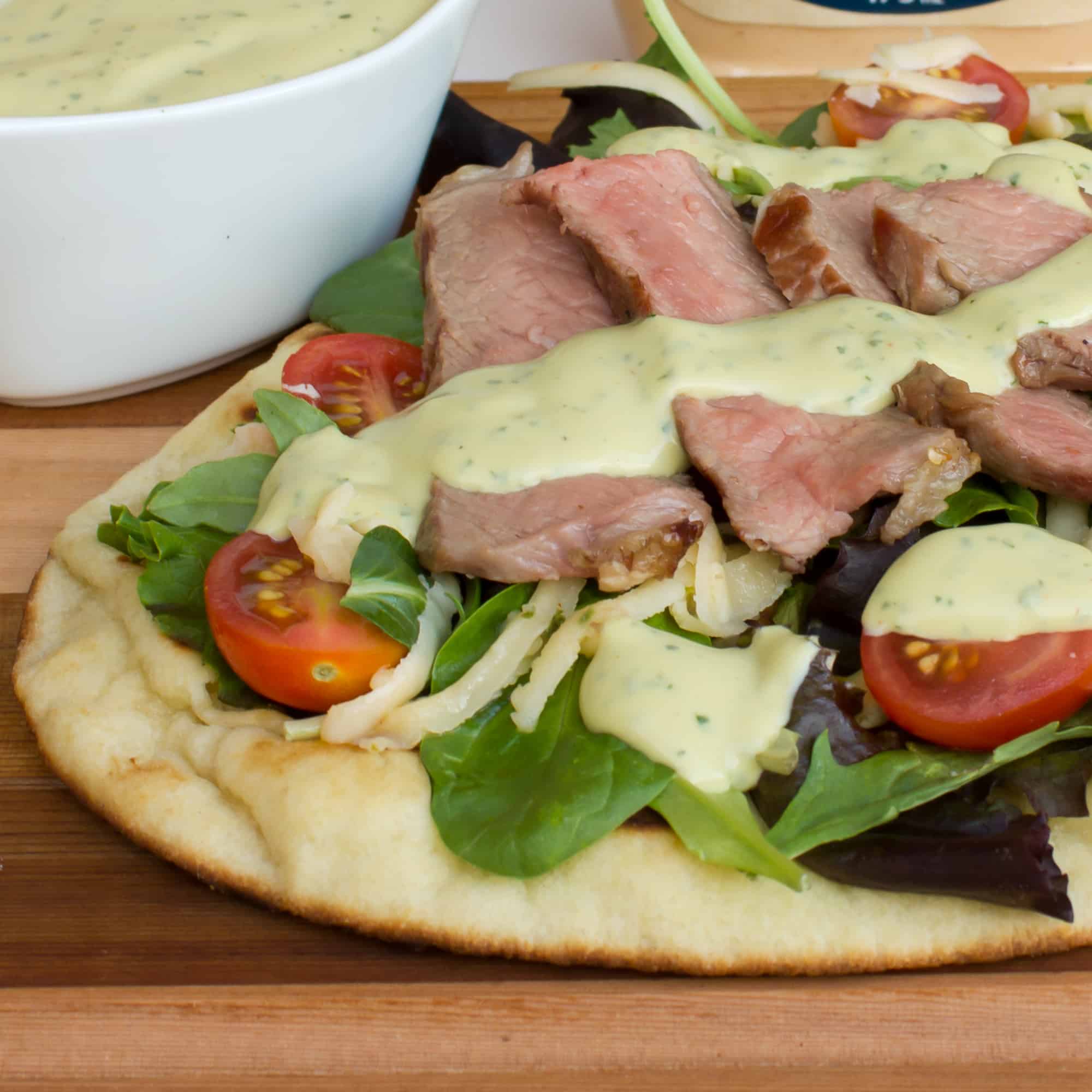 Southwest Steak Pizza with Avocado Ranch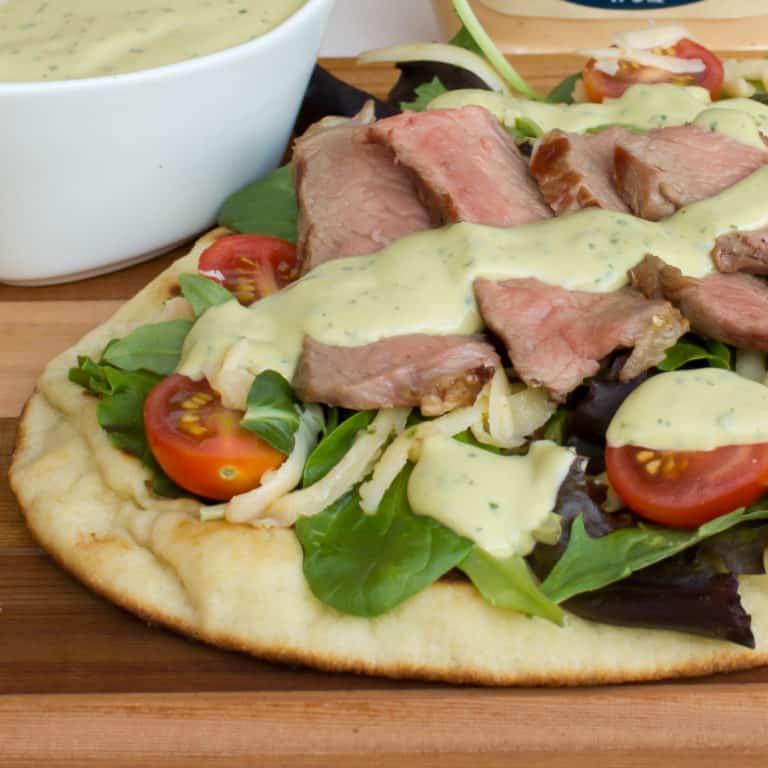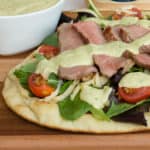 Print
A grilled naan pizza with steak, grape tomatoes, mixed greens, pepper jack cheese and an avocado ranch dressing with cilantro, lime and hidden valley ranch spicy.
Servings: 2 pizzas
Ingredients
1 avocado
1/2 cup Hidden Valley Ranch Spicy
1 lime juiced
1/3 cup cilantro thoroughly washed
1/3 cup milk
2 naan bread
1/4 cup olive oil
12 oz steak (strip loin, rib eye, etc.)
12 grape tomatoes , halved
2 cups mixed greens
1 cup pepper jack cheese , grated
spicy avocado ranch dressing
Salt and pepper
Instructions
Avocado Ranch Dressing
To make the spicy avocado ranch dressing, cut the avocado in half, remove the pit and scoop out the pulp.

Add avocado pulp, Hidden Valley Ranch Spicy, lime juice and cilantro into a food processor and pulse until smooth and creamy.

While the processor is going, slowly pour in the milk. This will thin out the dressing. Stop adding the milk once it reaches a drizzling consistency. It may not be necessary to add all the milk.
How to Make the Pizza
Set grill to high. Sprinkle salt and pepper on the steak. Grill steak to medium rare or medium. Remove from the grill and let the steak rest for 5 minutes before slicing. After the steak has rested 5 minutes, cut them crosswise into thin slices.

Brush the top of the naan bread with olive oil. Place on the grill and cook for 1-2 minutes per side. The bread should just start getting crispy.

Remove the naan bread from the grill and assemble the pizza by topping with mixed greens, grape tomatoes and pepper jack cheese. Arrange steak slices on top of the pizza and drizzle the spicy avocado ranch on top.