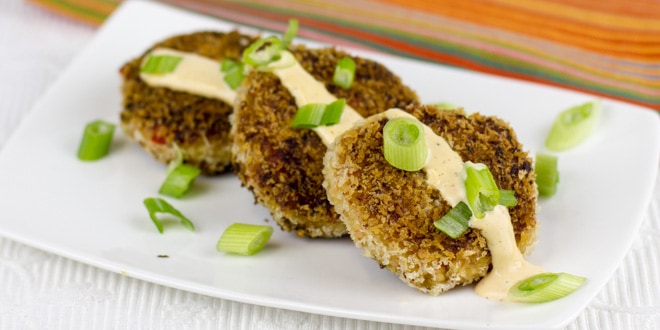 I am participating in this years Hidden Valley Ranch recipe competition and I am able to submit two recipes in the competition. My first entry are these Spicy Ranch Crab Cakes. These crab cakes are so crispy and the ranch dressing adds a wonderful flavor to go along with the crab meat. Typically crab cakes use mayonnaise, but using ranch provides so much more depth of flavor. I used Hidden Valley Spicy Ranch in this recipe and it was the perfect choice. Not only is the spicy ranch mixed in with the crab meat, but is also used as a dip or drizzle for them after they are fried.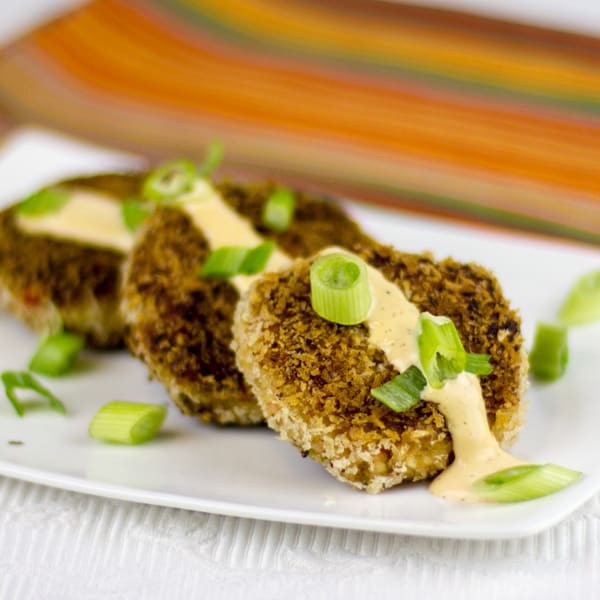 Spicy Ranch Crab Cakes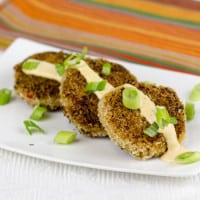 Print
Servings: 4 -6
Ingredients
1 tbsp oil
1/3 cup onion , diced
1/3 cup red pepper , diced
1/3 cup celery , diced
1 garlic clove , minced
1 1/2 cups cooked crab meat
1 cup bread crumbs
1 egg
1/2 cup Hidden Valley Spicy Ranch
1 tbsp lime juice
2 cups panko bread crumbs
oil for frying
1/3 cup Hidden Valley Spicy Ranch (for drizzling/dipping)
5 green onions , sliced (for garnish)
Instructions
Heat oil in a frypan on medium heat. Add diced onion, pepper, celery and garlic. Cook, stirring often, until soft and transparent, about 7 minutes. Remove from heat.

In a large bowl, use a wooden spoon to mix together the crab meat, cooked vegetables, bread crumbs, egg, 1/2 cup Hidden Valley Spicy Ranch and lime juice until combined. Cover with plastic wrap and set in the fridge for an hour.

Pour enough oil in a frypan to coat the bottom of the pan, about 3 tablespoons. Heat the frypan on medium/high heat.

Dump the panko in a shallow bowl for dredging.

Take about 2-3 tablespoons of the crab mixture and form a ball in your hand. The ball should be the size of a golf ball or a bit bigger. Flatten it to form a thick pancake. Dredge the crab cake in the panko to coat it on all sides. Gently lay the crab cake in the oil. Cook only 3 or 4 crab cakes at a time. After cooking for about 3-4 minutes, flip the crab cakes and cook for another 3-4 minutes. The crab cakes should be crispy and golden brown. Remove from the frypan and let them rest on a plate lined with a paper towel for 1 or 2 minutes.

Continue cooking the crab cakes in batches of 3 or 4. Add oil if needed.

For plating, drizzle with Hidden Valley Spicy Ranch and sprinkle with sliced green onion.