Tandoori Ranch Chicken Wraps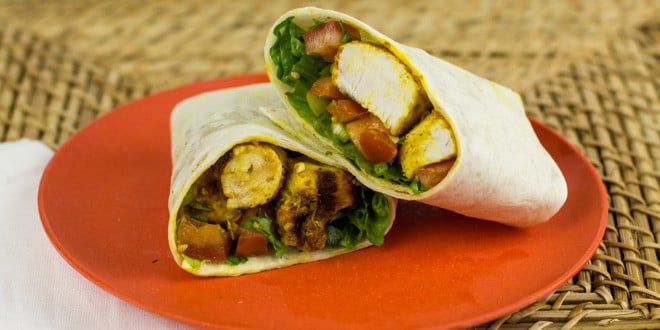 Here is my second recipe for the Hidden Valley Ranch recipe competition. This time I used Hidden Valley Ranch as part of the marinade for the tandoori chicken. Typically, when making tandoori chicken, the meat is marinated in a mixture of tandoori spices and yogurt. I substituted the yogurt for Hidden Valley Original Ranch and it worked out great. The chicken has a great flavor and is balanced with the fresh tomatoes and lettuce in the wrap.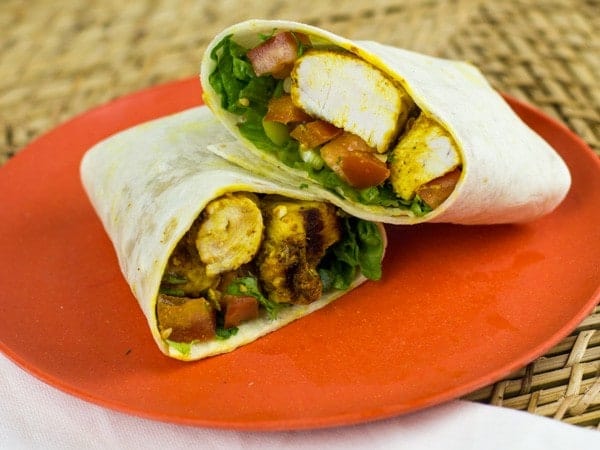 Tandoori Ranch Chicken Wraps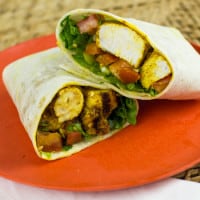 Print
Servings: 4
Ingredients
2 boneless skinless chicken breasts , cubed
1 cup Hidden Valley Ranch Dressing , divided
3 tbsp lemon juice , divided
2 tbsp garam masala
1/2 tbsp turmeric
1/2 tbsp paprika
1/2 tsp cayenne pepper
2 inch piece ginger , peeled
2 tomatoes , diced
4 green onions , thinly sliced
3 tbsp fresh cilantro , minced
4-8 Romaine or other lettuce leaves
4 large wraps
skewers
Instructions
Using a food processor, pulse the 3/4 cup Hidden Valley Ranch, 2 tbsp lemon juice, garam masala, turmeric, paprika, cayenne pepper, and ginger. Pulse it until it is a smooth paste, about 1 or 2 minutes.

Place the cubed chicken in a large bowl. Pour in the paste mixture. Toss so that the chicken is evenly coated. Cover with plastic wrap and place in the fridge for 1-2 hours.

Soak skewers in water for 15 minutes.

Remove chicken from the fridge and thread the chicken onto the skewers.

Heat grill to high heat. Place chicken skewers on grill and cook for about 8 minutes. Flip and cook another 8 minutes or until the chicken is no longer pink. Remove from the grill.

In a bowl, toss the diced tomato, green onion, cilantro and remaining 1 tbsp lemon juice.

Remove chicken from the skewers.

Assemble the wraps by placing 1 or 2 lettuce leaves, meat from one skewer, 2 to 3 tablespoons of the tomato mixture and some of the remaining Hidden Valley Ranch in each wrap.

Serve immediately.