Tropical Pineapple and Avocado Salsa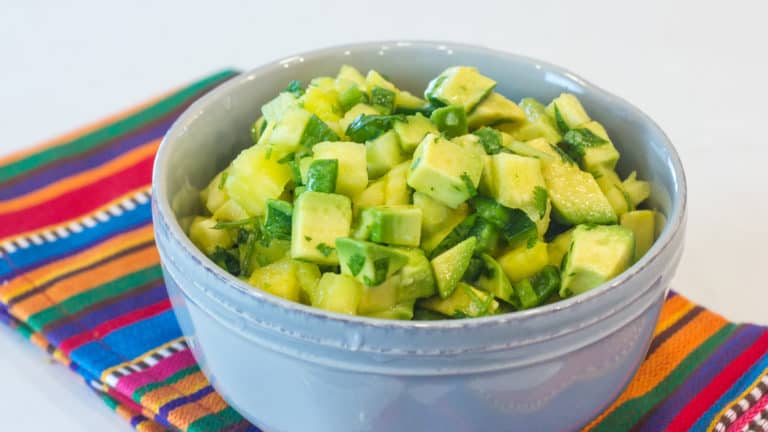 I can never get enough avocado! It seems that every time I go to the supermarket, there are always some avocados in the shopping cart. Everyone in the family loves them as well, especially the kids.
Since avocados are so healthy, I love having them in the house. They are quite versatile and there are so many ways you can incorporate them into different dishes. Whether it is Southwest Steak Naan Pizza with Spicy Avocado Ranch Dressing, Chipotle Rubbed Smoked Pork Tenderloin and Guacamole Canapés, or something else, there are many ways that avocados can be used to make something even more delicious.
Combining diced avocado with some pineapple makes a tropical salsa that just works! The tart fruitiness of the pineapple is contrasted with the smooth creaminess of the avocado.
Every bite is an adventure!
I also added some minced jalapeño peppers to give the salsa a little bit of heat. Fresh cilantro and lime juice are mixed in to create a salsa that is quite unforgettable.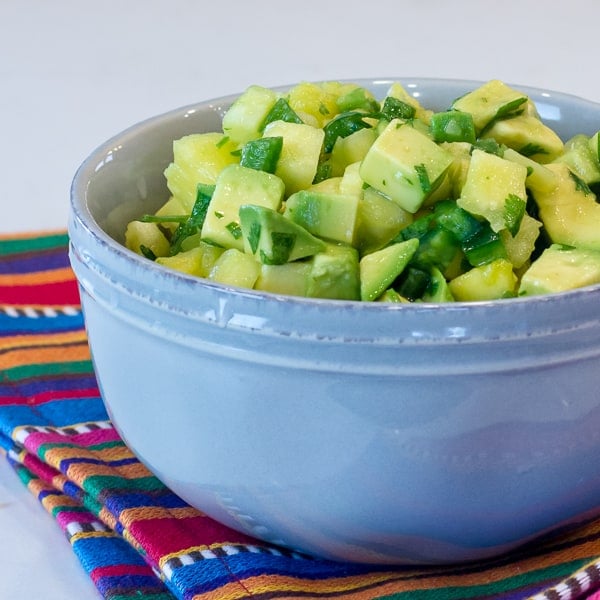 I just love how there are so many different types of salsa out there. It does not need to be just tomato based and there are lots of fruity salsa recipes that have a wonderful flavour.
Over the years I have made a number of different types of salsas. Here are some recipes: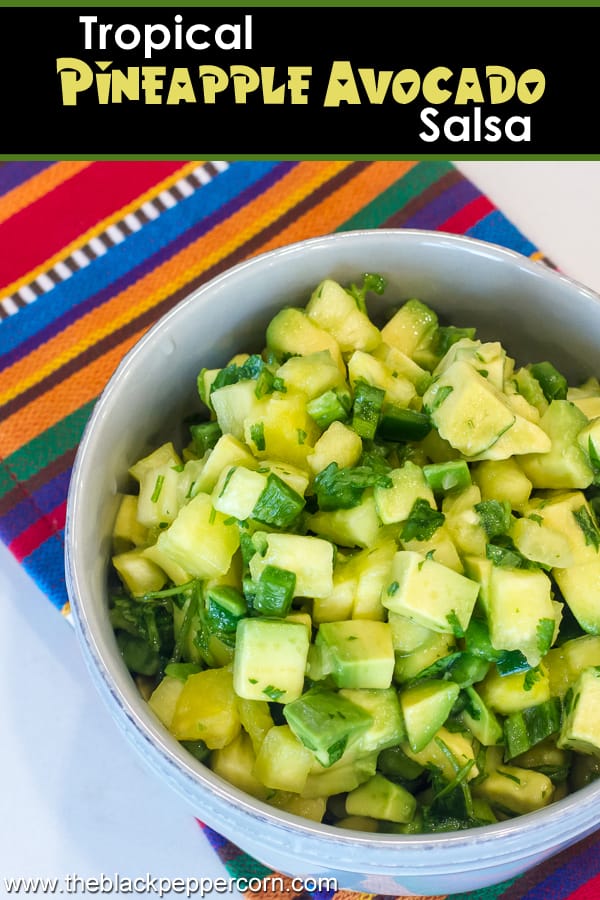 Making this salsa could not be any simpler. Peel, core and dice both the pineapple and avocados. Try to have uniform chunks and make sure they are not too large, especially if you are going to be scooping this salsa with tortilla chips. Mince the cored jalapeño peppers and fresh cilantro. Dump them in a medium sized bowl with the diced pineapple and avocado. Add the lime juice, salt and stir until well combined.
While you can definitely serve this right away, I like to let in marinate in the fridge for an hour. I find that this allows the lime juice to penetrate into the rest of the ingredients and gives a fuller flavour.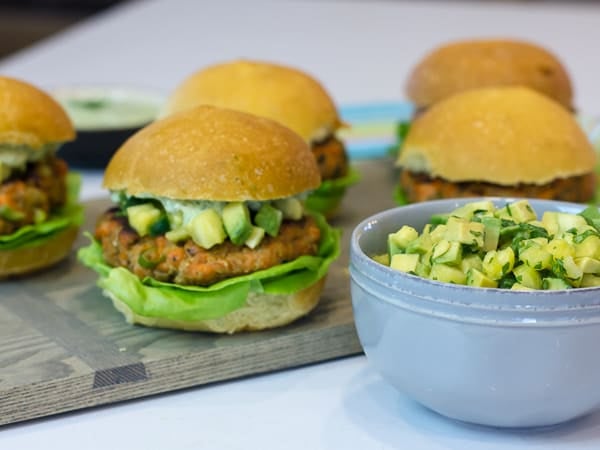 While this tropical salsa is amazing scooped up with tortilla chips, that was not the main reason why I prepared this recipe. I made some fresh salmon burgers (recipe coming soon) and decided that a fresh fruity salsa would be the perfect condiment to put on top of the burger.
The combination of pineapple and avocado in this salsa was the perfect compliment to the salmon burgers. I also spread this Cilantro Lime Mayo on the buns. These burgers were dynamite!
Tropical Pineapple Avocado Salsa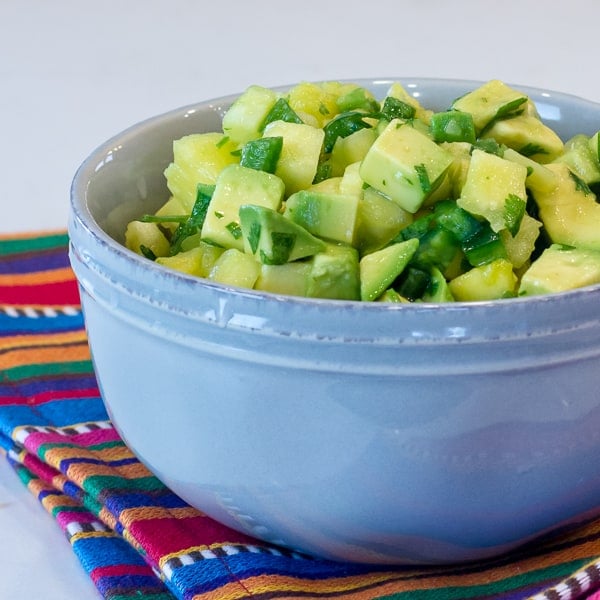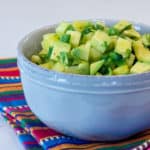 Print
A salsa with fruity and tropical flavours. Along with the diced pineapple and avocado, there is a hint of heat from the minced jalapeno. Serve with tortilla chips or put on a burger or tacos.
Servings: 4
Ingredients
2 cups pineapple , diced finely
2 avocado , cored, peeled and diced finely
2 jalapeno peppers , cored and minced finely
3 tbsp cilantro , minced finely
2 tbsp lime juice
1/2 tsp salt
Instructions
Mix all ingredients in a bowl.

Cover with plastic wrap and place in the fridge for 1 hour to marinate.

Serve with tortilla chips or scoop some on a burger, tacos, fajitas and so much more!
Nutrition
Per serving:
Calories: 206kcalCarbohydrates: 20gProtein: 3gFat: 15gSaturated Fat: 2gSodium: 299mgFiber: 8gSugar: 9g