Chipotle Rubbed Smoked Pork Tenderloin and Guacamole Canapés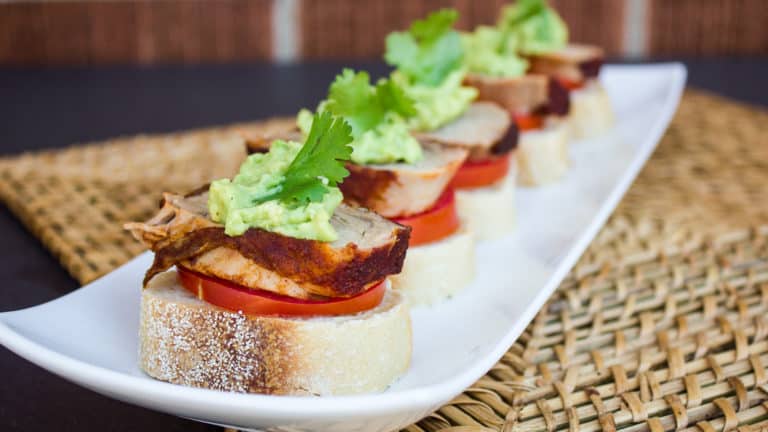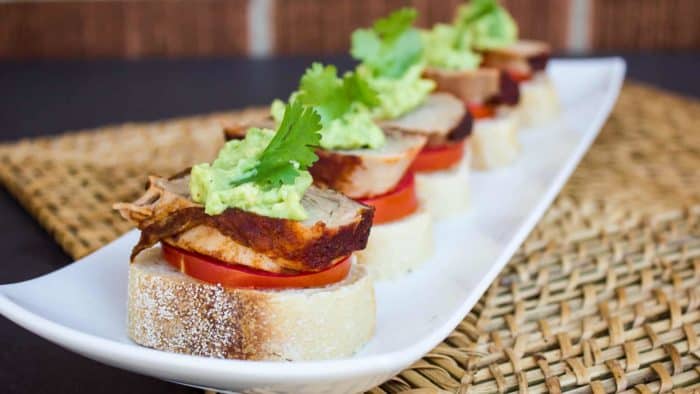 Usually when smoking, I tend to go big and meaty with lots of ribs, pulled pork, whole chickens and more. Appetizers, like canapés, are not a type of food that I generally relate to smoked BBQ. But these Chipotle Rubbed Smoked Pork Tenderloin Canapés totally prove that smoked meat can totally work with a more fancy style appetizer!
These bite sized snacks are made with a slice of a French baguette that is topped with a slice of tomato, slice of deliciously smoked pork tenderloin and then a dollop of guacamole. The combination of flavours works so well and this is an ideal appetizer for your next BBQ party!
To get things going, the pork tenderloin is first rubbed down with a sweet and spicy seasoning mixture. Chipotle powder, brown sugar, paprika and more make up this very simple to prepare seasoning. Generously rub it all over the pork tenderloin just before it goes in the smoker.
I set the smoker to 250F using hickory wood chips. Some other types of wood I like for smoking pork are apple and cherry (fruit woods are amazing for smoking pork). Smoke the pork tenderloin until it reaches an internal temperature of 155F.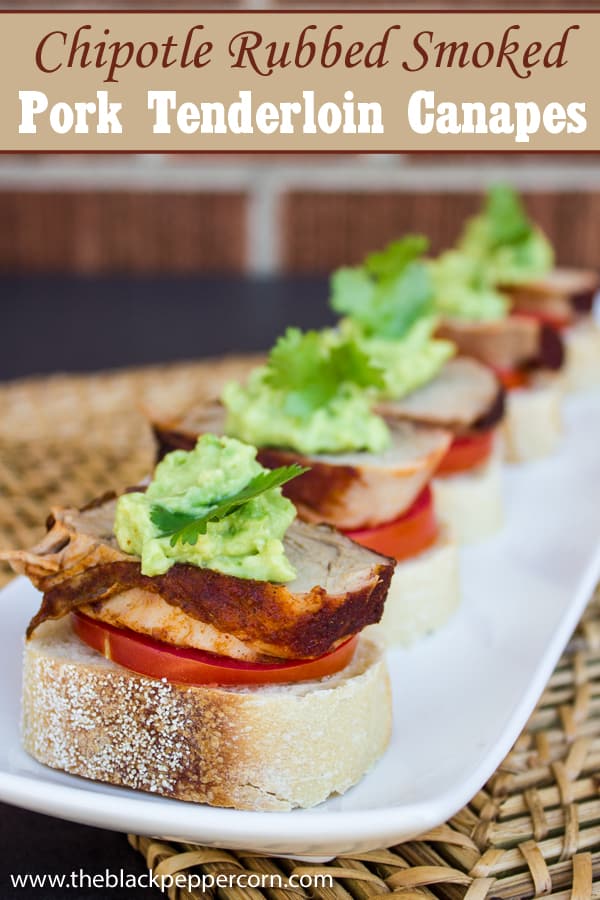 While the pork tenderloin is in the smoker, you can prepare the guacamole. A container of store-bought guacamole will work just fine, but I prefer to make my own. This guacamole is super simple to prepare and only two ingredients. Scoop out the flesh of 3 avocados and mash them with a fork in a bowl. Stir in the juice of one lime and the guacamole is ready. It is that easy!
Once the pork tenderloin has finished smoking, let it rest for 10 minutes before slicing. Once sliced, assemble the canapés and serve immediately. The meat is warm while the guacamole is cold and every bite is incredible.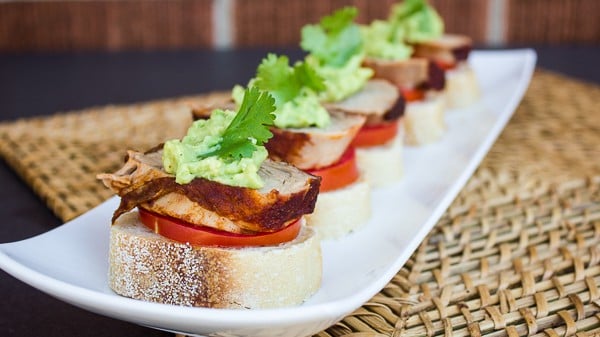 Pork tenderloin is one of my favourite cuts of meat I smoke. A quick look through my website will show many recipes for smoking pork tenderloin. I love butterflying them and stuffing them with cream cheese and so many other things. I also tend to regularly wrap them in bacon. It keeps the tenderloin moist and enhances the flavour of the meat.
If you are looking for detailed instructions for how to smoke a pork tenderloin, check out this link: How to Smoke Pork Tenderloin in a Smoker – This recipe is a great 'how-to' for smoking pork tenderloin. It uses a simple rub for the tenderloin.
Here are a number of different recipes for smoking pork tenderloins.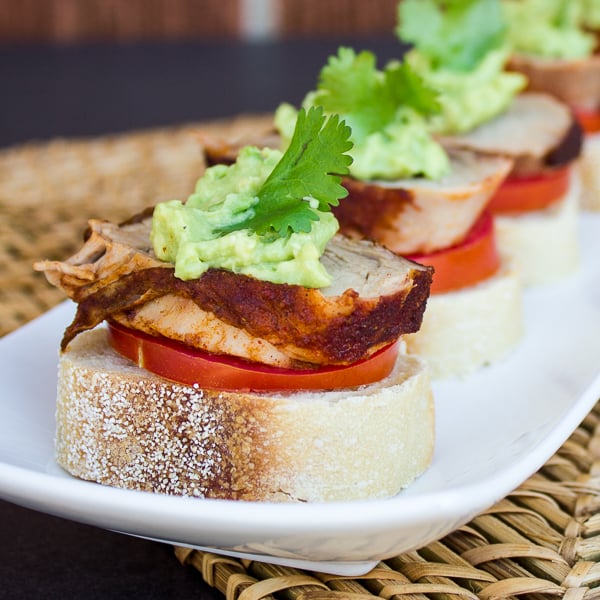 Chipotle Rubbed Smoked Pork Tenderloin and Guacamole Canapés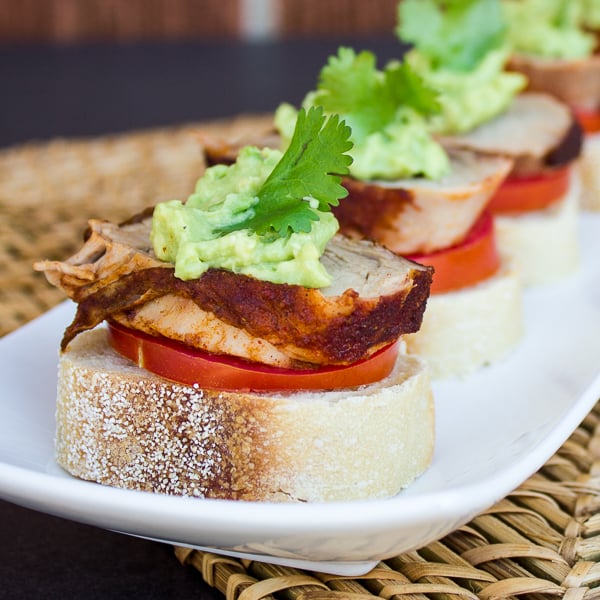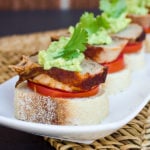 Print
Delicious appetizer with smoky spicy pork tenderloin and fresh guacamole. Served on sliced French baguette with a slice of tomato.
Servings: 6
Ingredients
1 pork tenderloin
1 tbsp chipotle powder
2 tbsp brown sugar
1 tsp salt
1 tsp garlic powder
1 tsp paprika
1/2 tsp cumin
1/4 tsp cinnamon
3 plum/roma tomatoes , sliced
3 avocados
1 lime
1 french baguette , cut into 1 inch slices
fresh cilantro , garnish
Instructions
In a bowl mix together the chipotle powder, brown sugar, salt, garlic, paprika, cumin and cinnamon. Rub all over the pork tenderloin so that it is evenly coated.

Set the smoker to 250F using wood chips of choice (hickory, apple or cherry work great).

Smoke the pork until they reach an internal temperature of 155F, approximately 2 - 2 1/2 hours. Let rest for 10 minutes.

Slice the tenderloin into medallions.

Make guacamole by scooping the flesh from the avocados into a medium size bowl. Squeeze in the lime juice. Mash with a fork or potato masher until smooth and creamy.

Assemble the canapes by placing a slice of tomato and tenderloin on a baguette slice. Top with some guacamole and garnish with a cilantro leaf.
Nutrition
Per serving:
Calories: 396.59kcalCarbohydrates: 37.06gProtein: 23.98gFat: 18.37gSaturated Fat: 3.14gCholesterol: 54.6mgSodium: 720.13mgFiber: 9.21gSugar: 6.04g