This recipe for making pizza dough from scratch is perfect for homemade pizza, calzones, panzerottis and more.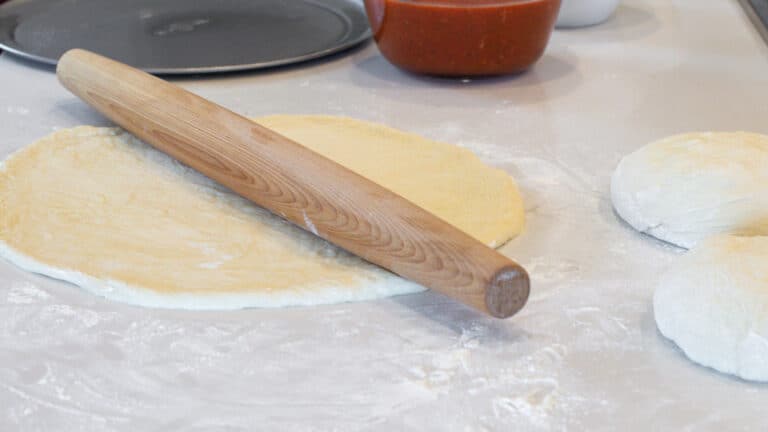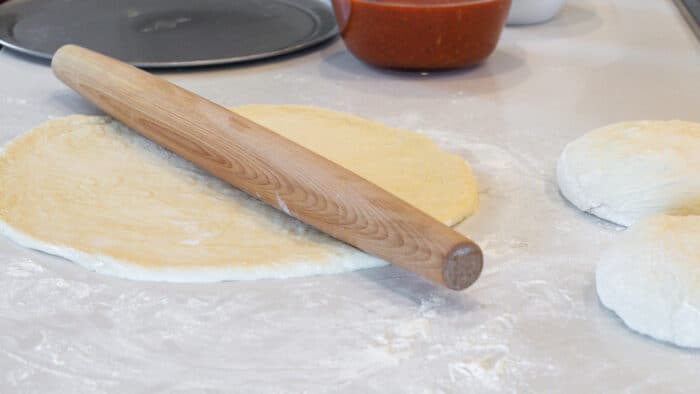 The type of pizza crust used to make a homemade pizza can greatly impact the finished taste. Sure you can purchase a pre-baked crust, a bag of fresh pizza dough or even a box mix for pizza crust. While they are all serviceable to make a decent pizza, there is nothing like making fresh homemade pizza dough.
This recipe is one I have made for many years and have continued to tweak it to the point where it is perfect for us. It is a simple dough to make and very easy to work with.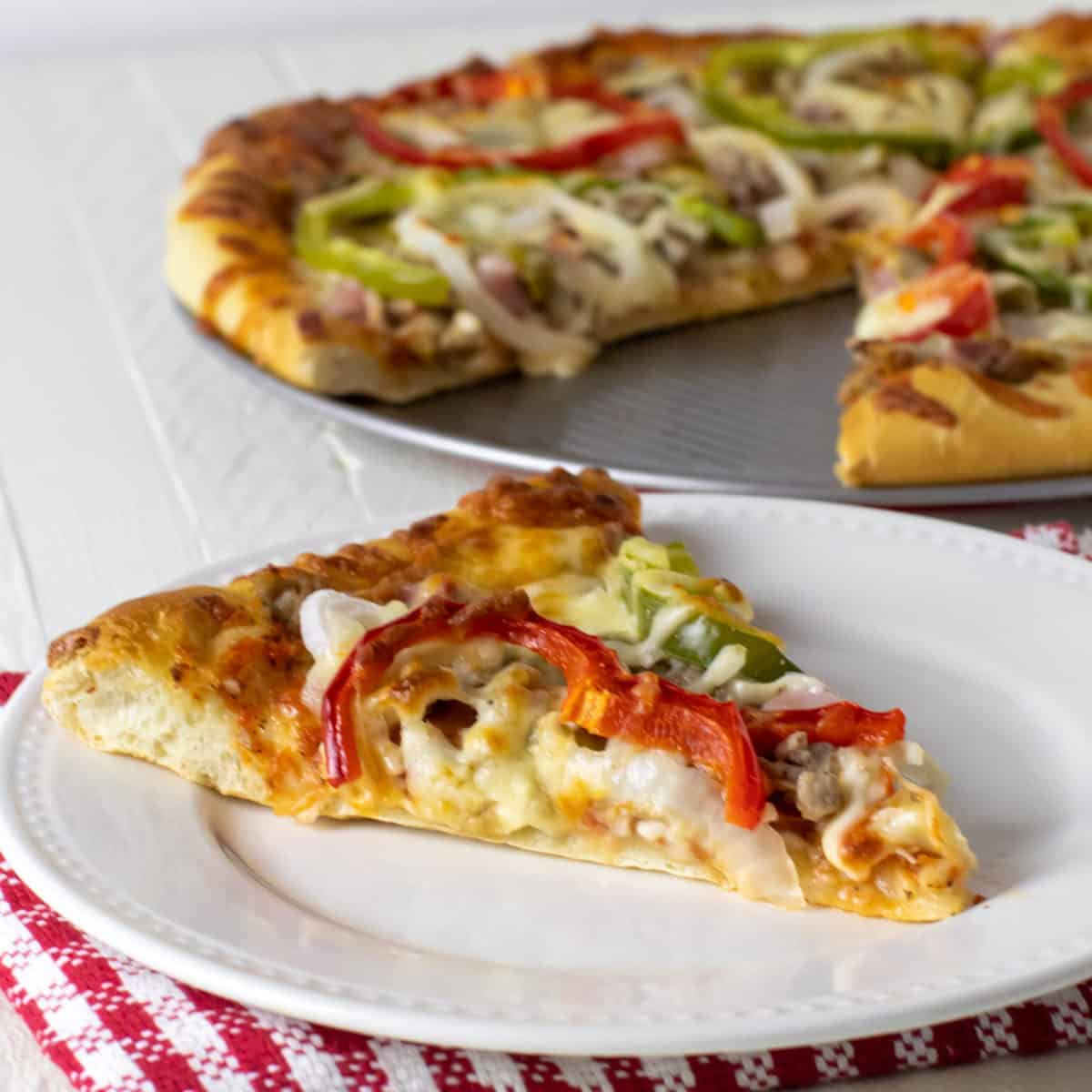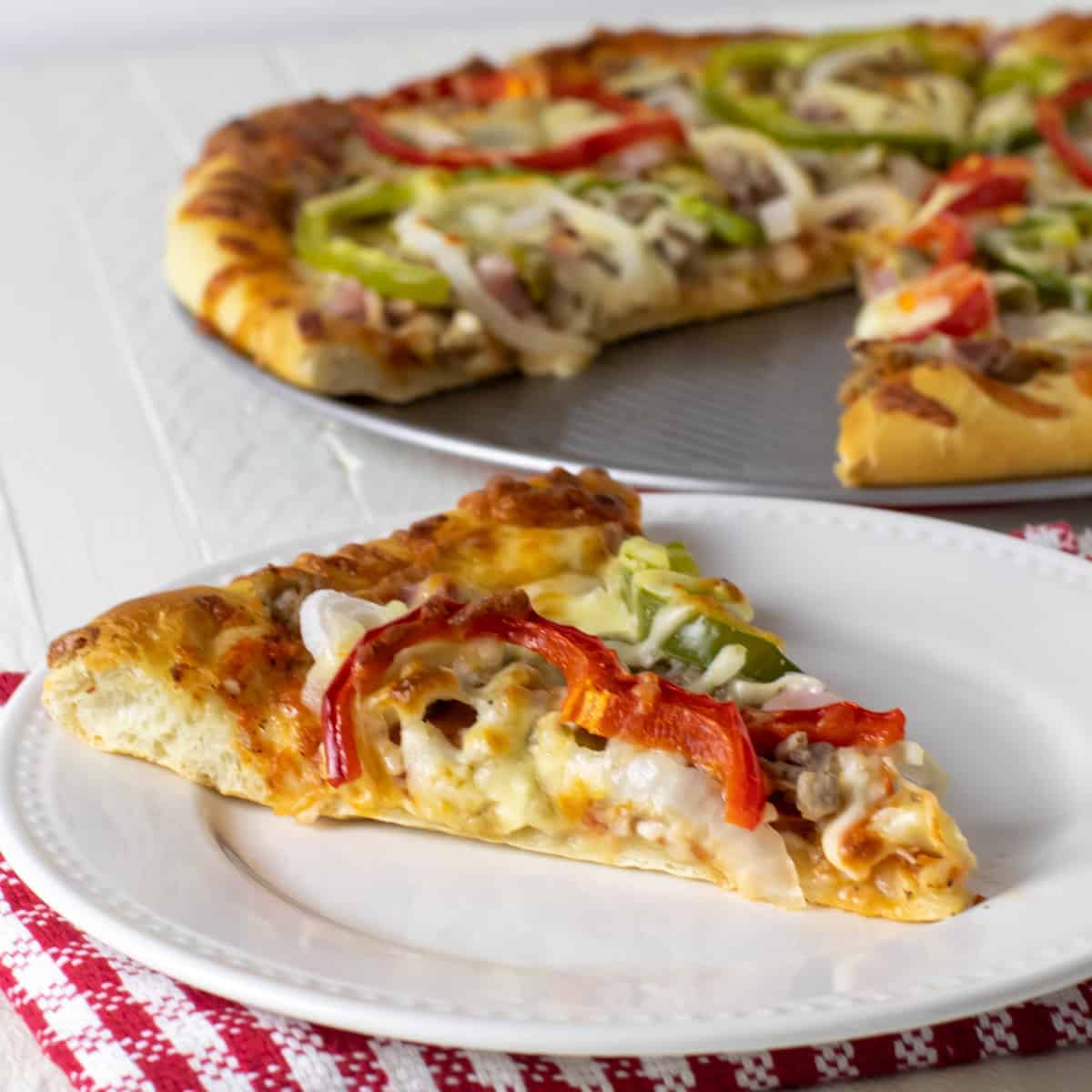 This pizza dough is light and fluffy with a hint of sweetness. It is so tasty that many people have told me they enjoy eating the crust ends as much as the rest of the pizza. No more leaving the crusts on the plate!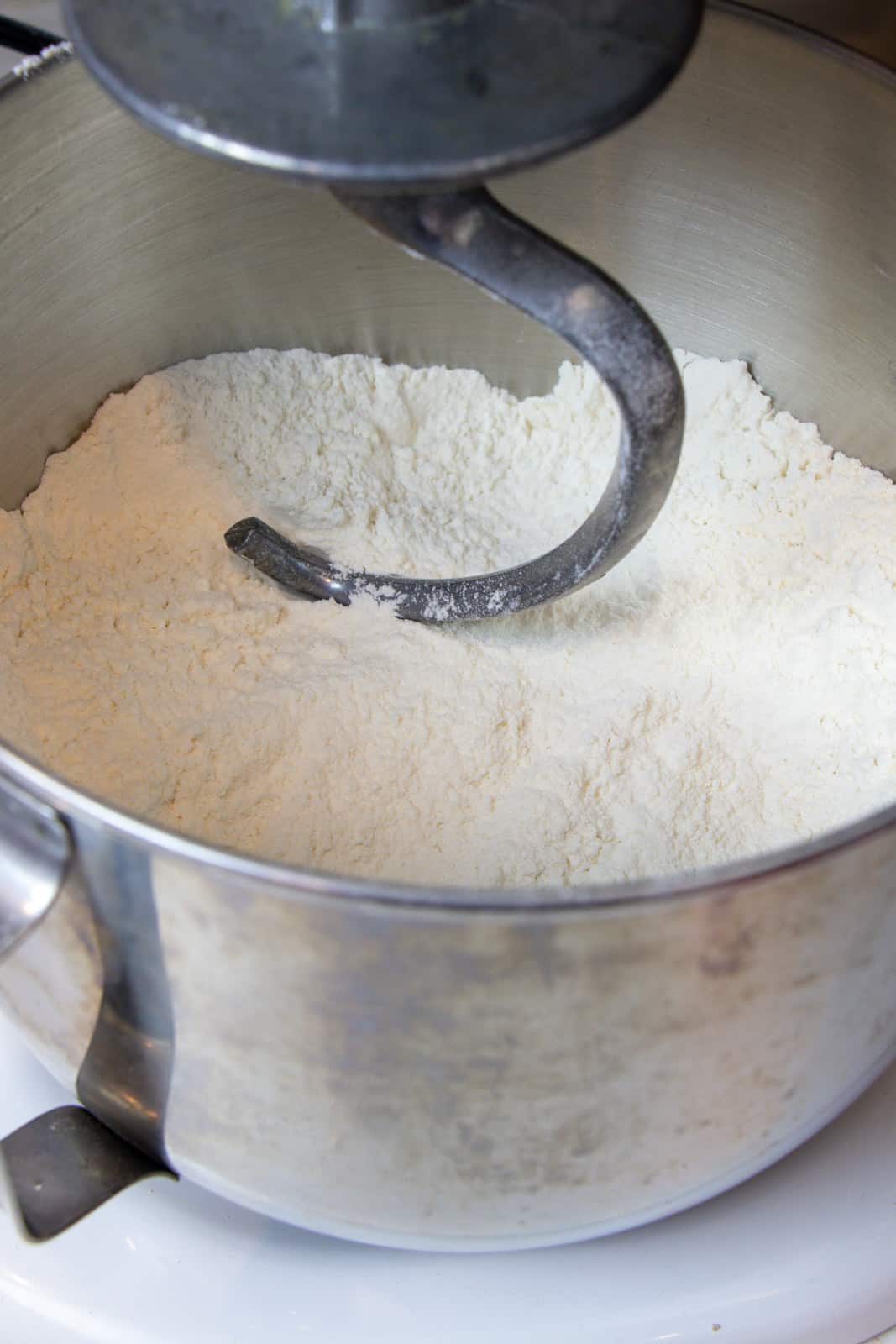 An Electric Mixer Makes Kneading Easy!
Add the flour, white sugar and salt to the mixing bowl and give it a quick mix with a whisk. I like to use bread flour for pizza dough as I find that the higher amount of gluten helps the dough stretch and roll more easily. If you do not have bread flour, then all purpose flour will also work great.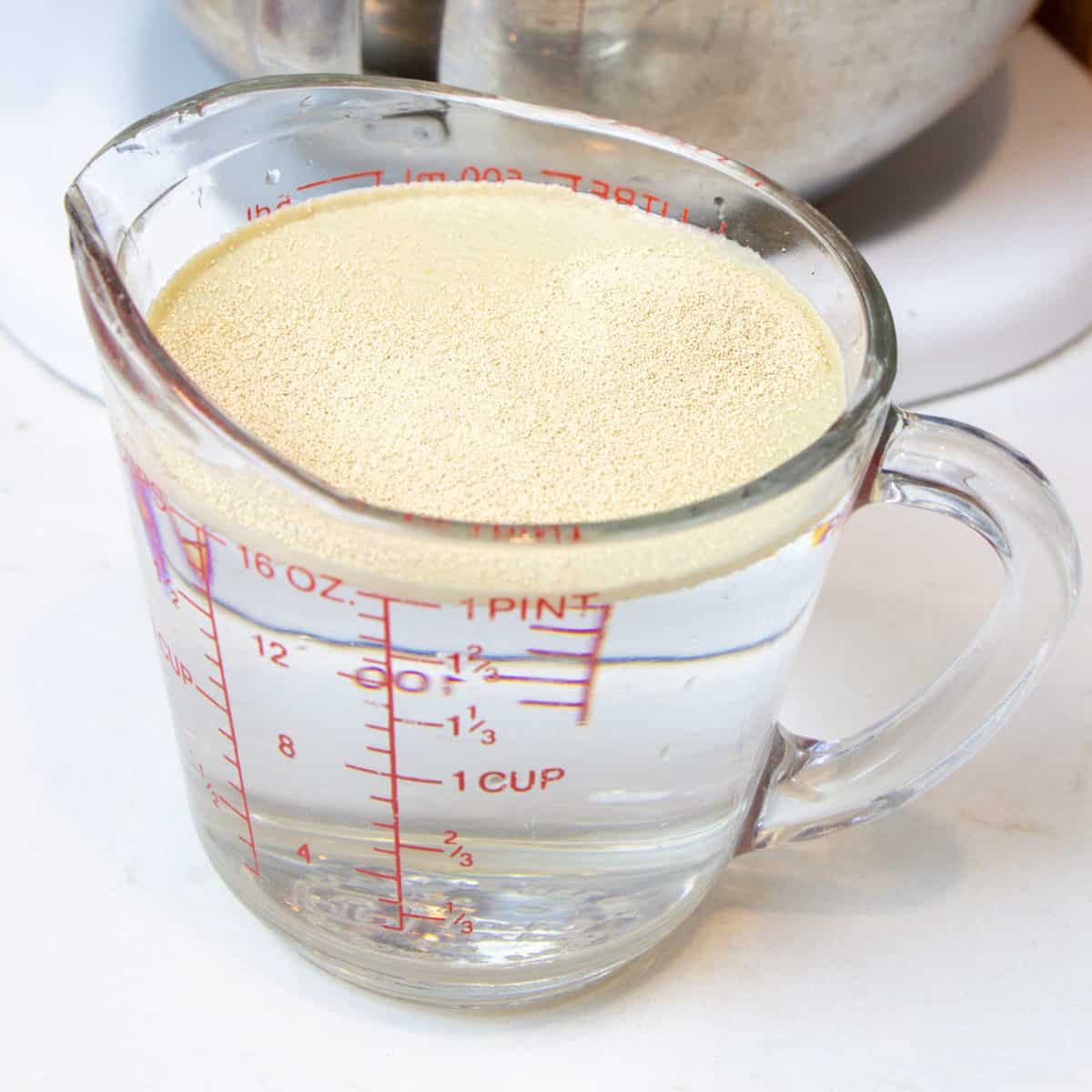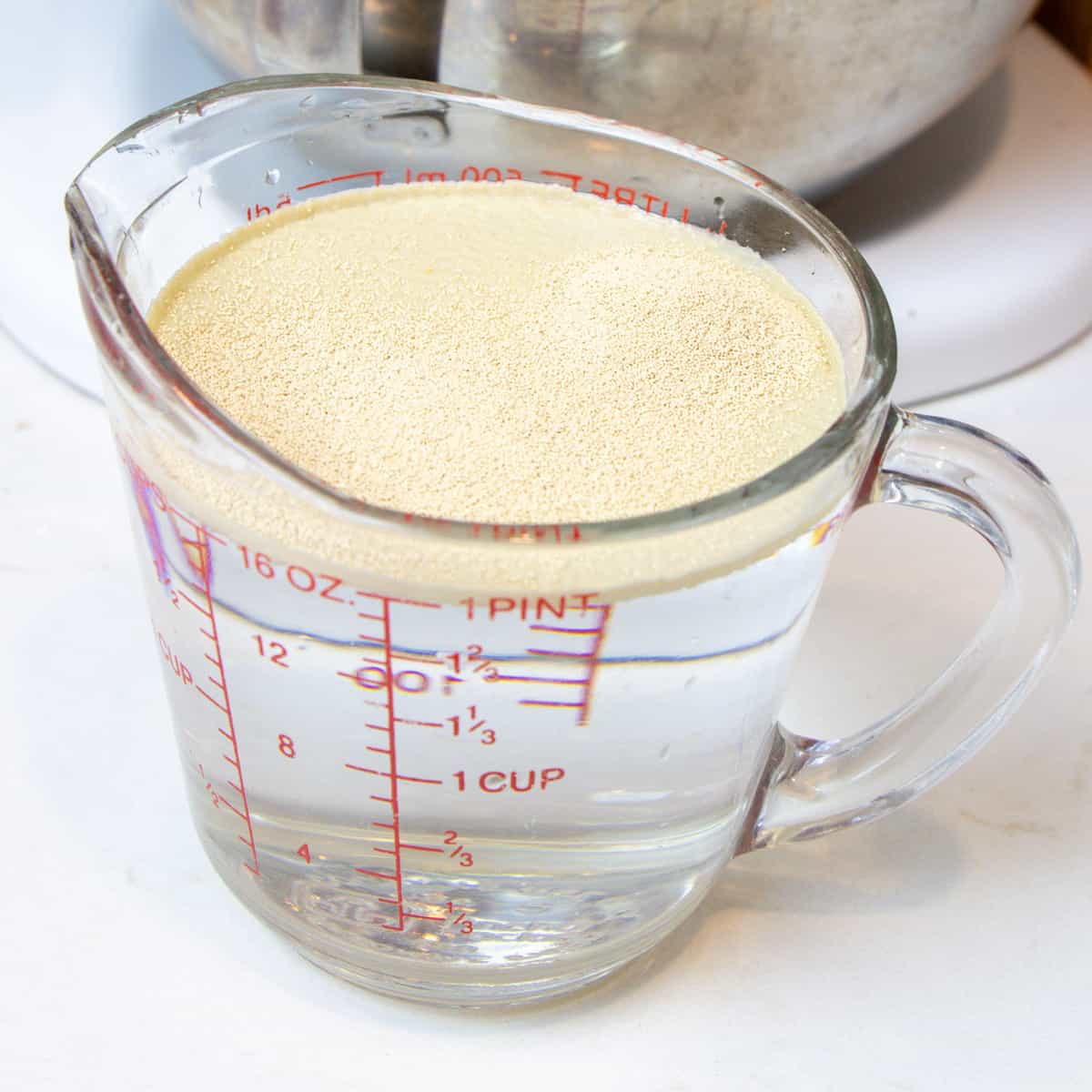 Dissolve the Yeast
If you go to your local supermarket, you will likely find there are a few different types of yeast. I use active dry yeast. This yeast needs to be dissolved in warm water first, before being mixed in with the flour and kneaded. Make sure that the water is warm, but not too hot. I aim for a temperature of 95-105F.
If you prefer to use instant or quick yeast, then it does not need to be dissolved first. Instead, mix it in with the flour, sugar and salt. Then knead in the water and oil.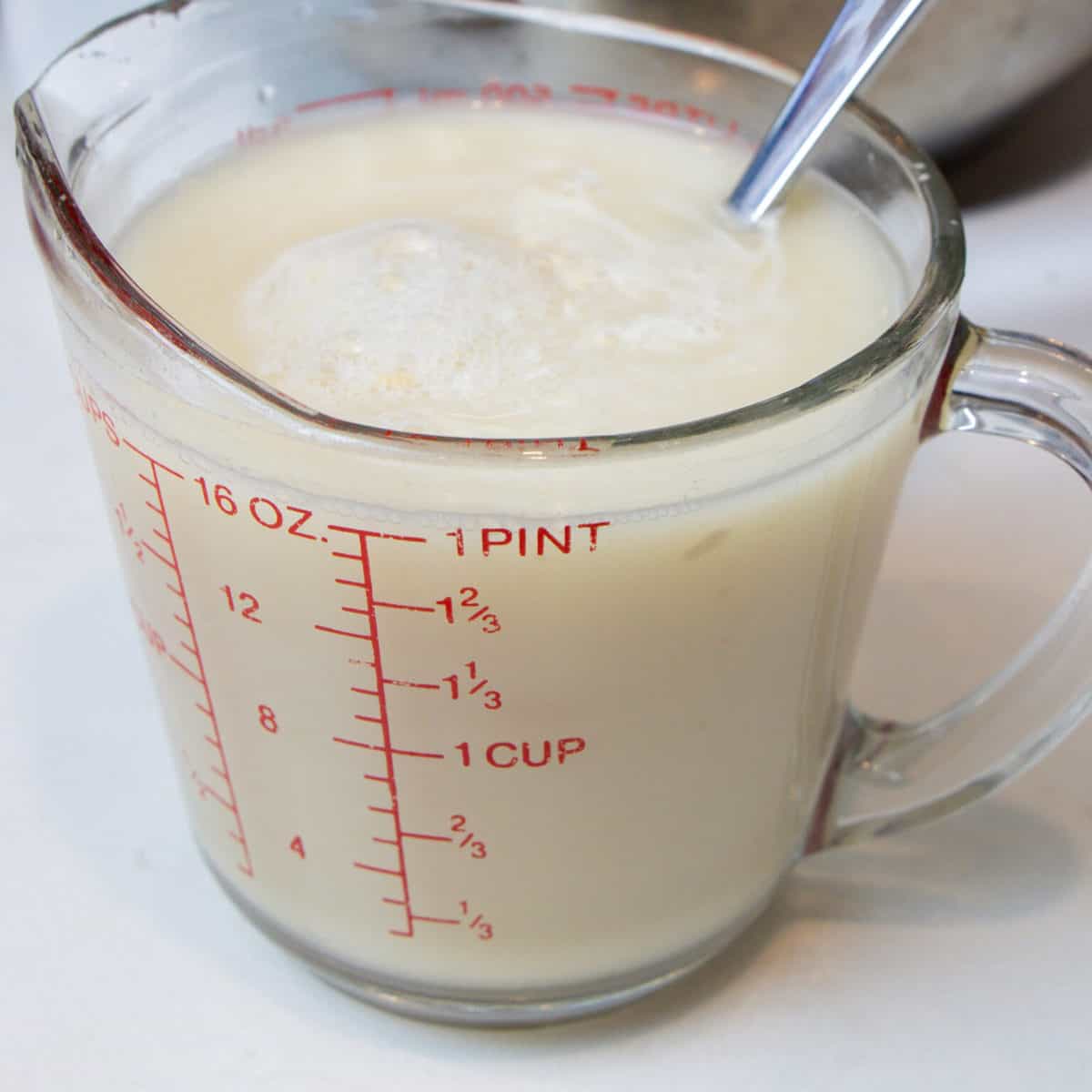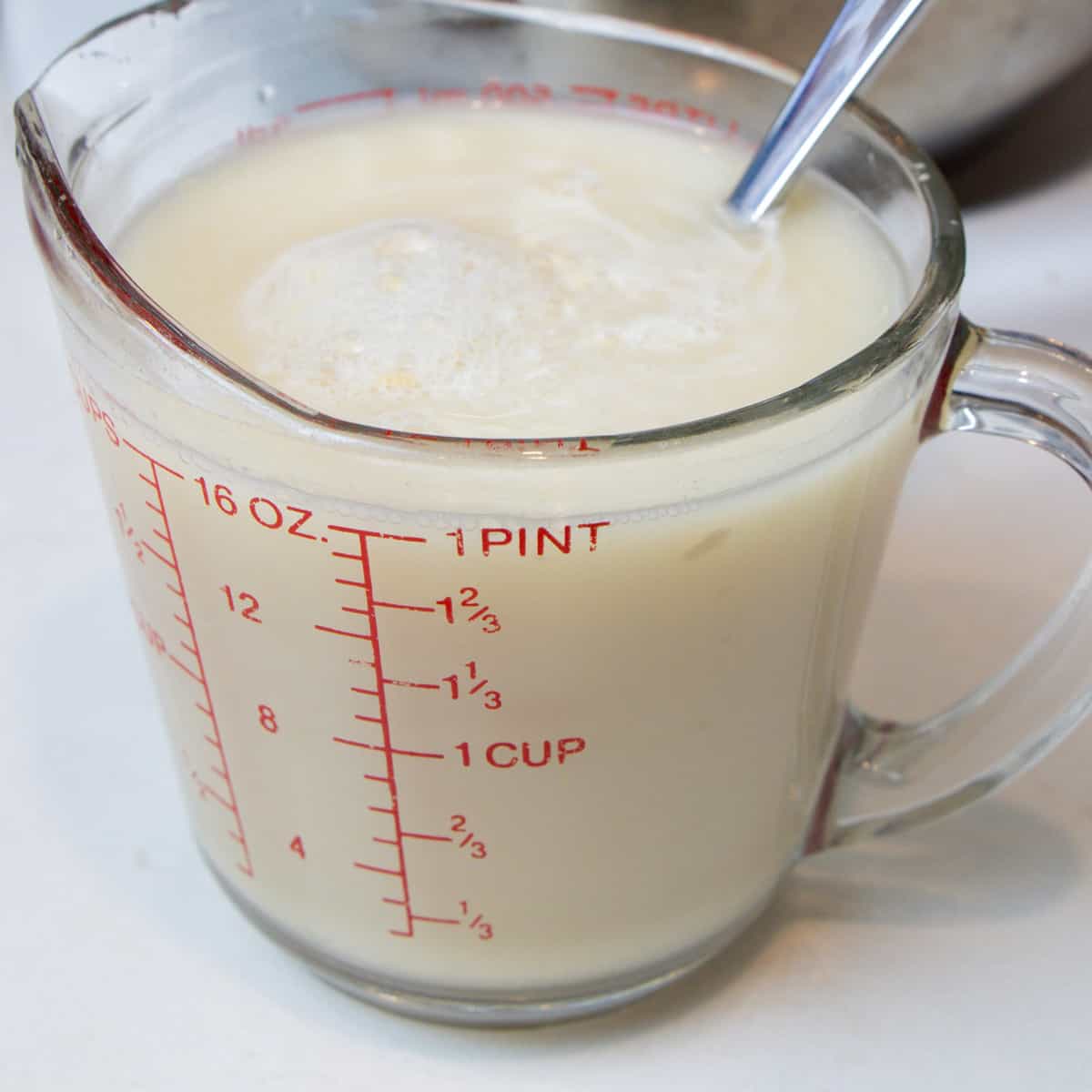 Stir the yeast into the water until it is completely dissolved. Let it rest for about 5 minutes so that the yeast activates.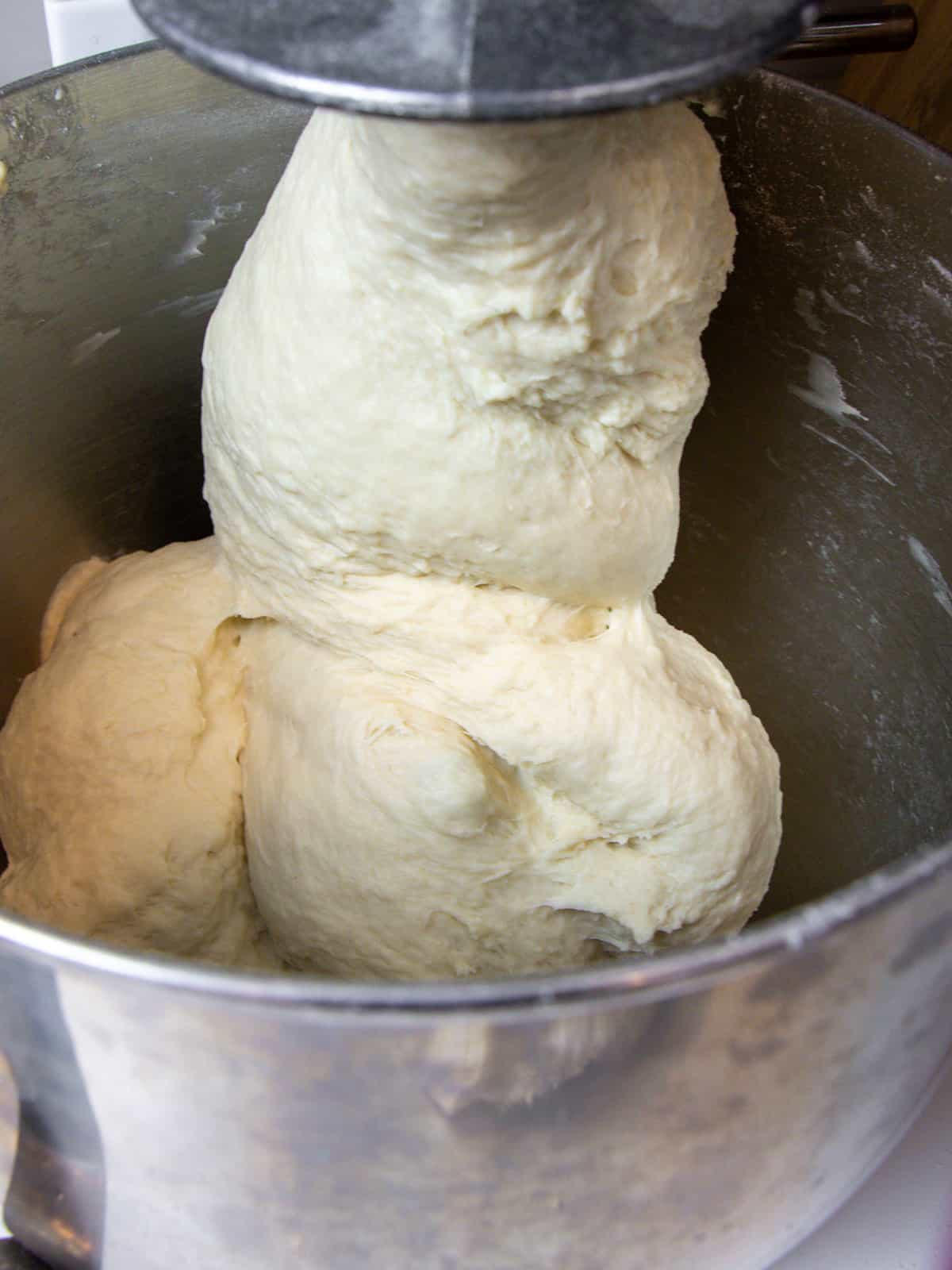 Knead the Dough
Turn on the electric mixer to a medium slow speed with the dough hook attached. Slowly pour the water and yeast mixture, as well as the oil, into the mixing bowl with the flour. As the dough hook spins, the dry and wet ingredients will combine as it kneads.
Let the dough knead in the mixer for a few minutes. It should pull away from the sides of the bowl and coil around the hook, as seen in the picture above. Pizza dough is much stickier and tackier than typical bread dough.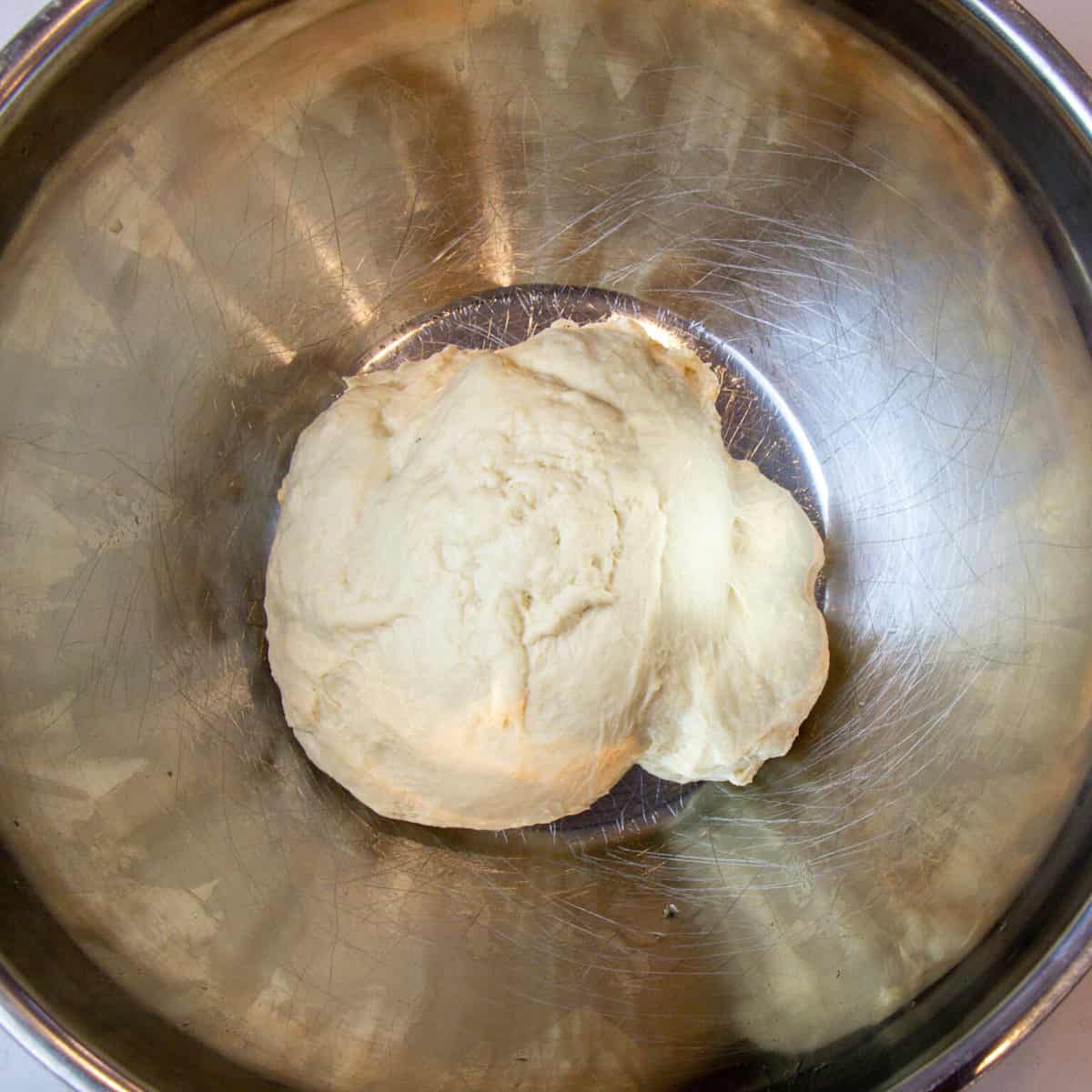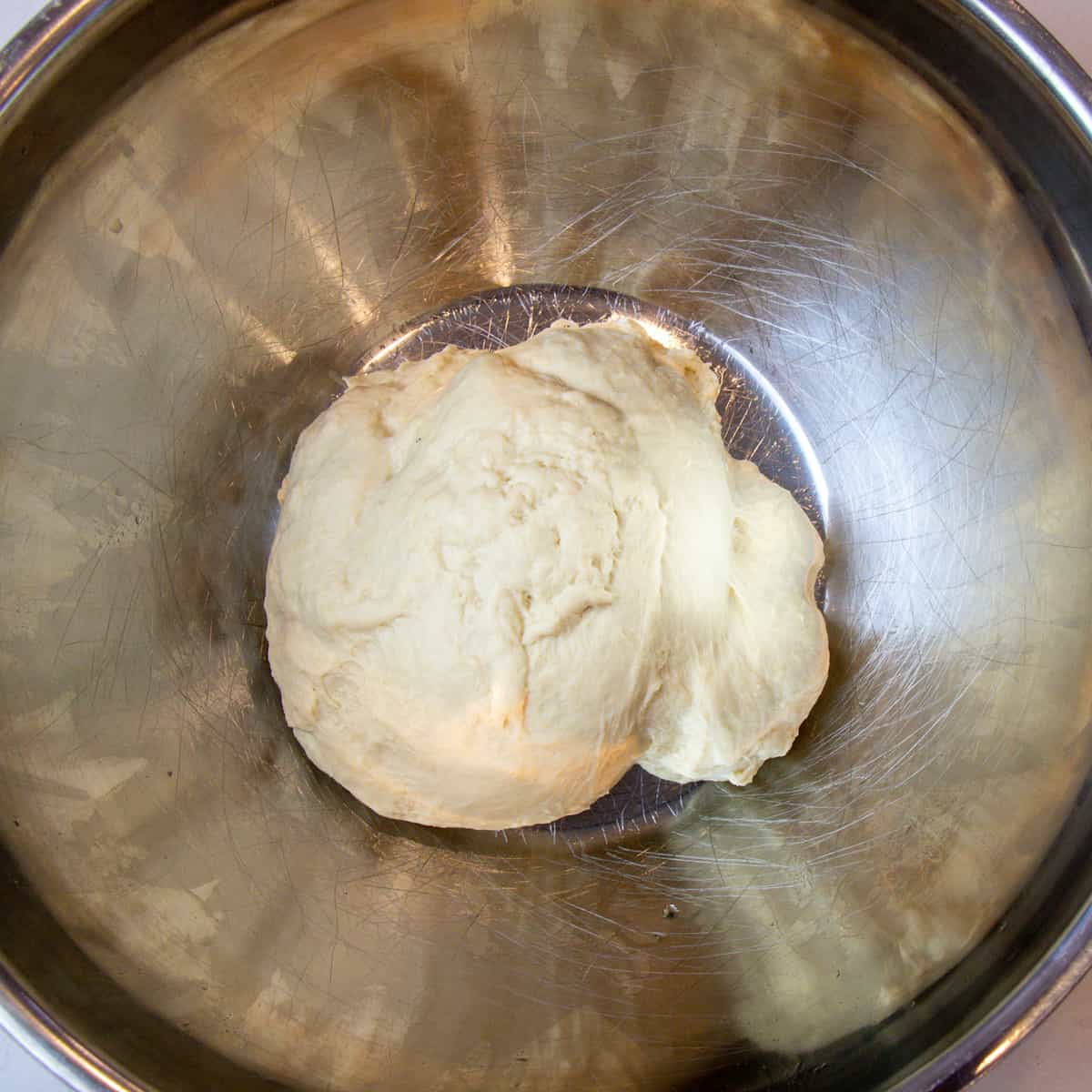 How Long to let the Dough Rise?
Place the pizza dough into a large bowl that been lightly greased with oil. Cover the bowl with plastic wrap and place in a warm space to proof for 90 minutes.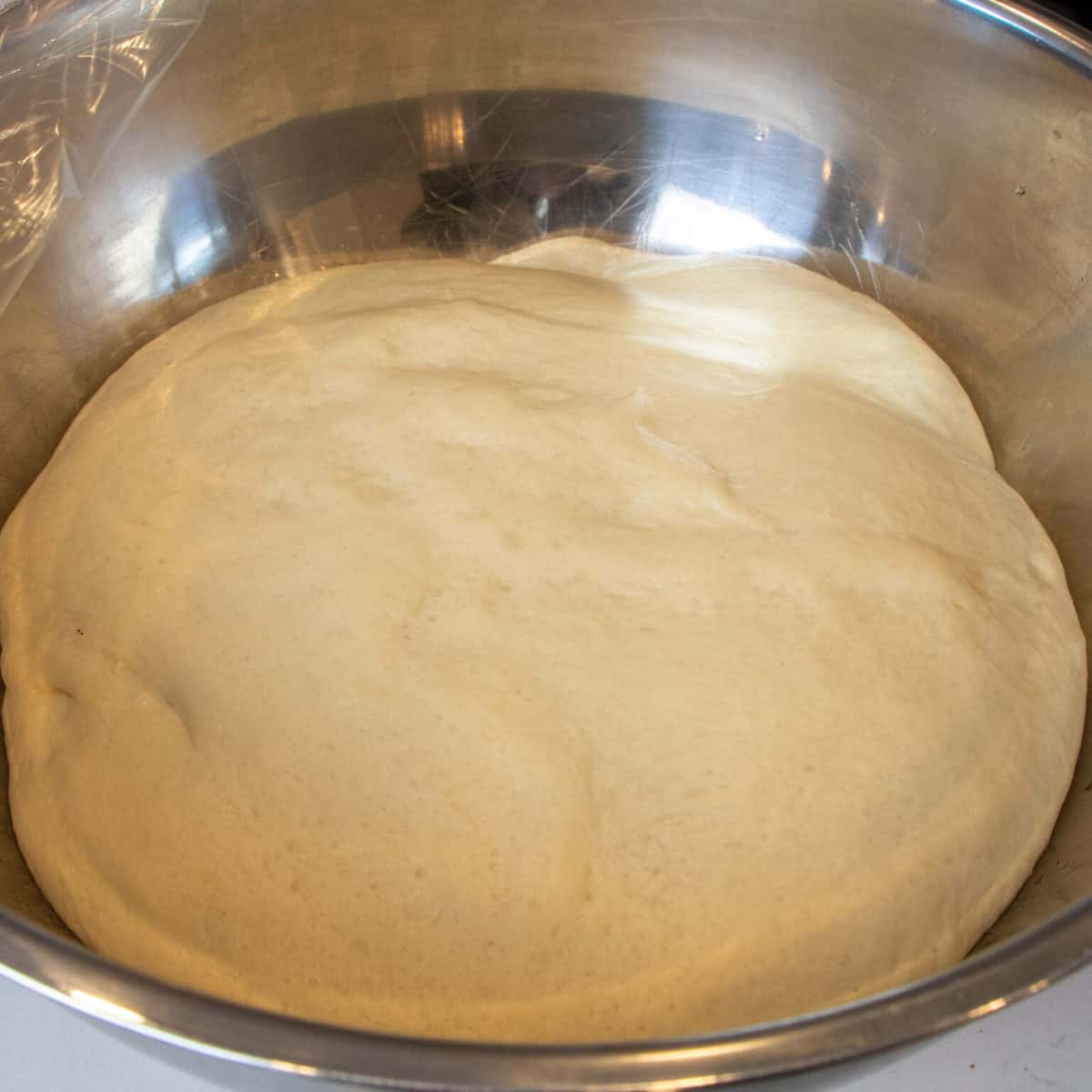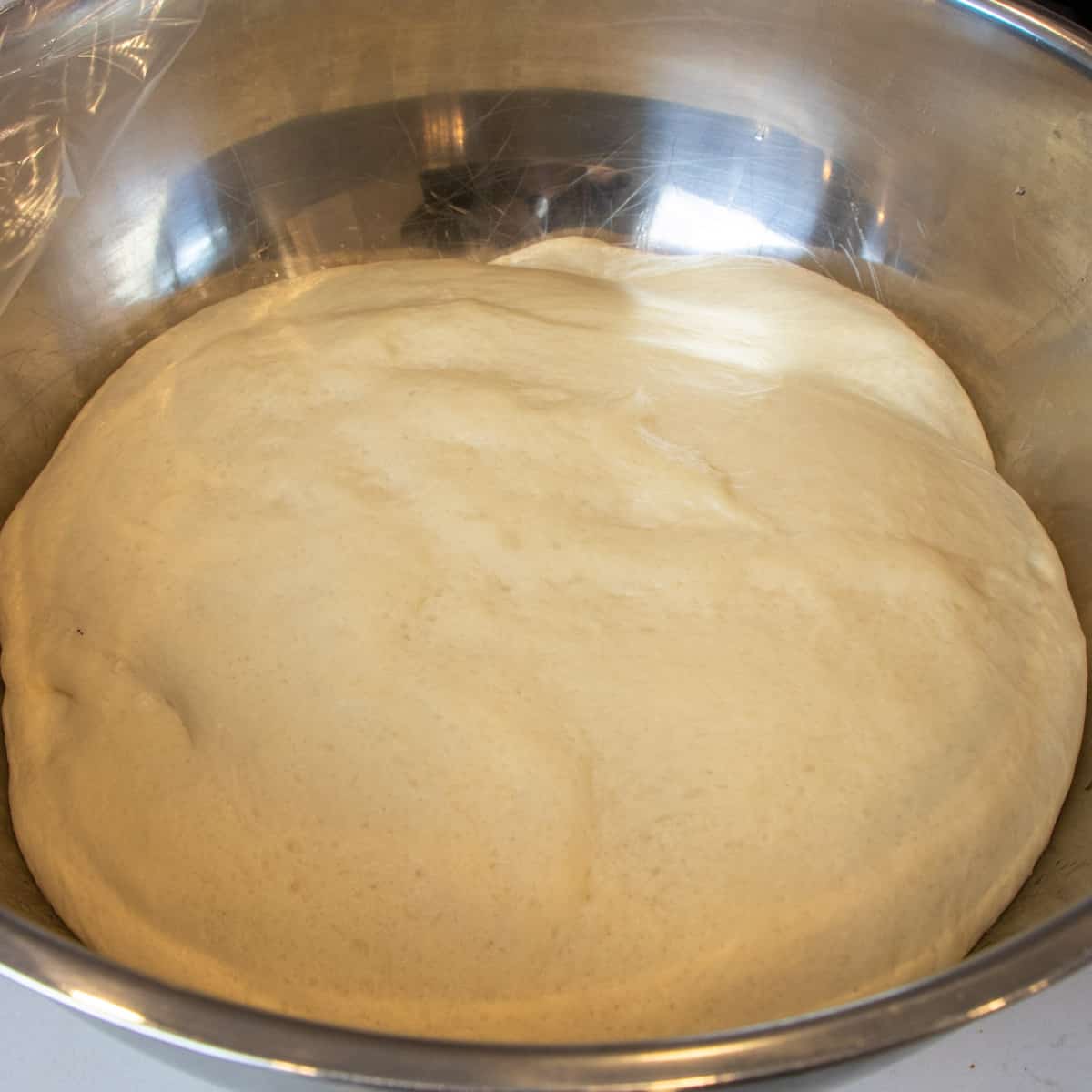 The dough should at least double in size during the proofing.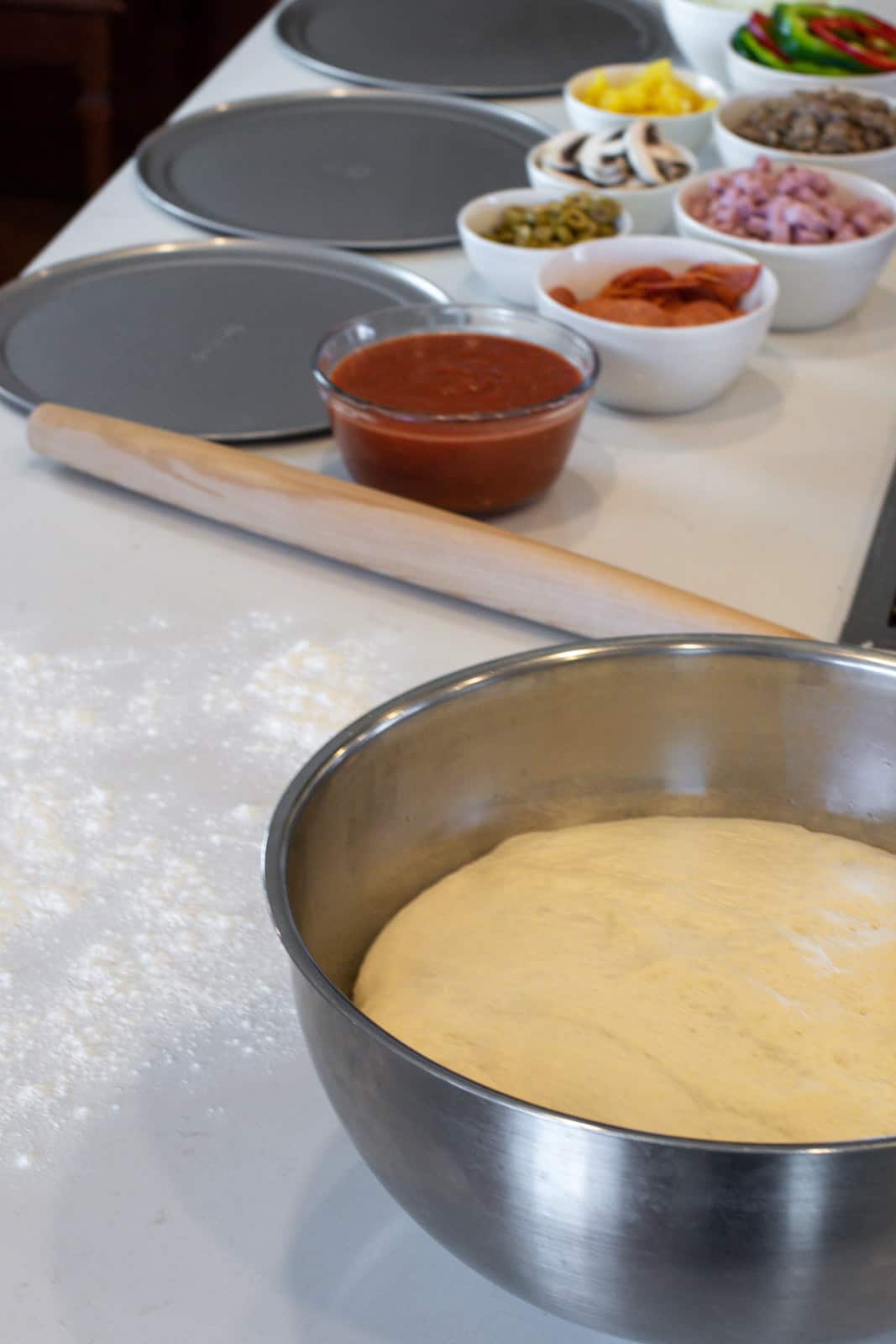 While the dough is rising, I set up an assembly line with bowls full of pizza toppings, grated cheese and sauce.
There are so many different toppings that are amazing on pizza including but not limited to: pepperoni, bacon, ham, sausage, mushrooms, onions, peppers, olives, pineapple.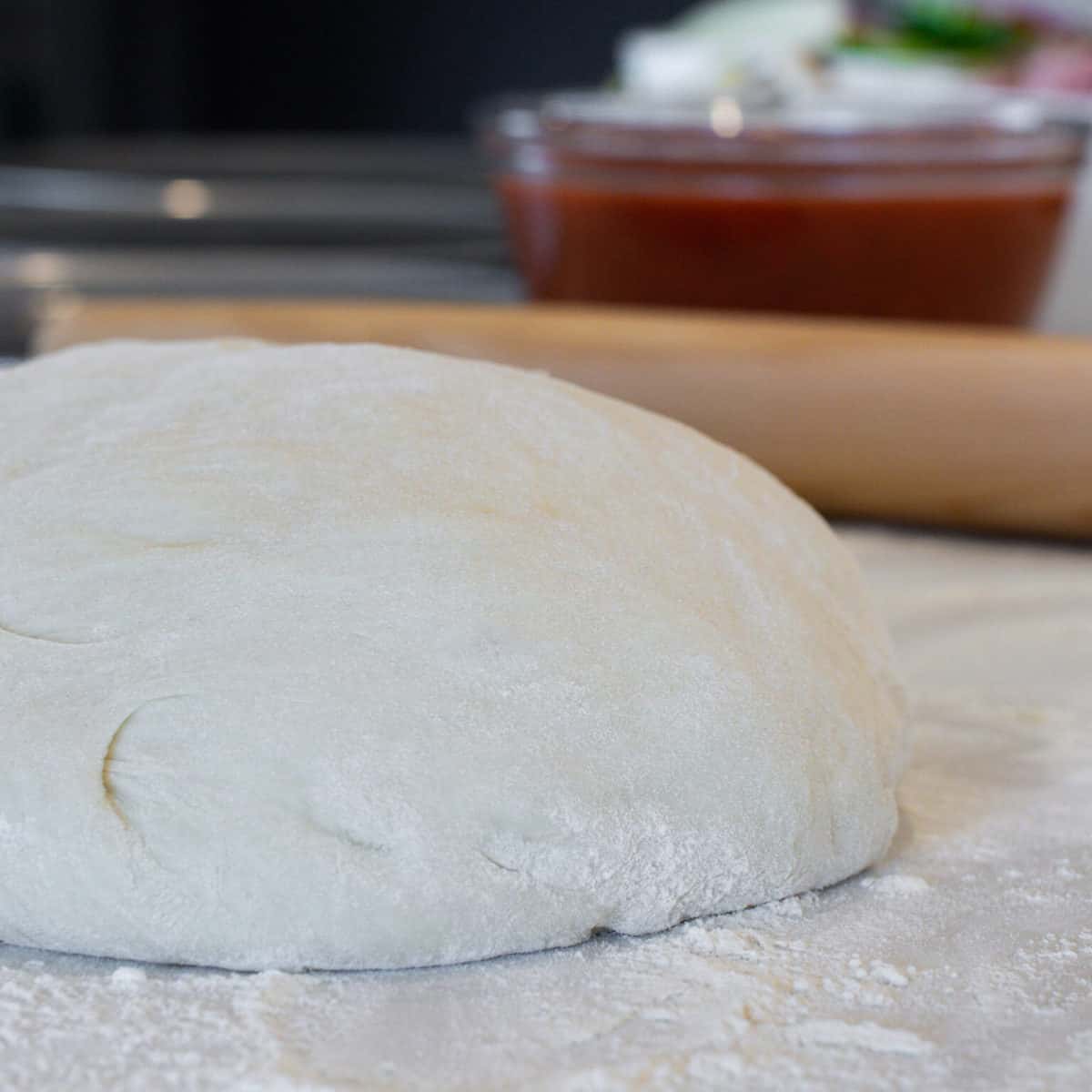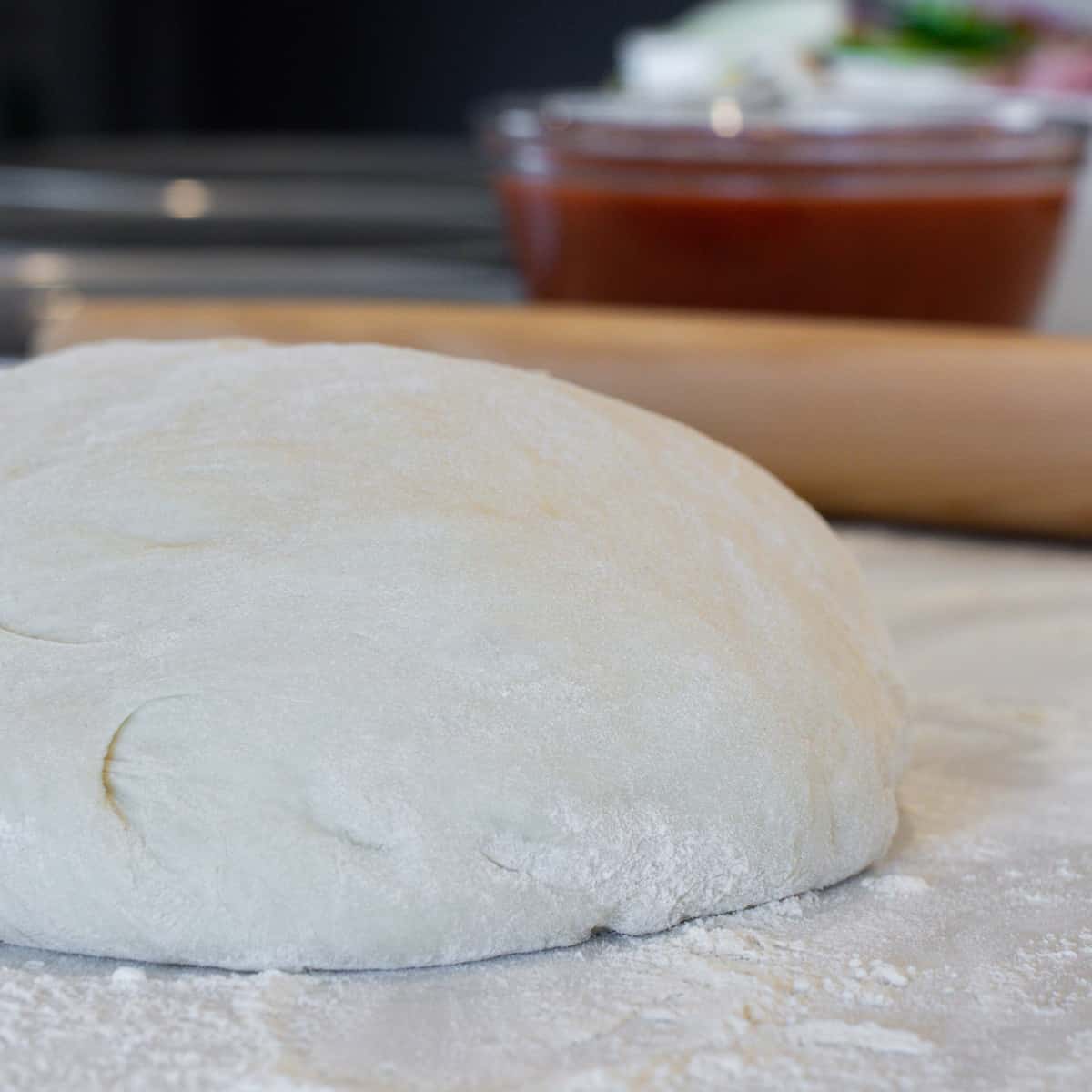 Dump the pizza dough on a work surface lightly dusted with flour. Sprinkle some flour on top of the dough as well so that it does not stick to the roller.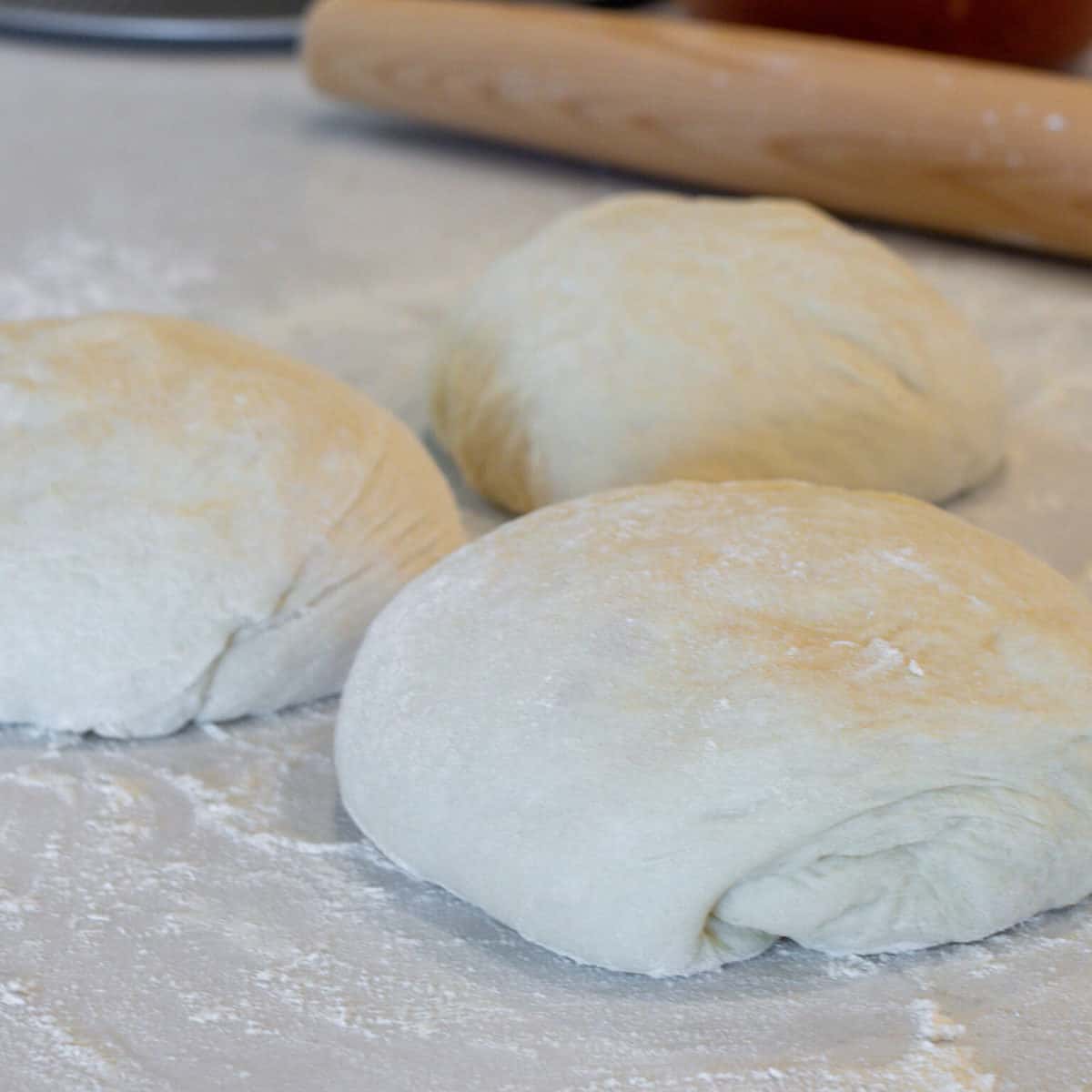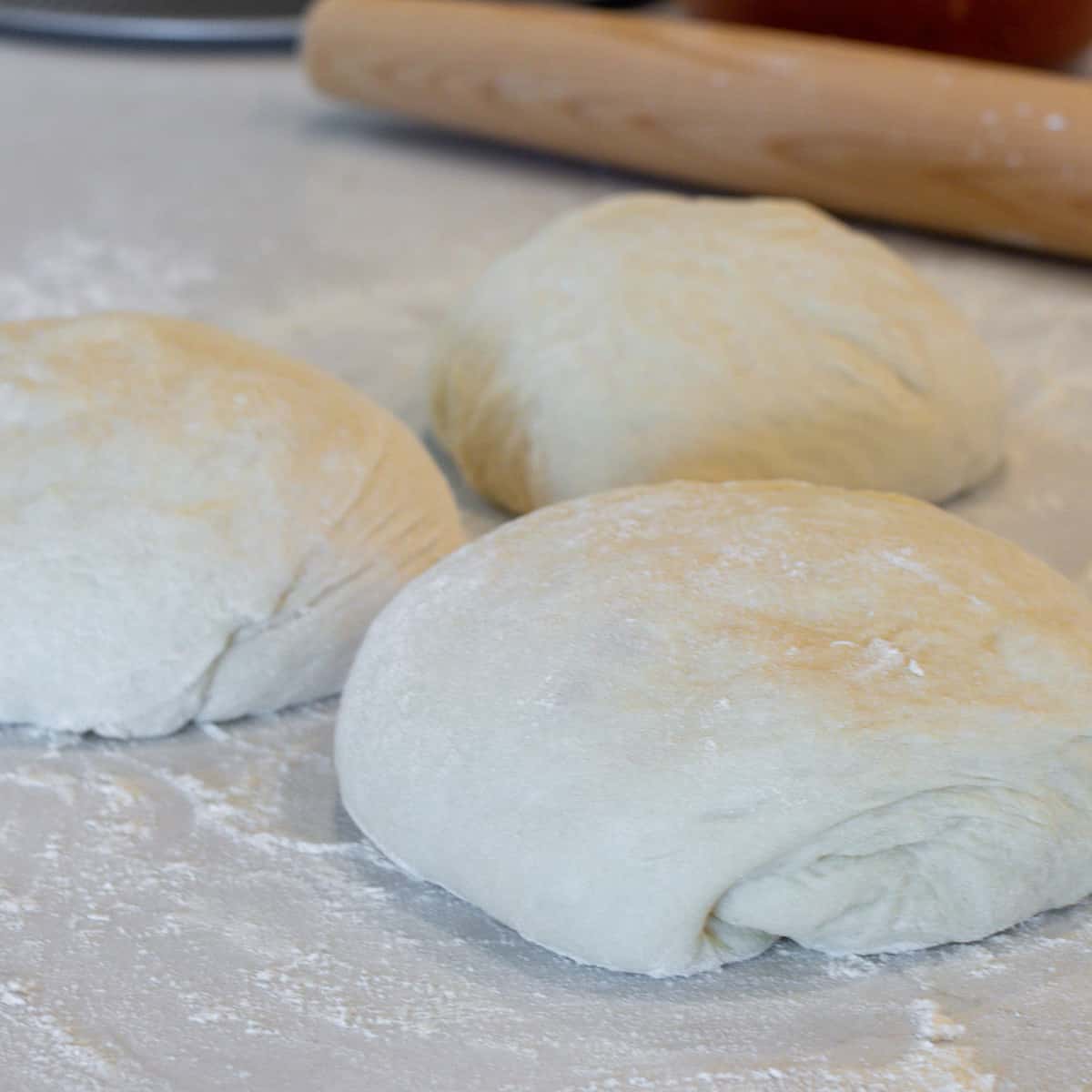 Divide the dough into 3 equal portions and roll them into a ball and dust them all over with some flour. Take two of the dough balls and set them aside so that you have enough space to roll the one out to the size you need.
If you are using this dough for pizza, roll it out to fit the shape of your pizza pans. I have three 12 inch round pans and this dough rolls out for the perfect thickness of a pizza crust.
When rolling, I find it easier to start from the middle and then roll out. Do the same thing going in the opposite direction. Continue doing this, rolling from the middle and rolling out to get the dough to the shape of your pizza pan. If the dough starts to stick to the work surface, lift it up and throw a little bit more flour down.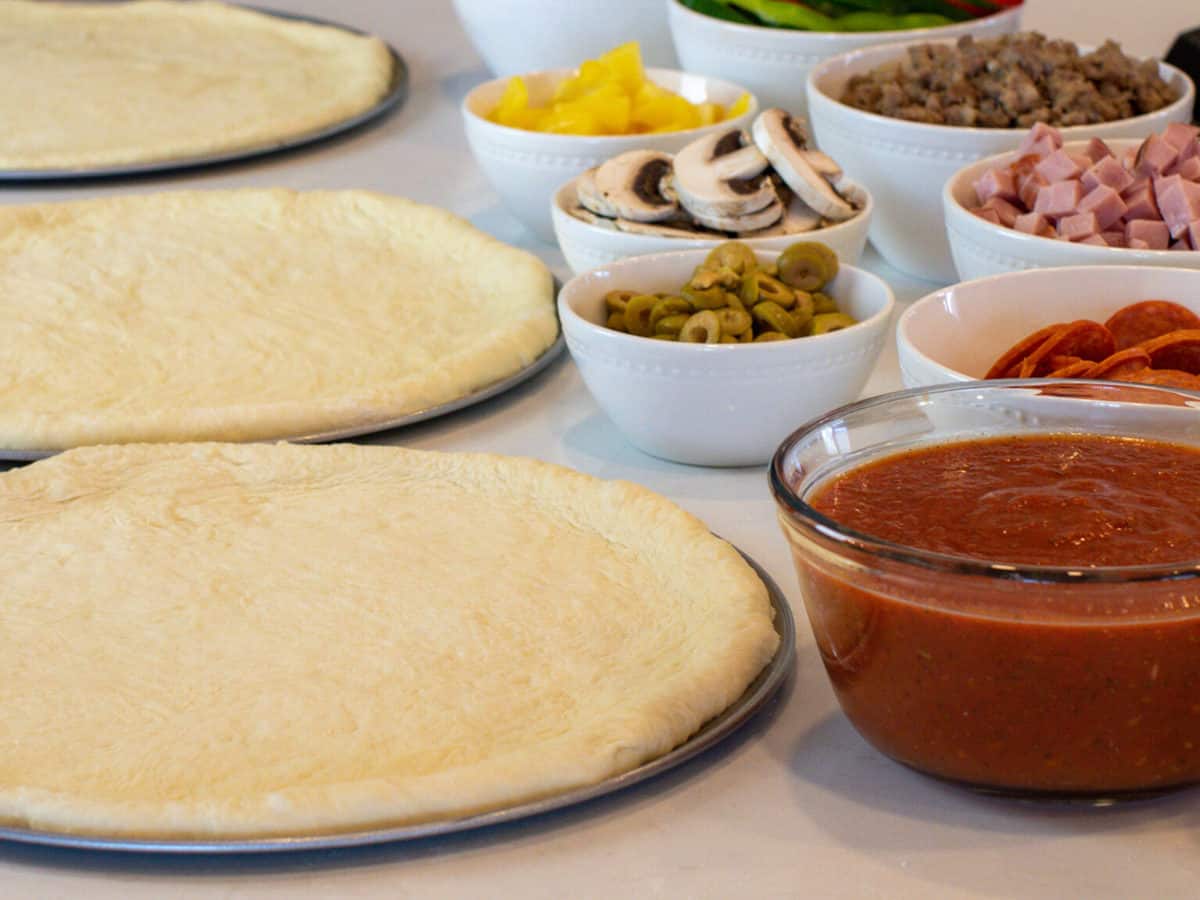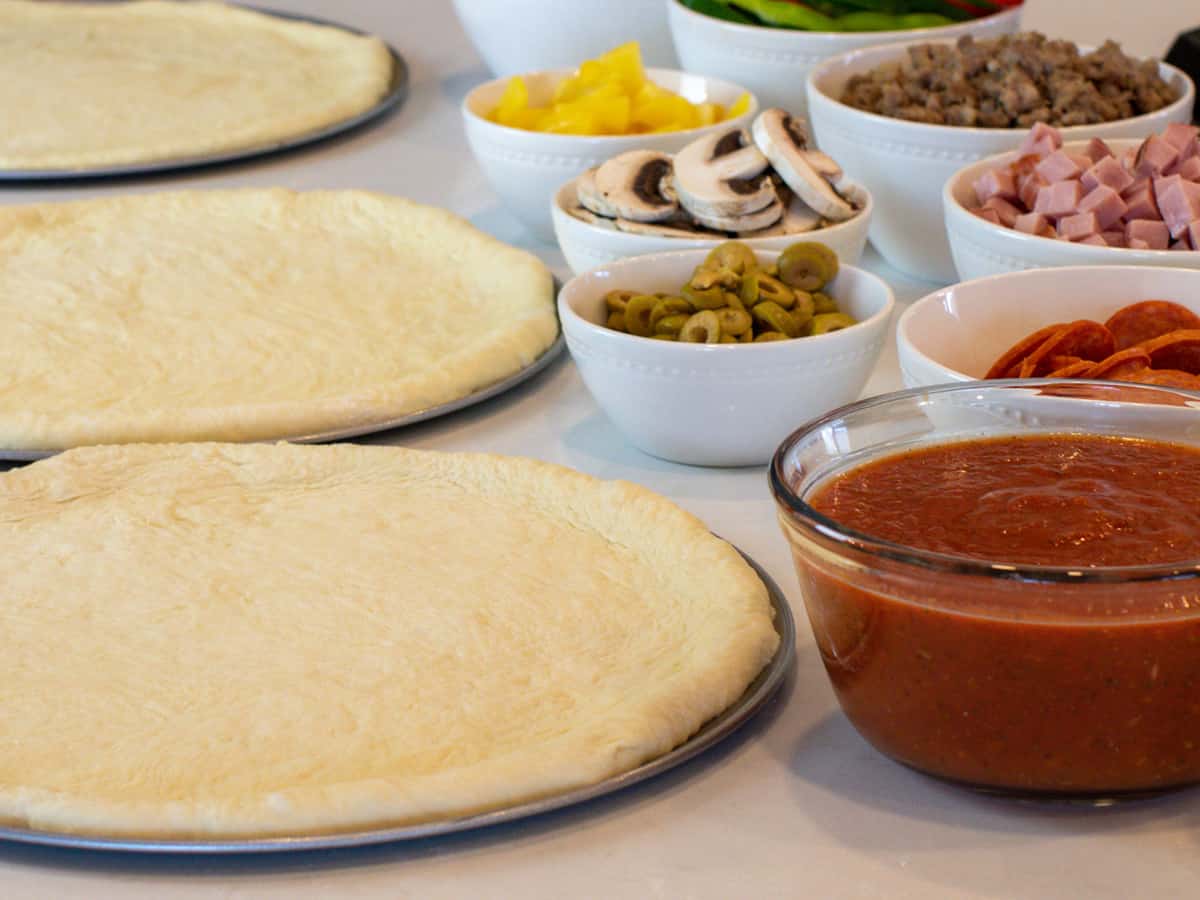 Once the pizza dough is rolled out and on the pans, it is time to add toppings. I make my own pizza sauce, but store bought sauce will work just fine as well.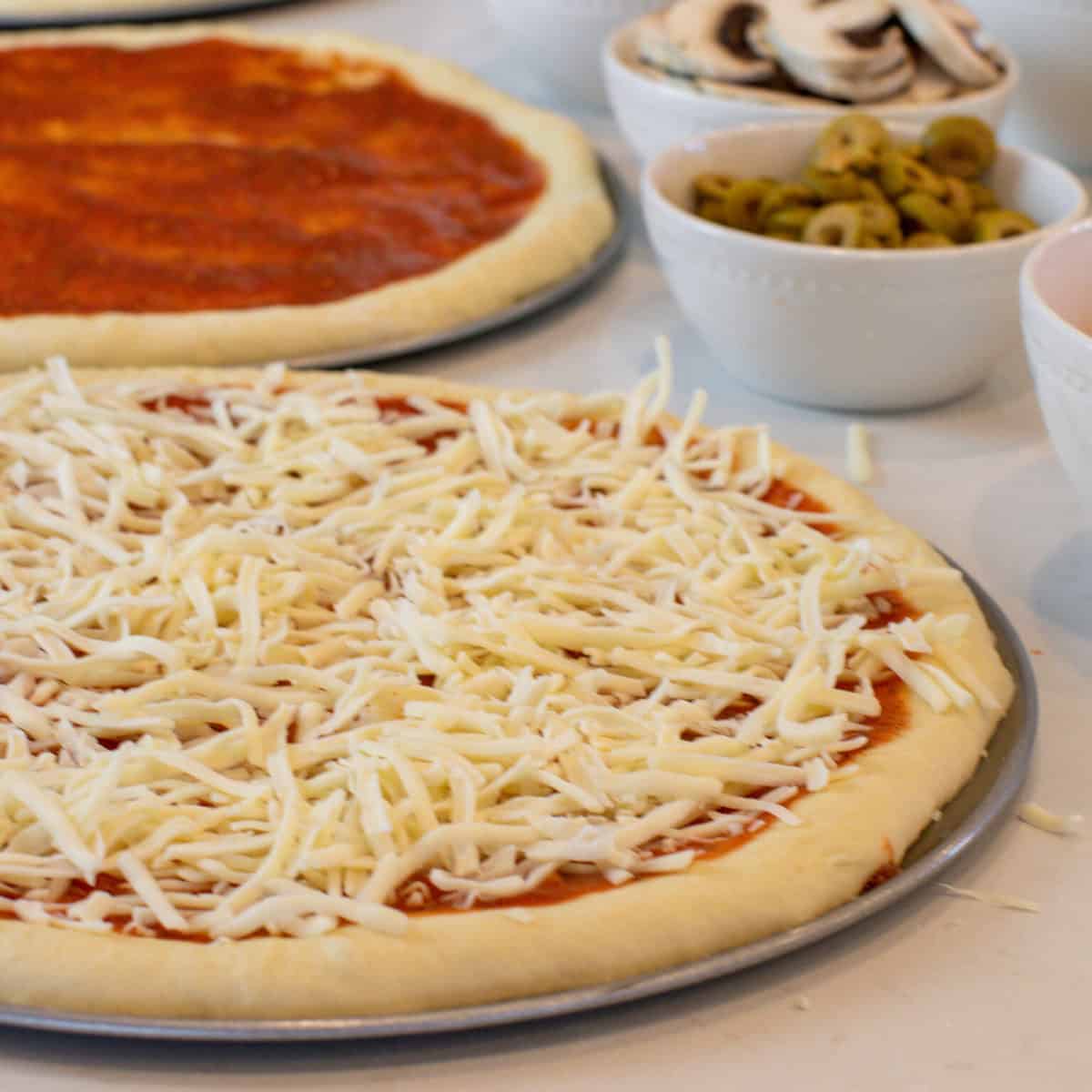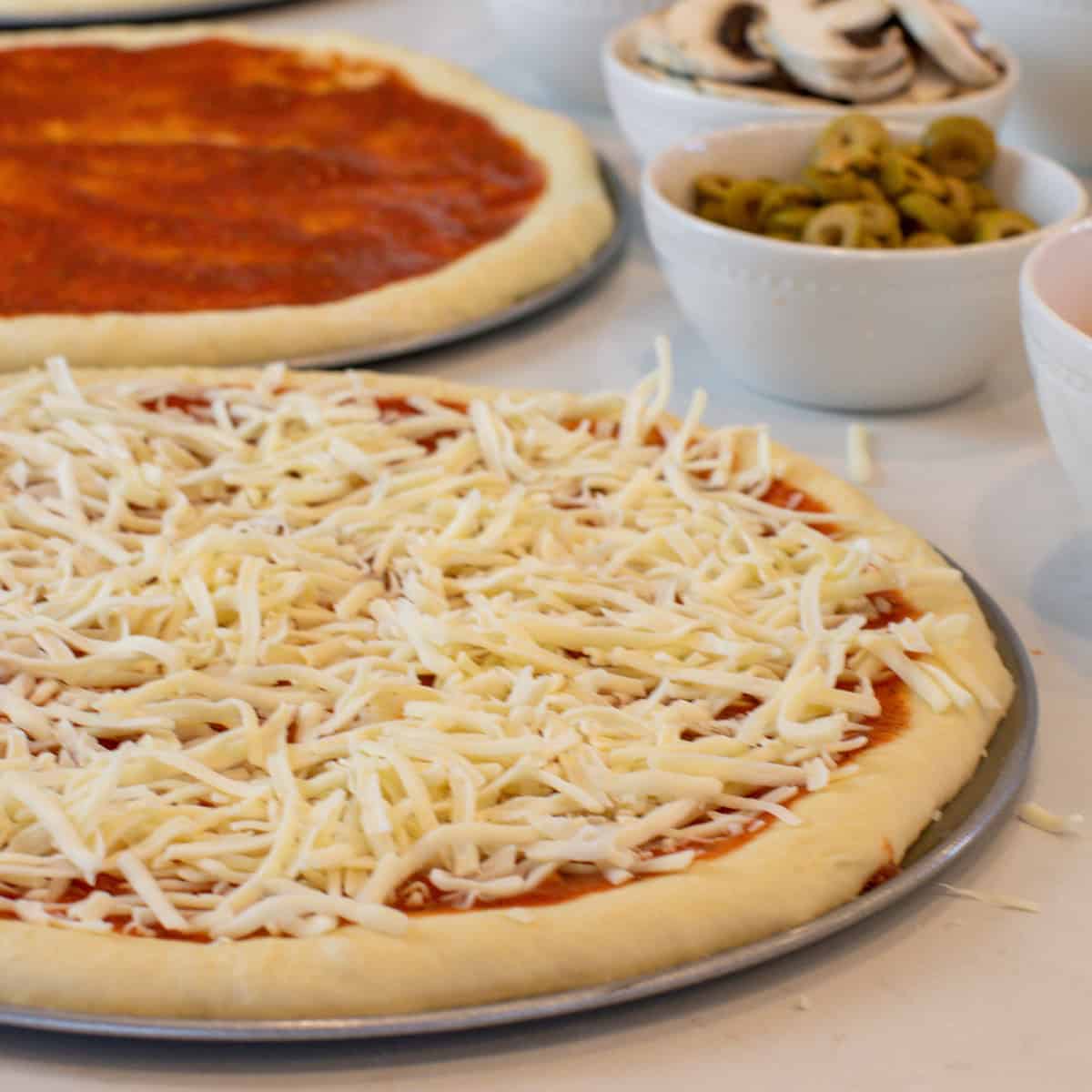 Use a spoon to spread a thin layer of sauce evenly across the pizza dough, leaving the very edge of the dough without sauce. Sprinkle grated mozzarella all over and then top your pizza with your favourite toppings. If desired, sprinkle a little more cheese on top.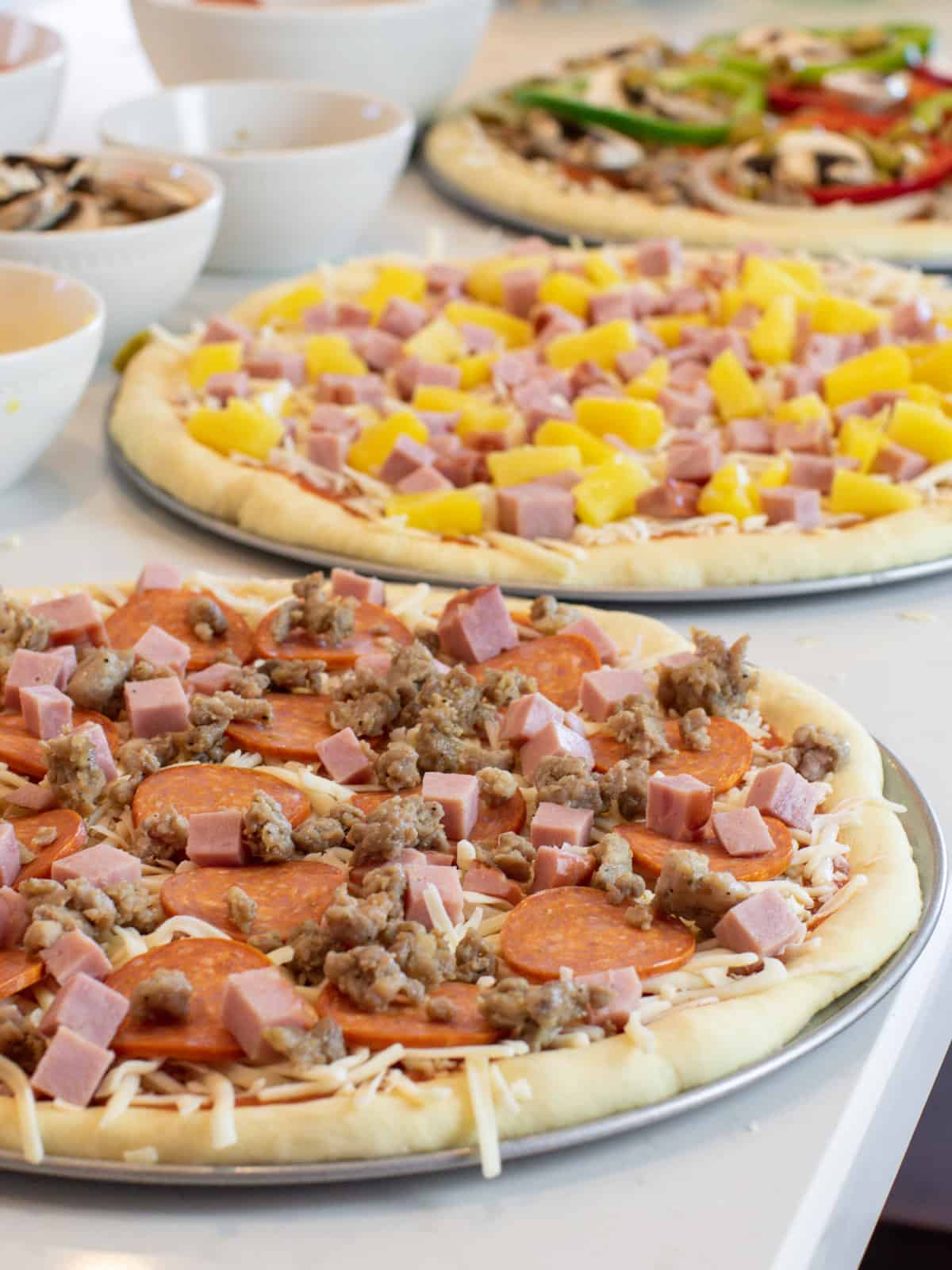 How Long to Bake Homemade Pizza?
For these 12 inch pizzas, I bake them at 375F for 20-23 minutes. As they bake, the dough will rise around the edges and turn a golden brown.
Once the pizza has finished baking, let them rest for about 5 minutes before slicing.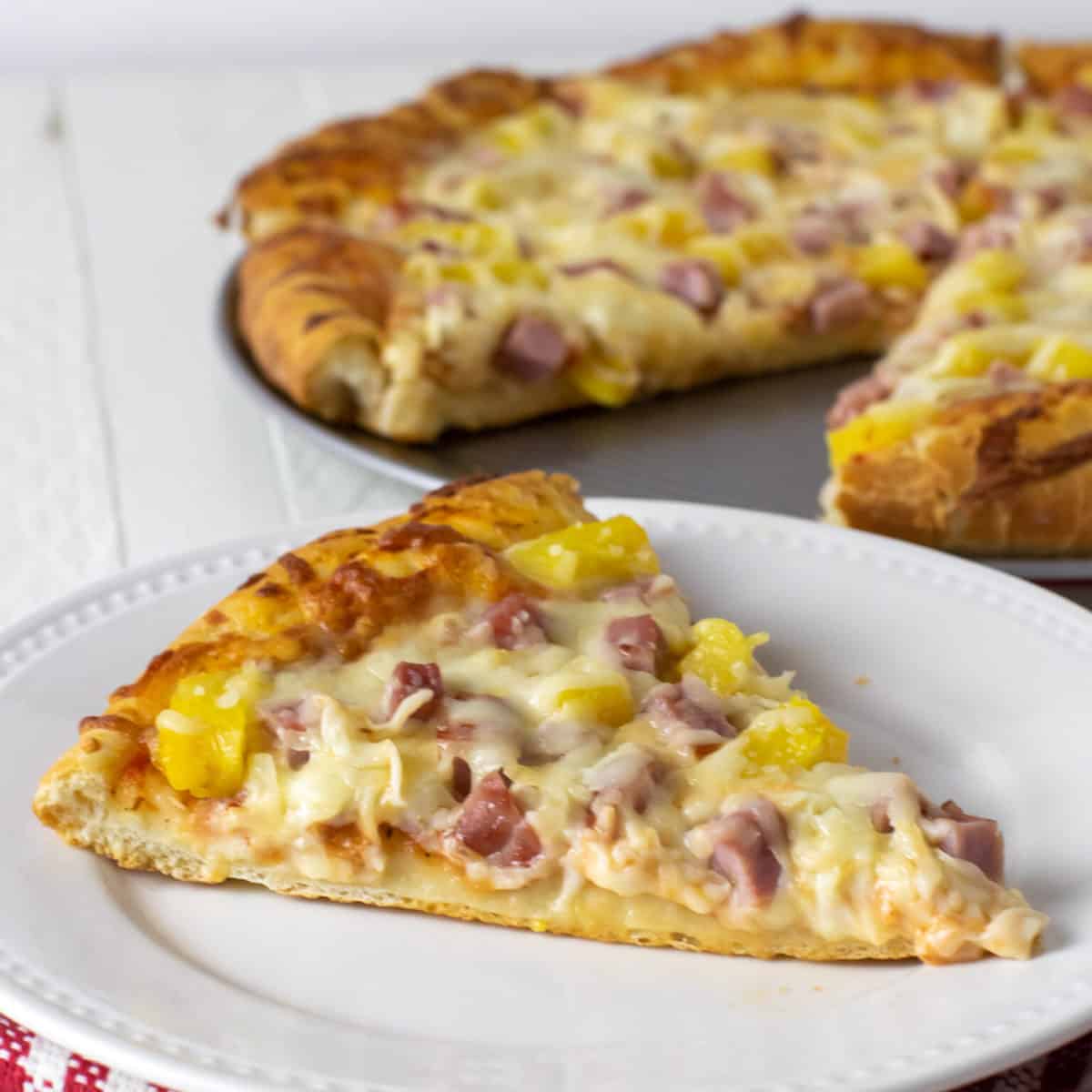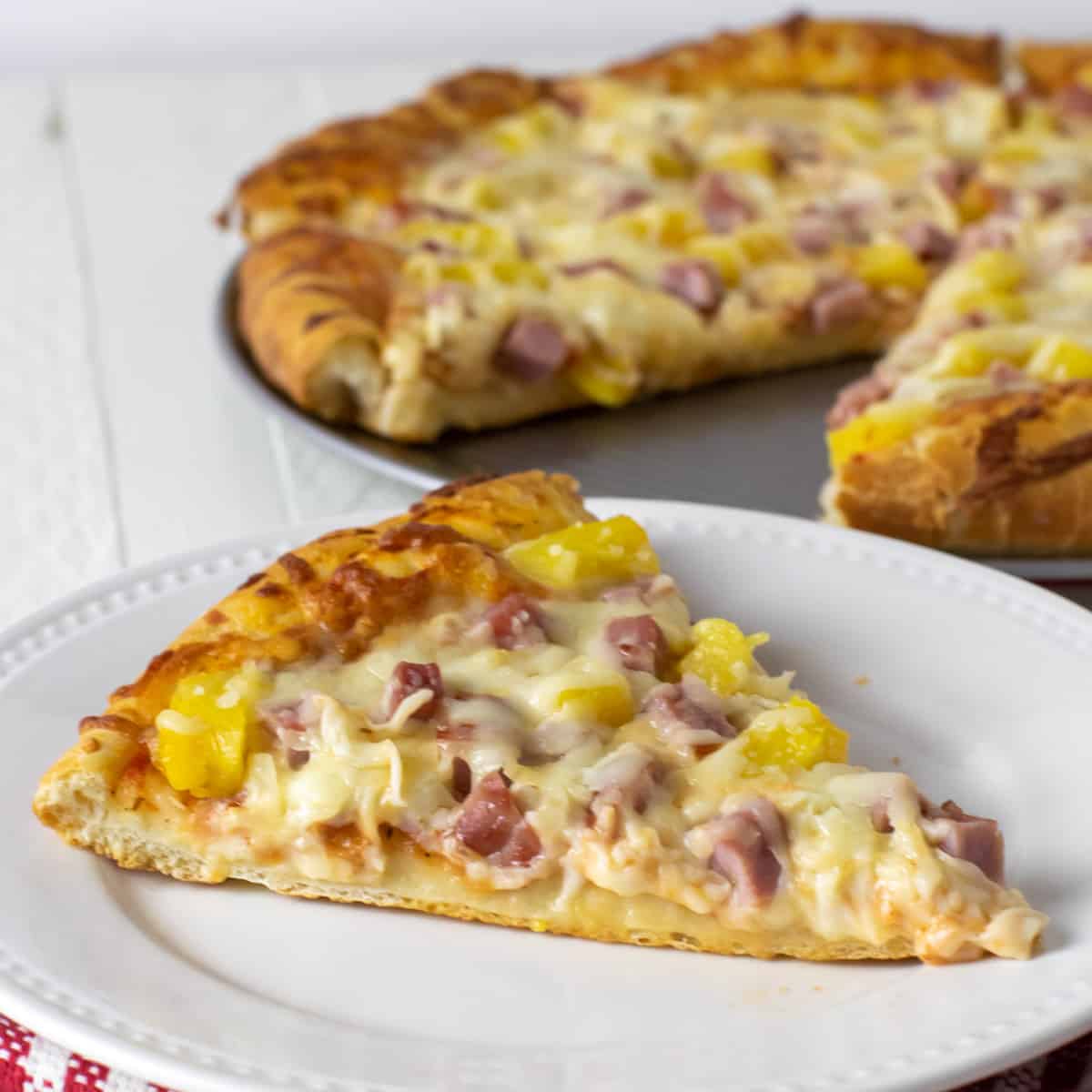 Homemade pizza dough is extremely versatile. While it is great to roll out for pizza, it is also excellent for calzones, stromboli, panzerotti, cheese breadsticks and so much more.
Some Great ways to use Pizza Dough
Homemade Pizza Dough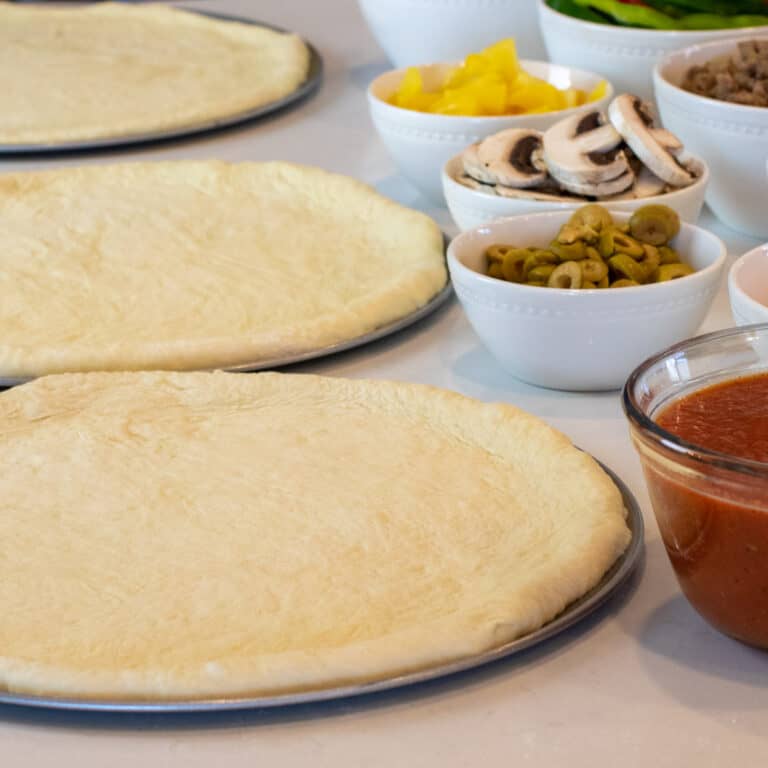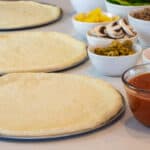 Print
Easy recipe for how to make pizza dough from scratch including instructions for what temperature and how long to bake a homemade pizza.
Servings: 3 12 inch pizzas
Ingredients
6 cups flour
2 tsp salt
1/3 cup white sugar
2 cups warm water 105F
1/4 cup oil
3 tsp active dry yeast
Instructions
Stir to dissolve the yeast in a bowl with the warm water. Set aside for 5 minutes.

Dump the flour, sugar and salt into a stand mixer bowl and use a whisk to give the dry ingredients a quick mix.

Using the dough hook, turn on the stand mixer to low speed. Slowly pour in the water and yeast mixture as well as the oil. Continue to let the stand mixer knead the dough for about 5 minutes. The dough should come away from the bowl and will be sticky/tacky to the touch.

Grease a large bowl with oil. Shape the dough into a ball, place in the bowl and flip so all sides are coated in the oil. Cover the bowl with plastic wrap. Put the bowl in a warm place with no draft and let rise until doubled in size, about 90 minutes.

Punch the dough down and hand knead it on a floured surface for about 30 seconds.

Divide into three equal portions.

These can be used for pizza crust, calzones, panzerotti, stromboli, cheese sticks and so much more!
Notes
Instructions for Baking a Homemade Pizza
Roll a portion of the pizza dough into a 12 inch round or other shape to match your pizza pan.
Spoon a thin layer of pizza sauce and sprinkle with grated mozzarella.
Top with your favourite pizza toppings and, if desired, sprinkle with more cheese.
Bake in a 375F oven for 20-23 minutes or until the crust is golden brown around the edges and cheese is melted.
Nutrition
Per serving:
Serving: 1pizza crustCalories: 1200kcalCarbohydrates: 218gProtein: 31gFat: 22gSaturated Fat: 2gSodium: 1570mgFiber: 10gSugar: 23g