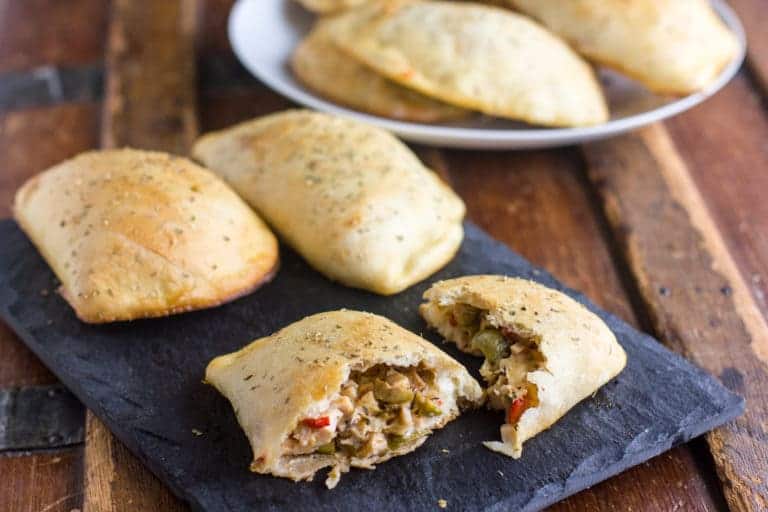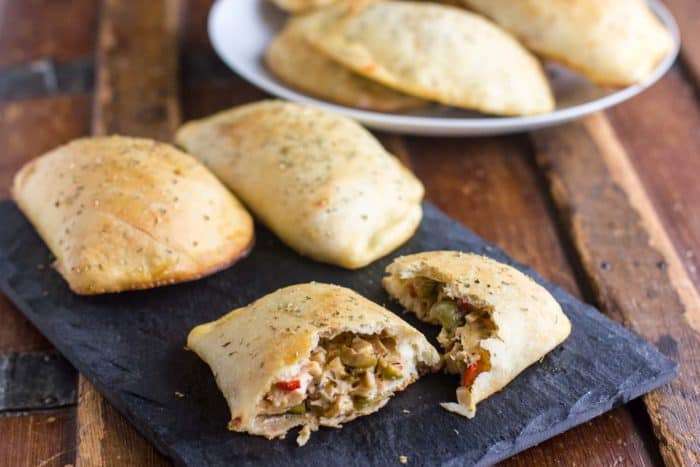 Calzones, stromboli, pizza pockets, panzerotti – these are all wonderful variations on pizza. Calzones are fabulous little delights of baked pizza dough filled with all sorts of goodness. One of the great things about this calzone recipe is its portability and I have come to love making them. My kids absolutely flip out whenever they come out of the oven.
Making calzones is really easy and you can fill them with whatever you want. You can stick with a pizza theme for ingredients or get creative with cheeseburger, reuben, philly cheesesteak or some other kind of filling. The great thing about the calzone is that there is not only one way to fill them!
I make calzones using pizza dough I buy from the store. It is either in a frozen ball or a bag of fresh pizza dough. While it is definitely possible to make your own pizza dough, I like this fool proof approach and it is super simple.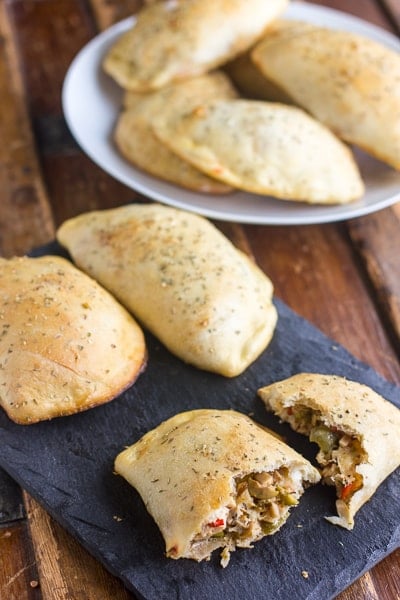 This calzone recipe uses a Tuscan inspired filling made with chicken, olives, roasted red peppers and mozzarella cheese.
There are so many filling options that work great in calzones. Here are some pizza topping combinations that I have used in calzones.
Pepperoni, green peppers and mushrooms
Ham and pineapple
Crumbled bacon, sausage meat, pepperoni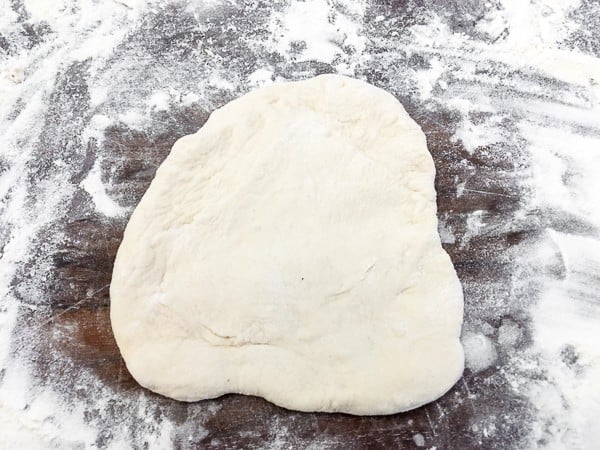 How to Make a Calzone
Once you divide the pizza dough into 8 equal sections, work one portion on a floured surface. Make sure that your hands are floured as well, so that the dough doesn't stick.
Work the dough into an 8 inch circle. Try to ensure that the dough is evenly flat without any holes or ripped sections. I use my hands to shape the dough into a flat circle, but it is also possible to roll it out with a rolling pin.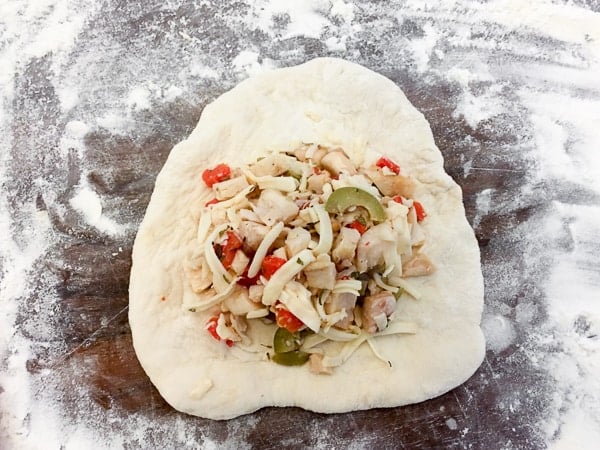 Place a large spoonful of the filling in the centre of the circle of dough.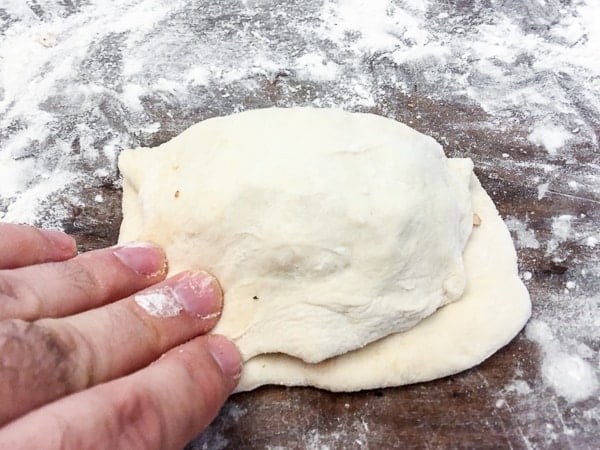 Fold the dough over the filling to make a half circle.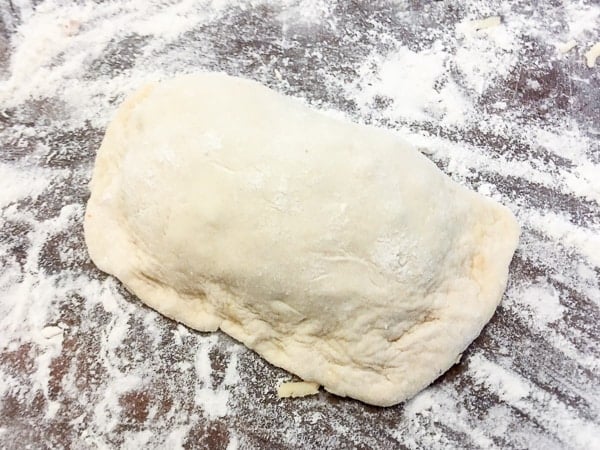 Make sure that when you pull the dough over, that it does not rip and no holes form. Also, make sure that the filling is evenly covered with the dough.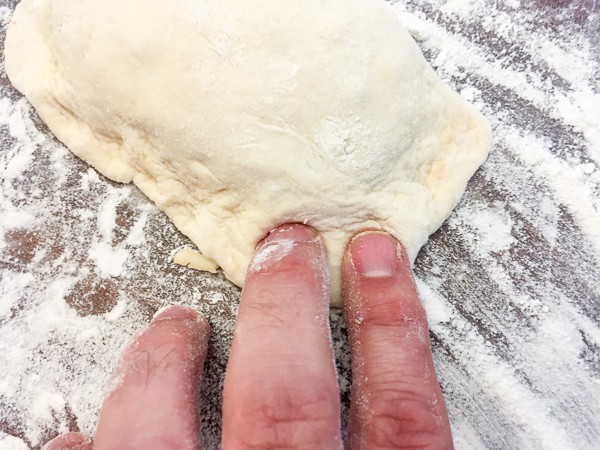 Pinch the dough to make sure that the edge is well sealed. This is very important because if there is any spot not well sealed, the cheese and filling can ooze out of the calzone pocket. If needed, brush the edge with a little water, then pinch, to help the seal.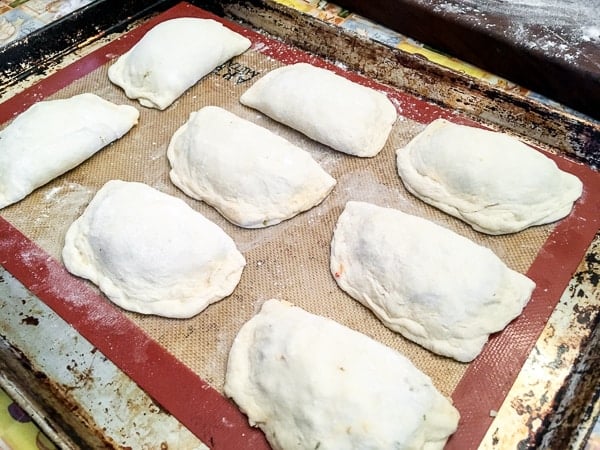 Place the calzones on a baking sheet lined with parchment paper or a silicone baking sheet.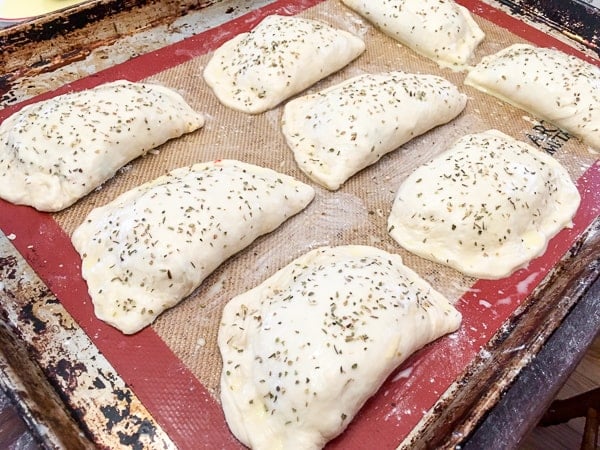 Brush the tops of the calzones with the egg wash and sprinkle with oregano.
Now these little beauties are ready to go into the oven.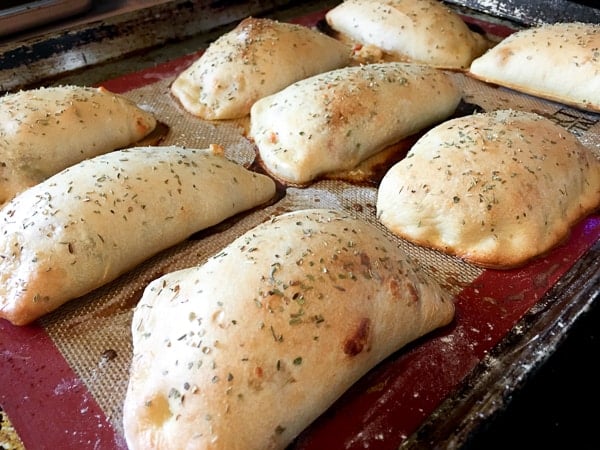 How to Bake a Calzone
Bake in a 350F oven for about 25 minutes.
They should be browning around the edges and on top of the calzones as well. The smell will be incredible!
You might find some of the filling ooze out. Hopefully not too much and that the calzones will have puffed up nicely.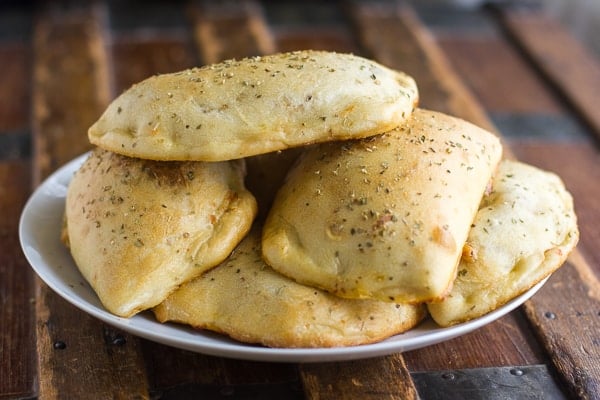 Let the calzones cool a bit before eating because the fillings will be quite hot. While they are great on their own, I also love dipping these in marinara sauce. So delicious!
These are so good, that I enjoy eating them cold and right out of the fridge. My kids absolutely love these and I sometime pack them for school lunches.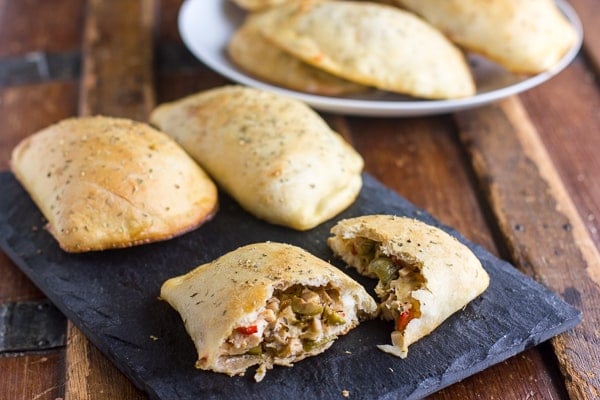 Use this calzone recipe as a base, and feel free to get creative with all sorts of different fillings and dips. Once you start making them, you will discover how easy they are. You may end up like me, where each time you make them, you throw different combinations of ingredients in the filling.
It is fun and delicious!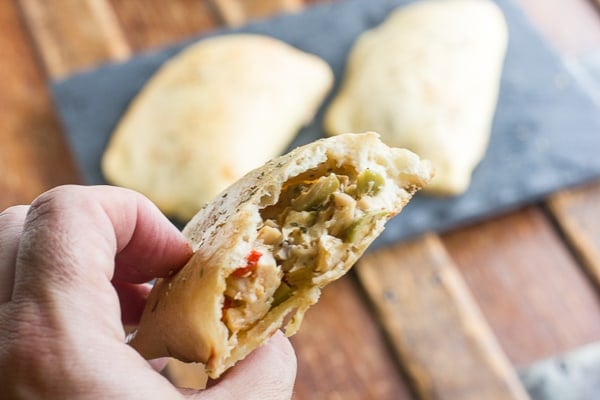 Here are some other great recipes similar to a calzone!
Chicken Tuscan Calzones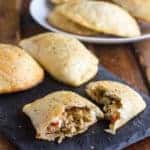 Print
How to instructions for making homemade pizza pockets! Filling is made with chicken, olives, roasted red peppers and mozzarella cheese. Use marinara sauce for dipping.
Servings: 8 calzones
Ingredients
1 pizza dough ball
2 cups cooked chicken , diced
1 cup green olives , diced
1 cup roasted red pepper , diced
3 cups grated mozzarella
1 egg
1/3 cup milk
1 tbsp oregano
Instructions
Preheat oven to 350F.

In a large bowl, mix together the diced cooked chicken, green olives, roasted red pepper and grated mozzarella.

Dust flour onto a flat work surface. Place the pizza dough ball on the surface and cut into 8 equal portions.

Dust your hands with flour and work one of the pizza dough portions into an 8 inch circle. Try to ensure that it is an even thickness. If desired, use a rolling pin roll the dough into the 8 inch circle.

Spoon some of the chicken mixture onto the middle of the pizza dough circle. Make sure that there is some space on the edge.

Fold the dough over making a half circle. Pinch the edges to make sure it is sealed well. Place on a baking sheet lined with parchment paper.

Make remaining calzones.

Make an egg wash by mixing together the egg and milk in a small bowl.

Brush the egg wash on the calzones and sprinkle with oregano.

Bake in the oven for 25 minutes or until golden brown.

Serve with some pizza sauce for dipping!
Nutrition
Per serving:
Calories: 347.32kcalCarbohydrates: 26.52gProtein: 25.31gFat: 15.67gSaturated Fat: 6.98gCholesterol: 84.41mgSodium: 1157.09mgFiber: 1.77gSugar: 4.11g