The Best Homemade Pizza Sauce
An easy recipe for delicious homemade pizza sauce. Simple to make and perfect to use with either fresh pizza dough or a pre-baked pizza crust.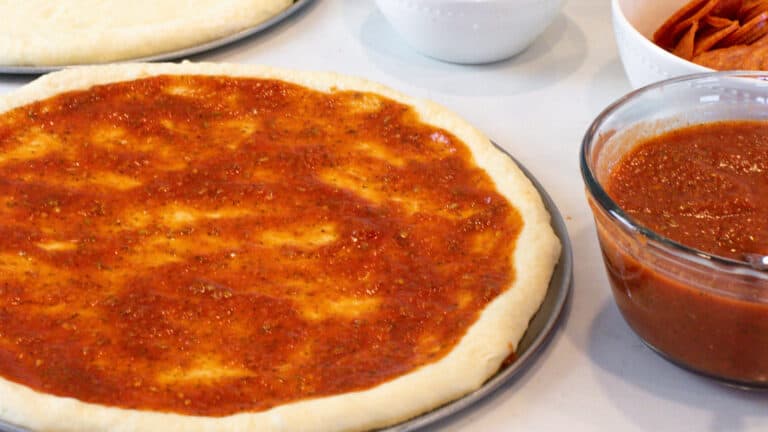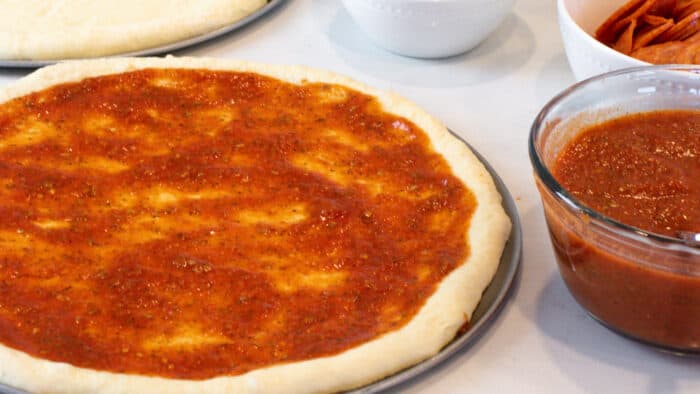 Pizza is on our regular rotation of family meals. We love pizza and it is extra amazing with this homemade pizza sauce. The sauce can truly make or break a pizza and this recipe will help make any homemade pizza great. I used to purchase cans of pizza sauce, thinking that a homemade version would not make a big difference, but I was wrong. Now, I only ever make homemade sauce. It is easy and really does help make a good pizza even better.
I have tweaked this sauce over the years and I am thrilled to be able to share this recipe with you. It is simple to make with ingredients you likely have in your kitchen. It is not overpowering, allowing the toppings of the pizza to shine. It also has a hint of sweetness, which even makes the edges around the crust, where the sauce is all alone, still super tasty!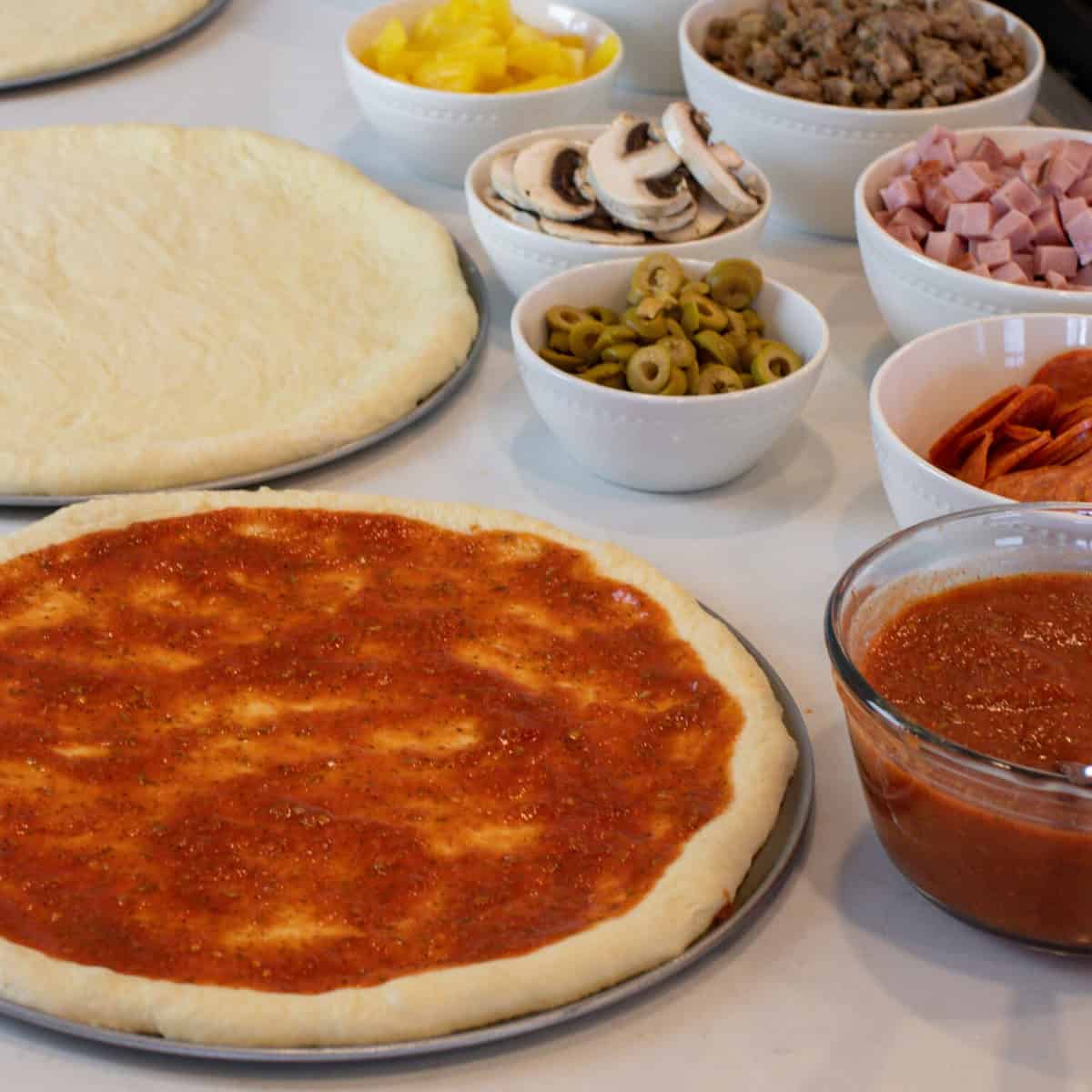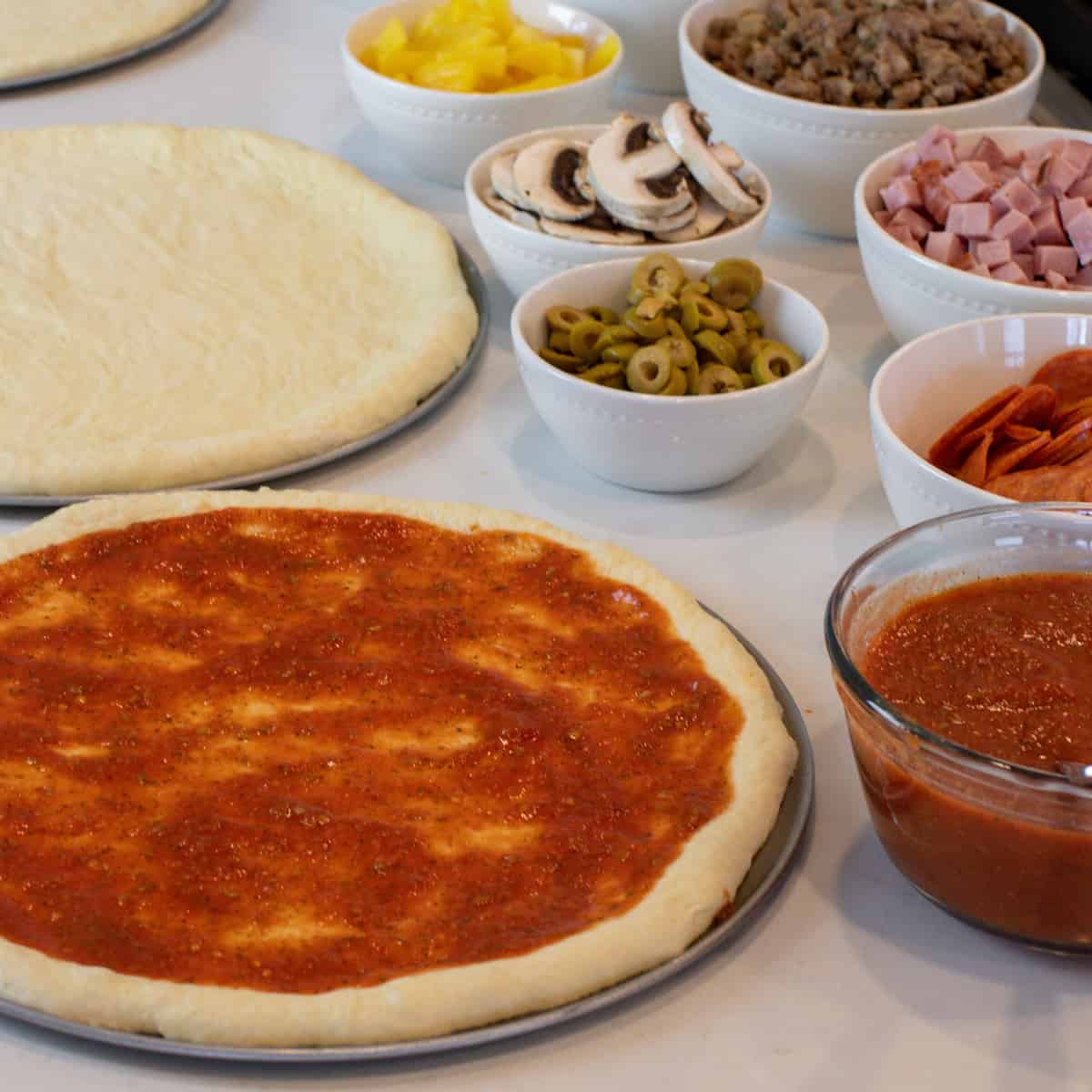 If you want to use this sauce to make some homemade pizza then feel free to check out this recipe for Homemade Pizza Dough. This dough is simple to make, very easy to work with, and is perfect to go alongside this sauce for an awesome fresh baked pizza.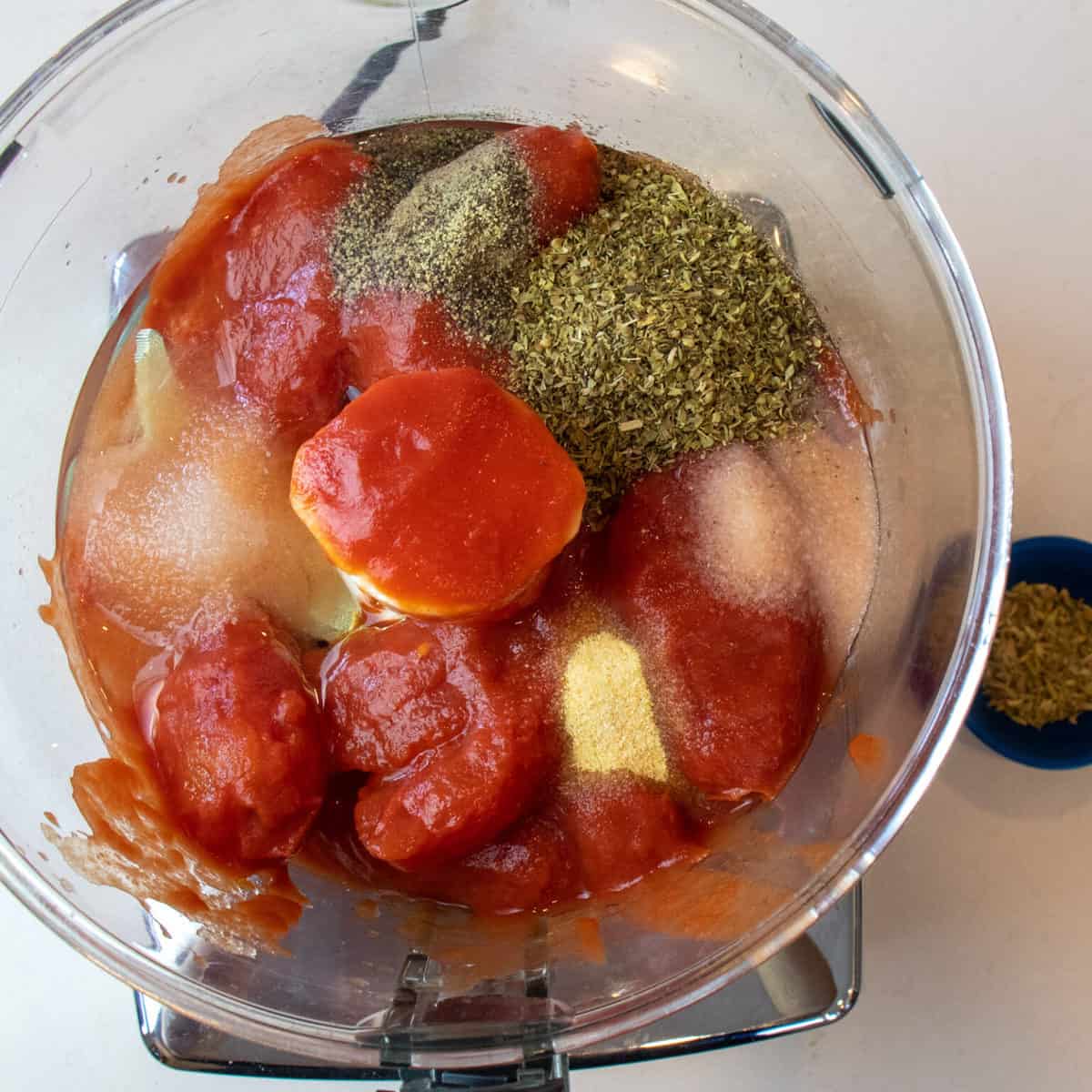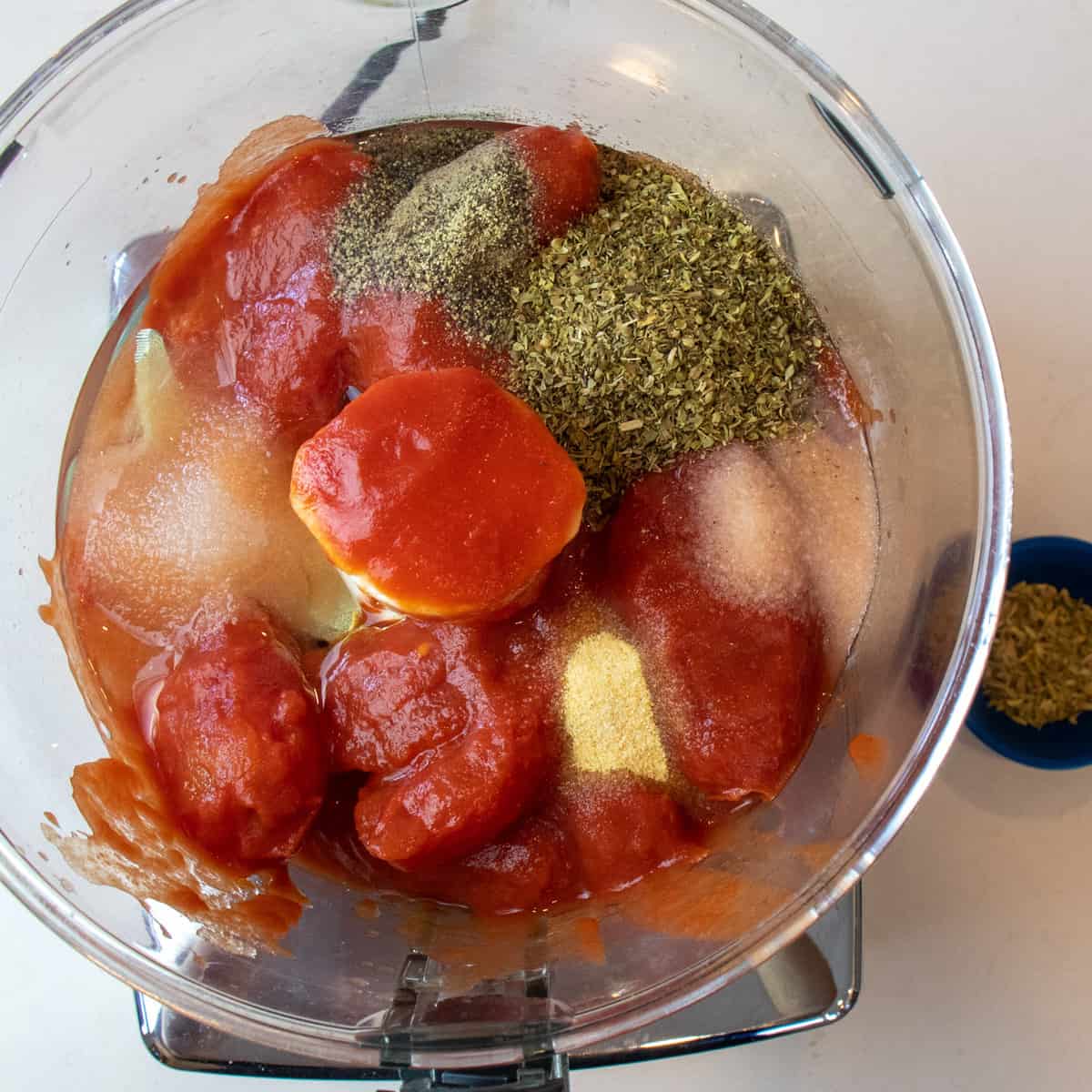 Ingredients for Homemade Pizza Sauce
Making pizza sauce from scratch is very easy to do and uses ingredients I typically have on hand,
Can of whole tomatoes (I have tried cans of both diced tomatoes and crushed tomatoes, and I find that whole tomatoes gives the best consistency for sauce).
white sugar
black pepper
salt
garlic powder
oregano
fennel seeds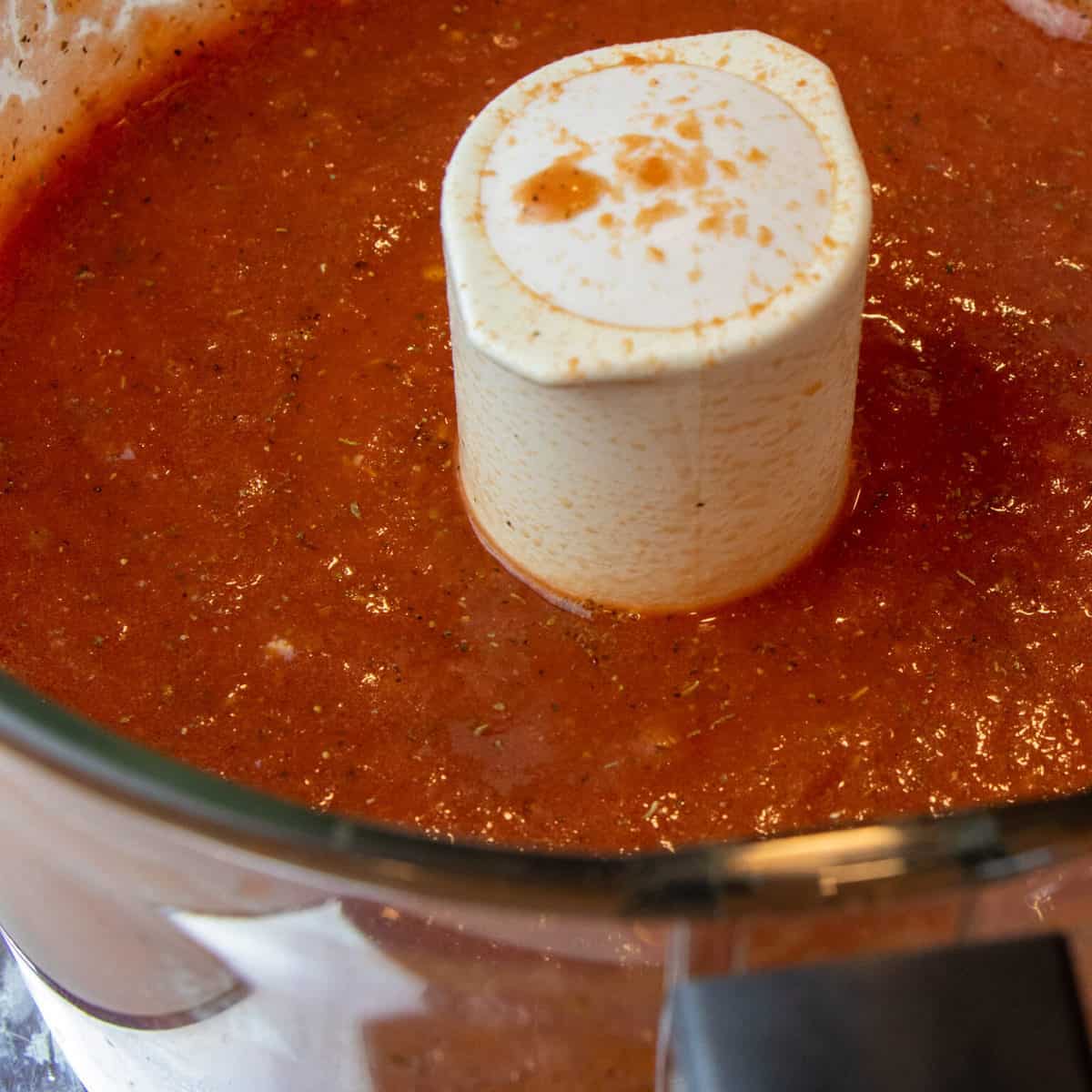 How to Make Homemade Pizza Sauce?
Making the sauce is very simple to do. I throw the ingredients in a food processor and pulse until smooth. I do not add the fennel seeds right away as I like them to stay whole. I add everything besides the fennel seeds first, and once the sauce is smooth, I add the fennel seeds and give the food processor a quick pulse to mix.
This sauce can be made ahead and stored in an airtight container in the fridge. Then it is ready to go when it is time to make the pizza.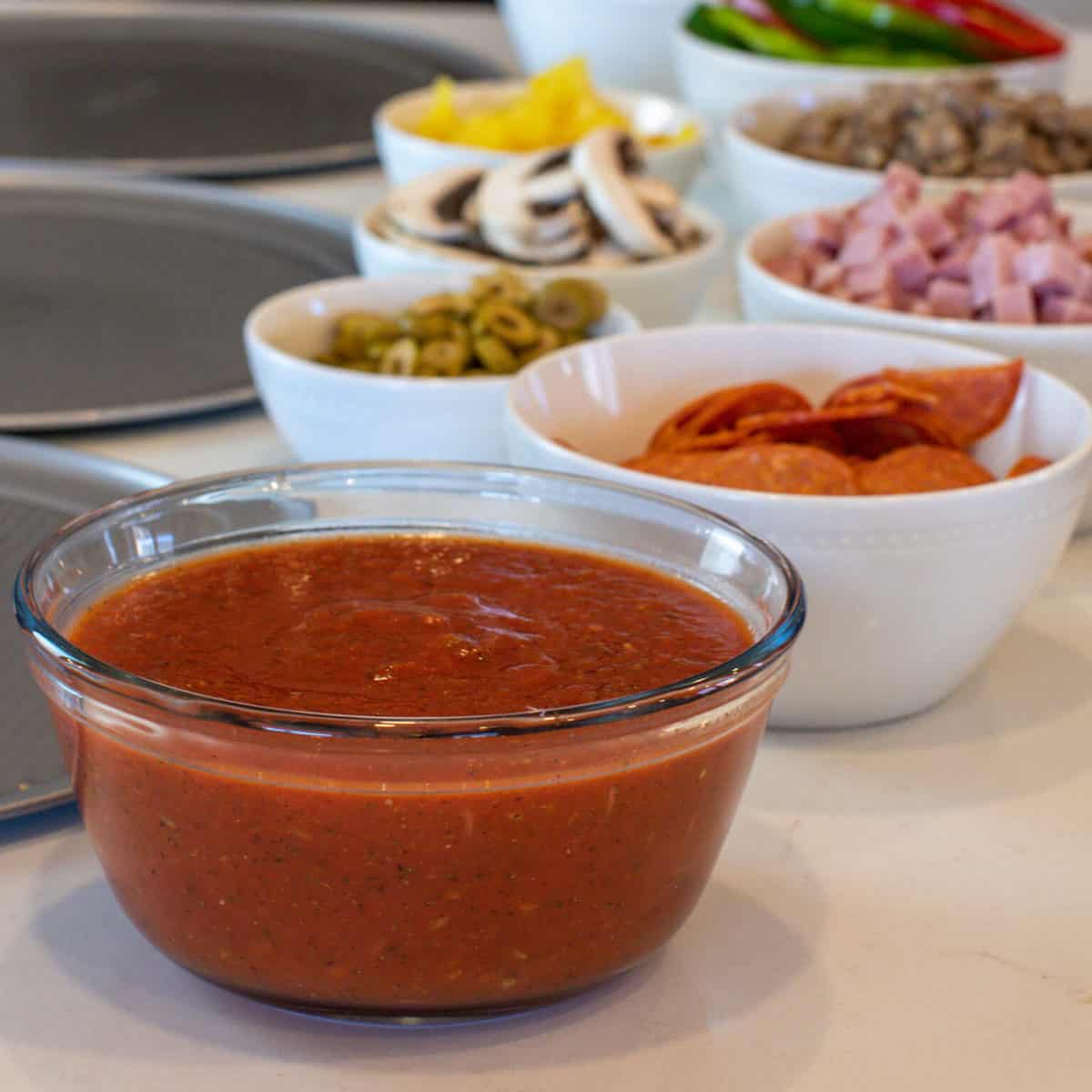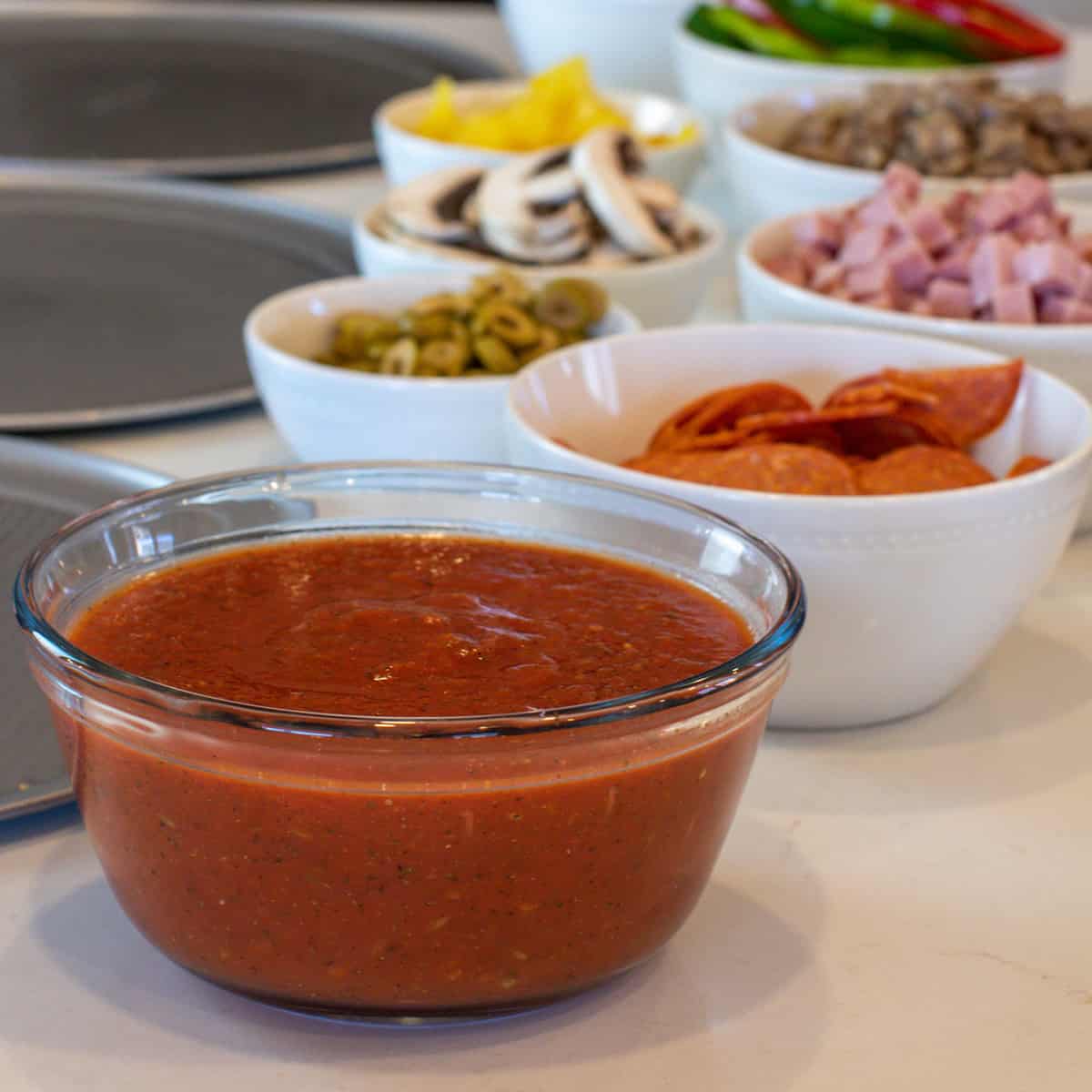 Time to Assemble the Pizza!
This homemade pizza sauce is so amazing on pizza. It works great with pre-baked crusts that you can purchase at the supermarket. It also is ideal for store-bought or homemade fresh pizza dough.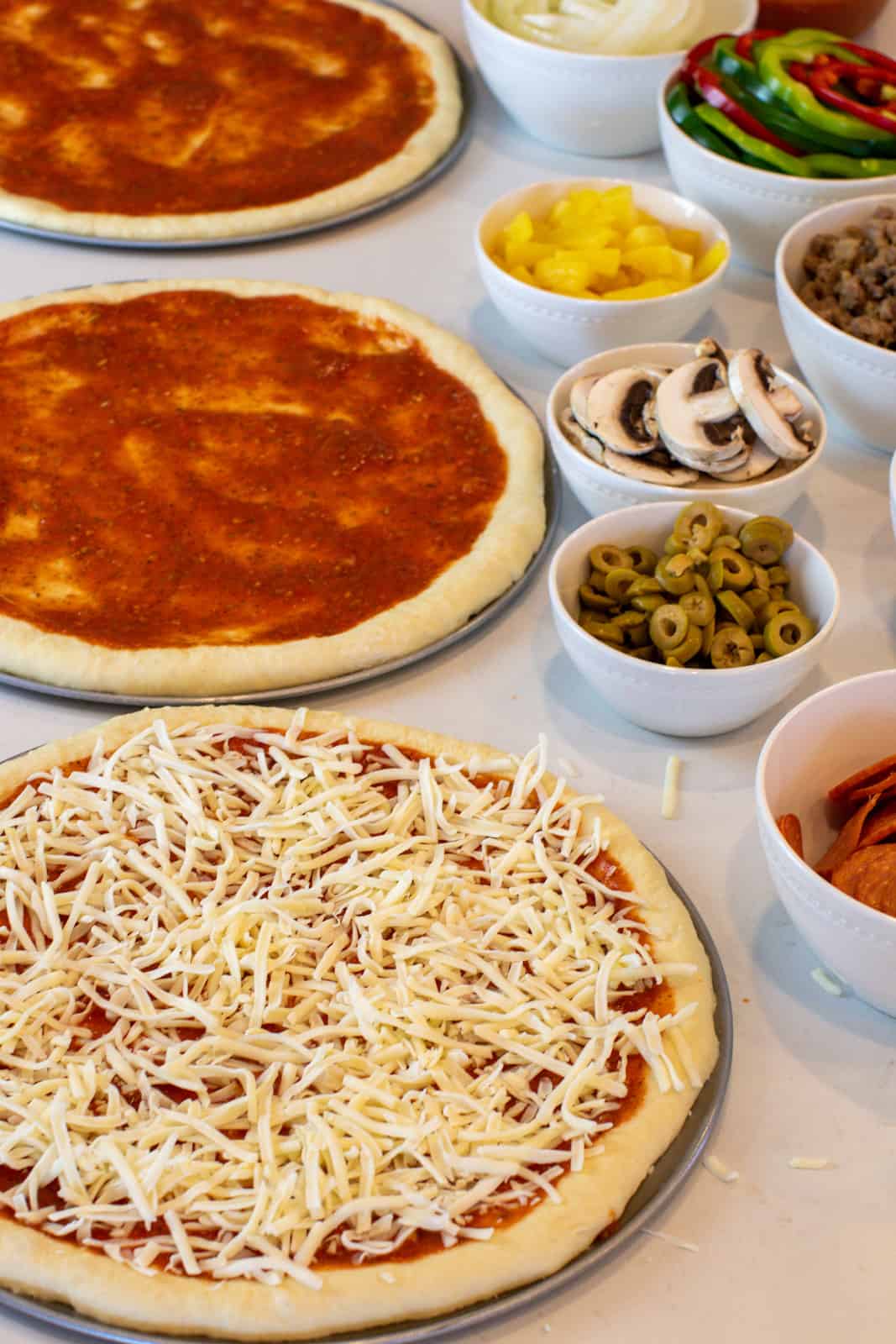 The great thing about pizza is the combination and variety of toppings. The possibilities are endless. We love to make a few pizzas on 'pizza night' and set out lots of topping options. Each pizza is usually quite unique and sometimes we even vary us each half of the pizza.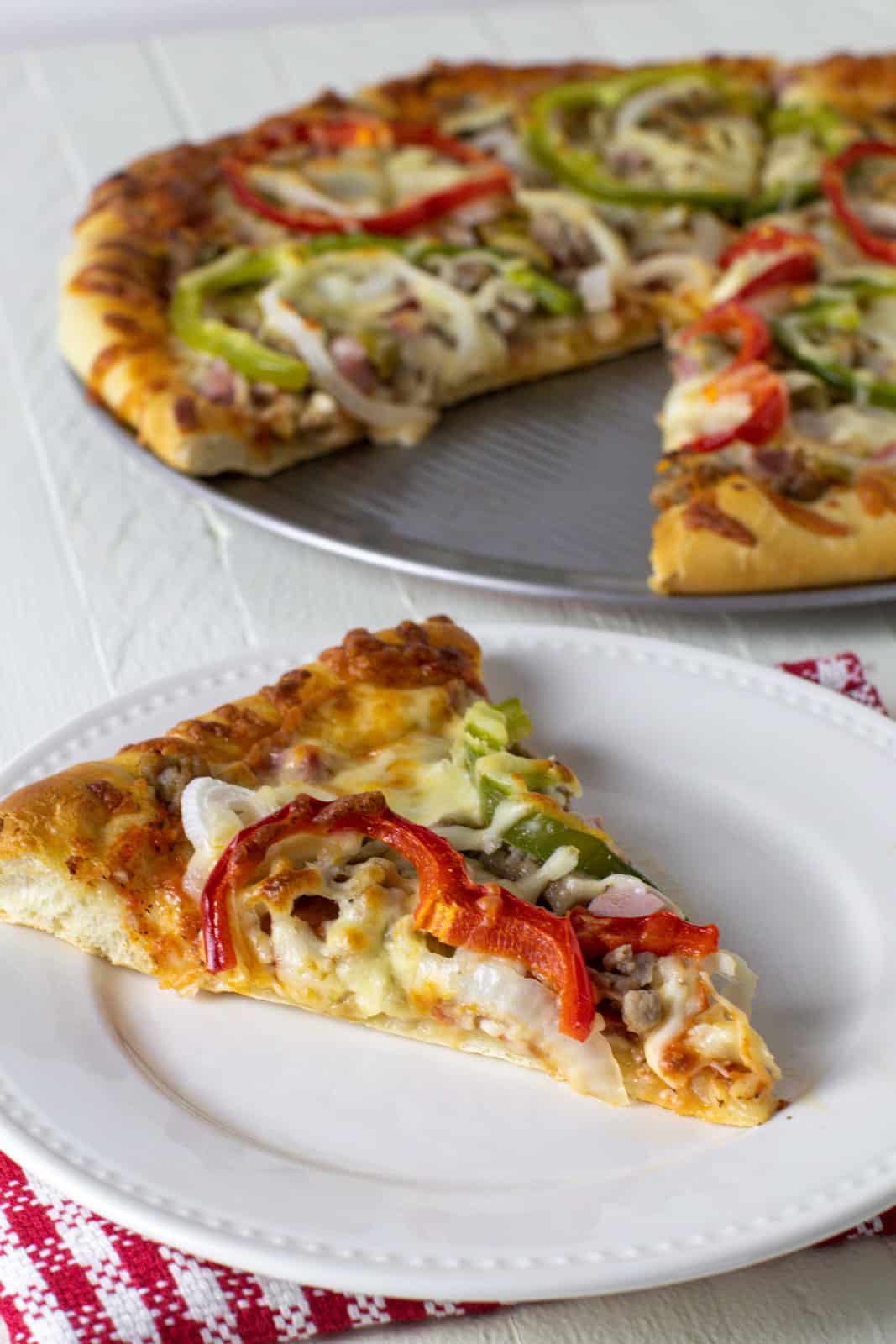 Check out these recipes!
Here are some recipes that is perfect to go alongside this homemade pizza sauce.
Homemade Pizza Sauce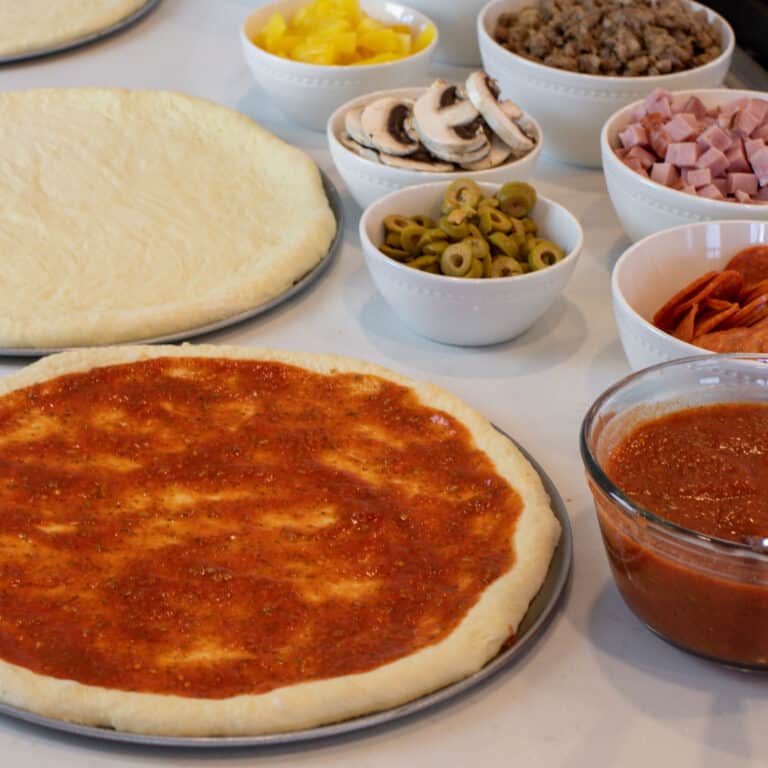 Print
Easy recipe for delicious homemade pizza sauce. Simple to make and perfect to use with either fresh pizza dough or pre-baked pizza crust.
Servings: 8
Ingredients
28 oz whole tomatoes , 1 can
2 tbsp sugar
2 tbsp oil
1 1/2 tsp salt
1/2 tsp pepper
1/2 tsp garlic powder
1 tbsp dried oregano
1 1/2 tsp fennel seeds
Instructions
Place all ingredients, except the fennel seeds, into a food processor and pulse until smooth.

Add the fennel seeds and pulse quickly to combine.

Use as a sauce for pizza, panzerotti, stromboli and more. Can also be used as a dipping sauce.
Nutrition
Per serving:
Calories: 63kcalCarbohydrates: 8gProtein: 1gFat: 4gSaturated Fat: 1gSodium: 579mgFiber: 1gSugar: 5g