This mash-up recipe is the perfect way to bring together all that is great about pepperoni pizza and put it on a burger.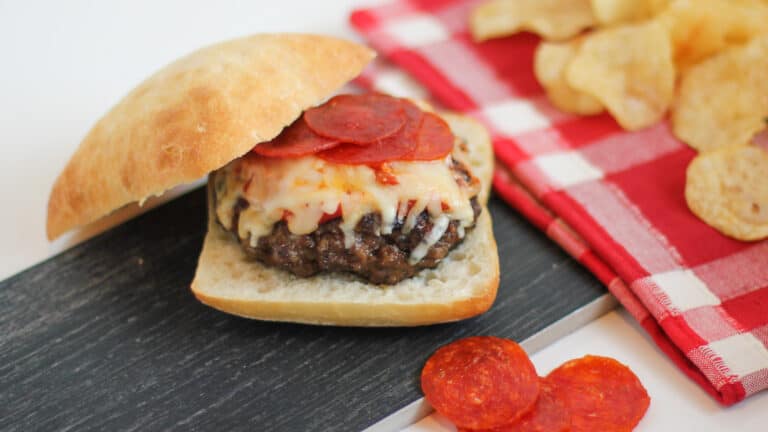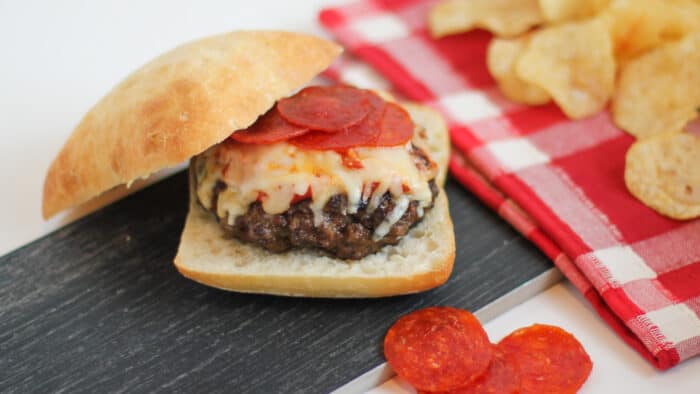 Everyone in the family just loves it anytime I make burgers. Of all the burgers that I have made, and there have been plenty, these pizza burgers are possibly my favourite. Just think about it. A juicy flavourful burger topped with pizza sauce, sliced pepperoni and melted mozzarella.
How could you not love it!?
The best burger is one that is made with fresh ingredients. Sure, I have purchased and used frozen pre-made patties. But, anytime I can, I try to make them myself because it is so worth it.
Every bite of this pizza styled burger is incredible. The juicy homemade patty with everything great about a pepperoni pizza. So good!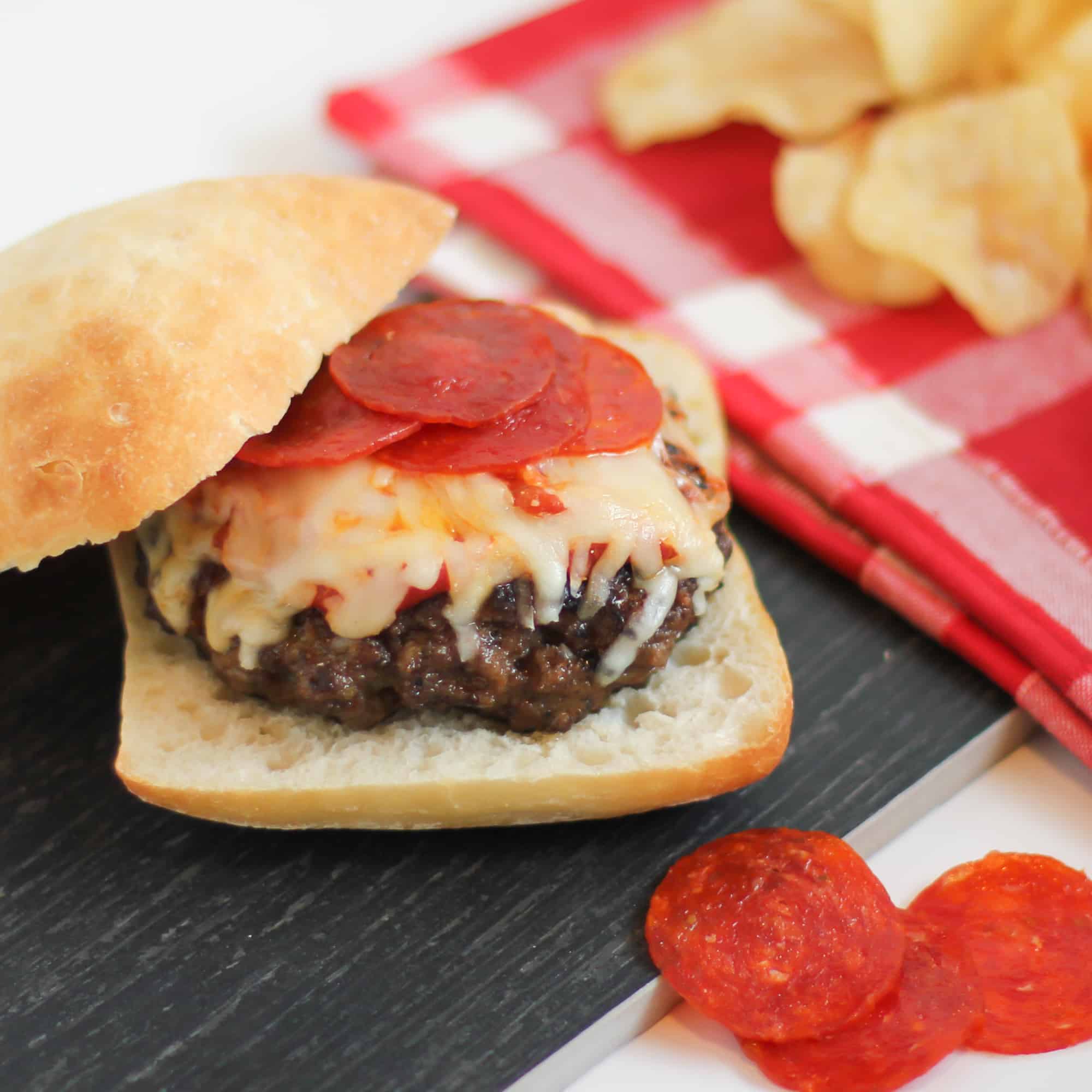 There are so many different ways to make a delicious burger. While this pizza style is a family favourite, I have made many other great kinds, using different types of meat, various toppings, and sauces.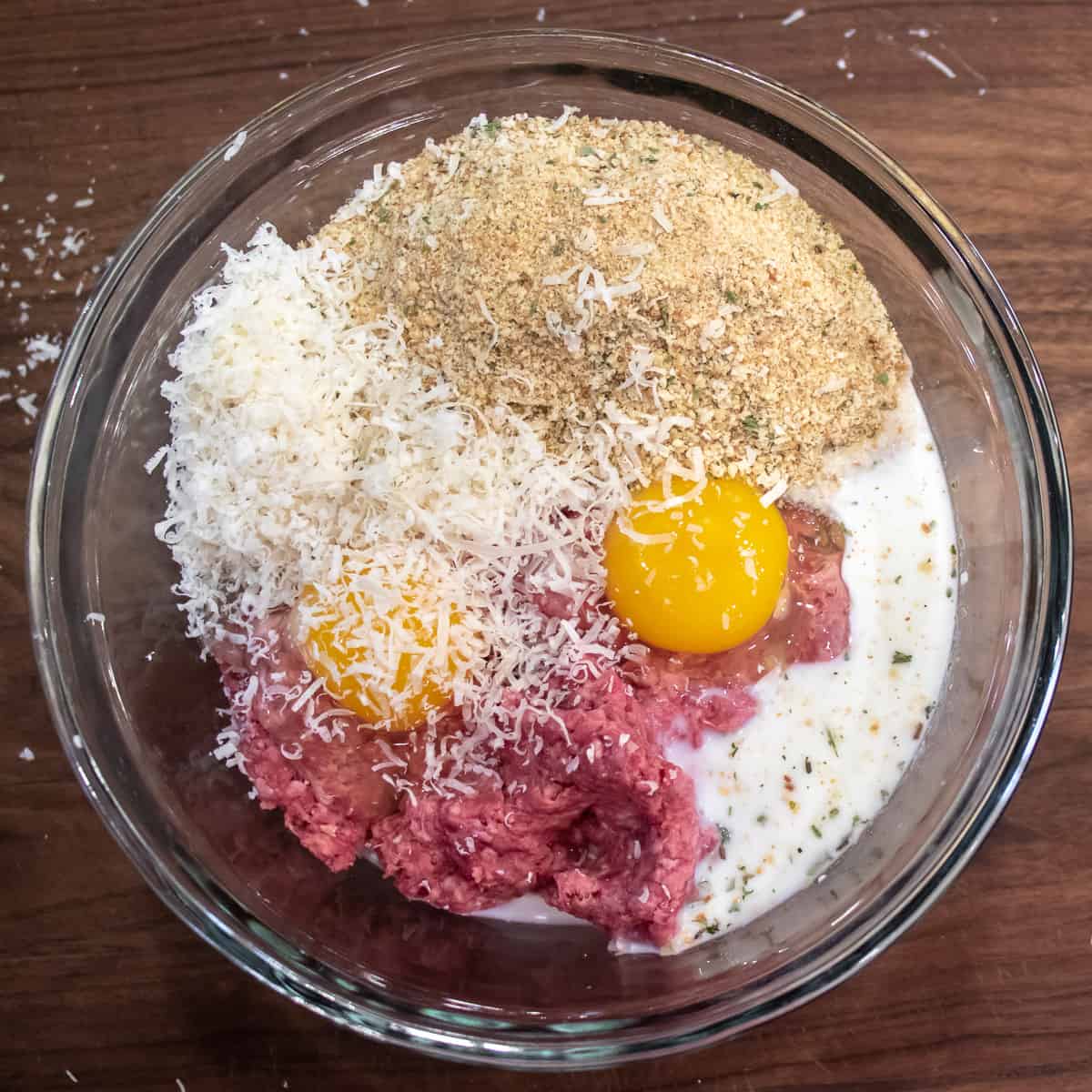 Making Homemade Burger Patties
There are so many different ways to make burger patties. If desired, you can keep it simple and use only meat. For this recipe, I added some bread crumbs, parmesan cheese, milk, eggs and seasonings. This patty is full of flavour and perfect for this Italian style burger.
This recipe is for 4 burgers, but I doubled the recipe, so the photo above shows twice the amount of ingredients in the recipe. Knead the ingredients thoroughly and take a handful of the mixture and form it into a patty.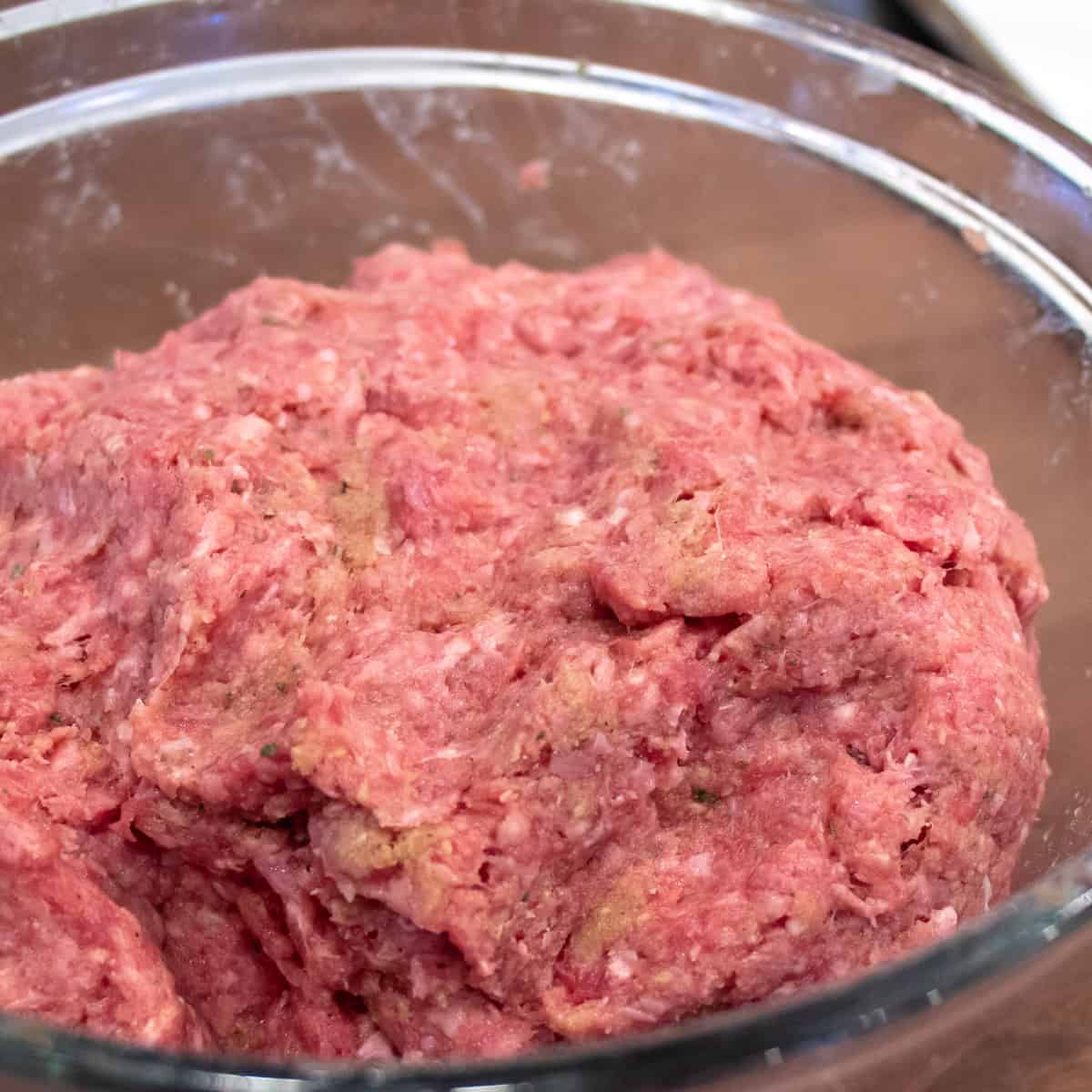 Grill or Skillet?
Burgers can be cooked on either a grill, skillet or griddle. Each way can work very well to produce a flavour patty that is juicy and delicious. I tend to use the grill when the weather is warm and make the burgers indoors during the cold winter months. I cooked these on my indoor griddle and it worked very well.
Topping Time!
Once the burger is mostly finished cooking, spoon a dollop of pizza sauce on top. Take a nice handful of grated mozzarella cheese and pile it high on top of the sauce. The sauce holds the cheese and keeps it from falling off. Top with pepperoni slices.
If you are cooking the burgers indoors, then place them on a baking sheet and bake in a 450F oven for about 5 minutes, or until the cheese is melted and bubbly. If you are grilling the burgers, then simply close the lid once the toppings have been put on each burger.
This pepperoni pizza burger is just AMAZING!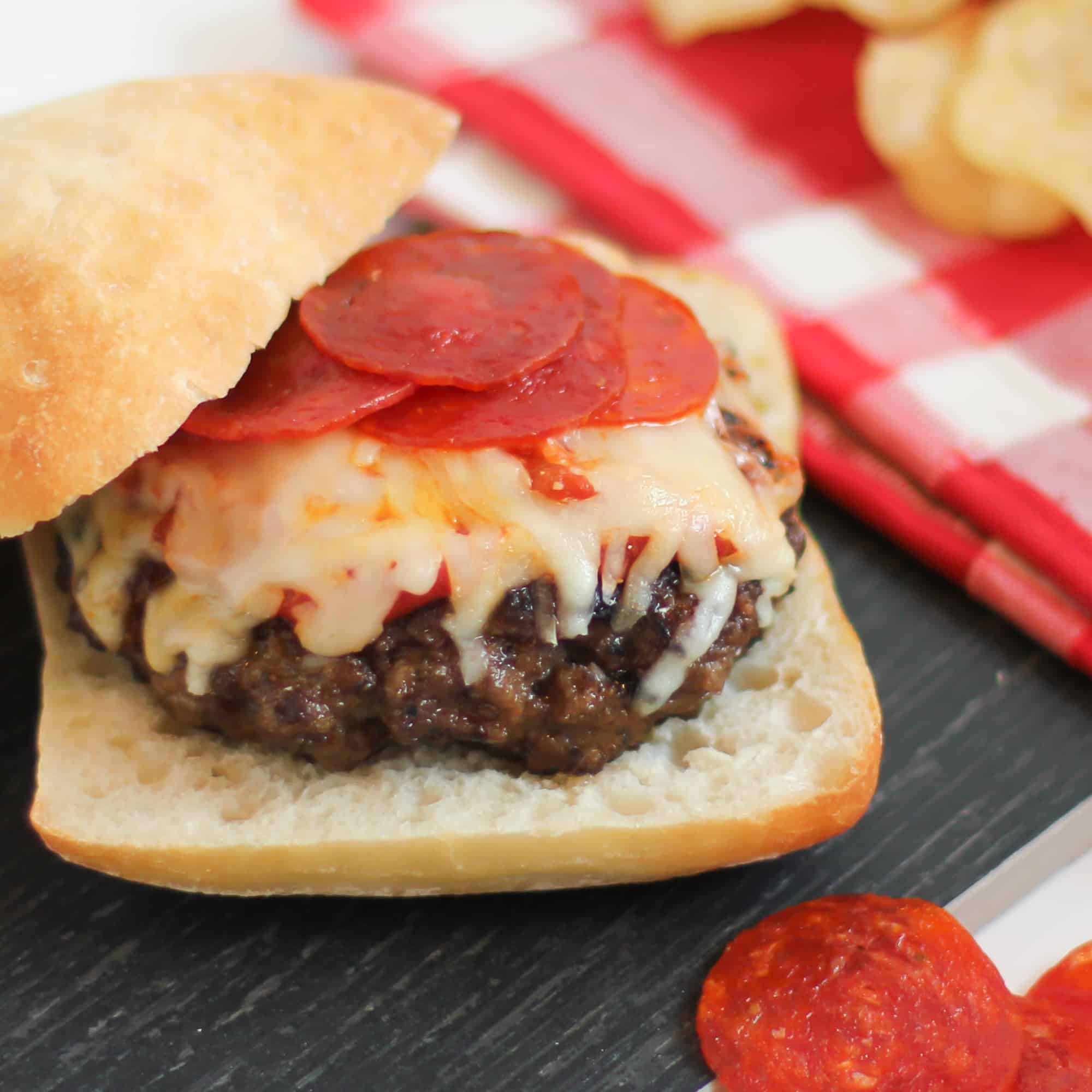 Other Pizza Styled Recipes
We love anything pizza flavoured in our house. Over the years, I have made lots of different meals that infuse everything great about pizza into another dish. Check out these recipe ideas.
Pepperoni Pizza Burger Homemade Recipe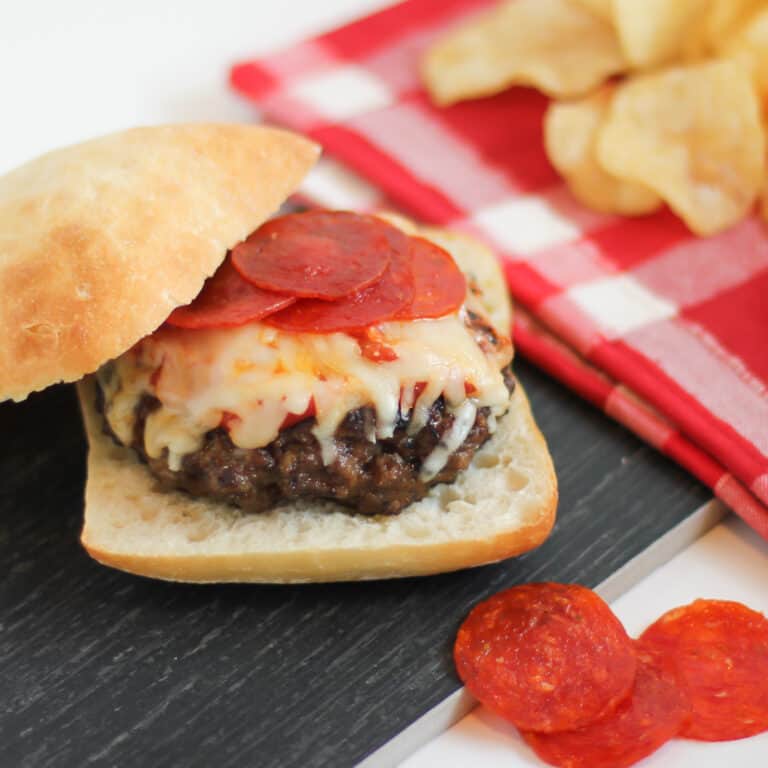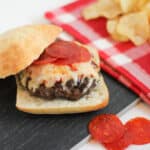 Print
A delicious and easy homemade burger with toppings of pizza sauce, grated mozzarella cheese and sliced pepperoni.
Servings: 4 burgers
Ingredients
1 pound extra lean ground beef
1 egg
1/2 cup bread crumbs
1/4 cup grated parmesan cheese
1/4 cup milk
1/2 tsp garlic powder
1/2 tsp oregano
1/2 tsp basil
1/2 tsp salt
2 tbsp butter
6 tbsp pizza sauce
2/3 cup grated mozzarella
24 pepperoni slices
4 burger buns
Instructions
Knead together the ground beef, egg, bread crumbs, grated parmesan, milk and seasonings. Form into 4 burger patties.

Heat a cast iron skillet medium/hot and melt the butter. Place the burgers on the skillet so they sear and create a crust. After about 3-4 minutes, flip the burger to create the crust on the other side. Cook the burger a little bit rarer than your preference as they will cook some more in the oven.

Place on a baking sheet.

Put 1 1/2 tablespoons of pizza sauce on each burger. Sprinkle grated mozzarella on top of the pizza sauce. Place 6 pepperoni slices on each burger.

Broil the burgers in a 450F oven for about 5 minutes or until the cheese is melting and the pepperoni is crisping.

Serve on a toasted bun.
Notes
Cook on the grill! If desired, the burgers can also be cooked on the grill. Then just before they are done, spread the pizza sauce on each burger. Pack some grated cheese on top of each patty and top with the sliced pepperoni. Close the lid and let the cheese melt.
Nutrition
Per serving:
Calories: 553kcalCarbohydrates: 34gProtein: 42gFat: 27gSaturated Fat: 13gCholesterol: 161mgSodium: 1294mgFiber: 2gSugar: 6g