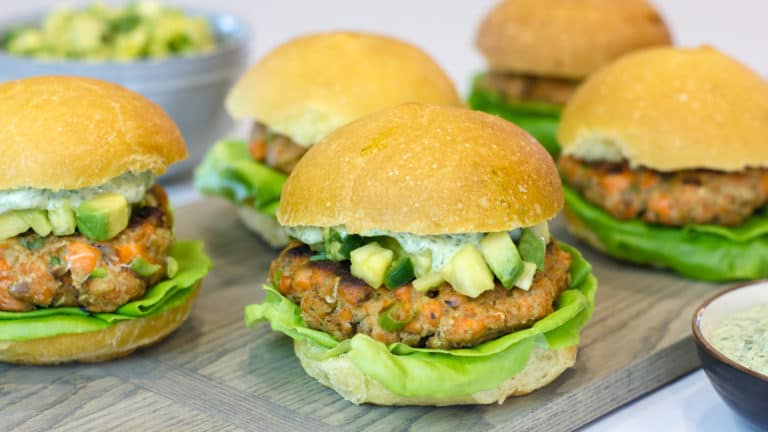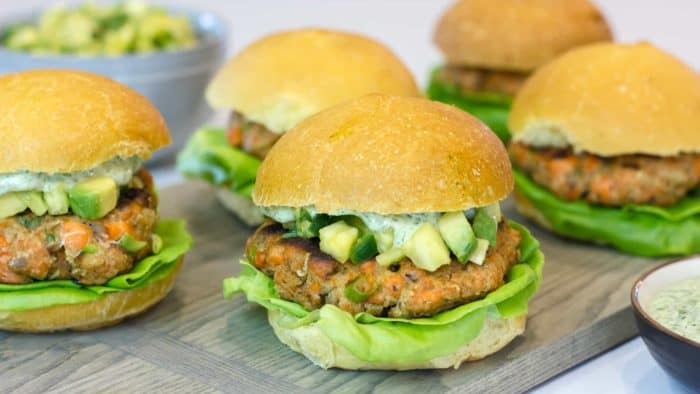 There is nothing like a good burger! It doesn't matter if it is made with beef, chicken or salmon, a homemade burger with fresh toppings is a great dinner any day of the year.
I so especially love salmon burgers. They are a nice change from the standard beef burger. Not only do they have a lighter flavour, salmon is also very healthy and a great choice for people trying to reduce the amount of red meat they eat.
Over the years I have purchased many packages of frozen salmon burgers. They are tasty and just as easy to cook as a beef burger. But, there is no comparison to making your own salmon burgers with fresh salmon.
For this recipe I used wild coho salmon. This is a great filet of salmon to cook with and works so well when making these salmon burgers.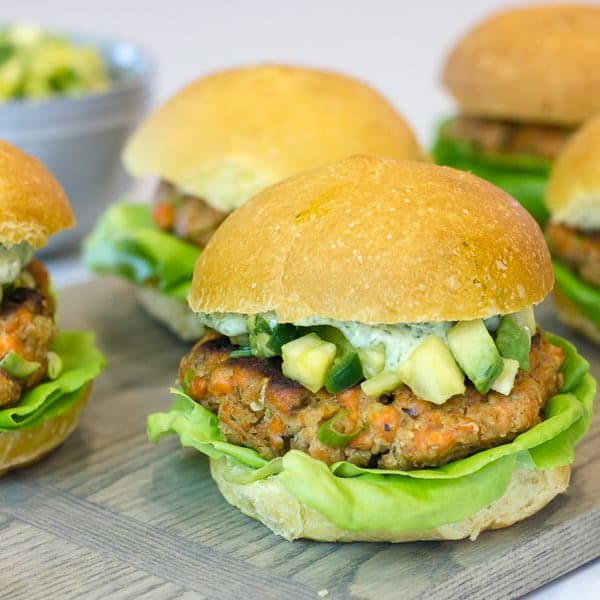 The first time I made salmon burgers, I used a food processor. It worked well to chop up the salmon into small chunks, but the problem was that I found it minced the salmon far too finely. It almost seems to blend the salmon into a paste. Using a knife allows you to have far more control to chop up the salmon into the sized chunks that you want in your burger patties.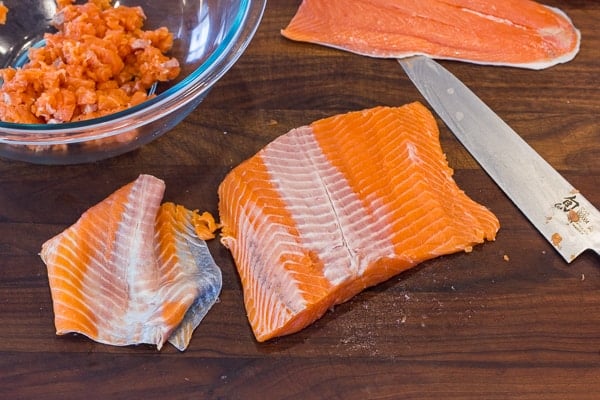 Removing the skin off of a filet of salmon is not difficult, but it does require a little bit of patience. Try your best to take the skin off without losing much of the salmon meat.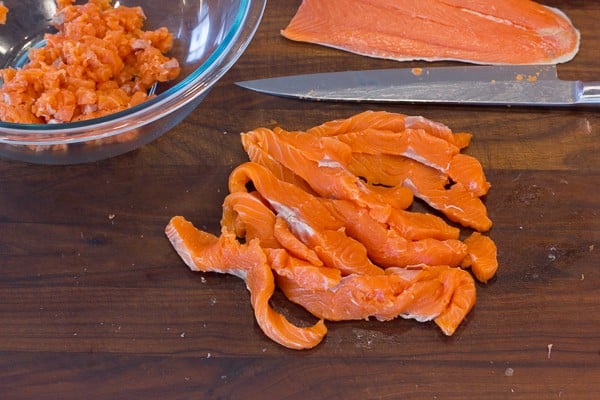 The first step to mince the salmon is to slice the filet into thin strips.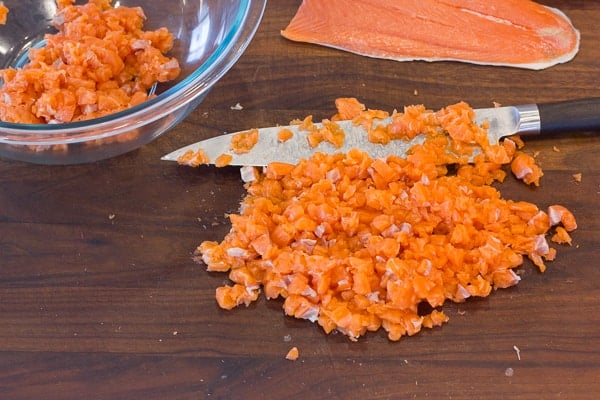 Chop up the thin salmon strips into small diced pieces. You definitely don't need to worry about having uniform chunks. The nice thing about mincing the salmon with a knife instead of using a food processor, is that there are still chunks of the salmon throughout the burger patty.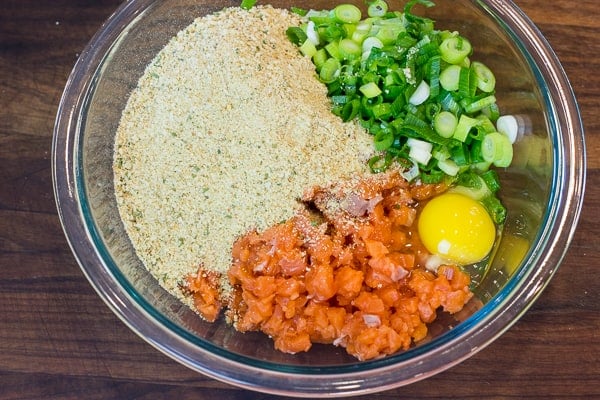 Place the minced salmon in a bowl with the bread crumbs, seasoning, egg, and green onions.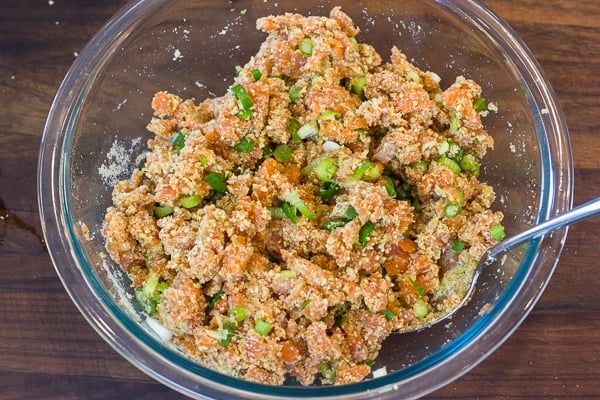 Stir everything so that everything is well combined. Make sure that there are no pockets of dry bread crumbs. It is important that the texture be wet enough so that the salmon mixture can be shaped into patties and will not fall apart during cooking.
If it seems like the mixture is too dry, add a couple tablespoons of cold water and mix some more until it reaches the texture where it can be formed into patties.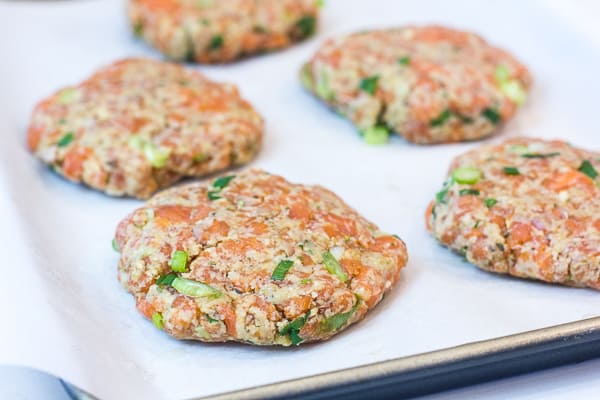 Shape into burger patties and place on parchment paper. If you are not going to fry them right away, cover them with plastic wrap until ready to be pan fried.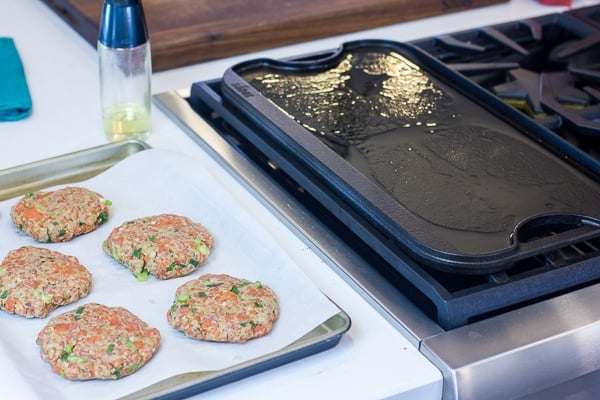 These salmon burgers can be fried in a frying pan, skillet, griddle or panini grill. I use a cast iron griddle and it is ideal for frying up these burger patties.
Now while this recipe and post is geared towards cooking the salmon burgers inside on the stovetop, you can definitely cook them on the outdoor grill. Just be aware that when cooking these on an outdoor grill, they have an easier chance of breaking apart compared to beef burgers. Be particularly more careful when flipping them on the grill grates.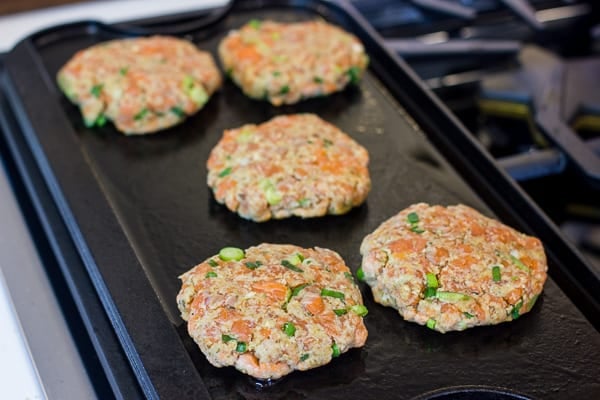 Heat oil in the skillet or griddle to medium high heat. Gently place the salmon burgers on the skillet/griddle. Fry for about 5-6 minutes.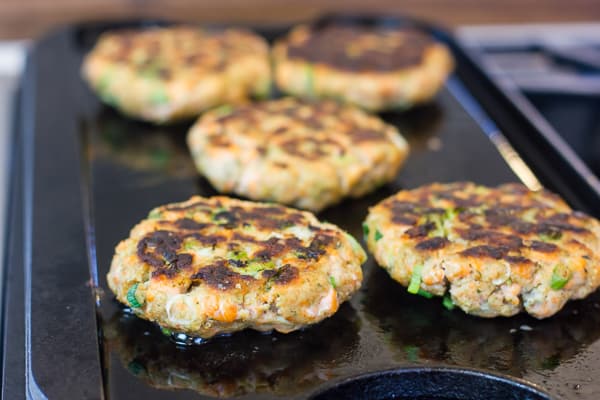 Carefully flip the burgers and fry for another 5-6 minutes on the other side or until the salmon burgers is cooked through and reaches an internal temperature of at least 145F.
Once the salmon burgers are cooked through, place them on a plate lined with paper towel to rest for 3-5 minutes.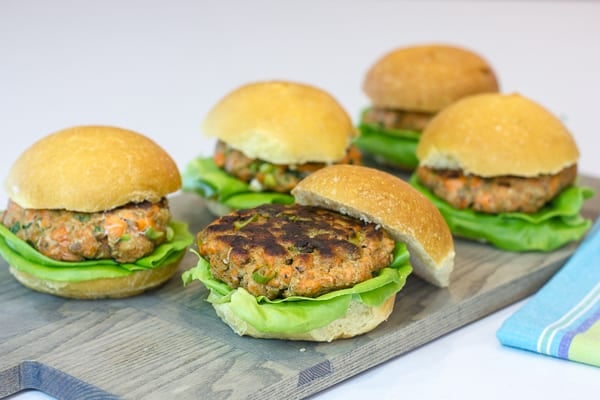 Place the salmon burgers on fresh burger buns. I like to place them on top of a couple leaves of boston lettuce.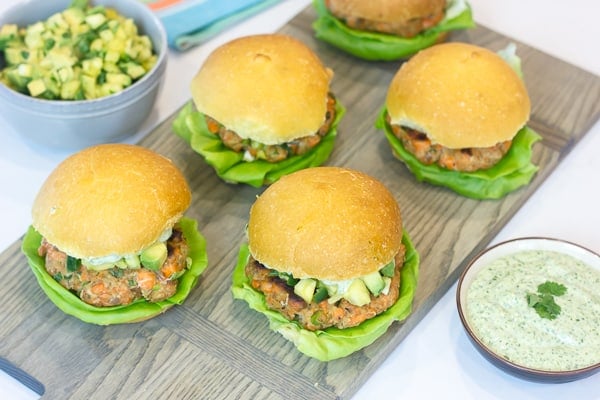 Salmon burgers are best when served with toppings and condiments that highlight the wonderful flavours of salmon. For these burgers, I topped them with a couple scoops of Tropical Pineapple and Avocado Salsa. This salsa perfectly complements the salmon. I also spread some Cilantro Lime Mayo on the burger buns.
These burgers are so incredible. There are chunks of the coho salmon in every bite and the fruitiness of the pineapple adds such a nice sweetness. The creaminess of the avocado and mayo blend everything together.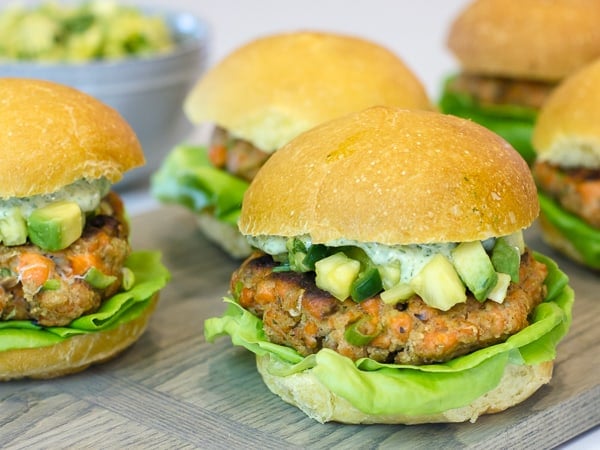 Salmon Burgers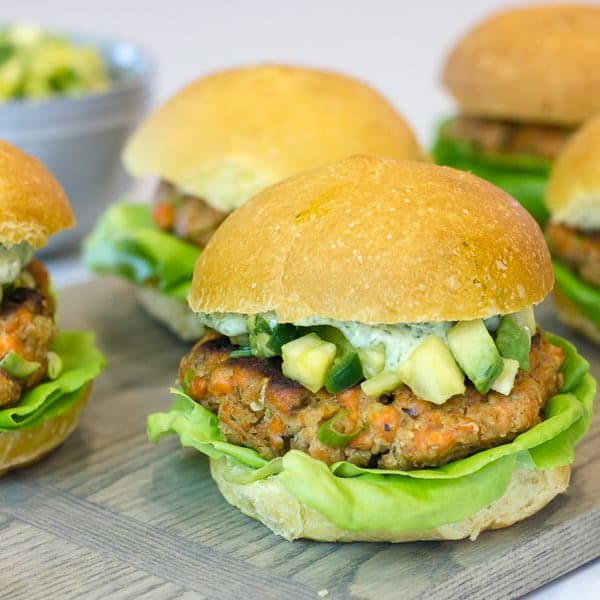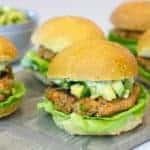 Print
Easy to prepare salmon burgers made with fresh salmon filets, bread crumbs, egg and green onions. Pan fry on a skillet or griddle or even cook on a grill.
Servings: 5 burgers
Ingredients
2 pounds salmon filets
1 1/2 cups bread crumbs
1 egg
4 green onions , thinly sliced
1 tsp salt
1/2 tsp black pepper
1 tsp dried parsley
3 tbsp oil
5 buns
burger toppings
Instructions
Carefully remove the skin off the salmon filets. Mince the salmon finely.

In a bowl, stir together the minced salmon, bread crumbs, seasoning, egg and sliced green onions. Make sure all the ingredients are well mixed. It should be moist enough to form and hold in the shape of a patty. Add a couple tablespoons of water if the mixture seems too dry.

Form into nice sized burger patties.

Heat oil in a skillet or griddle over medium high heat. Gently place the salmon burgers on the skillet/griddle and fry for 5-6 minutes. Flip the burgers over and cook for another 5-6 minutes or until the burgers reach an internal temperature of 145F.

Place the burgers on a plate lined with a paper towel and rest for 3-5 minutes.

Place on burger buns with toppings and condiments of choice.
Nutrition
Per serving:
Calories: 595.63kcalCarbohydrates: 45.79gProtein: 45.88gFat: 24.1gSaturated Fat: 3.45gCholesterol: 132.53mgSodium: 1011.26mgFiber: 2.66gSugar: 5.01g