The Best Baked Chicken Leg Quarters
Cooking chicken legs in the oven is simple, easy and perfect for a weeknight meal! Plus, the crispy skin is just amazing.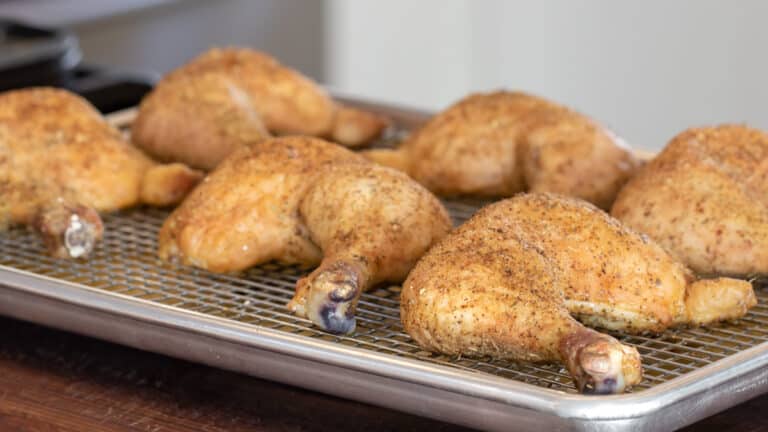 I was in the local supermarket and chicken leg quarters were on sale. This is generally one of the most economical meats at regular price, but at a discount, this cut of meat is a cheap way to feed a family. Very versatile, these can be prepared many different ways, but my favourite is baking chicken leg quarters in the oven.
Everyone in our family absolutely loves roast chicken. This recipe cooks leg quarters with a method and seasoning that tastes just like roasted chicken. Coated in an herb and garlic Italian style seasoning, the skin is light and crispy yet the meat is juicy and will fall off the bone delicious.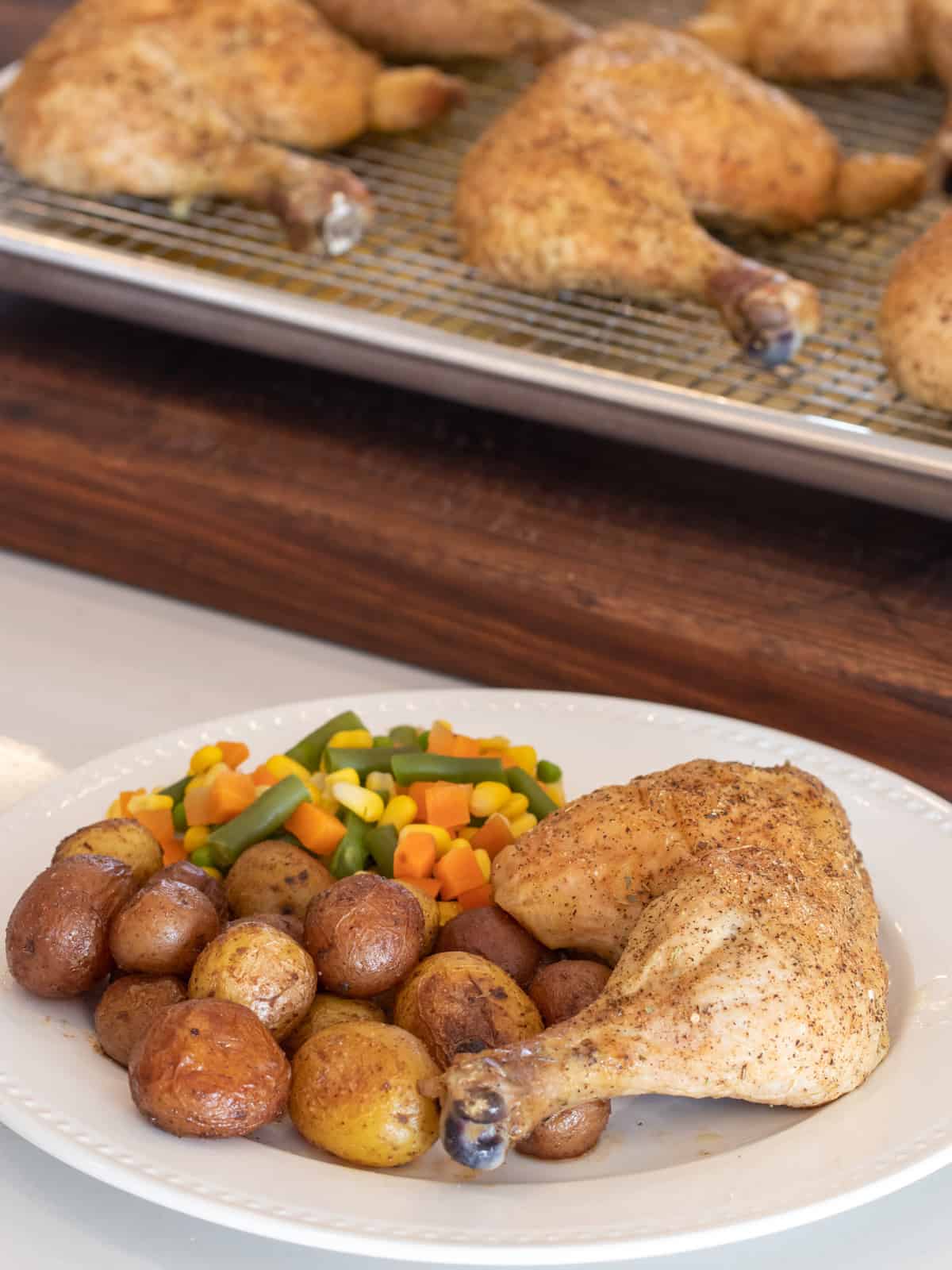 Why Are These Chicken Leg Quarters The Best?
Simple to make: These are perfect for those busy weeknight meals when you want to make something that is easy!
Economical: This is one of the cheaper cuts of meat you can find at the local supermarket.
Fall off the bone meat: Moist and tender, the meat will just fall off the chicken bones.
Crispy skin: the skin is to die for. It is crispy and full of flavour with all the seasoning. We often eat the skin first!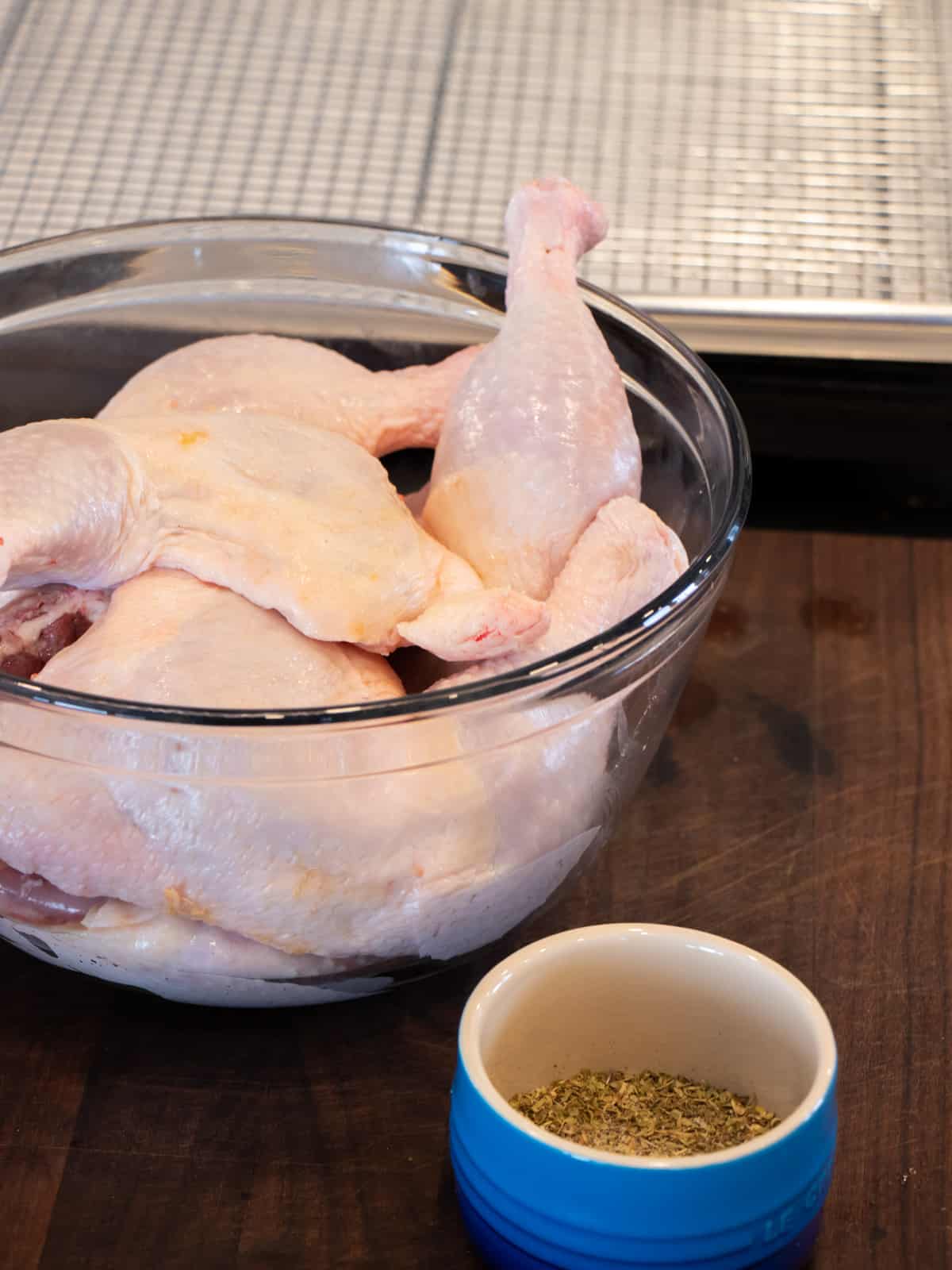 What Ingredients You Need For Baked Chicken Legs
Chicken leg quarters – these are the whole leg with the thigh and drumstick together
Salt
Pepper
Thyme
Oregano
Basil
Cayenne – there is just a little to give the seasoning a slight kick. Feel free to omit or even add more based on your preference.
Garlic powder
There is not much needed to prepare chicken leg quarters for the oven. While chicken legs can be split into both the drumstick and thigh, they are also great cooked and served whole.
Expert Tip: Sometimes there is some excess skin and fat that wraps around the underside of the thigh. Trim that extra skin away.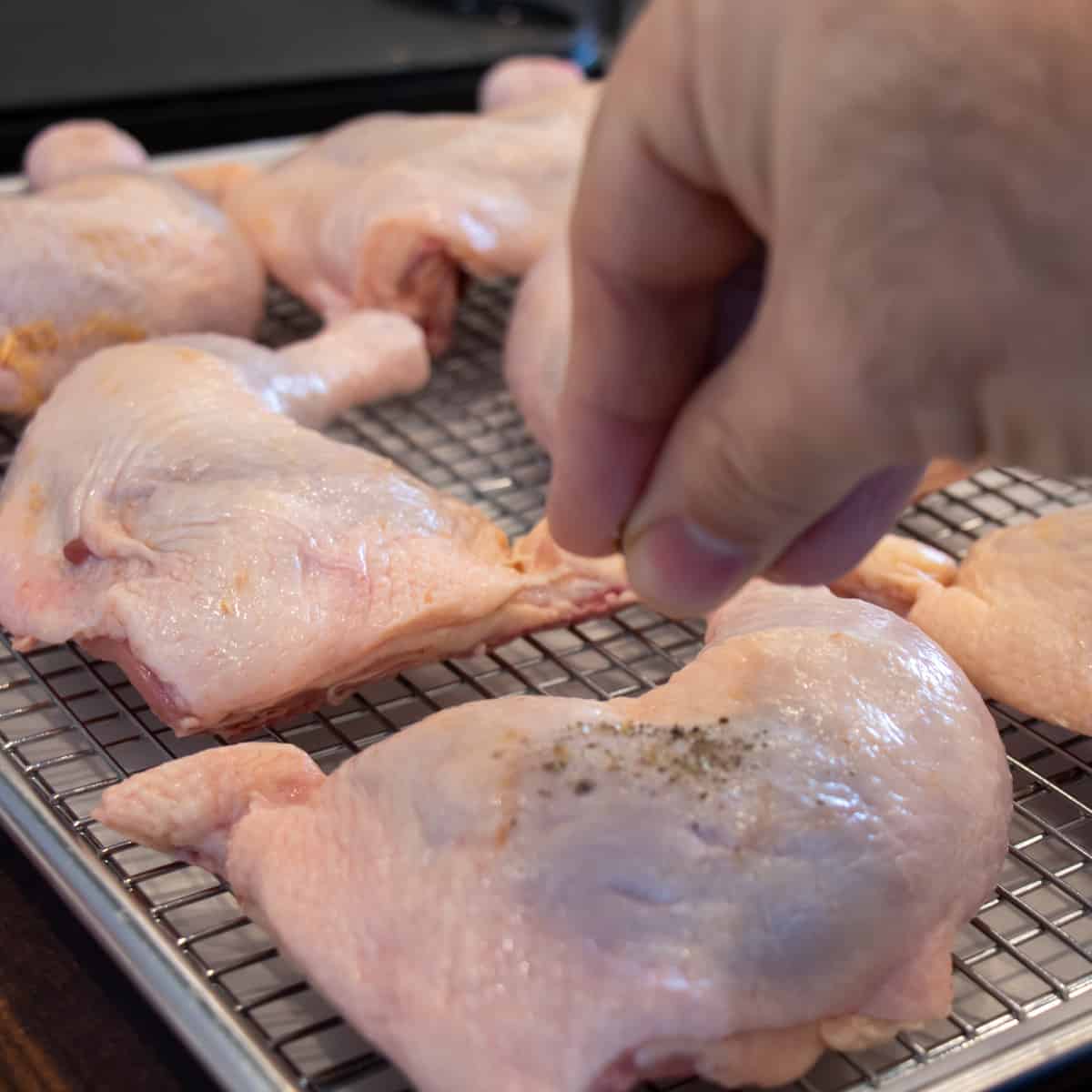 How To Season Chicken Legs
This baked chicken leg quarters recipe uses just a simple herb and garlic rub for the seasoning. I like to use a very simple seasoning that is mostly made up of salt, pepper and some dried herbs. Rub the spice mixture all over the chicken, including the underside as well.
Will Other Seasonings Work?
If you want to try something different, there are many different ways to spice and season the meat. Marinades, glazes and bbq sauces are great for chicken legs, and here are some excellent recipes. Feel free to try any of these below or make your own. If you create your own seasoning blend, please share in the comments below. I am always on the look out for different seasonings for chicken.
If you want to try some different seasoning, then try Sweet and Smoky Chipotle Rub, or Curry Rub. You could also use a marinade or sauce like Jerk Chicken Marinade, Greek Marinade for Chicken, or even Corona Lime BBQ Sauce.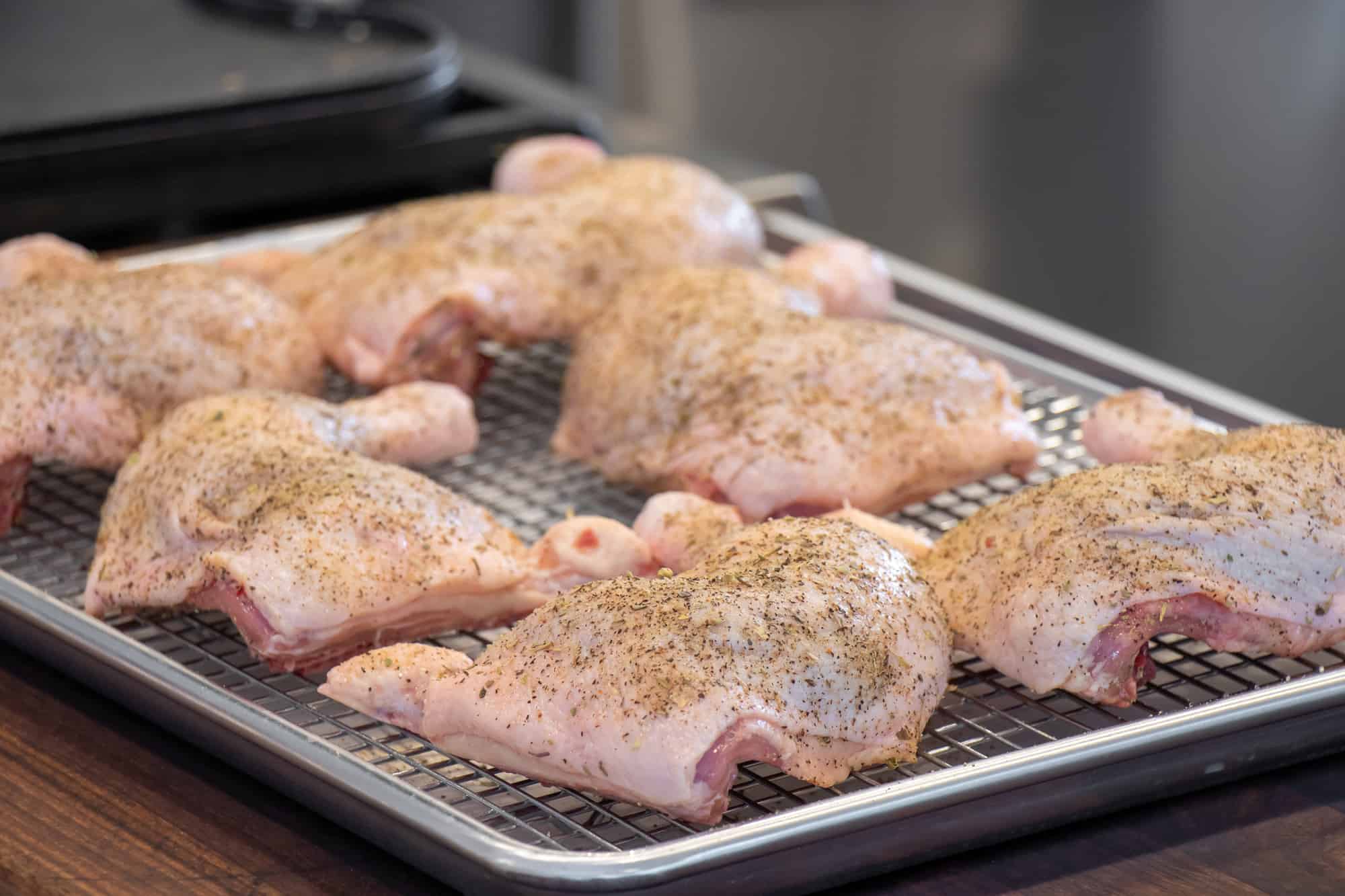 What Type Of Tray To Place The Chicken On
Once they are seasoned, place the chicken on a baking sheet. I like to use a rack as it allows the heat to circulate all around the meat. Raising the chicken up a little prevents it from cooking in its own grease and juices. If desired, you could also place a sheet of parchment paper between the rack and the baking sheet. this allows for super easy cleanup afterwards.
Expert Tip: I have also used a stoneware rectangular baking dish for these baked chicken leg quarters and it also works very well. It is better for smaller quantities since you want to make sure that there is enough space between the chicken pieces. My preference though is still to use a baking sheet since I find the air and heat circulates around the chicken better since there are no sides like there is on a stoneware dish.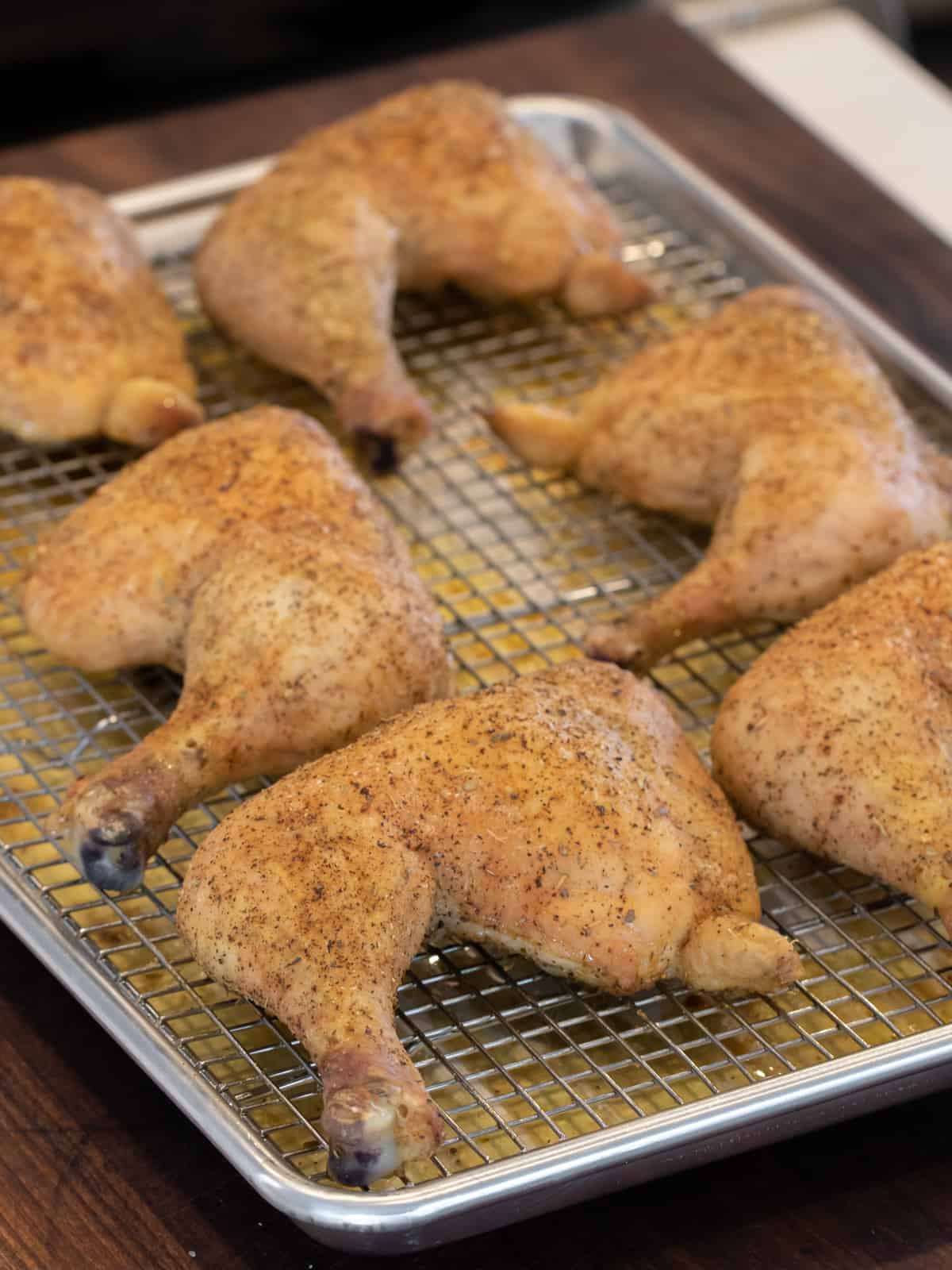 What Temperature and How Long to Cook
Bake in a 375F oven for 75 minutes. I have tried different temperatures, both higher and lower and I find that 375F is ideal for getting meat that is fall off the bone tender as well as a skin that is rendered and crispy.
Expert Tip: I use my digital thermometer to check the internal temperature of the meat. Stick the probe in the fattest part of the chicken. I like to cook until the temperature is around 185F. At this point the meat will fall off the bone and has so much flavour.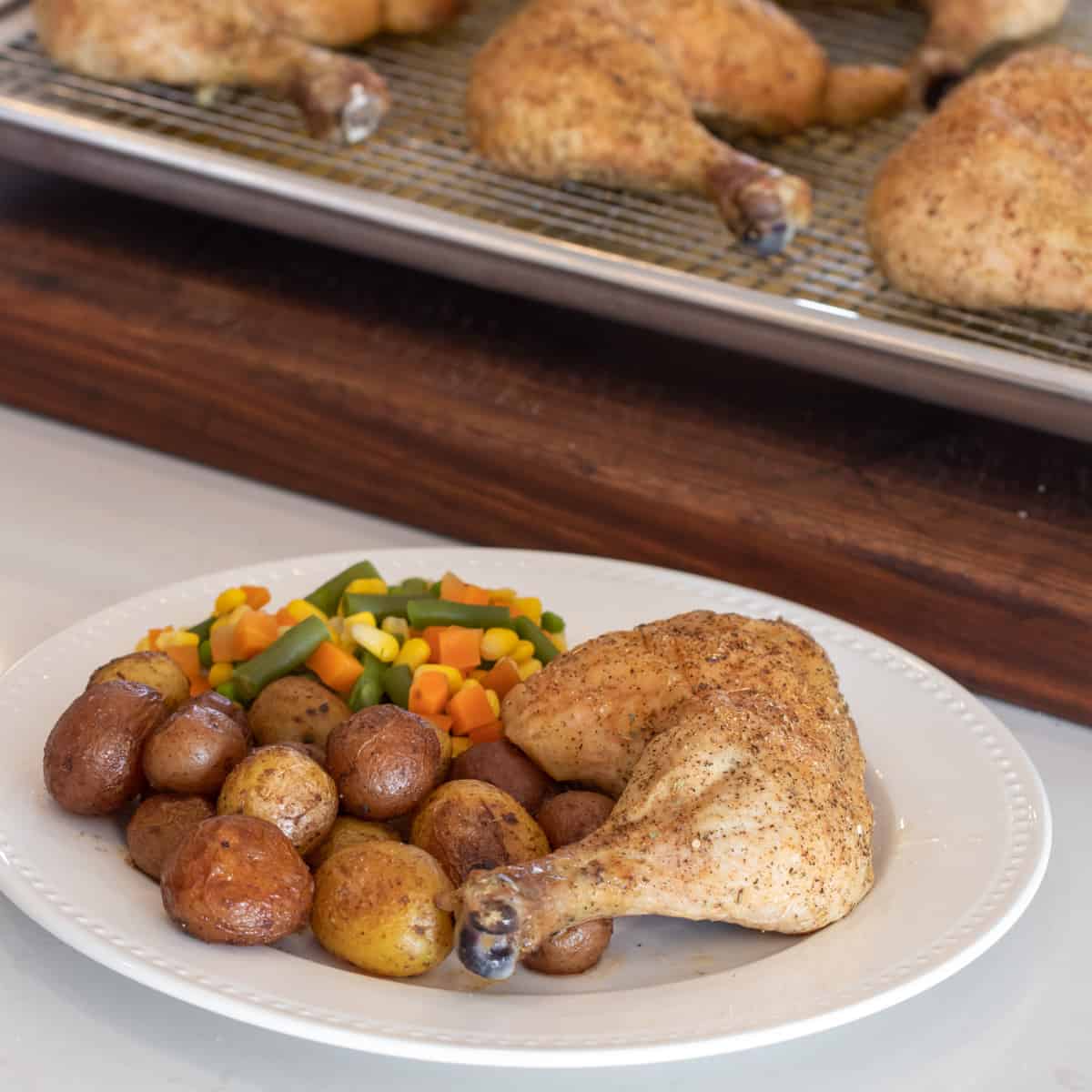 Other Similar Recipes
Cooking chicken legs and thighs is very easy since they don't dry out like breast meat. There are many different ways to cook and prepare this dark meat part of a chicken. Here are a number of other great recipes.
Baked Chicken Leg Quarters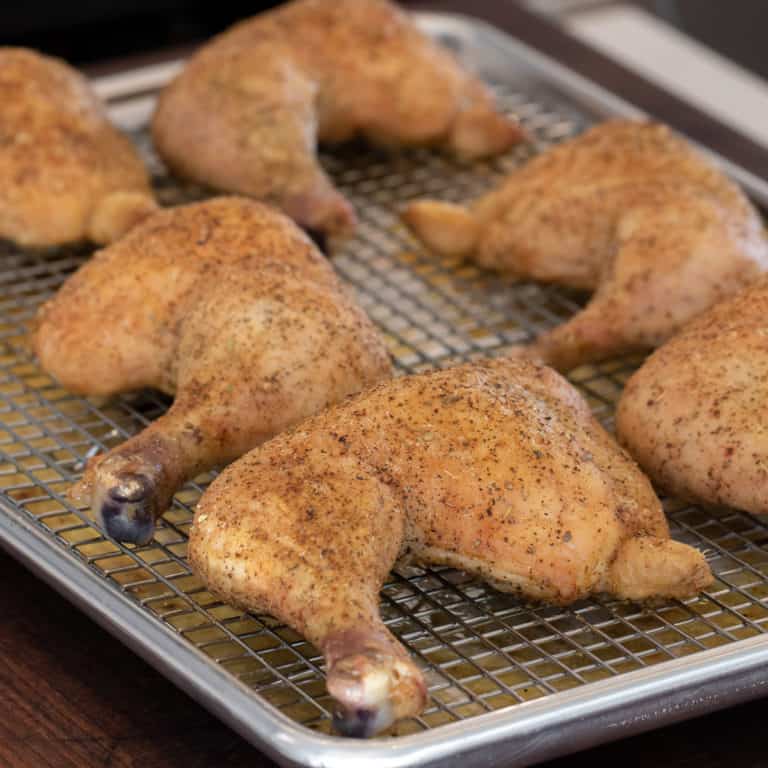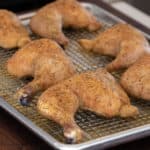 Print
Easy recipe and instructions for baked chicken leg quarters with a simple Italian herb and garlic seasoning. Whole leg quarters include drumstick and thigh.
Servings: 6
Ingredients
6 chicken leg quarters
1 1/2 tsp salt
1 tsp black pepper
1/2 tsp thyme
1/2 tsp oregano
1/2 tsp basil
1/4 tsp cayenne pepper
1/4 tsp garlic powder
Instructions
Preheat oven to 375F

Trim the chicken legs of any excess fat.

Mix spices together in a small bowl. Generously rub the seasoning all over the chicken leg quarters.

Place the chicken on a baking sheet with a rack.

Bake for 75 minutes.

Take out of the oven and let rest 5 minutes before serving.
Nutrition
Per serving:
Calories: 319kcalCarbohydrates: 1gProtein: 24gFat: 24gSaturated Fat: 6gCholesterol: 142mgSodium: 693mgFiber: 1gSugar: 1g
This recipe was originally published in January 2020