How to Bake Chicken Wings
Simple instructions for how to cook chicken wings in the oven so they are crispy and taste like they are deep fried!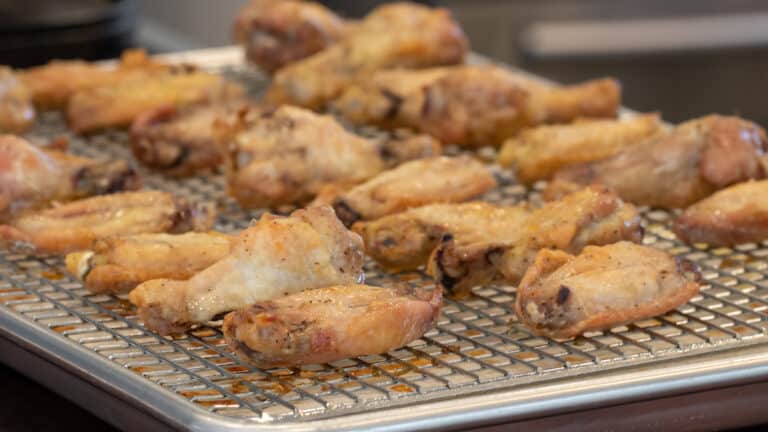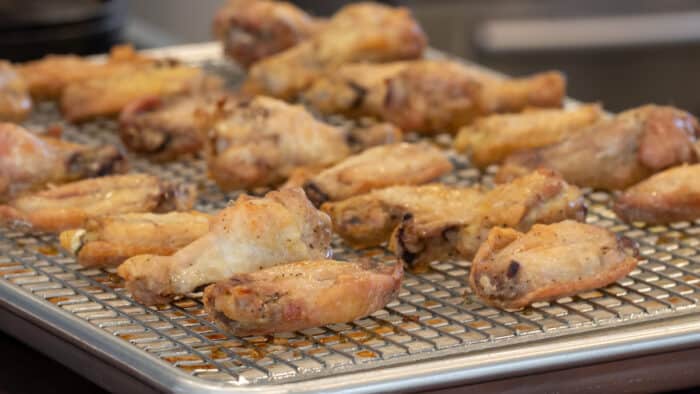 I love chicken wings! They are the ultimate game day food. While I often deep fried them, lately, I have been baking chicken wings. There are many times people have asked me how to bake chicken wings and it is amazing how easy it is to do.
This recipe will result in chicken wings that are so crispy you might expect that they were deep fried! Plus, this recipe is easy, and you can make a big batch at the same time!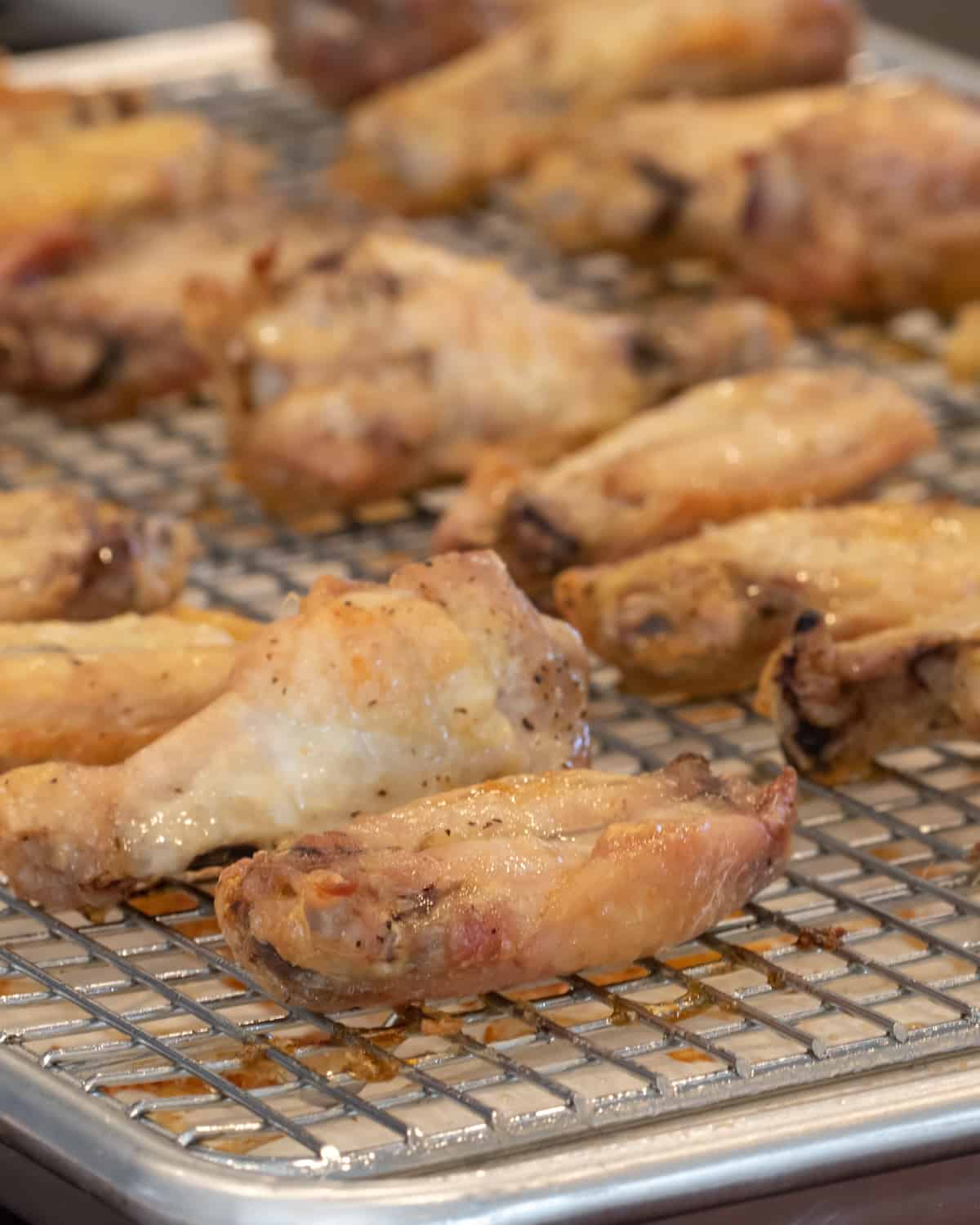 How to Prepare the Wings
While chicken wings can be baked whole, I prefer to cut them into smaller portions, typical to the way you often have wings at a pub or restaurant.
Take each wing and cut them into three sections: the drummette, middle portion and the tip. The tip can be discarded. Save the drummette and middle portion of the wing for cooking in the oven.
Expert Tip: I keep the wing tips by putting them in a freezer bag and then throwing them in the freezer. A handful of chicken wing tips can be used to make a small amount of broth, which is great for other recipes when you need a small amount of chicken broth.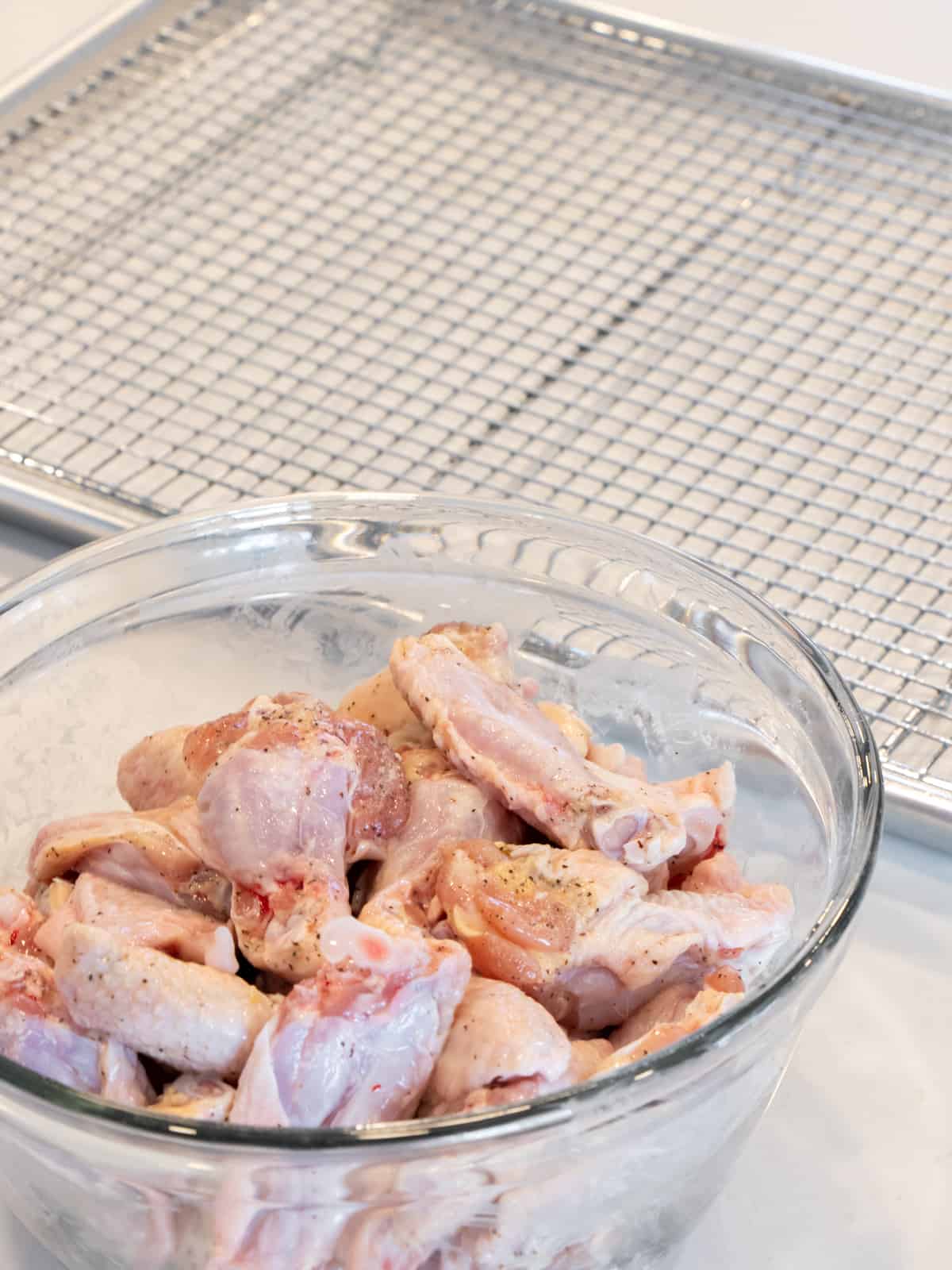 What Coating Makes for the Crispiest Wings?
When I deep fry chicken wings, I toss them in a bit of flour first. This gives them almost a breading like fried chicken. The skin comes out super crispy and when I was considering how to bake chicken wings, I wanted to make sure that even though they were cooked in the oven, they were still nice and crispy.
Giving the wings a light dusting with baking powder will result in a crispy skin that is so good. I usually also season the wings with a little be of salt and pepper.
Expert Tip: Make sure to use aluminum free baking powder as some people find that aluminum will have a bitter aftertaste.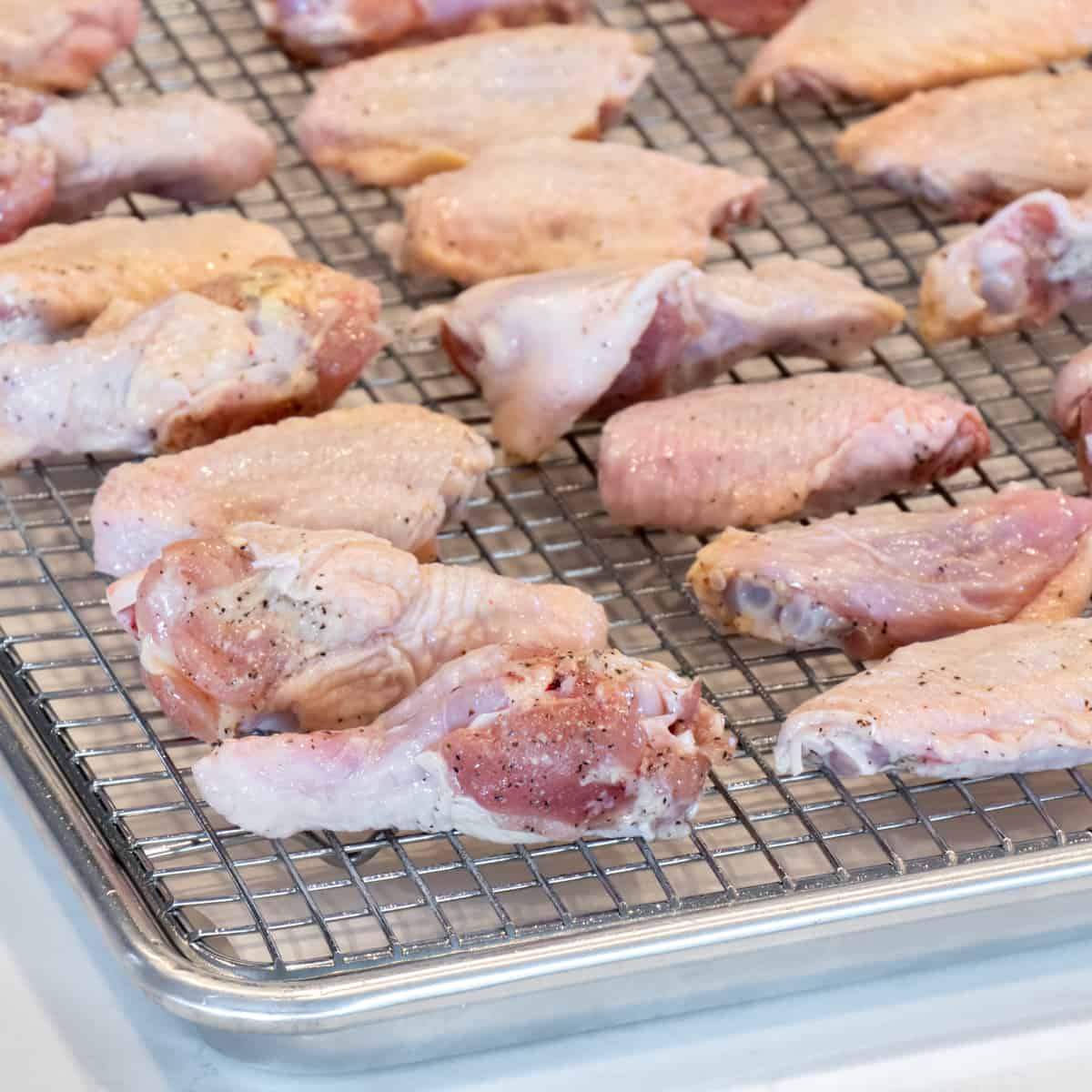 How Long to Bake Chicken Wings
I like to place the seasoned chicken wings on a baking sheet with a rack. This works very well for baking chicken wings and I like to put a sheet of parchment paper under the rack for easy clean up. If desired, you can spray the rack with cooking spray so the wings do not stick.
Put the wings in a 425F oven and bake for 60 minutes.
Expert Tip: After the wings have been in the oven for 40 minutes, flip them over. This ensures that the wings are crispy on both sides.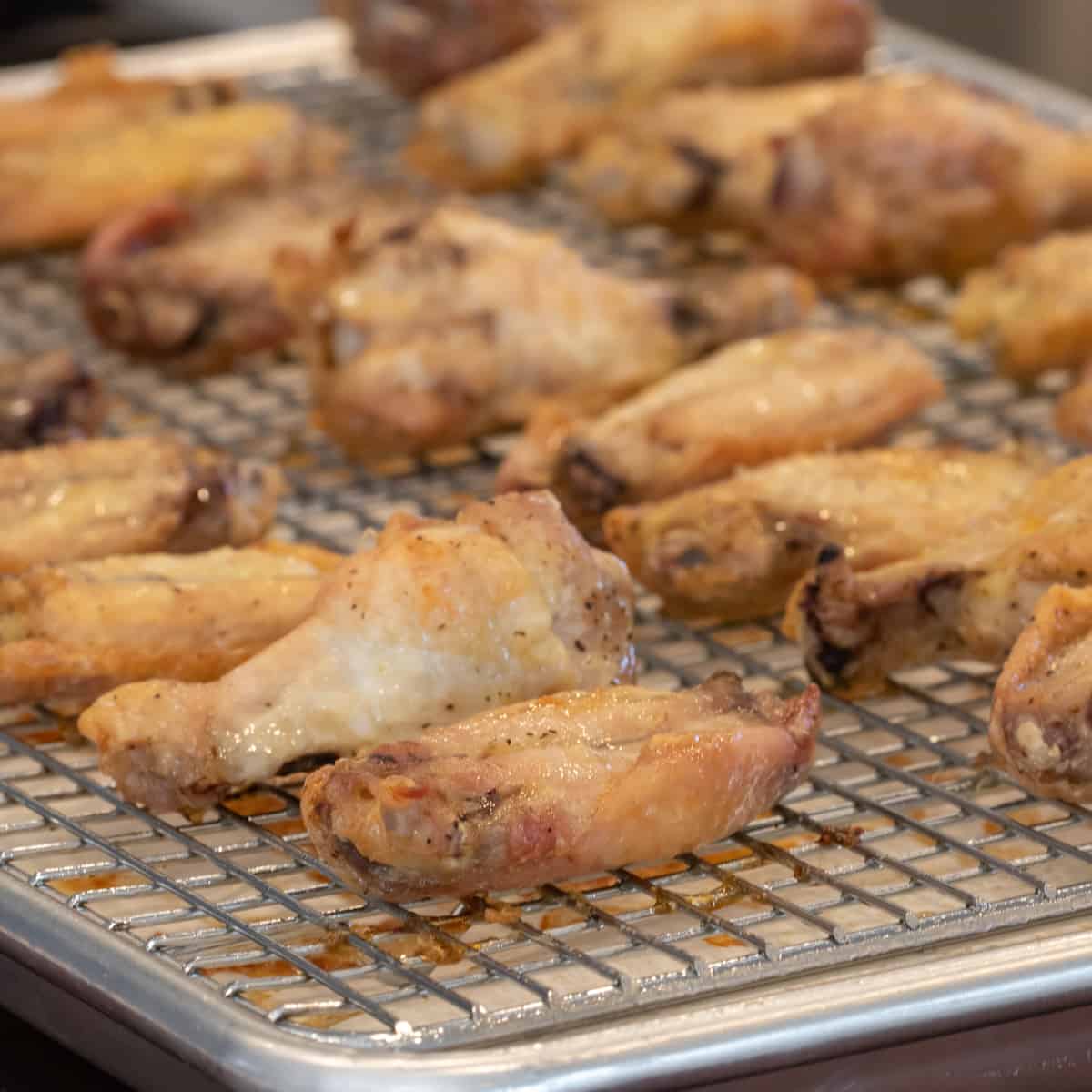 Wing Sauce Ideas
Once the wings come out of the oven, they can be sauced! Toss the baked wings in these sauces and you will think they were deep fried.
Chicken Wing Marinades
These are some marinades that are ideal for baked chicken wings!
How to Bake Chicken Wings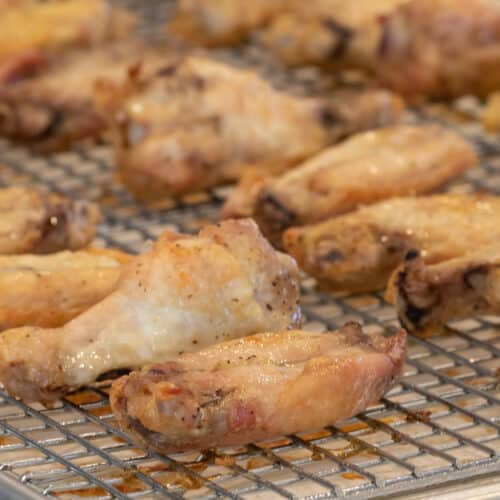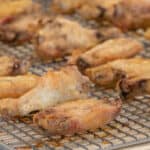 Print
Directions for baking chicken wings in the oven so that they come out crispy and almost like they are deep fried.
Servings: 4
Ingredients
2 pounds chicken wings , whole
1 1/2 tbsp baking powder , aluminum free
1 tsp salt
1/2 tsp black pepper
Instructions
Preheat oven to 425F.

Cut the wings into three pieces: drummette, middle portion and tip. Discard the tips.

Toss the drummette and middle portions of the wings in the baking powder, salt and pepper.

Place a wire rack on a cookie sheet lined with parchment paper. Spray the wire rack with cooking spray.

Place the wings on the wire rack making sure they are not touching each other.

Bake wings for 40 minutes. Flip the wings to the other side and bake for an additional 20 minutes.

Remove from oven and toss in preferred wing sauce or seasoning.
Nutrition
Per serving:
Calories: 277kcalCarbohydrates: 2gProtein: 22gFat: 20gSaturated Fat: 5gCholesterol: 94mgSodium: 675mgFiber: 0.2gSugar: 0.003g