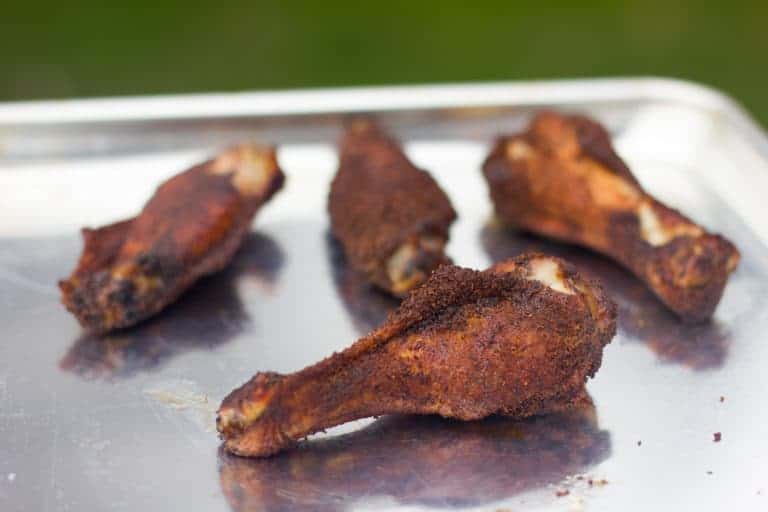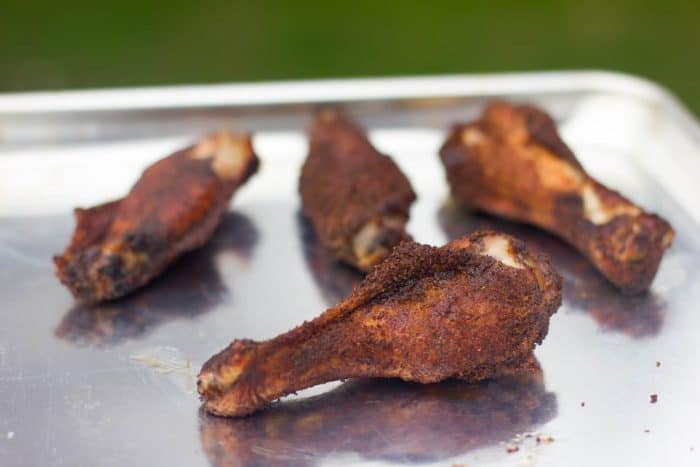 Smoking turkey wings is easily my favourite way to cook and prepare turkey wings. How to smoke the wings could not be easier. I just give them a coating with a nice rub and throw them in the smoker until browned and the skin has rendered.
The wings of a turkey are quite similar to chicken wings but they are just larger! Turkey wings are nice and meaty. They are great for an appetizer and ideal for any game day event.
One thing to note is that you definitely do not need as many turkey wings per person as you would for chicken wings.
Smoked turkey wings are also amazing for making a flavourful broth. Once the wings have been smoked, you can boil them in a stockpot with other aromatics to make a broth that is smoky and, while similar to chicken broth, provides a nice twist.
The chili rub provides a nice spicy coating on these wings. The seasoning is not really hot, which allows you to coat the wings with lots of the rub. The more rub, the more flavour in every bite!
One other benefit to lots of seasoning on the wings is that it helps them crisp up during the smoking. Crispy skin is desired with chicken wings and with turkey it is no different.
The lime juice was squeezed onto the wings once they come out of the smoker. This allows the bright tang of the lime to really come through along with the chili rub.
If you want to try a different type of rub, here are a few others that will work great for smoked turkey wings:
Curry in a Hurry Rub – curry is excellent with poultry and compliments smoky flavours as well.
Moroccan Spice Rub – this spice has a blend of cinnamon, cardamom, cloves and nutmeg which provides a nice sweet spice!
Island Spice Rub – this jerk style seasoning is also ideal for turkey. It is packed with flavour.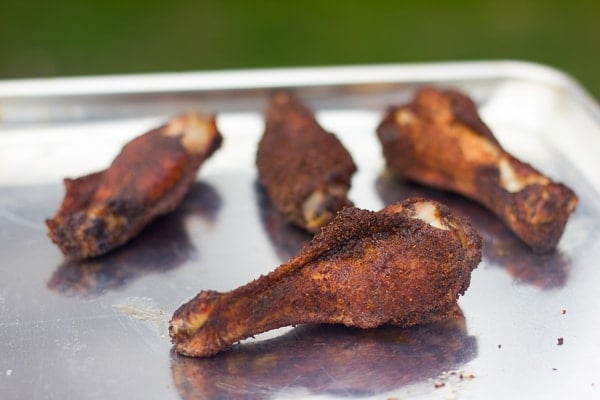 I smoked these turkey wings at 275F. I find this temperature is best for giving the skin a crispiness during the smoking. Smoke them until the skin browns and crisps up which takes around 2 hours or a bit longer.
There are a number of different kinds of wood which are great for poultry. Personally, I love to use pecan, mail or hickory wood for these wings, but some of the fruit woods like apple or cherry are also great choices.
Sometimes you might want something larger than the turkey wings and here is a link for smoked turkey legs. Smoked Turkey Legs with Jerk Seasoning
Smoked Turkey Wings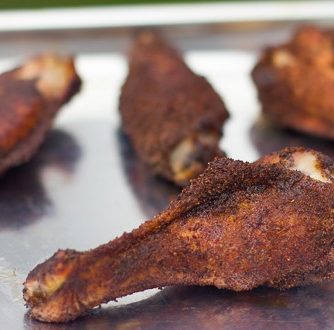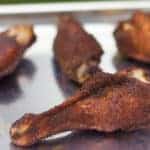 Print
How to smoke turkey wings with a nice spicy chili rub and tang from the lime juice. Smoky and delicious!
Servings: 4 people
Ingredients
4 turkey wings
3 tbsp chili powder
1 tbsp white sugar
1 tsp salt
1 tsp garlic powder
1/2 tsp cayenne pepper
2 limes
Instructions
Cut the turkey wings into 3 individual portions. Discard the tip and keep the other 2 portions.

In a bowl, mix together the chili powder, white sugar, salt, garlic powder, cayenne pepper.

Toss the turkey wing portions in the spice mixture until coated and place them on the smoker rack.

Set the smoker to 275F using the wood of choice.

Place the turkey wings in the smoker and cook until the internal temperature reaches 170F, about 2 hours.

Take the wings out of the smoker and squeeze lime juice all over the wings.