Smoked Pesto Lamb Loin Chops with Creamy Feta Sauce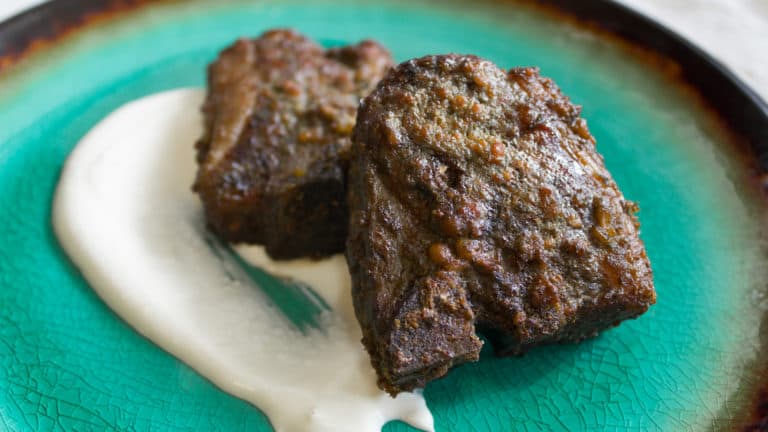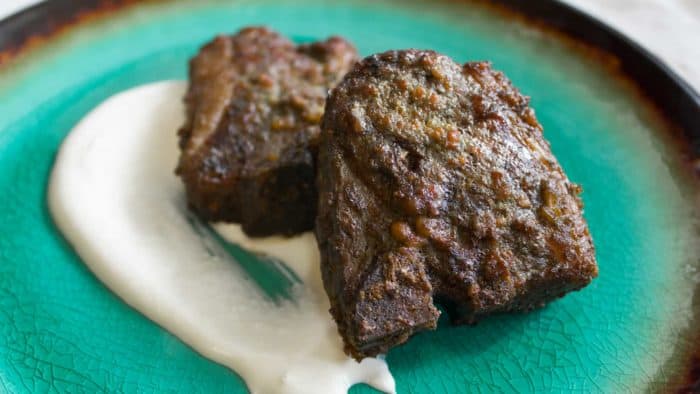 I just love getting creative with the smoker. While the most common cuts of meat I smoke are standard ones, including ribs, pork butt, whole chickens and salmon, there are times I enjoy mixing it up.
Walking through the meat section of the supermarket, I will look to see if something inspires me. It might be a cut of meat on sale, or there may be a cut that just looks so good, that I want to smoke it.
Each time I smoke lamb, I am more and more convinced that it is an excellent meat to smoke. Lamb has a bold flavour and works very smoked. Usually I smoke a boneless leg of lamb and it is incredible – here is the recipe: Smoked Leg of Lamb
Lamb chops are also great to smoke. The meat is tender and moist, with each bite an event you will not forget.
When smoking lamb chops, try and get the thicker chops, measuring somewhere around 1″ to 1 1/4″ in thickness. I find that these smoke better than the thin chops, which can dry out a bit during smoking.
These lamb chops are rubbed with pesto prior to smoking and served with a feta cream sauce. This combination creates a taste experience with many flavours of flavours. It is just wonderful.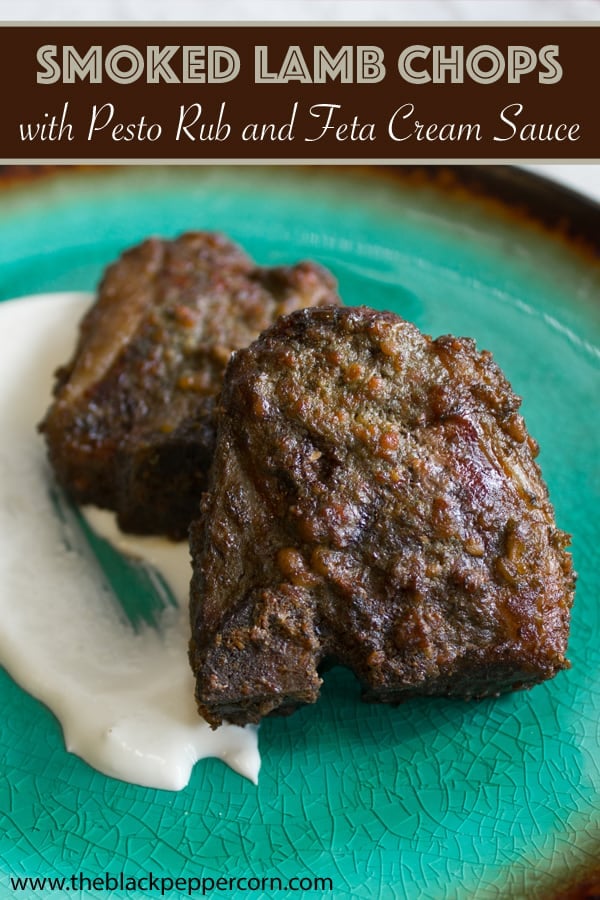 Pesto has such a bold flavour and goes very well with lamb. This was actually the first time that I had ever used pesto with lamb and I just loved it. While I was trying to decide what to rub the lamb chops with, I spotted some of my homemade pesto I had in the fridge. Wow, I am so glad I decided to try it out. The fresh basil flavour and garlic really come through with the smokiness of the lamb meat to create a delicious taste experience.
You can definitely use store-bought pesto with this recipe and there are a few I have found that taste quite good. With pesto, I want the flavour to be bright and fresh. If you do decide to make your own pesto, check out my recipe here: How to Make Pesto.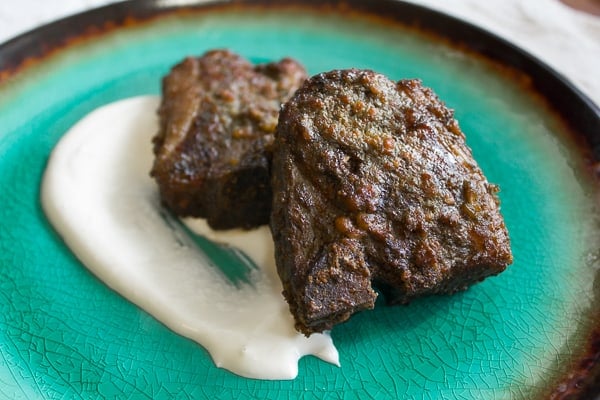 Toss the lamb chops in the pesto and make sure that they are well coated on both sides. Cover with plastic wrap and place in the fridge to marinate for an hour.
While the lamb chops are in the fridge, you can get the smoker started and set for 250F. I used hickory wood for these lamb chops, but there are many types of wood which are great for lamb, including apple, oak, pecan and cherry.
Place the lamb chops on the smoker rack and place in the smoker. Smoke until the lamb chops reach 145F (or to desired doneness), which should take around 2 hours. It might take less time, so it would be good to use a digital thermometer to check the temperature after the first hour of smoking.
While the lamb chops are in the smoker, make the cream sauce in the blender. Keep the sauce in the fridge, covered with plastic wrap, until ready to serve.
Once the lamb chops are fully cooked, remove from the smoker. Serve on a plate with a spoonful of the feta cream sauce. This recipe is so delicious. The lamb is packed with flavour and the sauce really adds a creamy richness that is just incredible!
Smoked Lamb Loin Chops with Pesto Rub and Creamy Feta Sauce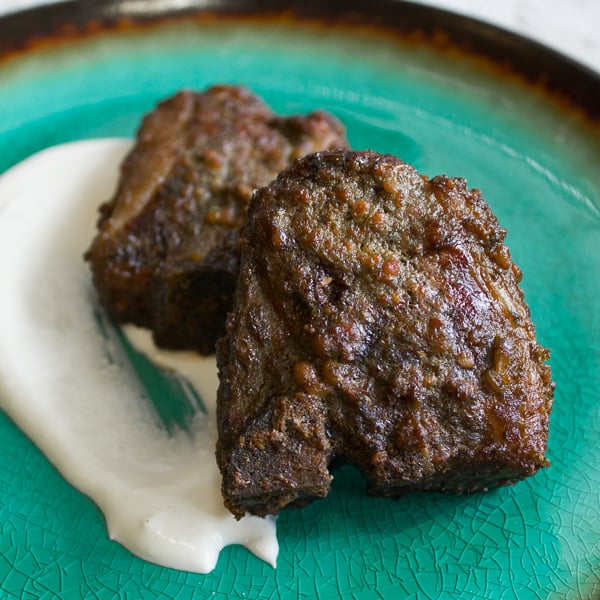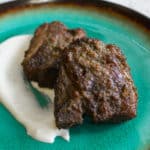 Print
How to Smoke Lamp Chops Recipe. These lamb chops are rubbed with fresh pesto, smoked and then served with a creamy sauce.
Servings: 8 lamb chops
Ingredients
8 lamb loin chops
2/3 cup pesto
1/2 cup feta cheese
1/4 cup 10% cream
1 tbsp olive oil
1/2 tsp salt
1/2 tsp pepper
Instructions
In a bowl, toss the lamb chops in the pesto and make sure they are evenly coated. Cover with plastic wrap and place in the fridge for at least an hour to marinate.

Set the smoker to 250F using wood chips of choice.

Place the lamb chops on a smoker rack.

Smoke the lamb chops for around 2 hours or until the internal temperature of the meat reaches about 145F, which is a nice medium rare, or to desired doneness.

During smoking, make the sauce by adding feta, cream, oil, salt and pepper in a blender jar. Blend until smooth and creamy. The consistency should be similar to sour cream. If needed, add a little extra cream during blending to thin the sauce.

Remove lamb chops from smoker and serve with the creamy feta sauce.
Nutrition
Per serving:
Calories: 496kcalCarbohydrates: 2gProtein: 20gFat: 44gSaturated Fat: 17gCholesterol: 103mgSodium: 509mgSugar: 1g